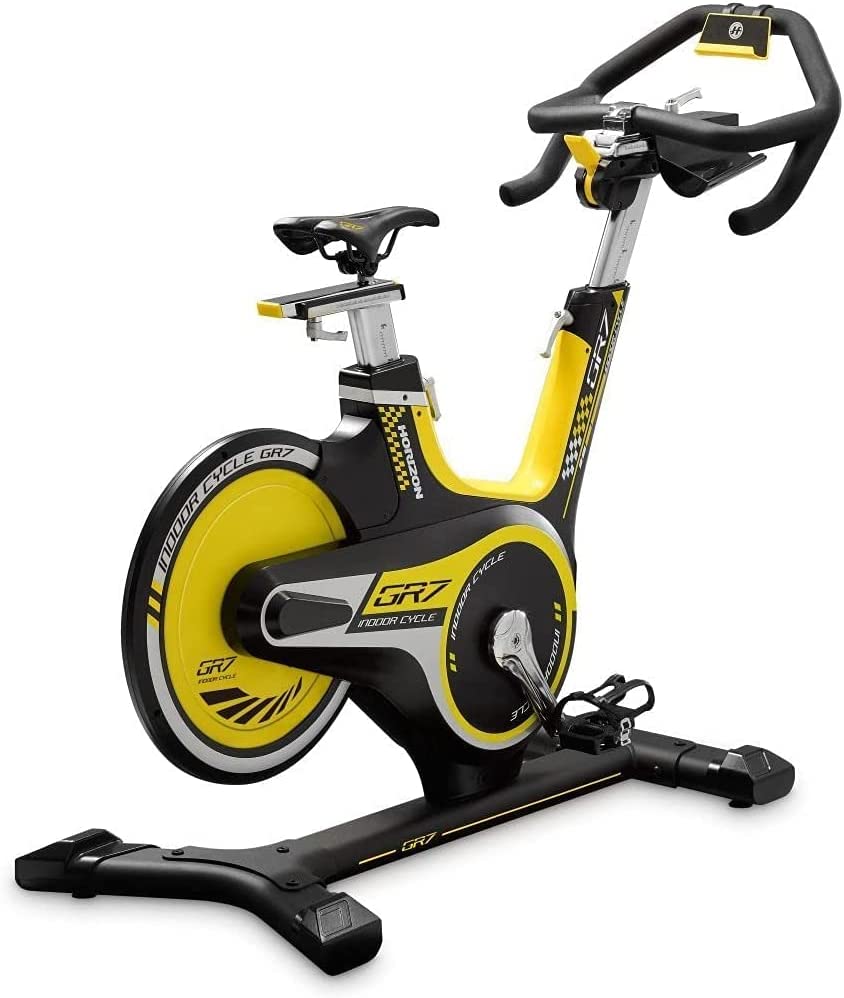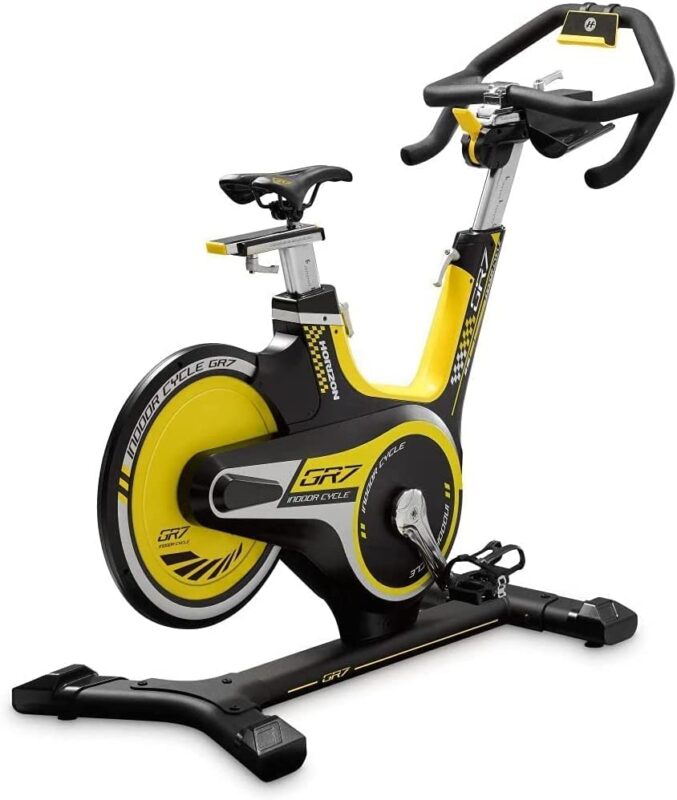 ---
---
Introduction to the Horizon Fitness GR7 Indoor Cycle Stationary Exercise Bike with Magnetic Resistance
Horizon Fitness are specialised in creating built-to-last equipment that is budget-friendly with high performance, and as a result, you are guaranteed to enhance your exercise experience; subsequently leading to real results.
It is pretty much a given that Horizon are producers of true indoor cycles created for people who want more inspiring, motivating, and engaging rides and the Horizon GR7 indoor cycle is no exception; thoughtfully designed with customizable touchpoints making it an ultimate home cycling workout machine.
It's precision engineered to bring the feel of real road riding with the ergonomic seat, handlebars, and pedals. Moreover, it gives both vertical and horizontal adjustments so that you can ride with comfort by finding the perfect position and with its interchangeable dual-sided pedals with cages and pedal clips, is perfect to suit the physics and builds of different individuals.
Check out the details in the review to get to know more about its creative features!
Disclaimer – This website contains affiliate links. If you find the information useful and click on a product link and make a purchase, a small commission will be earned by GymFreakz and we appreciate your support.
---
Specifications
Item Dimension: 134L x 56W x 106H
Item Weight: 51 kgs
Material: Alloy steel
Power Source: Self-powered
Maximum Weight Capacity: 136kgs
Resistance Mechanism: Magnetic
Rear drive design
Dual-sided cage and clips
Bluetooth integrated
Optional LCD console
Transportation wheels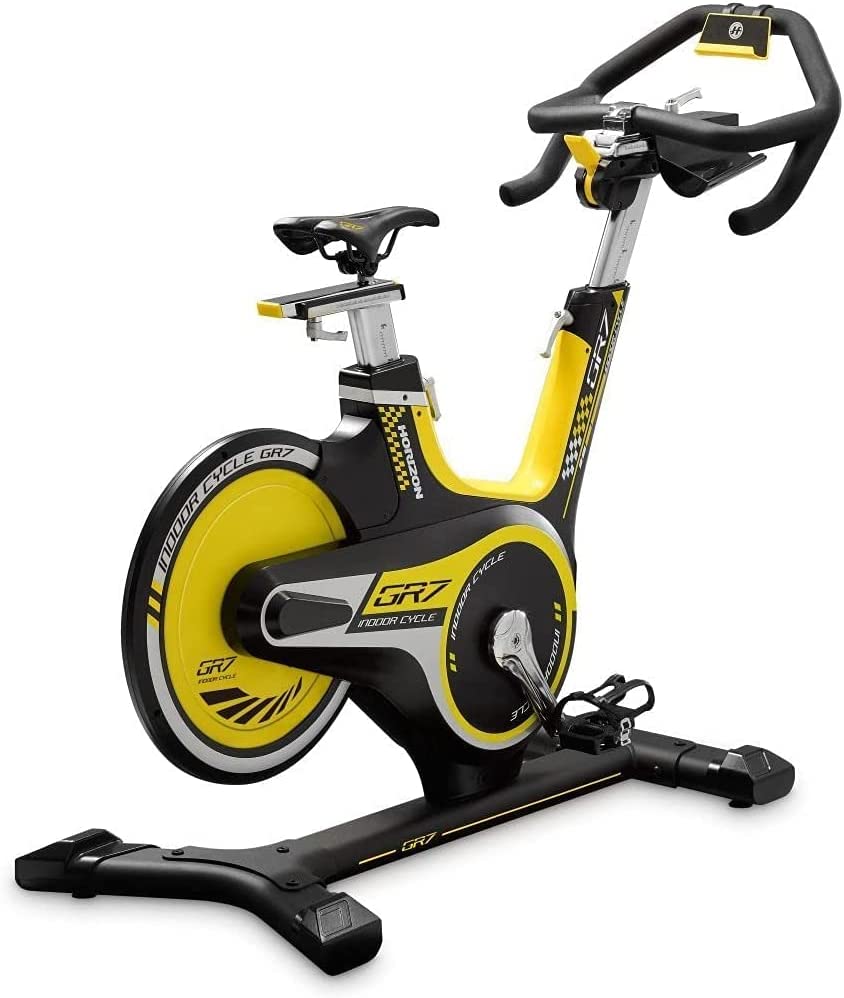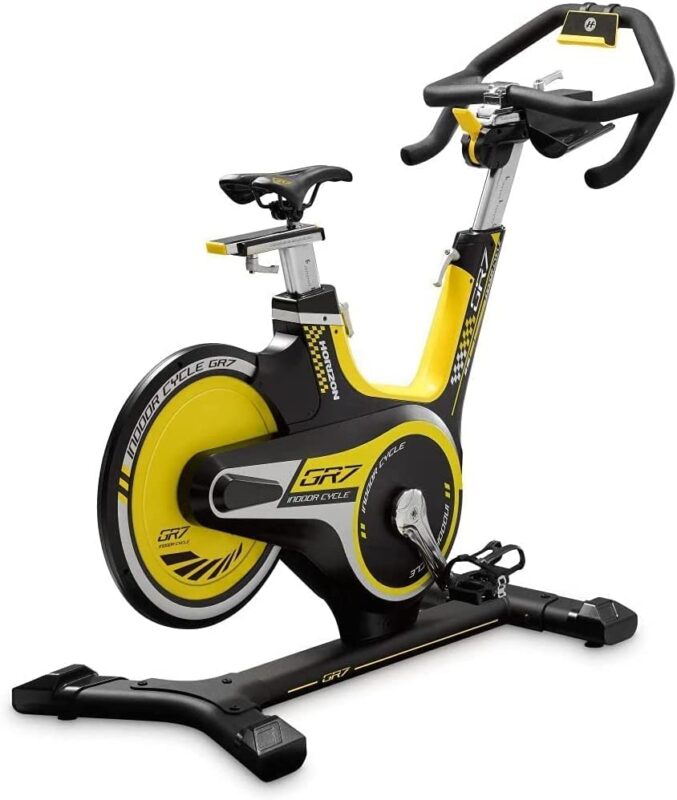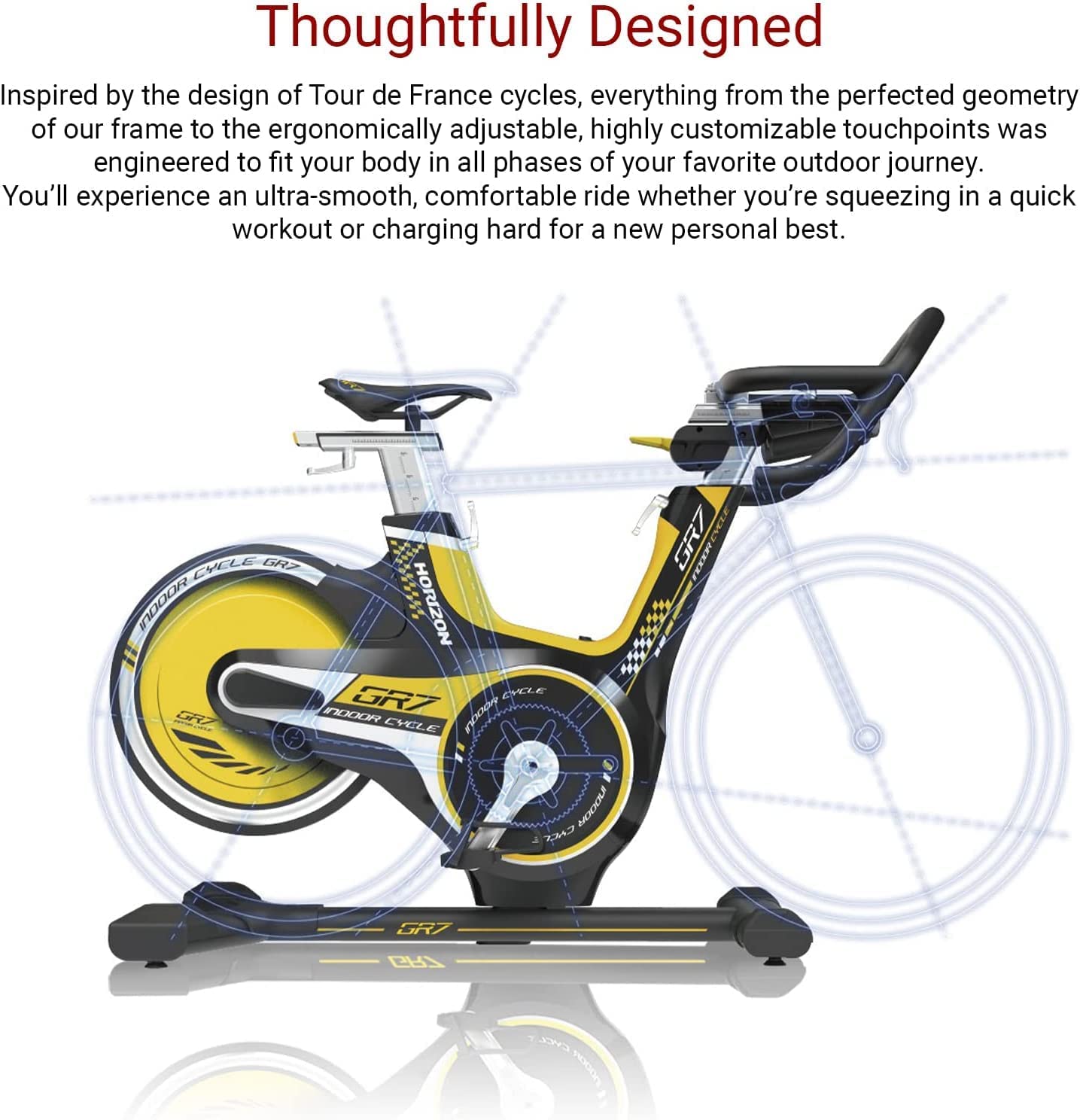 ---
KEY FEATURES
Sleek Design
The Horizon GR7 is thoughtfully designed and inspired by the Tour de France cycles with the latest technology. It is a virtual representation of a perfectly designed indoor cycle with everything a user requires. The Horizon GR7 indoor cycle comes with highly customizable touchpoints that were precision-engineered to fit your body in all phases.
It allows you to enjoy an ultra-smooth and comfortable ride whether you're squeezing in a quick workout or a spirited ride. Horizon knows how to bring convenience to users in a complete package that allows cycling in maximum comfort.
Optional LCD Console
The Horizon GR7 Indoor cycle comes with an optional LCD console of 12.7cm that offers real-time feedback. It also has a variety of workout programs that help in achieving your fitness goals easily at home. With its Unique Glow Ride lighting system, you can enjoy a more engaging workout that keeps you coming back for more.
Moreover, this exclusive system guides you through three phases of riding to simulate road cycling. This will help you to discover the feel of real road riding without losing the comfort of your home. A very interesting feature that not only keeps track of your progress but keeps you entertained at the same time.
Ergonomically Adjustable
It comes with adjustable handlebars, pedals, and a seat that allows the users to find a comfortable riding position. This feature is not only convenient when users struggle in finding the right position but will also help in reducing exercising fatigue. With maximum comfort, it keeps users engaged in their workout without losing momentum.
It comes with both horizontal and vertical adjustments so that the user can enjoy smooth cycling. Each side features interchangeable dual-sided pedals along with cages and pedal clips to get the most comfortable position. This helps the users to find the right riding position and meet the needs of different physics demands.
Its adjustable V-shaped frame design and narrow pedal spacing combine optimized seat positioning to create a more authentic, natural experience. As a result, it allows the rider to have the best exercise experience.
Magnetic Resistance System
The Horizon GR7 indoor cycle comes with an elite magnetic resistance that provides you with the best intense workout. Its mechanism gives instant, smooth adjustments to challenge any rider up to 300 pounds(136kgs). Magnetic resistance is better than strap resistance as it creates more tension which leads to better muscle endurance.
It comes with 11 levels of resistance that allow you to enhance your muscle strength better. Magnetic resistance is observed in giving a better user experience as it is easy to adjust for a more consistent workout. The heavy-duty flywheel ensures precision resistance control and smooth shifts that are unmatchable.
A magnetic resistance system is also effective in targeting different muscle groups. It is suitable for both beginners and elite trainers. The Horizon GR7 is ideal for indoor environments as it gives smooth and quiet cycling.
---
Warranty
The manufacturer's warranty is an important aspect when it comes to fitness equipment. However, there is no mention of any warranty from the manufacturer on the product page.
*Warranty may be subject to change without notice and may differ between retailers – please check carefully before making a purchase.
---
Pros and Cons
---
Overall Verdict:
The Horizon GR7 indoor cycle allows you to enhance your cycling experience with its advanced features. It brings the feel of a real road cycling into your home and becomes obvious that it is inspired by Tour de France cycles. The perfect humanization design of the cycle delivers performance, comfort, and ease at its best.
It comes with an ergonomically adjusted frame that is suitable for multiple users with 4 customizable lever options. This feature helps in finding the right position that perfectly fits your body. Its V-shaped frame design combines better seat positioning, ergonomically sculpted handlebars, and narrow pedal spacing providing a more natural experience. It gives the user an ultra-smooth and comfortable ride no matter how intense the workout is.
The magnetic resistance system provides instant, smooth adjustments, and with adjustable handlebars, pedals, and seats, these features are all useful in making it easy for users of all sizes to find a comfortable riding position.
You can create a completely customizable exercise experience with the help of the FitDisplay app via Bluetooth connectivity. This will help in generating a more engaging workout that leads to real results. It also includes a Bluetooth heart rate monitor and cadence sensor integrated with popular fitness apps like Kinomap and Zwift.
In short, it is one of the best indoor cycles that brings the spirit of road cycling to your home. All its features are mouth-watering and worth exploring! With its optional LCD console, you can really hone in on those stats with real-time feedback as well.
---
---
What I Liked About This Exercise Bike
When buying fitness equipment one of my prior concerns is its adjustment options, as being set in an incorrect position can easily drain a lot of energy giving a poor performance. However, I'm surprised by the functionality of the Horizon GR7 and how thoughtfully it is designed – I never expect to be surprised by Horizon, so the fact that I was is yet further credit to them.
Its solid handlebar frame allows multiple options for hand placement to achieve the perfect upper body alignment and the handlebars and the seat are adjustable both vertically and horizontally helping to find the right position.
I really love its dual-sided pedals that accommodate both standard and clipless pedals. This allows for riders to be able to choose between their basic gym trainers or for the more advanced, their favourite cycle shoes. Along with the wireless heart rate receiver, they are both great features.
One of my favourite features of the Horizon GR7 indoor cycle. You can connect the cycle via Bluetooth and create an engaging, customizable exercise experience. It gives you the chance to explore exotic locales while riding and pushing your limits with the help of Virtual Active. One of the best ways to do virtual journeys!
You can also download FitDisplay for free to discover all the ways it can enhance your exercise experience. You'll get a variety of target training programs that best serve your fitness goals. It also remembers personal settings and records workout data to help you in monitoring your progress. Through competition and challenge programs, it lets you race friends and unlocks reward points.
Moreover, FitDisplay's beat program coaches you through resistance changes according to your favourite music. Its unique Glow Ride Lighting system leads riders through three different phases of riding that simulate road cycling.
Humanization Construction
The Horizon GR7 is hands down one of the best indoor cycles when it comes to comfort. It comes with a max user weight capacity of 136kg that is suitable for different individuals. With transport wheels, you can easily move the cycle from room to room. It also includes a tablet holder, water bottle holders, and foot stretch keeping you focused throughout the workout session.
The elite resistance mechanism gives the perfect smooth adjustments with a comfortable riding position. Its innovative LCD console gives real-time feedback with a variety of workout programs that will enhance your exercise experience. With the popular fitness app, you can get more engaging workouts that lead to real results. Its rear-drive design and ergonomic handlebars, seat, and pedals bring the feel of real road cycling to indoor environments.
Things That Could Have Been Better
Although the monitor is multifunctional it still needs some improvement. The LCD is 12.5cm (5inch) which might be small for people with short vision. It would be better if the display was a bit larger so that everybody can benefit from the console.
---
FAQ's
Does the Horizon GR7 have Bluetooth?
Yes, the Horizon GR7 is Bluetooth integrated and you can connect it with popular apps like FitDisplay mobile app. By connecting the cycle you can also access Kinomap for virtual journeys and Zwift to make indoor training more fun. It is a very interesting feature that provides motivation, entertainment, workout tracking, and more.
Can you get in shape with indoor cycling?
Indoor cycling is one of the effective ways that help in building better muscle endurance. It also improves heart health, shed fat and boosts your muscle strength, and gives an intense workout for your legs.
Which indoor cycle is best for home?
Upright indoor cycling is currently getting more attention than home recumbent exercise bikes as they tend to allow for more variation in terms of intensity levels for your workouts. Here are a few more of the best indoor cycles that will suit the household,
Sunny Health Fitness Indoor Cycle
Peloton Bike
Yosuda Indoor Stationary Cycling Bike
Freebeat XBike
MYX II Exercise Bike
How long should you indoor cycle?
It is suggested to ride for 30-60 minutes, 3-5 days a week. Start with a warm-up and start pedalling at a slow pace for 5-10 minutes then boost your speed. Biking at a moderate level will help the heart stay healthy according to the AHA American Heart Association.
---
Affiliate Disclosure
In compliance with the FTC guidelines, please assume the following about all links, posts, photos and other material on this website:
Any/all of the links on this website are affiliate links of which GymFreakz receives a small commission from sales of certain items, but the price is the same for you.
www.gymfreakz.com is a participant in the Amazon Services LLC Associates Program, an affiliate advertising program designed to provide a means for sites to earn advertising fees by advertising and linking to Amazon.com & Amazon.co.uk. Pages on this site may include links to Amazon and its affiliate sites on which the owner of this website will make a referral commission.