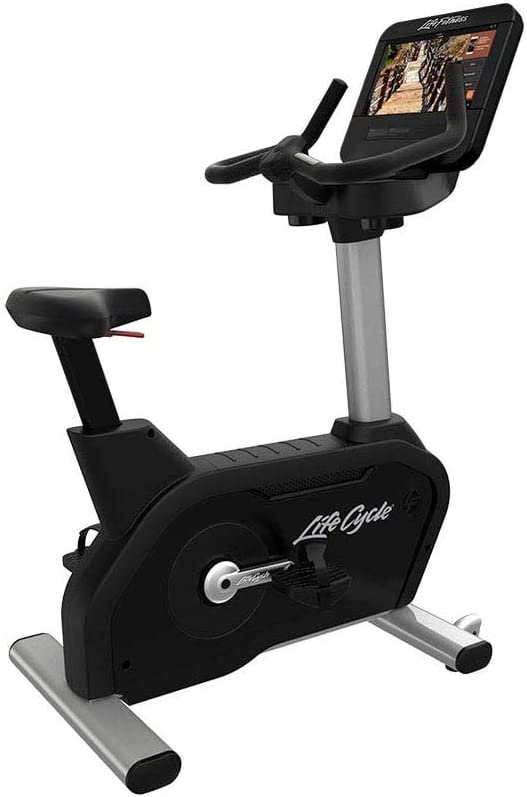 ---
---
Introduction to the Life Fitness Integrity Series Standard Upright Bike with Discover SE3 HD LCD Console From The Club Range
Some bikes have names that reflect their build; others are named in a way that shows off their prowess or technological capabilities. Some, however, have been coined for their sheer value – the Integrity Series from Life Fitness is one of those cases.
While 'the Life Fitness Integrity Series Standard Upright Bike with Discover SE3 HD LCD Console From The Club Range' might be a mouthful, it's certainly honest. The Integrity Series benefits from great technology inclusion, strong and long-lasting material use and a comfortable ride every single time. Things like simple buckle straps and self-levelling pedals are things to look out for in finding said comfort.
From valuable asset management data, a sleek and modern design, and a quiet operation all the way down to smaller details like the accessories holder, this machine is a killer addition to any home gym.
With vivid high definition, the console creates a consistently captivating experience every time. Inviting experiences that enhance your workout with ease should always be worth considering for any bike manufacturer, and with engaging layouts, this bike becomes more than just a machine – this is a fitness hub and one that you should consider purchasing.
Life Fitness are famous for their engineering. The Poly V Belt Drive System (self-generator drive system) saw huge success, and it's a feature that's shouted about in the fitness world today.
But with this Integrity series bike, being rooted in more than 20 years of innovation, you'll find more than just one component worth talking about.
Let's find out why.
Disclaimer – This website contains affiliate links. If you find the information useful and click on a product link and make a purchase, a small commission will be earned by GymFreakz and we appreciate your support.
---
Specifications
Racing handlebars
Improved comfort curve seat
Interchangeable seat
Wide ride pedals
Pedal size – 6.56 x 5.5″
Pedal straps
Integrated accessories holder
Arctic silver – colour
Max user weight – 400 lb (182 kg)
Resistance levels – 26*
Single-stage drive with self-tensioning idlers for minimal mechanical drag and low maintenance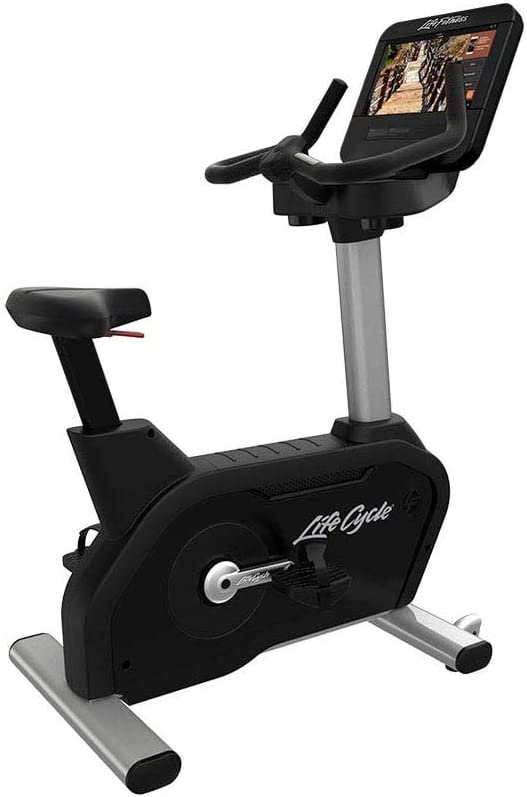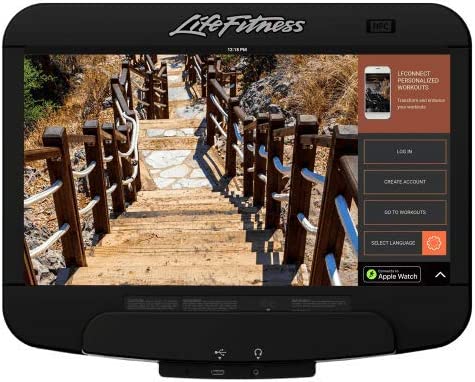 ---
KEY FEATURES
Wide height range
Strong minimum RPM of 30
Self-powered console
Touch screen technology
Generator drive system
Multi-ribbed belt drive
Crank adjustments
Telemetry
---
Warranty
Frame – 2 years / Labour – 1 year / Misc – 2 years Electrical Components/Mechanical Components, 6 months Cosmetic/Overlay
*Warranty may be subject to change without notice and may differ between retailers – please check carefully before making a purchase.
---
Pros and Cons
---
Overall Verdict:
All in all, the word integrity is right. This machine is strong, stable, robust and varied. The options it gives you to evolve your fitness game all from the comforts of your own home are undeniable.
If you're looking to add to a home gym or health club alike then please consider this machine. It's a serious bike for serious fitness practitioners but holds the presence of a light and easy-going bike.
Aesthetically, I love the look. It's modest, simple and dexterous in its ability to fit into different environments. The bike also crowns the console, which also looks great, giving the high-definition screen an almost centre-piece-like feel.
From an engineering perspective, well, it's Life Fitness. Extensive research goes into these machines, and internet connectivity and the ability for streaming video aside, this fine-tuned bike is built to last. With a comfortable ride easy adjustment option, wide pedals, limited maintenance and ergonomic racing handlebars, I just can't see this machine failing on the build side.
The digital fitness world isn't to be scoffed at here either. Digital inclusions like the discover SE3HD Console screen give room for a whole new way of growing your fitness levels, and this is just one reason that the Integrity Series hits the mark.
Overall verdict? Buy this bike if you want something simple, well-built and easy to use. It's quality in technology (data tracking and telemetry) just make it even better.
I also think the price is really fair for what it offers. I know some may be thinking that it lacks for what it is or how much it's priced, but you have to remember what's going underneath this machine is so important too. Yeah, the console is nice but the build and engineering are incredible, and they both contribute to your fitness levels each and every time you go on the bike. A good workman never blames his tools, because tools can be the difference between you hitting the mark and not – this one is ready and primed to be utilised.
---
---
What I Liked About This Exercise Bike
Firstly, I always cherish a bike that's made to last. With the integrity series upright bike, a design that requires limited maintenance has been heavily favoured.
In the world of selling… well, anything, manufacturers don't always like to favour lasting products – they want you to buy more things. With Life Fitness, however, you get a strong bike that's carefully considered and will last in even turbulent conditions.
The ergonomically sound seat position makes it comfy too. You want to feel like a serious rider, you probably won't get that with the recumbent range. An upright racing bike like this, however, well you're one step closer to finding that perfect feel.
Wireless internet connection and other integration features are nice but if you aren't comfortable then watching YouTube isn't going to cut it… thankfully, you don't have to worry about discomfort here.
I also love interchangeable parts in a bike. I love computers, and any OS that allows for customisation adds so much value. Simple things like being able to swap the pedals out is such a great feature too. It also helps with maintenance and general upkeep. Instead of buying a whole new bike, I can just change the pedals and it feels like nothing's changed.
Things That Could Have Been Better
The deluxe racing handlebars are miles better, I must admit. I just spoke about racing feel and to really get that you have to get the deluxe version. While I understand Life Fitness are a company trying to make money, I don't like the idea of selling a deliberately worse version of something, as opposed to making one great bike and then evolving it considerably to release the next. Race positions are important, and you can get that from the standard, but race feel is important too. The same could be said for the remote buttons. they only exist in the deluxe version and I really don't think things like this add such value that a whole new V2 can be released. It feels like an add-on, and perhaps they could have really gone to town with the interchangeable parts here, monetising the replacement of parts rather than small additions to create a whole new version; it's just not what I look for in fitness companies.
The entertainment options while varied weren't for me either. The Lifescape interactive course felt a little added on in reality and something decided by the sales team. I wanted to be in control of my own workout. But, I do have to say that is subjective. It can't really be a con when I know so many people will benefit from it. It's just not for me. And because it adds to the value I'd go elsewhere if I was looking for a hardcore bike with no console value added on.
---
FAQ's
Is internet compatibility worth it?
Internet inclusion can be a seriously great way to enhance your workout, and not just from streamable preset workout stuff. Having the ability to stream entertainment, music shows etc can be a great motivator to stay on their longer. For some, this kind of thing will be an essential feature, especially in the modern world.
What does self-levelling wide ride mean?
This refers to the pedals rotation. These pedals allow for an easy in and out feel. Through levelling the pedals and them being wide, of course, you don't have to worry about annoying accessibility stuff and can focus on the fitness every time.
What is the expected delivery date from ordering?
This will depend on the store you order from, but on average you should generally expect around 1-2 weeks.
---
Affiliate Disclosure
In compliance with the FTC guidelines, please assume the following about all links, posts, photos and other material on this website:
Any/all of the links on this website are affiliate links of which GymFreakz receives a small commission from sales of certain items, but the price is the same for you.
www.gymfreakz.com is a participant in the Amazon Services LLC Associates Program, an affiliate advertising program designed to provide a means for sites to earn advertising fees by advertising and linking to Amazon.com & Amazon.co.uk. Pages on this site may include links to Amazon and its affiliate sites on which the owner of this website will make a referral commission.