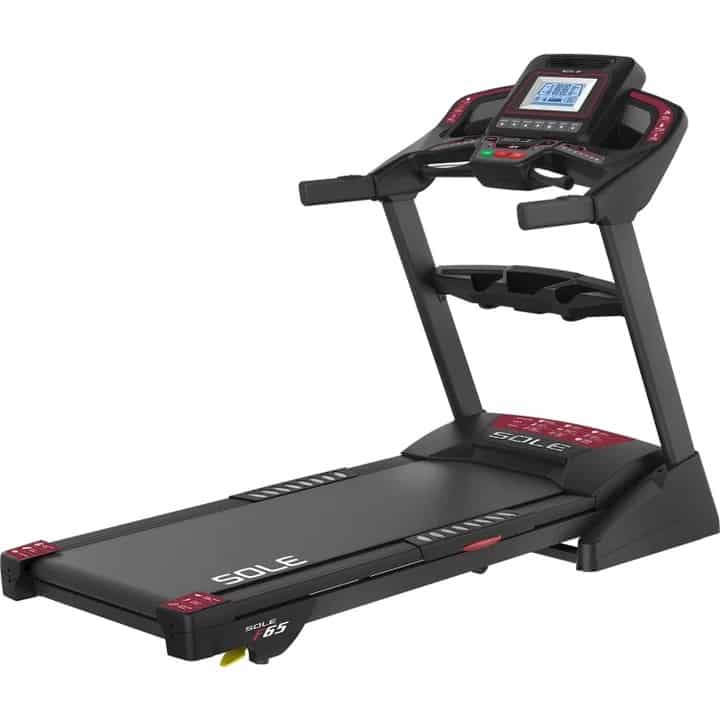 ---
---
Introduction to the Sole F65 Folding Treadmill
Are you looking for an exclusive treadmill in a reasonable price range? Well, the F65 Folding Treadmill is a product of Sole Fitness that qualifies your requirements. Sole Fitness Equipment is built to impress you with its simple yet functional design and is a complete workout setup for home exercisers.
Folding treadmills are often regarded as less functional, but with a Sole Fitness treadmill, you have a complete package. The Sole treadmills feature durable belts, high-quality deck cushioning, easy connectivity to Sole fitness apps, Bluetooth audio integration, and various workout options.
The F65 Folding Treadmill is a unisex treadmill suitable for all sizes. Sole Fitness has always tried to come up with affordable fitness solutions, and the F65 is no exception and is one of their best products. It is built on the F63 model design, and with the latest few upgrades, the F65 has improved to another level. Now you can do your entire workout at home without worrying about the space being permanently occupied. It is a perfect fit for your home keeping in mind the design and convenience it brings to the user.
The new enhanced model of the F65 Treadmill has integrated a few upgrades. For starters, the new model is equipped with a highly powerful motor of 3.25 HP. The F65 treadmill has a larger contact surface, safety locks, charging, and audio slot. Just about every function of the F65 Folding Treadmill is convenient to use and gives a comfortable and quiet workout environment.
Let's dig a little deeper to find out more…
Disclaimer – This website contains affiliate links. If you find the information useful and click on a product link and make a purchase, a small commission will be earned by GymFreakz and we appreciate your support.
---
Specifications
Brand: Sole Fitness
Model: Sole F65 Folding
Dimensions: 80.3″ x 33.5″ x 57.1″ (lxwxh)
Maximum Speed: 12mph
Minimum Speed: 0.5mph
Speed Range: 0.5mph – 12mph
Incline Range: 0-15%
Motor: 3.25 HP
Equipment Weight: 118 kg
Maximum User Weight: 150 kg
Preset Programs: 6
Folding Treadmill: Yes
USB Charging Point: Yes
Bluetooth Audio Integration: Yes
Bluetooth Speakers: Yes
Integrated Tablet Holder: Yes
Dual Storage Holders: Yes
Phone Holder: Yes
Gear Rack: Yes
Cooling Fan: Yes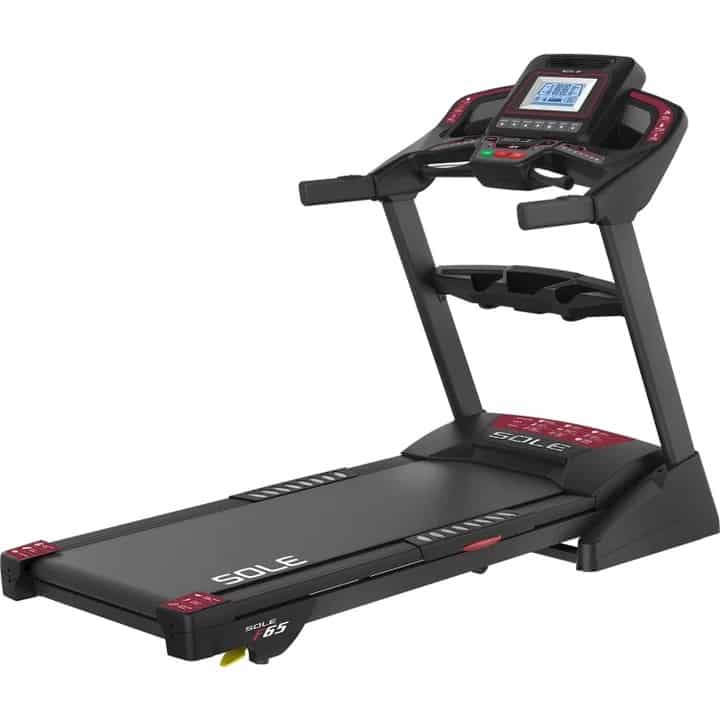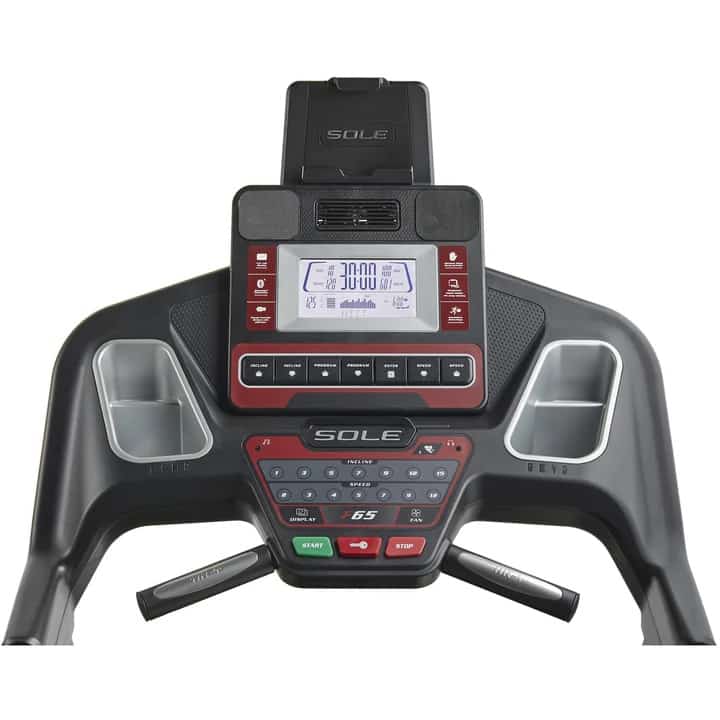 ---
KEY FEATURES
Quality Built:
The Sole F65 Treadmill is a solid build that promises durability. The industrial quality motors, high-end rollers, cushion flex whisper deck, and many other convenient features make it one of the best treadmills on the market and the belt is of a great quality material that provides a smooth static-free surface.
Sole Fitness has used high-end rollers and copper ground wires, to reduce instability. Also, the larger rollers and the belt dimensions contribute to better belt life. As well as this, its sealed bearing design and middle PVC layer between the two rubber layers over the rollers contribute to its overall quality build.
The Sole Fitness F65 Folding Treadmill delivers great performance with the high-powered 3.25 HP motor. The motor makes the belt and rollers run smooth and static-free. The motor also delivers challenging speeds that encourage exercises to work out more efficiently.
Compact Design and Pre-programmed Workouts:
The F65 is a folding treadmill that makes it convenient to use and store. It takes up minimum space in your house and once used, can be moved to a suitable storage area. It has a sleek design that will add a great touch to your flat or apartment and can be folded with the easy lift assist design. The lift assist design helps you unfold the deck without using too much energy. All you need is to use the design and step back. The deck will unfold itself and be ready for use. This allows it to become very convenient and feasible with these recently added features.
This treadmill is designed to challenge the exerciser and enhance workout performance. Thus the treadmill has a wide speed range from 0.5mph to 12mph. The heart-pounding speed can be great for fat-burning exercises and cardio. Also, heavy-duty stable inclines play their role in keeping you motivated throughout your workout. The incline ranges from 0-15%. These inclines tone your calf and thigh muscles and build up your stamina. Together, the speed and incline deliver great performance and results.
Also, it has fabulous workout programs that help you reach your fitness goals at home. People often believe that home workouts are not as efficient as gym workouts but this simply is not true. The right equipment and method can help you achieve fitness goals at home over days, weeks and months – as with most things in life, the more you commit – the better the results. To improve the quality of home workouts Sole Fitness has designed the F65 with effective workout programs. The cardio training and fat-burning specific programs help you maintain body tone and muscle mass. Moreover, the motivated Sole app allows you to work out the way you want. Custom programs can be created via Bluetooth connections to the fitness app. Also, you can create two user profiles on the Sole F65 Treadmill. The workout data can be saved and transferred for both profiles. To transfer workout data from the user profile workout, you need to connect the device via Bluetooth.
Impressive Cushioning and Safety Locks:
It is fair to say, the F65 folding treadmill is one of the safest treadmills to use in regard to cushioning and safety locks. The cushion flex suspension system provides stability and static free motion along with reducing joint stress. Treadmills can cause joint stress if the deck is cushioned with a low-quality cushioning system. With Flex Whisper Deck, the stress can be reduced to a greater extent. Older people can work out on this treadmill without worrying about their joint and bone health.
The other safety features include the safety lock deck design, a stop switch, and a running hood. All these are important components of the treadmill and work perfectly fine without hindering your workouts. With the safety lock feature, you can lock the Sole F65 Treadmill in an upright position.
Message Board:
Much of the Sole Fitness Equipment offer integrated message boards. The Sole message board is a display of the user profile and is part of the bright backlit LCD console. The board basically shows how the user has been working out. Moreover, it displays user data like speed, incline, time, calories, distance, pulse, and all other training data. The board is one of the exclusive features that have recently been integrated and has proven to be really helpful and much appreciated.
---
Warranty
Sole Fitness always provides exclusive warranties to their customers. The Sole F65 Treadmill has a lifetime warranty on the frame and motor. It also has a warranty of three years on electronic parts. Also, the company provides a one-year warranty on labour. The warranty periods might differ in different parts of the world; therefore you must check before you buy it at your local store or online.
*Warranty may be subject to change without notice and may differ between retailers – please check carefully before making a purchase.
---
Pros and Cons
Accessibility and Convenience:
The Sole F65 Treadmill is the most convenient treadmill I've come across in a really long – really does have all you need. The F65 has two dual storage holders for your drinks, cups, or electronic gadgets, whatever they are, it firmly holds them. Moreover, if you want to read you can use its new convenient tablet holder to place your books or hold onto your tablet.
Moreover, the folding treadmill also has a convenient USB charging point. When you are reading or on your tablet, you can connect it to the USB port on the tablet holder for easy and quick charging. In addition to that, the treadmill has integrated cooling fans. Cooling fans enhance exercisers' performance as they reduce unnecessary fatigue.
Connectivity:
You can connect your smart devices to the F65 Folding Treadmill to play your favourite tunes on the exercise-integrated Bluetooth speakers via Bluetooth. The Bluetooth audio speakers have quite a wide volume range. Also, you can connect to different fitness apps primarily the Sole Fitness App and Apple Health. The Sole app enables you to perform various pre-downloaded programs.
Limited Programs:
Apart from so many pre-programmed workouts, some exercisers prefer working out with downloaded programs from other fitness apps too. However, as the design is simple and has no connectivity to the internet, more programs can not be downloaded. It limits the exercise to the already integrated workout programs. With that said, the F65 Treadmill already provides a lot of cardio and fat-burning programs so one might not even need extra programs.
---
Overall Verdict:
The Sole Fitness F65 Folding Treadmill offers a combination of exquisite design, exclusive features, and a high-end build. The treadmill is durable and strong; its high-quality electronic and mechanical parts not only reduce instability but provide a smoother and more comfortable running experience. The treadmill has everything you are looking for in your home workout equipment. It has great workout programs, challenging speed and incline ranges, Bluetooth connectivity, audio speakers, a vibrant blue display, a USB port for smart devices, and much more. All of that consumes minimal space in your home. If you want to bring home one of the best fitness equipment, my advice, go for Sole F65 Treadmill.
---
---
FAQ's
Where can I buy the Sole F65 Treadmill?
You can buy the Sole F65 Treadmill at local stores or online. The online process is easy and offers stock-free delivery.
Can I choose the monthly payment option while buying F65 Folding Treadmill?
If you want to pay for the Sole F65 Treadmill in monthly instalments, you might want to apply for the finance. When buying online, if you want to apply for finance fill out the application form online. The terms and conditions may vary for UK residents and people from other parts of the world.
What are the benefits of the Sole App?
The Sole App allows you to monitor your workout and connect to a world of fitness and health. It has many pre-programmed workouts that will help you tone your body. The Sole app also connects you to other health apps like FitBit, iHealth, and more.
---
Affiliate Disclosure
In compliance with the FTC guidelines, please assume the following about all links, posts, photos and other material on this website:
Any/all of the links on this website are affiliate links of which GymFreakz receives a small commission from sales of certain items, but the price is the same for you.
www.gymfreakz.com is a participant in the Amazon Services LLC Associates Program, an affiliate advertising program designed to provide a means for sites to earn advertising fees by advertising and linking to Amazon.com & Amazon.co.uk. Pages on this site may include links to Amazon and its affiliate sites on which the owner of this website will make a referral commission.