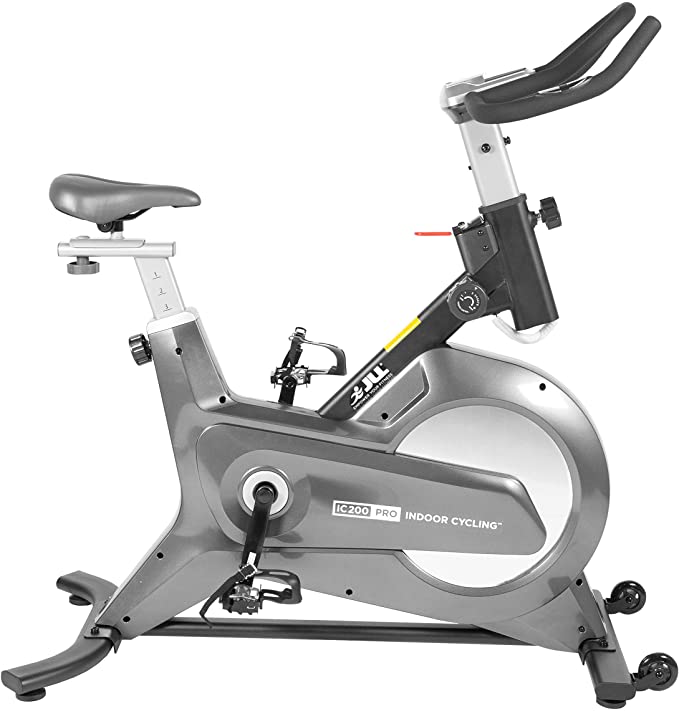 ---
---
Introduction to the JLL IC200 Pro Indoor Cycling Exercise Bike
Indoor exercise bikes can be an incredibly convenient and easy way to commit to a workout routine. You're able to save time and money on travelling to the gym and paying for memberships or a spin class. You also have the added benefit of working out at any time.
If you've been struggling to find the time for working out, an indoor exercise bike could be a great option. The JLL IC200 Pro exercise bike is a superb entry-level model that comes with a range of features that provide you with the foundations needed to stick to a regular workout plan.
Trying to compare all of the features, pros, cons, and specifications that indoor exercise bikes have to offer can be daunting. That's why I've put together this post. You'll have a much clearer picture of what the IC200 Pro indoor cycling exercise bike has to offer which can make it a lot easier to decide whether it's the right option for you.
It's a fantastic budget-friendly indoor exercise bike that comes with varying levels of magnetic resistance, a high-quality flywheel, a durable steel frame, a monitor to track your workouts, and more.
So, let's take a look at the IC200 Pro stationary bike in more detail.
Disclaimer – This website contains affiliate links. If you find the information useful and click on a product link and make a purchase, a small commission will be earned by GymFreakz and we appreciate your support.
---
Specifications
Resistance – Magnetic resistance system
Crank – Strong 3-piece crank system
Belt – Direct belt-driven system
Monitor – LCD display that tracks time, speed, distance, calories, and heart rate
Flywheel – 7 KG flywheel
Pedals – Comes with foot cage and foot straps
Handlebars – 5 handlebar height adjustment levels are available
Seat – 8 adjustable seat height levels are available
Transport – Wheels built-in
Maximum user weight – 100 KG
Maximum seat height – 108 cm
Minimum seat height – 89 cm
Dimensions – 119.5 cm x 55.5 cm x 122.5 cm
Item weight – 31 KG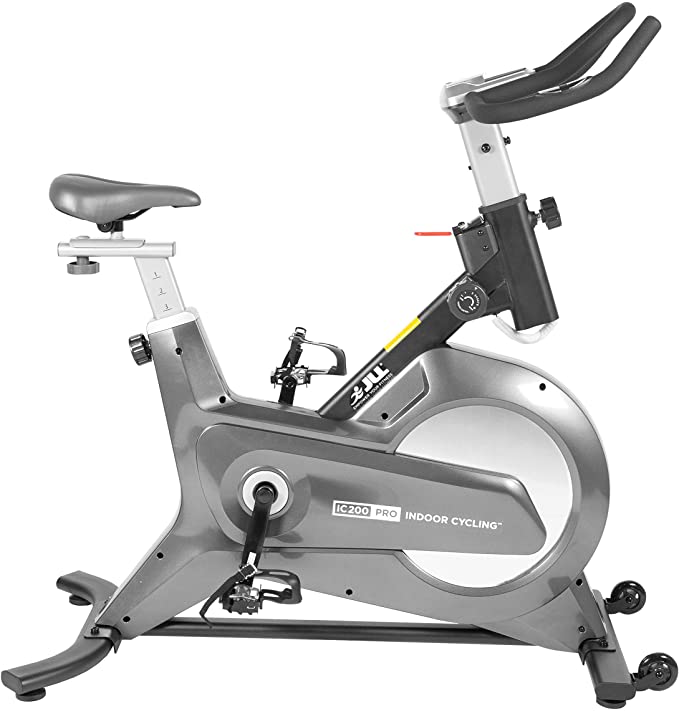 ---
KEY FEATURES
Belt Driven
I liked how high-grade rubber materials have been used to create the belt with the IC200 Pro. This works effectively to provide the belt system with strength and durability to ensure that it lasts for longer. Users have also been liking how belt-driven systems require less maintenance compared to chain-driven bikes.
The belt allows you to cycle smoothly and quietly which is an excellent benefit for those of you who are interested in working out from home while minimizing noise. The smoothness of the belt also enhances the riding experience.
This is because the belt is what transfers the power being generated through pedalling to the flywheel. Therefore, a high-quality belt, such as the one fitted to the IC200 Pro, is great for cycling smoothly and quietly for longer.
Sensors & Monitor
Being able to track your workouts is vital when it comes to improving your fitness and achieving weight loss goals. I liked how the monitor that has been fitted to the IC200 Pro enables you to track your calories burned, distance, time, speed, and pulse rate.
The pulse rate can be seen by holding onto the heart rate sensor plates that have been fitted to the handlebars. This allows you to track your heart rate while exercising which is useful for letting you know how intense your full-body workout is.
If you're interested in improving your fitness, you can set a target for an average heart rate that you want to sustain for a workout. In addition to this, the calories burned stats give you an indication of the number of calories that you're burning while working out. This is great if you're looking to lose weight as you don't have to guess the number of calories that are being burned. You can also set goals for the number of calories that you'd like to burn to continue dropping weight.
Flywheel
I was impressed with how the 7 KG flywheel has been designed with smoothness. The surface is smooth which means that it can spin over and over without wearing down too quickly.
Users have been liking how they experience minimal vibration while cycling the IC200 Pro. This is due to how the flywheel has been made to be smooth and spin without creating any friction. As a result, you can expect to ride this exercise bike smoothly for long workouts.
In addition to this, a brake lever has been fitted to this exercise bike. This is a useful safety feature that can be used to stop the flywheel quickly in case of an emergency.
Magnetic Resistance Levels
The JLL IC200 Pro includes a magnetic resistance system that features a total of 8 adjustable levels. As a result, you're able to have complete control over how difficult you want your workouts to be.
Being able to choose between 8 resistance levels means that beginners and intermediate cyclists can select the difficulty that's best for them. You can also set the available resistance levels based on the types of workouts you're doing. For example, people who are doing steady-state cardio can select levels of lower difficulty that they sustain for a long period.
I liked how they've fitted a dial to this bike as it's super easy to use when it comes to adjusting the difficulty of the resistance. The magnetic resistance system is another element that provides the IC200 Pro with a superb level of smoothness. It works well with the belt-driven system and flywheel design to ensure that you can focus on working out smoothly and not have to worry about vibrations or durability issues.
Saddle
One of the main complaints I come across regarding indoor exercise bikes involves the saddle. It's common for the shape and materials used to create discomfort while cycling. I was pleased to find that this seat has been filled with grade A soft foam.
As a result, you can expect to feel comfortable while cycling with this exercise bike. The foam materials provide you with plenty of cushioning which means that you can stay focused on your workouts without worrying about any pain or discomfort.
Furthermore, synthetic leather materials have been used for the saddle cover. These materials ensure that the seat remains resistant to sweat. Moreover, it provides the seat with a great level of durability to make sure that you can continuously ride the bike without the saddle wearing down too quickly.
Crank System
JLL Fitness has fitted a crank system to this exercise bike that comes with a 3-piece design. This system is remarkably sturdy and durable which means that it can last the bike for years. Not to mention, the crank system ensures that you can ride smoothly.
This system, combined with the flywheel design, magnetic resistance, and rubber belt allows you to feel like you're riding a real bike. Users have been discussing how the minimal vibration and noise created by the IC200 Pro make their riding experience more enjoyable. The more you enjoy your workouts, the more likely you are to want to keep coming back for more.
Transport
I noticed that some users were disappointed with how the JLL IC200 Pro doesn't come with a folding feature. There are specific folding exercise bikes available which may be more suitable if you're really tight on space and would prefer to fold up an exercise bike and stow it away neatly in storage when it's not being used.
Having said that, the IC200 Pro has been fitted with wheels which means that you can have an easy time moving it around from room to room in your home. Therefore, people who have limited room can wheel this exercise bike back into storage where it's out of the way when they're not using it. The built-in wheels also mean that you can transport this bike around your home conveniently on your own.
---
Warranty
All of the fitness equipment available from JLL fitness comes with a 12-month warranty. This warranty becomes valid from the delivery date. As a result, you can feel at ease knowing that if anything goes wrong with the bike, you'll be covered for a year.
I also liked how JLL provides its customers with a 30-day-money-back guarantee. This can be handy if you try using the exercise bike and find that it isn't quite what you had in mind. Make sure to keep your receipt with proof of purchase as the customer service teams may need this to complete the return and refund of the bike.
When it comes to domestic use of the IC200 Pro, JLL Fitness provides a warranty that covers the following:
2 years parts and labour warranty
Lifetime frame warranty
5 years motor warranty
This warranty doesn't cover the general wear and tear of parts that commonly happens after years of use. Moreover, you should know that this warranty will only cover the IC200 Pro if it has been correctly assembled by following the provided instructions.
*Warranty may be subject to change without notice and may differ between retailers – please check carefully before making a purchase.
---
Pros and Cons
---
Overall Verdict:
The JLL IC200 Pro comes with excellent features for beginner cyclists. I can recommend this exercise bike to people looking to conveniently workout from home for an affordable price. Experienced cyclists or people who are interested in more high-intensity workouts may be disappointed with this bike.
While the 8 available levels of magnetic resistance are great for newbies and intermediate cyclists, I found that some users were disappointed with how the maximum resistance wasn't difficult enough.
Therefore, the IC200 Pro is an ideal choice if you're interested in steady-state cardio, rather than shorter bursts of high-intensity cardio.
Users who kept their expectations in check in regards to the price and entry-level aspect of the IC200 Pro have been pleased with its performance.
I liked how they designed the bike to last. The strength of the steel frame, flywheel, belt system, crank, and magnetic resistance means that you can be sure to cycle with this indoor bike for a long time.
The soft padded design that has been used for the seat is another standout feature of the IC200 Pro. It means that you can cycle for long periods without feeling uncomfortable. This is a great benefit for those of you who want to use the bike for longer workouts.
Furthermore, this bike allows you to keep track of your workout progress via the heart rate sensor plates and the monitor. Being able to see your time, distance, speed, calories burned, and pulse rate all in one place can help you to set fitness and weight loss goals.
Users have also been liking the number of adjustable features that this bike has to offer. The handlebars have 5 adjustment levels and the foot cages have straps that can be used to keep your feet locked in securely and comfortably.
The 8 levels of seat height adjustments have also allowed most users to set a height that feels best for their riding posture. However, taller people have discussed how the seat height adjustment doesn't quite allow them to feel as comfortable as they'd like. Therefore, tall riders may want to consider a different model that's more accommodating for their height.
Overall, the JLL IC200 Pro is a choice worth considering for people who are on a budget and looking for an entry-level exercise bike that can be used for moderate-intensity workouts. If you were interested in an indoor exercise bike for high-intensity workouts, you may be a little underwhelmed by what the IC200 Pro has to offer.
---
---
What I Liked About This Exercise Bike
I liked how the IC200 Pro build quality provides a superb level of durability. Users have mentioned how they feel stable and secure while riding this bike which is down to how they've approached the design of the flywheel, magnetic resistance system, crank, and belt.
The affordable price of this model is also worth noting as it allows beginner cyclists to start working out from home without spending a ton of money. If you were worried about an indoor exercise bike taking up too much room in your home, the built-in wheel design means that you can easily move the bike around. This means you can tuck the bike away and only pull it out when you're using it.
There are also several adjustment features available that ensure that you can get yourself into the most comfortable riding position. The foot straps, seat height, and handlebars can all be adjusted to ensure that you feel secure and comfortable. The padded design used for the seat also increases the level of comfort that the IC200 Pro has to offer. As a result, you can ride comfortably for long periods.
The monitor and pulse rate sensors also mean that you can effortlessly track your workout progress. This is crucial for being able to improve and reach your fitness and weight loss goals.
Things That Could Have Been Better
Whilst there are plenty of adjustable components available, tall users have found that this bike doesn't allow them to cycle in a comfortable position. So, if you're tall, you may want to think about using a different indoor exercise bike that can accommodate your height better.
In addition to this, the 8 levels of magnetic resistance may not be enough for a challenging workout for some cyclists. This bike has primarily been designed for beginners who want to workout from home on a budget. Therefore, cyclists who are looking to do high-intensity workouts may be disappointed by this bike.
---
FAQ's
What's the maximum user weight limit?
The JLL IC200 Pro has a max weight limit of 100 KG.
Does the IC200 Pro need to be assembled when delivered?
The main frame of the bike is already assembled. However, you'll have to fit the handlebars, saddle, pedals, and front stabilizers. Many users found the assembly process easy to complete.
Can the handlebar orientation be adjusted?
No. You can only adjust the height of the handlebars.
Additional Points
Burn Calories
Using indoor exercise bikes has been revealed by Harvard Health to be a great way to burn calories. Therefore, an exercise bike, such as the JLL IC200 Pro is an excellent choice worth considering for anyone who's looking to lose weight.
Other Cycling Performance Benefits
Cycling doesn't just help with weight loss goals, it can also be used to boost your overall health and strength. Consistently cycling can lower bad cholesterol, improve circulation, and decrease the chances of heart disease, while also improving your mental health. Not to mention, cyclists can tone muscles in their lower body with consistent workouts.
…and remember, taking up the best riding position transport more of the effort you put in, into the benefits you get out.
---
Affiliate Disclosure
In compliance with the FTC guidelines, please assume the following about all links, posts, photos and other material on this website:
Any/all of the links on this website are affiliate links of which GymFreakz receives a small commission from sales of certain items, but the price is the same for you.
www.gymfreakz.com is a participant in the Amazon Services LLC Associates Program, an affiliate advertising program designed to provide a means for sites to earn advertising fees by advertising and linking to Amazon.com & Amazon.co.uk. Pages on this site may include links to Amazon and its affiliate sites on which the owner of this website will make a referral commission.