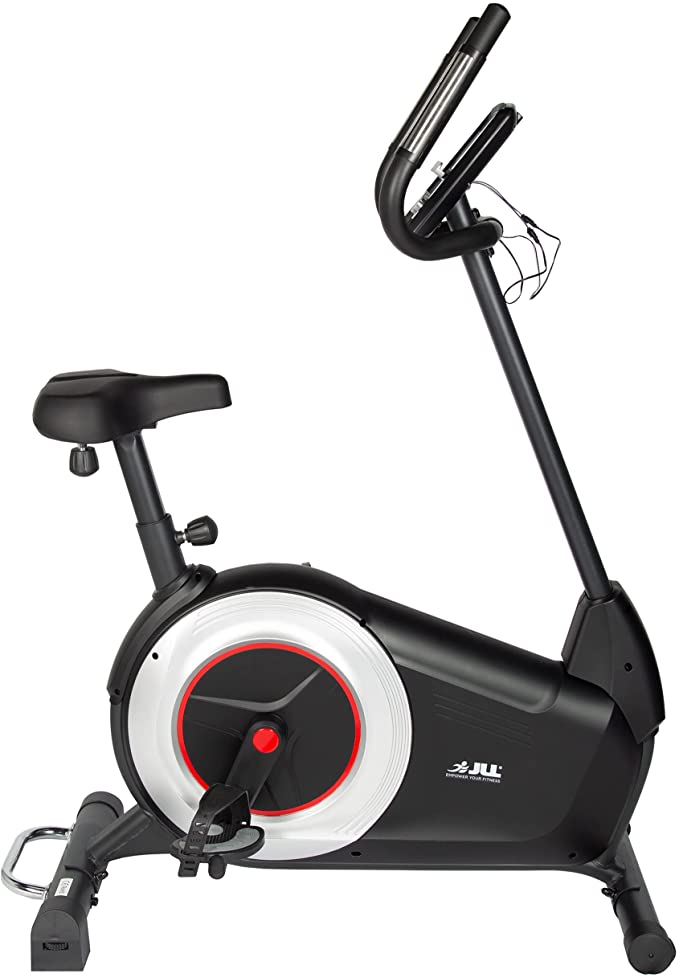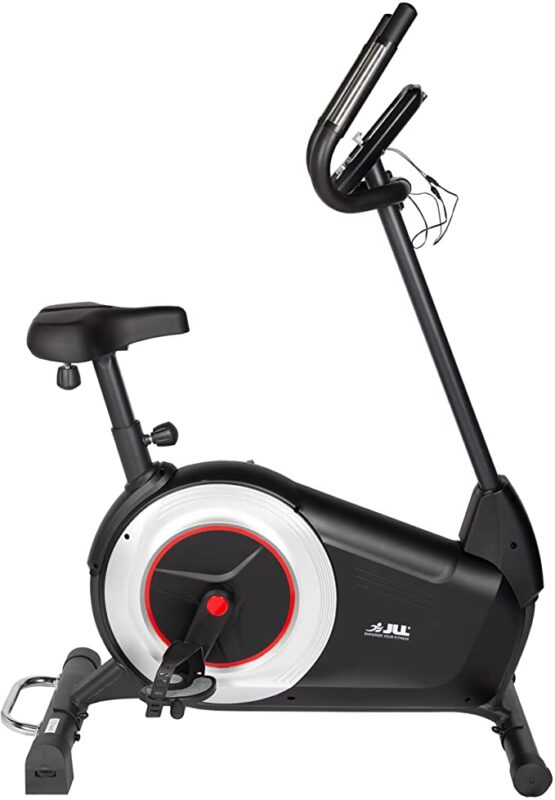 ---
---
Introduction to the JLL JF600 Pro Upright Exercise Bike for home
Trying to find the right exercise bike for your home can be challenging due to the overwhelmingly large number of available options. If you've been having a difficult time narrowing down your search for an upright bike, this post could well be useful.
I've covered the main features, specs, pros, cons, and more surrounding the JLL JF600 Pro upright exercise bike. As a result, you can leave this post feeling more assured about whether it's the right exercise bike for you.
At first glance, the JF600 Pro exercise bike looks like most other upright bikes. However, I was impressed with the number of fantastic features that this bike has to offer. Namely, users have been liking how this model comes with 12 built-in workout programs.
This allows you to choose between various workouts and use the ones that are tailored to your fitness goals. In addition to this, the electronic resistance system is remarkably smooth and works in combination with the workout programs to automatically change the difficulty level of your workouts.
If cycling classes aren't for you, the JF600 Pro exercise bike is worth considering. There are several other standout features that the JF600 exercise bike has to offer. So, let's take a look at this bike in more detail.
Disclaimer – This website contains affiliate links. If you find the information useful and click on a product link and make a purchase, a small commission will be earned by GymFreakz and we appreciate your support.
---
Specifications
Resistance – Electronic magnetic resistance
Crank – Sturdy 3-piece crank system
Monitor – Blue-lit 5.5" monitor that tracks time, speed km h heart, distance, calories, and heart rate
Flywheel – 6 KG flywheel
Pedals – Comes with adjustable toe straps
Handlebars – Built-in pulse sensors and 360-degree adjustability
Seat – Height adjustment levels available
Transport – Wheels built-in
Maximum user weight – 135 KG
Maximum seat height – 108 cm
Minimum seat height – 89 cm
Dimensions – 147 cm x 52.5 cm x 113 cm
Item weight – 37.5 KG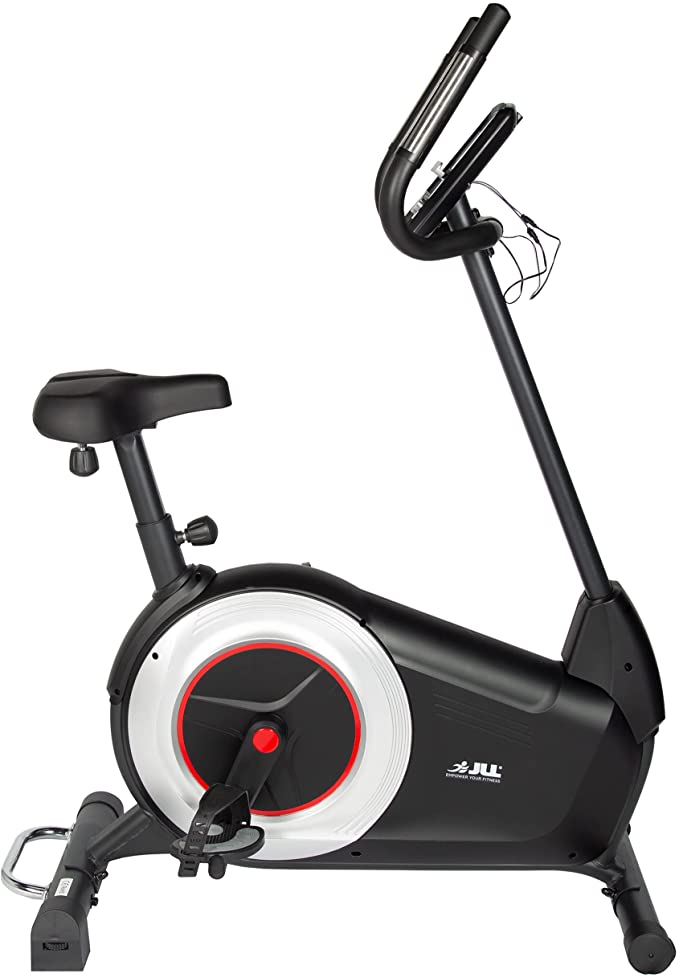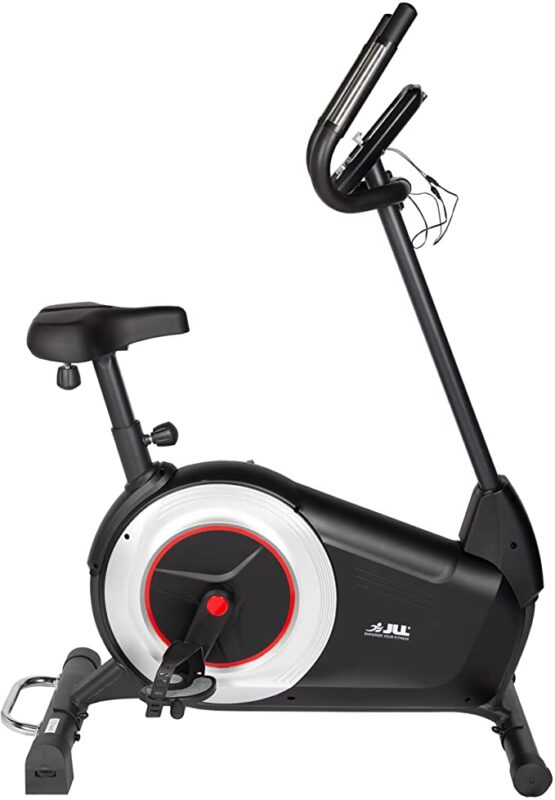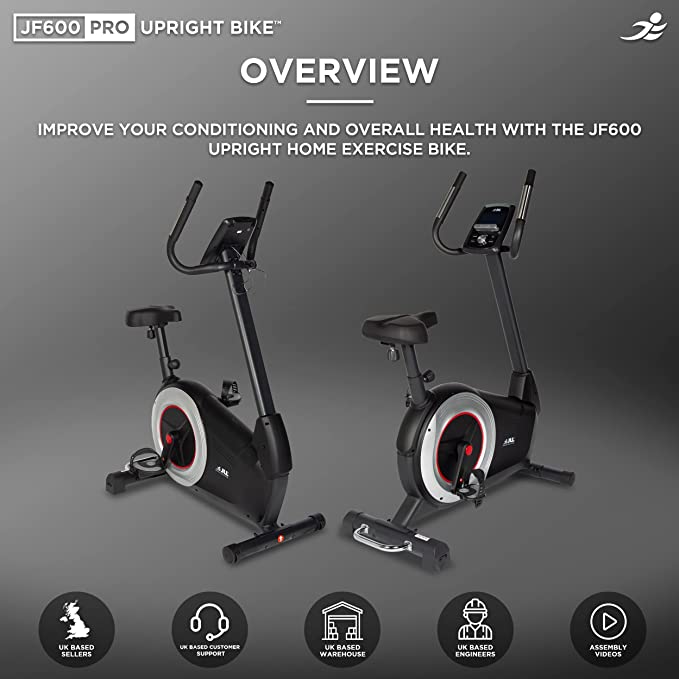 ---
KEY FEATURES
Electronic Magnetic Resistance
The JF600 Pro exercise bike comes with an electronic magnetic system that works similarly to the magnetic systems that are available with other magnetic bikes. These magnets work with the 6 KG flywheel to create resistance while you cycle.
You're provided with 32 levels of resistance which means that you can be sure to get a great workout with this piece of fitness equipment, whether you're a newbie or a more experienced cyclist.
However, the main difference between this electronic magnetic resistance system and standard magnetic exercise bikes is that it also works with the built-in resistance and training programmes that are available.
As a result, the resistance will automatically change depending on the workout that you've selected. Users have been liking how this feature allows them to simply focus on their workouts and not have to stop and adjust the resistance.
I also found that this feature enhances the experience as it feels more natural. The electronic magnetic system enables the resistance to change while you're cycling, just like in real life when riding across different types of terrain on real exercise bikes.
Heart Rate Sensor Plates
I liked how the heart rate sensors have been placed on the handlebars as you're able to hold them easily to be provided with a pulse rate. This heart rate sensor is excellent for allowing you to monitor your heart rate and adjust the intensity of your workouts based on your fitness goals.
An additional feature that makes your riding experience more comfortable includes the armrest that has been fitted in the center of the handlebars. This is fantastic for helping you to feel more comfortable while also providing you with a more secure riding experience.
Adjustability
Some users were disappointed with how the handlebars don't adjust with the same level of options as other JLL exercise bikes. However, I found that the seat adjustments that are included enable you to position yourself in a comfortable riding position. You have a maximum seat height of 108 cm and a minimum seat height of 89 cm.
Furthermore, the toe and foot straps help you to lock your feet in with the pedals securely. This is great for giving you the confidence to cycle intensely without worrying about your feet slipping off the pedals. The soft grip pedals also provide you with comfort while cycling.
Belt Design
The strong rubber belt design is a superb feature that allows you to cycle quietly and smoothly. A traditional chain-driven bike tends to create more noise. Therefore, the JF600 Pro could be an ideal choice to consider if you wanted to workout from home without creating a lot of noise.
In addition to the smooth and quiet benefits, this belt has also been designed for durability and stability. As a result, users have been able to feel confident when it comes to working out intensely. The strength of the rubber belt available with belt driven exercise bikes is what conveys the power being generated through pedaling to the flywheel.
Monitor
JLL Fitness has implemented a 5.5" monitor to the JF600 Pro exercise bike which is large and easy to read. Not to mention, the display is blue-lit which means you can have an easy time viewing the monitor in both light and dark conditions.
This monitor is useful when it comes to tracking your fitness goals. It keeps track of calories burned, watts, mins:secs distance km speed, as well as fat recovery heart rate via the heart rate sensors easy functionality.
I found all of this data to be vital for my fitness goals as it allowed me to see precisely where my current progress was at.
I was then able to set targets based on the stats provided and work towards them each workout. This is a practical way to work on your personal goals, whether that be to improve your fitness or achieve optimum fat loss.
Built-in Workout Programs
The 12 workout programs that are built into the JLL JF600 Pro are one of the standout features. Users have been liking how they're able to hop on this bike, select a pre-programmed workout, and start. This can help give you some guidance about how to create a workout plan that you can stick to.
In addition to this, up to four users can be added to the workout programs. This is great for families as it means you can add multiple people's profiles that they can then select when cycling. This provides you with a more specific approach to each person's fitness goals as the workouts will be tailored to them based on users details.
The JLL JF600 Pro also works with the iConsole+ app. This can be downloaded on your iPhone or iPad. As a result, you can see details about your workouts and choose the programming through the app.
Tablet Holder
If you enjoy being entertained while working out, the built-in tablet holder is a feature that you'll find useful. This allows you to securely place your tablet in front of you which can be great for those longer steady-state cardio workouts.
Steady-state cardio can be a preferred way for some people to lose weight as it's less intense and can prevent injuries or prevent previous injuries from flaring up. This type of cardio can become tedious and I found that the tablet holder included with the JLL Jf600 Pro was effective for keeping me motivated to continue with the workouts as I was able to keep myself entertained.
Transport
Those of you who have limited space for exercise bikes may be concerned about whether the JLL JF600 Pro can be transported. I was pleased to find that this model has been fitted with wheels which means that you can move the bike around your home easily.
This could be useful if you want to keep the bike stored away when you're not using it. You can easily take it out of storage and into a space in your home to workout. You can then simply roll it back into storage and prevent it from taking up too much space.
---
Warranty
JLL's fitness equipment comes with a 12-month warranty from the delivery date which provides users with peace of mind as they know that they're covered for at least a year if they encounter any problems. Moreover, a 30-day money-back guarantee comes with the JF600 Pro. Be sure to keep your proof of purchase handy as the sales service team will need this information to have the product returned and to give you a refund.
JLL Fitness LTD provides warranty for domestic use of the JF600 which covers the following:
2 years parts and labor warranty
Lifetime frame warranty
5 years motor warranty
You should also be aware that the available warranty doesn't include the wear and tear of JLL's fitness equipment that's expected to happen over time. Furthermore, the JLL Fitness LTD warranty will only cover the bike if it has been correctly assembled for domestic use. So, it's best to follow the assembly instructions to make sure that you put the bike together correctly.
If you have a problem completing the assembly of the bike, you can contact JLL Fitness and ask for help.
*Warranty may be subject to change without notice and may differ between retailers – please check carefully before making a purchase.
---
Pros and Cons
---
Overall Verdict:
The JLL JF600 Pro indoor cycling bike comes with an incredible number of high-quality features that can enhance your workout experience and keep you motivated to improve fitness and reach your weight loss goals. I was impressed with how effectively the electronic magnetic system works with the built-in workout programs.
This technology has been helping users stay focused on their workouts and not have to stop and start to change the resistance. Speaking of the resistance, the 32 levels that are included with this upright exercise bike mean that both experienced riders and newbies can use this bike for their workouts.
Users have been liking the variety of the high-quality workout programs available with this indoor cycling bike, as well as how the monitor is large and provides them with plenty of details they can use to track their workouts. You can tailor workouts to target heart rate, tone muscles, and program intense workouts to work on your stamina. The built-in heart rate sensors are also great for helping you understand your workout intensity and whether it needs to be increased.
If you're tight on space, the built-in wheels that are fitted to this upright exercise bike make it quick and easy to move the JLL JF600 Pro to different rooms in your home with ease. This is a helpful feature for people who would prefer to store the bike in a separate room that's out of the way when they're not working out.
Some users have been apprehensive about the handlebar design due to how it can't be adjusted. However, the seat comes with adjustment options that mean you can change the height to hold the handles at an angle that feels comfortable for you.
One of the downsides of the JLL Fitness JF600 Pro exercise bike is that some users find the seat to be uncomfortable. This could be an issue for people who are interested in longer workouts. Although, there are seat height adjustment features and options with the foot straps to suit your riding position.
Overall, the JLL JF600 Pro is loaded with high-tech features that can improve the way you workout. Users details are saved and the electronic magnetic resistance working in combination with the built-in workout programs is what sets the JLL JF600 apart from many of its competitors and other fitness equipment models. Considering the number of features that are included, the price is also competitive.
---
---
What I Liked About This Exercise Bike
Being able to choose between 12 workout programs is a huge benefit as it provides you with some direction when it comes to working out. If you've been having a tough time trying to figure out a program that's best for you and your goals, you can select one of the programs that the JLL JF600 Pro upright bike has to offer and get started on your fitness journey.
The fact that the electronic magnetic resistance system works with the workout programs creates a more realistic feeling to riding the bike. Depending on the workout program you've chosen, the resistance will automatically change which can affect your speed, time, calories burned, recovery heart rate and distance travelled. Not to mention, I liked how there are 32 resistance levels available as they can be used by people of varying experience levels to get a great workout. The iConsole app compatibility is also useful for seeing your workouts on your smartphone.
The built-in tablet holder is a plus for people who are looking to purchase the JLL JF600 Pro for steady-state cardio. It allows you to have a form of entertainment during your longer workouts which could be what you need to stay consistent with your sessions.
I found that the large monitor is easy to read and provided me with tons of useful information. Being able to track the time mins:secs distance km, heart rate and calories burned during my workouts was excellent for allowing me to create goals. The body fat reading was an unexpected additional feature that gives you some insight into where your current body fat levels are.
You can also feel confident in knowing that the belt design included with this bike has been made to last. I liked how it has been made with high-quality rubber materials as it ensures that the bike can be used intensely without worrying about the belt breaking down. It also means that you can workout more smoothly and without creating too much noise due to how well the belt and magnetic resistance system work together.
Things That Could Have Been Better
One of the main complaints about the JLL JF600 Pro upright style bike is that the seat feels uncomfortable. Even though there are seat adjustments and padding, some users have discussed that it simply doesn't feel comfortable to ride. This is a downside that you should consider as it could hinder your ability to workout for long periods.
Furthermore, the handlebars can't be adjusted which has left some users worried that they won't be able to get into a comfortable riding position. The adjustable seat height allows you to position yourself comfortably, however, this is still another potential downside that's worth thinking about.
---
FAQ's
Can the handlebar be adjusted?
No, the handlebars are fixed in position. Instead, you can use the adjustable seat options to put your body in a position that feels best for gripping onto the handlebars.
How is the JLL JF600 Pro upright bike powered?
This exercise bike is powered by the mains.
Is the JLL JF600 Pro exercise bike compatible with mobile devices?
Yes, there are apps available on both Apple and Android mobile devices that allow the bike to connect to your phone. This upright exercise bike allows you to track your body fat, fat recovery heart rate, calories burned, as well as mins:secs distance km speed.
Additional Points
Working out from the comfort of your own home is a preferred way for many people to exercise. If you're not a fan of going to cycling classes or studio workouts, using something like the JF600 Pro upright bike could be an excellent alternative. This is especially the case if you find yourself busy and have limited free time to workout.
You can conveniently workout with an indoor exercise bike from home at any time of the day or night. This is especially the case with the JLL JF600 Pro upright bike due to its quiet and smooth operation.
Cycling has tons of benefits that include muscle toning (especially in the lower body), weight loss, and cardiovascular health. In addition to the physical fitness benefits, cycling has also been shown to improve mental health and wellbeing.
Studies have shown that cycling releases "feel good" chemicals in the brain that are known as endorphins. These chemicals can help to uplift your mood and reduce stress and anxiety. Furthermore, regular exercise can be an effective tool against depression. So, you can use cycling as a way to increase your heart rate and ensure that both your mental health and physical fitness are intact.
Using an indoor upright bike can be cheaper in the long run compared to going to the gym or studio workouts. Many users also prefer how convenient it is being able to cycle from home – it can save you both time and money, while also improving your mental and physical health.
---
Affiliate Disclosure
In compliance with the FTC guidelines, please assume the following about all links, posts, photos and other material on this website:
Any/all of the links on this website are affiliate links of which GymFreakz receives a small commission from sales of certain items, but the price is the same for you.
www.gymfreakz.com is a participant in the Amazon Services LLC Associates Program, an affiliate advertising program designed to provide a means for sites to earn advertising fees by advertising and linking to Amazon.com & Amazon.co.uk. Pages on this site may include links to Amazon and its affiliate sites on which the owner of this website will make a referral commission.