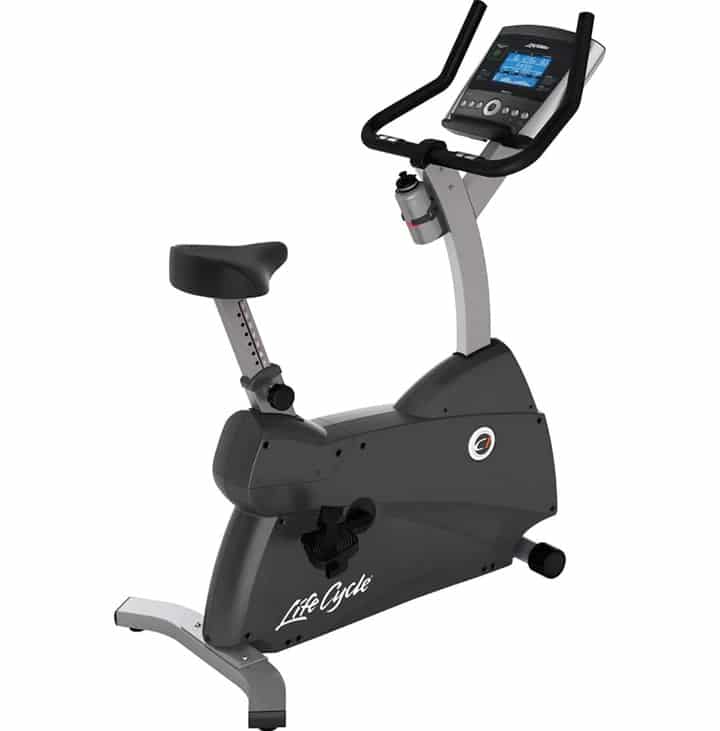 ---
---
Introduction to the Life Fitness C1 Upright Bike From The C Range. Available with Go Console or Track Connect Console
They say variety is the spice of life, and when it comes to the range of cycles and gym equipment you can purchase, well it doesn't get any more varied. Equipment can range from entry-level machines boasting a great price but basic yet durable features all the way to premium models with great tech, amazing extras and mechanics that set the bar incredibly high.
Life Fitness equipment can offer you all of the above, with amazing entry-level machines to frankly futuristic-like technology. The traditional biking workout is still very much the basis for these bikes, but with the advancements in technology and infrastructural design, the word traditional is ever fleeting. With things like motivating workout programs, deluxe forearm support, intuitive functionality and, well, bikes that you can literally watch television on, it's no surprise we're looking at the enticing Life Fitness C1 upright bike.
This machine is compact, remarkably quiet, and dexterous enough to come with one of two console choices. But technology and external components aren't everything – Life Fitness always put a focus on their machines' lifespans, structure for workout control, and ergonomic designs for physical efficiency.
Let's break down where exactly this Life Fitness C1 upright bike fits into the all above, and how you could be making the only purchase needed for years to come.
Disclaimer – This website contains affiliate links. If you find the information useful and click on a product link and make a purchase, a small commission will be earned by GymFreakz and we appreciate your support.
---
Specifications
Mains Powered
Size L x 115 cm W x 69cm H x 143cm (45″ x 27″ x 56″)
User weight 21,5 stone (136kg)
Product Weight 48kg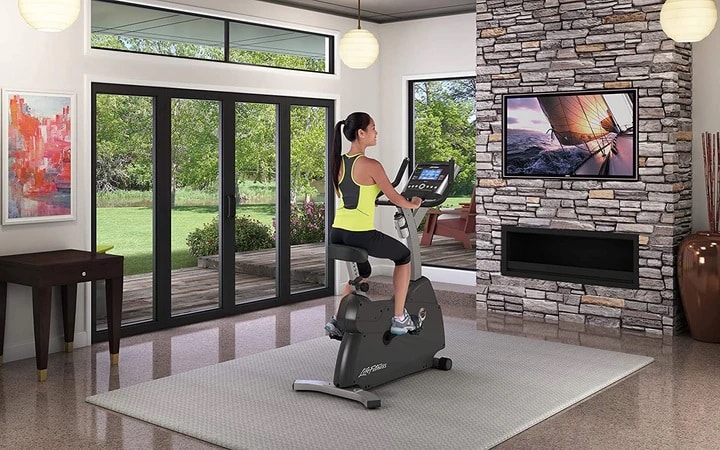 With Go Console:
With Track Connect Console:
---
KEY FEATURES
Interchangeable consoles
20 Resistance Levels
Contact heart rate hand sensors
Telemetric heart rate monitoring (optional chest strap)
Self-balancing pedals
Integrated Accessory Tray
Reading rack
Cup holder
Front wheels for mobility
User Weight 21.5 Stone (136kg)
Size L x 115cm x 69cm H x 143cm (45″ x 27″ x 56″)
---
Warranty
Warranty: Lifetime frame, 3 yrs parts, 1-yr labour
*Warranty may be subject to change without notice and may differ between retailers – please check carefully before making a purchase.
---
Pros and Cons
---
With Go Console:
The C1 upright lifecycle exercise bike with go console combines ease of programming and ease of use. Not to mention the fact it's the more affordable version, this is definitely the option to choose for those looking for simple straightforward riding with a great and equally as simple console. With the go console you get 13 workout programmes, an instructional message centre for guidance, and 2 user profiles, to name a few. And this console is more than adequate and justified for its inclusion in the first place. Definitely consider this option if you want to save money and hassle.
With Track Connect Console:
With a higher total price overall, the average rating of this console is higher too. With expert advice, 15 workout programmes, and HIIT: Custom high-intensity interval training, this console is undoubtedly worth the money. Given the more attractive design, the chance to get a more effective workout non slip, and seamless tracking I would recommend this version of the C1 upright lifecycle exercise bike for those wanting to get the most out of their equipment purchase.
What else is good here? Well, the specifics of the preset workout range. You've got – Manual, Hill, Random, EZ Resistance, Sports Training, Fat Burn, Cardio, Heart Rate Hill™ Heart Rate Interval, Extreme Heart Rate™, Calorie Goal, Distance Goal, Heart Rate Goal, Custom Workouts, Quick Start, Race Mode, Cool Down Mode and Warm-Up Mode… In my opinion, this variety is the spice I mentioned at the beginning of this article, and it says a great deal about Life Fitness' goals in giving you an incredible range to work within.
---
Overall Verdict:
To summarise, this bike is a classic entry in the Life Fitness range. It has all of the durability and lifespan I'd expect from the manufacturers with a great console select choice too. Giving you the choice to essentially enhance the same model is a great way to appeal to gym goers and buyers alike, and I love the variety in both choosing which console and the functionality of each console respectively.
But enough about the consoles for a second, let me tell you what I thought of the actual bike and workout experience.
Firstly, the core features of this bike are great, especially for the price. Yes, it's a more traditional indoor bike experience but with 20 resistance levels, heart rate monitoring (hand sensors), slip self-balancing pedals and brilliantly designed front transport wheels, this bike ticks all of the basic boxes that I'd expect from equipment in this day and age.
On the theme of user experience, and as I complete this review write-up, I have to say that the C1 upright cycle has a big, safe and comfy seat. This is important for those wanting to utilise this machine for long sessions, a natural upright riding position is something I cherish in bikes of this type.
Other factors like the maximum user weight, racing-style handlebars, and durable build make this a sturdy purchase. It's always worth mentioning with lifecycle bikes found on the market – I'm always on the lookout for fitness solutions on durable builds that save me money, and the hassle of having to buy another bike in a few years!
---
With Go Console:
With Track Connect Console:
---
What I Liked About This Exercise Bike
Besides the above factors, I love how this fits in with my other home exercise equipment. I love the aesthetics (as I do with most Life Fitness models) and it blends in any room I want it to. I would point out that if you do care about visuals then the right console is important. Personally, I think the track connect console looks amazing in comparison to the go console – I love the modern feel it has as well as its functionality.
The consoles give you great choice, from data tracking to Bluetooth connection I always value-enhanced workouts that allow me to get more out of a bike. Pre-set workout programmes are amazing if I don't want to think about my fitness regime, and the custom workout programmes are great for when I do. It's all about options, and this model, no matter the console, gives me that and more.
And hey, we can't forget about basics like the front-mounted water bottle holder. It says a lot about more basic bikes when they tick these fundamental boxes, life fitness know what they're doing, and yes it's the water bottle holder that made me realise this here… the best health clubs buy machines like this for a reason.
Things That Could Have Been Better
I do believe personally that the go console version should be a bit cheaper. The bike is great and all of the boxes are ticked, but it doesn't give me incredible options to capitalise on my workout in the same way the track connect version does. This vital difference essentially turns one into a nice machine and the other into an incredible one – the track connect is a brilliant console, I just wish the more affordable go console pushed the boundaries even just a little bit more.
Other than that, given we all have a budget, I know there are comfier bikes out there in the same price range. If you're like me and really value comfort when working out then I may suggest looking elsewhere – Life Fitness always put a value on usability and comfort too but I feel this misses the mark for comfort vs price, if only by a touch.
---
FAQ's
Maximum user weight, surely bikes are far more durable than treadmills?
Well, it completely depends. Everything has a threshold but treadmills tend to have a lot more impact, so yes max user weight should be more considered. But that's not to say you shouldn't think about it with bikes. If you exceed the max user weight, don't get the bike… it's that simple.
Is Life Fitness equipment the best?
The right question is – is Life Fitness equipment the best for me? It completely depends on what you're looking for, what you need, what may help you more and what you value. All brands we review and amazing, and Life Fitness is no exception.
---
Affiliate Disclosure
In compliance with the FTC guidelines, please assume the following about all links, posts, photos and other material on this website:
Any/all of the links on this website are affiliate links of which GymFreakz receives a small commission from sales of certain items, but the price is the same for you.
www.gymfreakz.com is a participant in the Amazon Services LLC Associates Program, an affiliate advertising program designed to provide a means for sites to earn advertising fees by advertising and linking to Amazon.com & Amazon.co.uk. Pages on this site may include links to Amazon and its affiliate sites on which the owner of this website will make a referral commission.