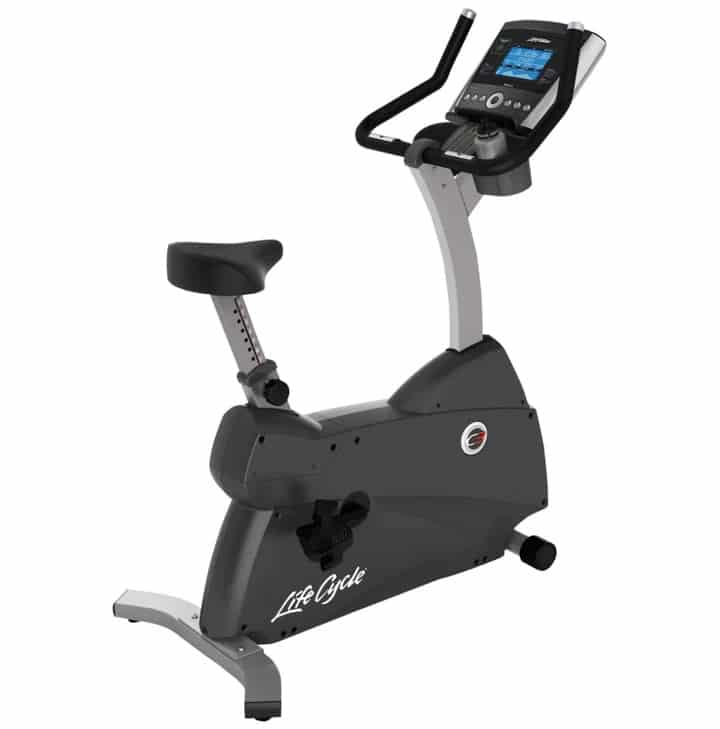 ---
---
Introduction to the Life Fitness C3 Upright Bike From The C Range. Available with Go Console or Track Connect Console
Another top-class entry in the C upright series, the C3 capitalises on its previous entries, developing superior build qualities and further options to help advance your fitness lifestyle. Never discredit the advancements that companies make or the extras that they throw in, I think we can agree that often all it takes to change our world is something simple, and workouts are no different.
From offering double the workout data to the self-balancing pedals' enhanced cushioning, this machine is a much-welcomed advancement. The developers at Life Fitness clearly value precise engineering with exceptional attention to quality and detail. One massive factor to consider in buying decisions is that you have to know about the bike's inner workings and build quality; buying a bike on aesthetics and price alone could see you trading in, or worse, scrapping, a badly designed bike. All you have to do is read on here and hopefully by the end of the article you won't just know more about the C3 bike, you'll also know more about indoor cycles in general.
In any case, Fitness equipment needs to evolve, and Life Fitness do a great job of repeatedly addressing this need to advance. The Life Fitness C3 upright bike is very much a part of that evolution, and before we get into why the rest of the line just gets better and better, I want to iterate why this machine is undeniably a great buy for many of us today.
Disclaimer – This website contains affiliate links. If you find the information useful and click on a product link and make a purchase, a small commission will be earned by GymFreakz and we appreciate your support.
---
Specifications
Self-generating with GO console
Mains power with Track Connect Console
Size L x 115 cm W x 69cm H x 143cm (45″ x 27″ x 56″)
Maximum user weight 28,5 stone (181kg)
Product Weight 54kg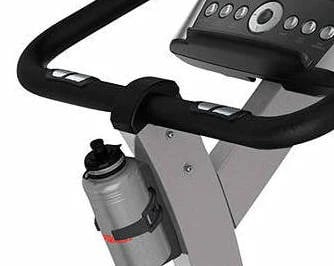 With Go Console:
With Track Connect Console:
---
KEY FEATURES
Mains power required with Track Connect Console
20 Resistance Levels
Contact heart rate hand sensors
Telemetric heart rate monitoring (chest strap included)
Self-balancing pedals
Integrated Accessory Tray
Reading rack
2 x Cup holders
Front wheels for mobility
User Weight 28.5 Stone (181kg)
Size L x 115cm x 69cm H x 143cm (45″ x 27″ x 56″)
---
Warranty
Warranty: Lifetime frame, 3 years parts, 1-year labour
*Warranty may be subject to change without notice and may differ between retailers – please check carefully before making a purchase.
---
Pros and Cons
---
With Go Console:
The C3 upright lifecycle exercise bike with GO Console combines ease of programming and ease of use. Not to mention the fact it's the more affordable version, this is definitely the option to choose for those looking for simple straightforward riding with a great and equally as simple console. With the GO Console you get 13 workout programmes, an instructional message centre for guidance, and 2 user profiles, to name a few. And this console is more than adequate and justified for its inclusion in the first place. Definitely consider this option if you want to save money and hassle.
A forewarning, however, many have marked this monitor as being a little too simplistic. While it's entirely subjective, it is worth considering this factor in your buying decision so please do make sure to note that down. Personally, for a simple bike that's well built then a simple console makes sense, sometimes it's worth investing the extra cash to have a better experience.
With Track Connect Console:
With a higher total price overall, the average rating of this console is higher too. With expert advice, 15 workout programmes, and HIIT: Custom high-intensity interval training, this console is undoubtedly worth the money. Given the more attractive design of the exercise bike, the chance to get a more effective workout, non-slip, and seamless tracking I would recommend this version of the Life Fitness C3 upright lifecycle exercise bike for those wanting to get the most out of their equipment purchase.
What else is good here? Well, the specifics of the preset workout range. On this exercise bike you've got – Manual, Hill, Random, EZ Resistance, Sports Training, Fat Burn, Cardio, Heart Rate Hill™ Heart Rate Interval, Extreme Heart Rate™, Calorie Goal, Distance Goal, Heart Rate Goal, Custom Workouts, Quick Start, Race Mode, Cool Down Mode and Warm-Up Mode… In my opinion, this variety is the spice I mentioned at the beginning of this article, and it says a great deal about Life Fitness goals in giving you an incredible range to work within.
---
Overall Verdict:
Overall this Life Fitness bike is a great improvement on it's previous entries. The self-powered aspects, combined with the long-lasting frame, make this machine a purchase for the future. The C3 upright indoor cycle is a smart, energy-saving bike with a focus on getting the most out of a minimal design.
Through adding the Track Connect Console, the Life Fitness C3 upright cycle becomes an enhanced workout tool, again giving you a lot more for your money by including what is essentially very little. While the GO Console is lacking in areas i.e. workout programs and user profiles, even without a console in the first place this machine is a great consideration for those wanting a sturdy and reliable cycle-based experience.
In any case, Life Fitness have addressed this possible lack through including an optional wireless chest strap for heart rate monitoring. While the heart monitoring sensors should be enough, located on the handlebars, having this as an inclusion is a nice touch, and paints Life Fitness in a good light.
---
With Go Console:
With Track Connect Console:
---
What I Liked About This Exercise Bike
Firstly, while some have experienced issues with the handlebars I love the standard racing style components of the Life Fitness C3. They compliment the magnetic resistance levels that reinforce the feeling of a real bike. I do agree they can be wearing after a while but I personally had a long session (nearly an hour) and I wouldn't say it became anywhere near a problem.
The key functions of the consoles on this exercise bike are great too, even the cheaper GO Console. The console features a large bright LED display which is very clear to see while you're working out, even if the light in the room isn't perfect, with ease of use and data tracking on the fly being a focus.
Important data like RPM, speed and heart rate can be measured, and to those who know their stuff, you'll know that these data points can be really useful in enhancing your fitness routine.
The bike's feel of this exercise bike doesn't stop there, the natural upright position, from the (unsurprisingly) standard upright seat, combined with motivating workout programs helped me to push myself to the limit in a safe and proper way. A position like this on an exercise bike is incredibly important to maintain, showing that Life Fitness have safety and posture as a prominent consideration, just try the large cushioned seat for yourself, and then brand Life Fitness how you want. A natural riding position is generally more comfortable too, from my experience.
Things That Could Have Been Better
It's good to track console development, and while Life Fitness give you the same options as the C1 the options available are good enough. However, with the GO Console being regarded as underwhelming by many UK residents, I would have liked to see improvements made in this area. I understand development is expensive and takes time, not to mention that previous sales must have denoted the console is good for a convenient home cycling workout and has been relatively successful, but personally, I don't think it quite makes the cut.
I think they should have also focussed on an extra that doesn't sit in the same function type as the handrail sensors. Built-in hand sensors are already great so to include an optional chest strap for heart monitoring feels like an odd move in my opinion.
---
FAQ's
Is a natural upright riding position important?
Extras like a console are always nice, but Life Fitness makes sure it focuses on getting the fundamentals right with an upright position. This helps with posture, and comfort over time, and helps you to maximise the bike's cardio potential through optimum positioning, especially with racing-style riding.
What does an electromagnetic resistance system actually do?
It's generally said that these systems help with resistance to offer a realistic biking experience, give you a varied challenge through adjustable settings and can also be employed as a break system.
What are the two types of Console – Life Fitness?
GO Console
Track Connect Console
What is the expected delivery date on an order?
Delivery is normally within 5-10 working days. A signature on delivery will be required.
---
Affiliate Disclosure
In compliance with the FTC guidelines, please assume the following about all links, posts, photos and other material on this website:
Any/all of the links on this website are affiliate links of which GymFreakz receives a small commission from sales of certain items, but the price is the same for you.
www.gymfreakz.com is a participant in the Amazon Services LLC Associates Program, an affiliate advertising program designed to provide a means for sites to earn advertising fees by advertising and linking to Amazon.com & Amazon.co.uk. Pages on this site may include links to Amazon and its affiliate sites on which the owner of this website will make a referral commission.