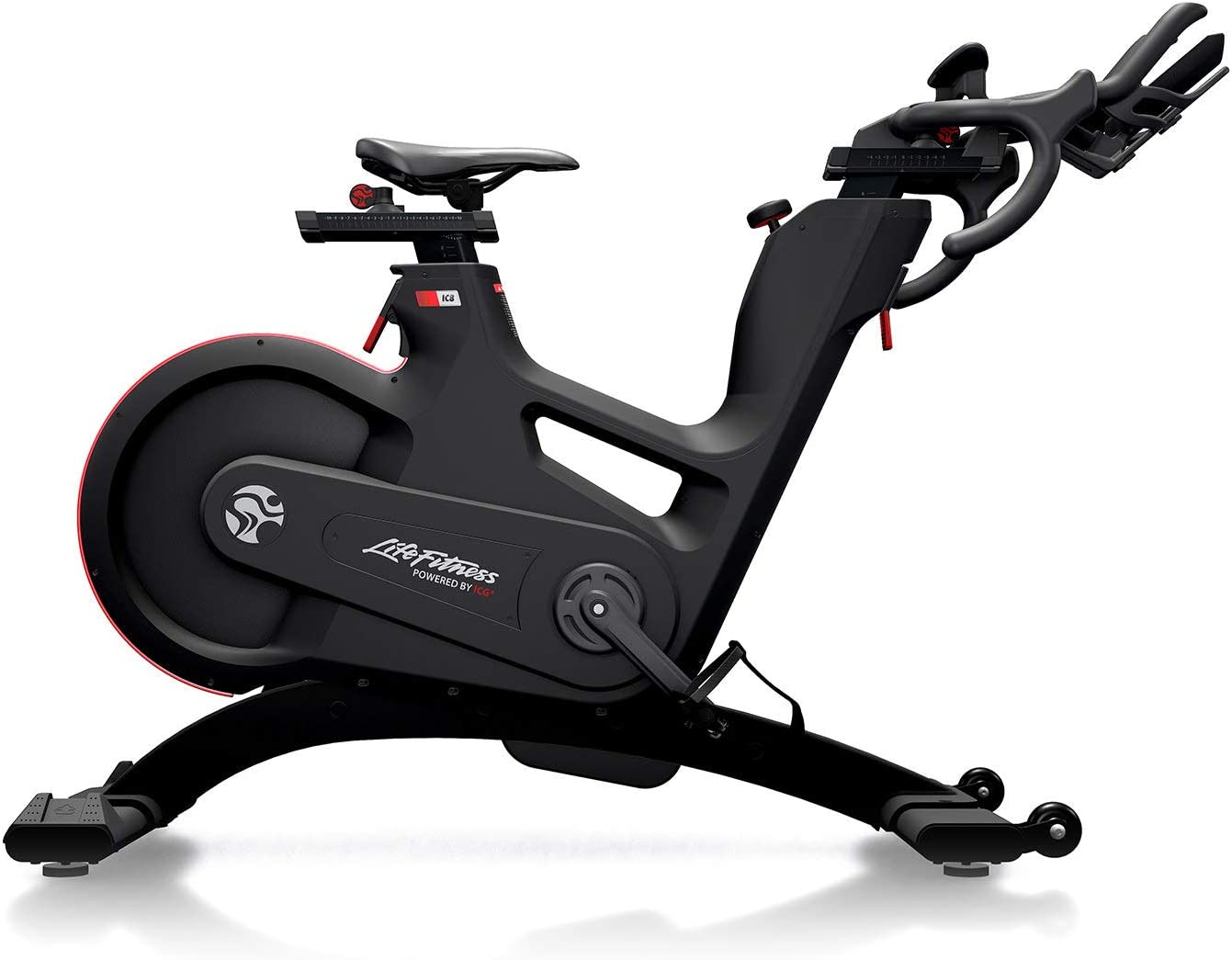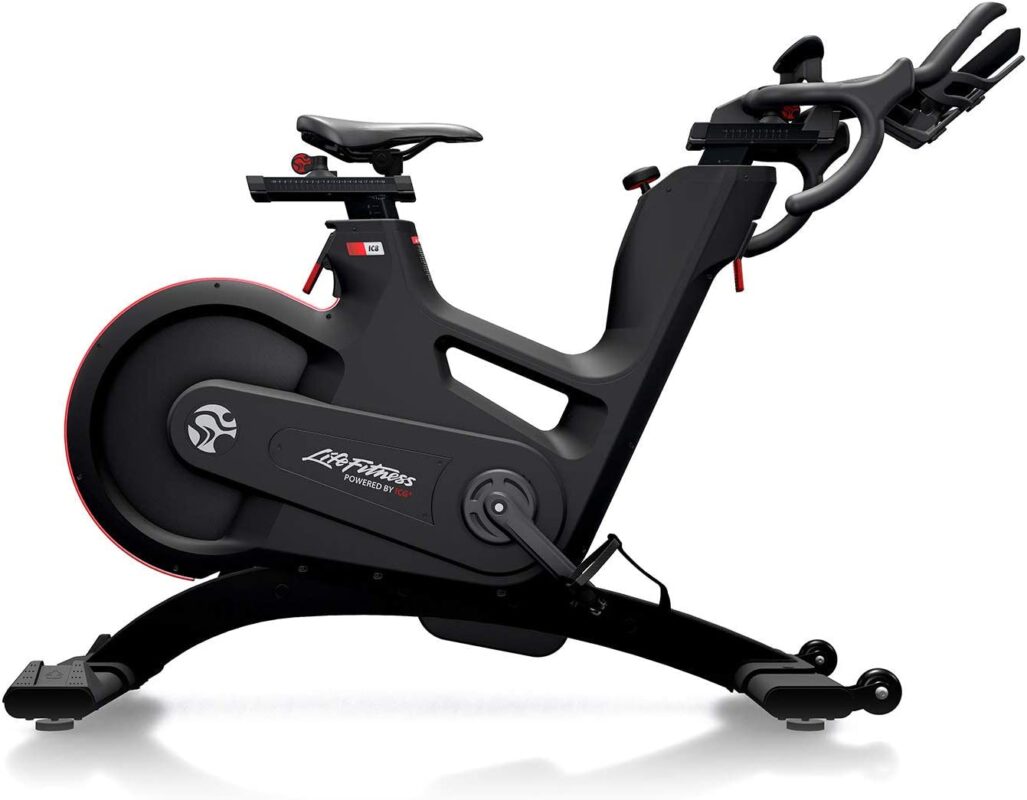 ---
---
Introduction to the Life Fitness IC8 Exercise Bike From The IC (indoor cycle) Range
What makes a bike the right purchase? Is it endurance training capabilities, the computer power supply, is it the challenging power trainer or maybe it's the soft PVC handlebar adjustments? As a long-time fan of the IC group bike series, I believe the right purchase is the IC8.
So many factors are to be considered when buying the right high-performance indoor cycle, but in order to find a bike with the best qualities that apply to all, well, sometimes you have to aim a little higher.
The IC8 cycle is the best of the lot. It's the ultimate release in the IC series and I have no doubt in my mind that it's the best. It's not always the case with sequels to things – think films or bank offers – but in the case of technology and gym equipment the evolution of a series will generally bring with it guaranteed improvements.
The IC8 offers high-intensity interval training, heightened ergonomics, impeccable geometry, and professional performance. But while we know the previous entries have great features and specs like improved pedal stroke efficiency and a fully integrated TFT screen, what we don't know yet is what makes the IC8 the best bike in the series.
Let's find out what Life Fitness have done to improve their game even further, and how you could benefit from one of the best bikes on the market – the Life Fitness IC8 power trainer
Disclaimer – This website contains affiliate links. If you find the information useful and click on a product link and make a purchase, a small commission will be earned by GymFreakz and we appreciate your support.
---
Specifications
Self-Powered Generator with Lipo battery
Aluminium evenly weighted rear flywheel
2-Stage Hybrid Chain and Poly-V belt freewheel
Drivetrain Gear Ration 1:13:75
Steel frame
Q factor 6.1"(155mm)
Crank CrMo 6.79" (17.25cm)
Post, Sliders, Flywheel – Aluminium Black Anodised
User weight 23.5 stone (150kg)
Size L x 144cm W x 52cm H x 103cm (56.7" x 20.5" x 40.5")
Product weight 54kg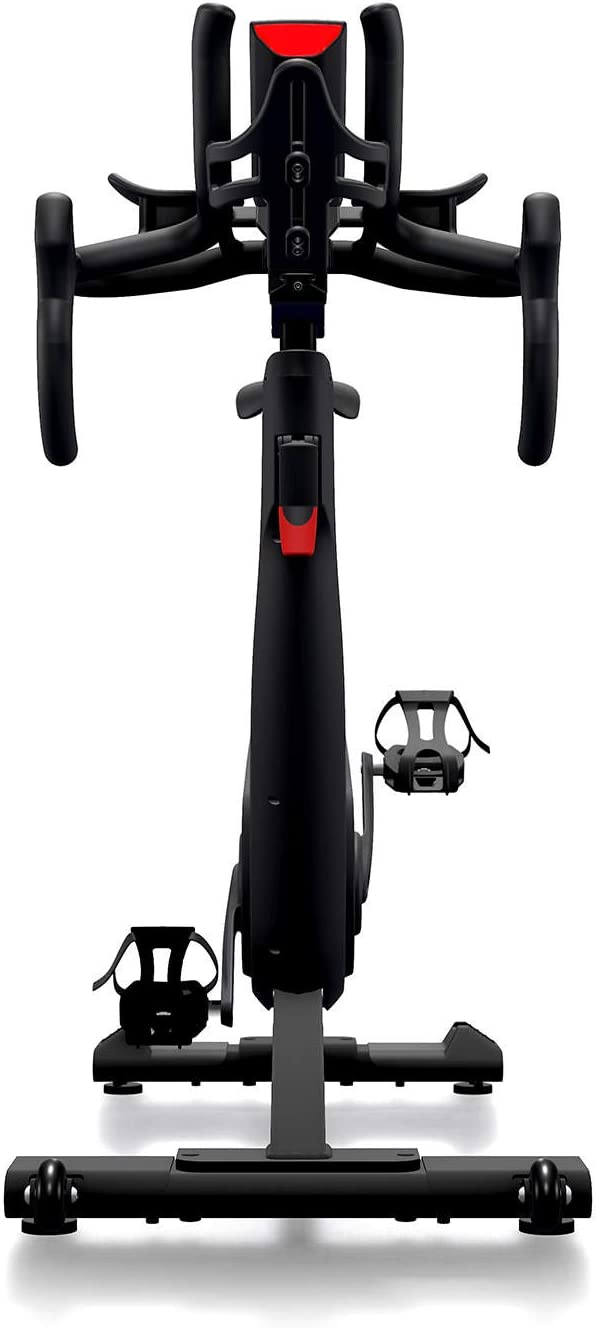 ---
KEY FEATURES
WattRate® TFT Computer 2.0
WattRate® Direct Power Meter(+/-1%)
Self-Powered Generator with Lipo battery
Studio management via Halo Fitness Cloud
300-degree dial 3800W magnetic resistance system
Aluminium evenly weighted rear flywheel
2-Stage Hybrid Chain and Poly-V belt freewheel
4-way saddle adjustment -vertical and horizontal. 'User-Assist' stepless vertical adjustment
Pro Performance Handlebars with horizontal adjustment and 'User-Assist' vertical stepless adjustment
Dual-sided SPD and toe cage pedals
Aluminium Black Anodised posts
Full cover sweat guards
Emergency stop button
Unisex padded sport saddle with opening
Single water bottle holders
Stretch plates
Oversized stabiliser bars
Levelling feet
Transport wheels
User weight 23.5 stone (150kg)
Size L x 144cm W x 52cm H x 103cm (56.7" x 20.5" x 40.5")
---
Warranty
Home Use – 12-Month Warranty
This warranty covers the cost of any breakdown call-outs and labour time spent on site. It also covers the cost of all mechanical parts.
*Warranty may be subject to change without notice and may differ between retailers – please check carefully before making a purchase.
---
Pros and Cons
---
Overall Verdict:
There's a reason this bike is the best release of the IC series. It's not just because of its resistance system magnetic superiority or the increasingly accurate workout-tracking, it's because it's the result of years of research and development, and not only have they listened to their own bike designers and engineers but they've listened to the users too.
Feeding back from user experience is essential to developmental direction, and Life Fitness didn't miss the mark. I love the fact that they'd dedicated so much time to developing a machine that both they and their users love.
The bike itself has an incredible build that gives low maintenance potential. This adds value by saving money and keeping you confident in your purchase for years to come. Speaking of years to come, the tech inclusion and timeless aesthetic both factor into how relevant this bike will be in the future. Given all of the specs and features let's just say it won't be weakening any time soon.
Namely, the IC8 manages to pick up where the others left off, including things like racing-style handlebars and a freewheel mechanism, plugging the gaps that were present in the previous models.
If you're worried about the price then I understand, but you have to understand that with a bike that falls down on so few things and excels in areas that no other bike has then it's always worth considering.
It's self-powered, has ANT+ and Bluetooth, it has a direct power meter through with RPM and Direct Watt… let's break down the best bits before I run out of writing room.
---
---
What I Liked About This Exercise Bike
There are so many things to choose from here. From intuitive exerciser navigation, off-set frame features, to connect technology with high-speed connection the IC8 power trainer is simply the best.
Personally, I love the fact that Life Fitness have now included both right and left power measurement/balance, giving you way more detail and accuracy about your body, your workouts, and sometimes even the bike's performance (pedal differences). Its robust computer helps to give you data tracking expertise, again evolving your workouts through workout tracking and strengthening your game as much as your physique. The performance data available through the TFT computer makes this a tech-house as much as it does a robust machine.
But I could unveil what I like about all of the features for hours… instead I think it best serves that I announce my love of all of the features combined, a combination found only on the IC8 indoor cycle. Specifically, the combo of a freewheel, right and left leg balance watt reading, drop handlebars aero grips, advanced monitor AND a fully protected frame – you just don't see this every day, and for the price, in reality, it's entirely justified.
While the ease of a vertical and horizontal saddle, vertical and horizontal adjustments all round, and other multi-position components make this very usable, there are a few fallbacks in the usability department, and it may restrict an unfortunate type of rider.
Things That Could Have Been Better
The first thing that strikes me as contradictory is the lack of multiple crank lengths, stepless user assist adjustments present. Normally fit adult riders may use cranks which measure around 20% of their effective leg length, rounded to the closest 5mm, whereas children can safely increase this figure to 22%. Considering these recommendations, I'd like to see an option to change the crank length, thus accommodating more riders. Given the cycle-specific coaching, you may find that the coaching styles are impacted by size, something not addressed in the coaching system.
It can also be a tad annoying at times if you're wanting to change the resistance system magnetic functions. Having these options easily changeable makes for a more dynamic workout, but with the IC8 you'll have to utilise a resistance knob… well known for being a pain to alter. It's not the end of the world and it hasn't affected me personally but If I was pushing myself to the limit then serious riders may have to reconsider the method of altering settings for complete control over indoor cycles.
---
FAQ's
Is something like a matte slate frame material important?
Frame material is always an important consideration. A steel off set frame, for example, is sturdy and durable, but a matte slate frame is not only a great colour but good for corrosion resistance too.
Does the lipo battery frame colour matter?
If you think colour matters then of course it does. However, just like anything, the colour of a single smaller component shouldn't be the deal-breaker in relation to great bikes. yes, everything should be considered, And, well, if you're faced with the bike of your dreams and the colour of the tip of the handlebars is a slightly more off-grey than the already off grey handlebars then I'd recommend pushing past that.
---
Affiliate Disclosure
In compliance with the FTC guidelines, please assume the following about all links, posts, photos and other material on this website:
Any/all of the links on this website are affiliate links of which GymFreakz receives a small commission from sales of certain items, but the price is the same for you.
www.gymfreakz.com is a participant in the Amazon Services LLC Associates Program, an affiliate advertising program designed to provide a means for sites to earn advertising fees by advertising and linking to Amazon.com & Amazon.co.uk. Pages on this site may include links to Amazon and its affiliate sites on which the owner of this website will make a referral commission.