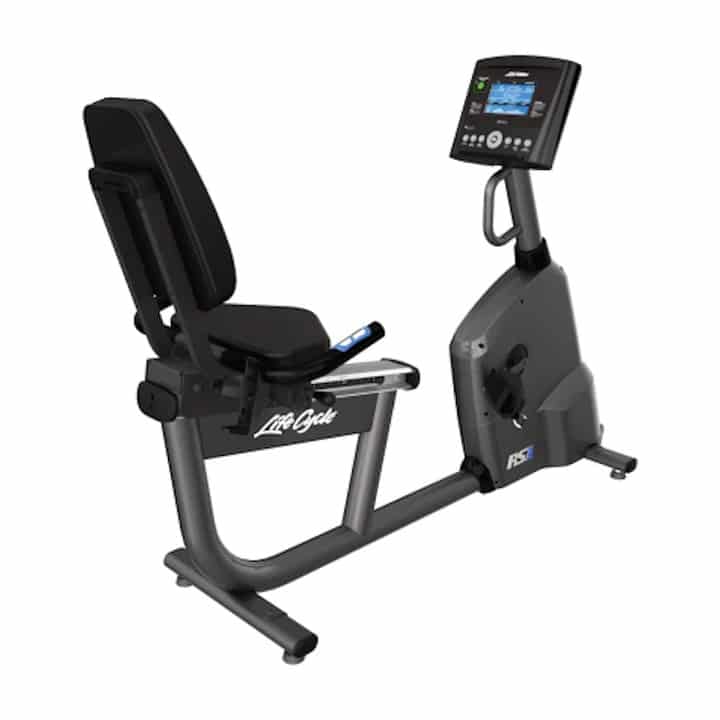 ---
---
Introduction to the Life Fitness RS1 Recumbent Bike From The Recumbent Range. Available with Go Console or Track Connect Console
Before we start with anything to do with bike components, Life Fitness or the benefits of indoor cycling, let's answer a pretty obvious question that's probably screaming out at us reading right now…
What is a recumbent bike?
A recumbent bike is a type of indoor cycle that's featured in popular health clubs worldwide, and for good reason.
A recumbent bike is hailed for it's ability to provide both a comfortable body position and a solid workout regime. Some would argue that this form of bike helps to sustain workouts for longer through removing strain on unnecessary body parts, reducing fatigue and muscle pain as a result.
It's simple, we all like to be comfortable. While there are many benefits of a natural riding position, for those who may be elderly, have back problems or just find usual cycles uncomfortable then this could be the bike for you.
You may have heard of both the Go Console and the Track connect console before. If so then you'll know that Life Fitness offer a choice of tech features. With a more expensive focus on essential workout feedback, allowing you to closely monitor your progress, the Track console combines ease and functionality.
While a relaxed body position ideal for biking is great, there's more to this bike, and there's far more to creating fitness solutions. The Life Fitness RS1 lifecycle bike features a great deal of sturdy build facets, long lasting components, comfort features and health club quality design. Lets take a step through design features, pricing, what I do like what I didn't and why, at the end of the day, you should buy this bike.
Let's take a spin.
Disclaimer – This website contains affiliate links. If you find the information useful and click on a product link and make a purchase, a small commission will be earned by GymFreakz and we appreciate your support.
---
Specifications
Mains Powered
20 Resistance Levels
13 position seat adjustment
User Weight 21.5Stone (135kg)
Size L x 145cm W x 66cm H x 137cm
Cup holders
Standard cushioning and upholstery, Standard recumbent – seat
Side-Mounted Handlebars and Single Front Assist Handle
Weight 133 lb (61 kg)
With Go Console:
With Track Connect Console:
---
KEY FEATURES
Contact heart rate sensors and telemetric (chest strap included)
Console Customization
Heart rate monitoring
Ergonomic Design
Non-slip, self balancing pedals
Easy mobility
---
Warranty
Frame: Lifetime
Parts: 5 years
Console: 3 years
Labor: 1 year
*Warranty may be subject to change without notice and may differ between retailers – please check carefully before making a purchase.
---
Pros and Cons
---
With Go Console:
You may have heard of both the Go Console and the Track connect console before. If so then you'll know that Life Fitness offer a choice of tech features. The Go Console provides fewer motivating workout programs than the Track Connect, but provides 13 solid programs non the less. With 2 user profiles you can also add custom workout types to you and somebody else, custom workouts are a great features of both consoles.
With Track Connect Console:
With a more expensive focus on essential workout feedback, allowing you to closely monitor your progress, the Track console combines ease and functionality, and to a far superior degree than the Go console. With 4 user profiles, 14 workout programmes and 3 custom workouts per user profile the Track Connect allows for far more effective workout challenges to meet your fitness goals. Being able to customise your own progress like this is what makes the slightly more expensive console worth it for me, and I'll put money it being worth it for you too.
---
Overall Verdict:
In summary, this bike is an easy entry in this series Life Fitness specialise in extreme durability and the RS1 testifies to that. I love the ergonomic design, the seat type standard cushioning, sport training results with home exercise bike built comforts, and generally seeing my fitness levels improve with the data tracking capabilities of both consoles.
I do think the Go console could be better but that's subjective, most technology I've used in any bike is worth the money but with the Track Connect Console existing it's hard to weigh it up against the Go, and very difficult to not upgrade to the Track without thinking.
The highly intuitive interface of the Track Connect aside, I love Life Fitness' range of fitness products, and they hit the recumbent line perfectly. The extremely user friendly machine presents superior comfort whilst also allowing for a fantastic challenge.
---
With Go Console:
With Track Connect Console:
---
What I Liked About This Exercise Bike
To put it in short, seamlessly combining extreme durability and comfort is one of the best feats I've seen in a bike, and the RS1 gets this spot on. To put it in a different way, having invested in a long life span bike, knowing I won't need to fork out again for years, all the while being comfortable while I train… it certainly leaves me with no excuse to workout for the years ahead.
Specifically, I love the material choice. Its heavy-duty welded steel frame is the main reason it's so durable. As buyers of gym equipment, we should always consider the durability and life span of the frame and components. Factors like this also make lifecycle bikes well worth the money, with what's essentially a great fitness level potential delivered to your door, you cant go wrong with long-lasting machines.
Things That Could Have Been Better
As is the case with any biker there are downfalls. While I always want to highlight the best, it's only right to point out the flaws in these machines. That said, I might be struggling to point out faults here.
If you've heard of the console choices then you know there are a few issue with the go console. The console itself itself is fully functional and still gives you plenty of options to work with, but it's the lack of diversity and variation in its construction that leave a few disgruntled with their purchase. I would have liked to see more attention, even slightly, given to the go console, in comparison to fully fleshed out track connect. It just leaves people wondering if the go console option was to make the track connect seem even better. Either way, I would recommend pushing the boat out a little and getting the track connect.
I do think as well that, the easy mobility and ergonomic step through design aside, the bike's design could have been reconsidered. Specifically, while the functionality of the design is great I'm not a fan of how this bike looks in comparison to other machines, especially from Life Fitness. I think it looks a little dated, quite bulky and the colour scheme dated also. If this isn't a problem for you then great, but I would encourage you to ask one question before you purchase this bike – will this fit in with the rest of my room?
While I will always praise Life Fitness for their intuitive functionality, highly intuitive interface making and sturdiness, I do think they leave extras out a little too much, and just because the track connect has an intuitive interface doesn't mean the rest of their products do. I would give an average rating for Life Fitness' peripheral features, and this time the absence of bluetooth connectivity is worth noting. All they'd have to do in order to enhance the go console to a more respectable level is to add bluetooth connectivity and phone control. This would surely offset some of negative feedback and for not much extra cost.
---
FAQ's
Why don't I see Recumbent Bikes as much in health clubs?
Besides the generally higher costs, a more natural riding position can encourage more intense workouts and so health clubs worldwide tend to adopt machines that will see their members benefit the most. That said, there's nothing stopping anyone pushing themselves on a recumbent bike and making the gains needed to excel.
---
Affiliate Disclosure
In compliance with the FTC guidelines, please assume the following about all links, posts, photos and other material on this website:
Any/all of the links on this website are affiliate links of which GymFreakz receives a small commission from sales of certain items, but the price is the same for you.
www.gymfreakz.com is a participant in the Amazon Services LLC Associates Program, an affiliate advertising program designed to provide a means for sites to earn advertising fees by advertising and linking to Amazon.com & Amazon.co.uk. Pages on this site may include links to Amazon and its affiliate sites on which the owner of this website will make a referral commission.