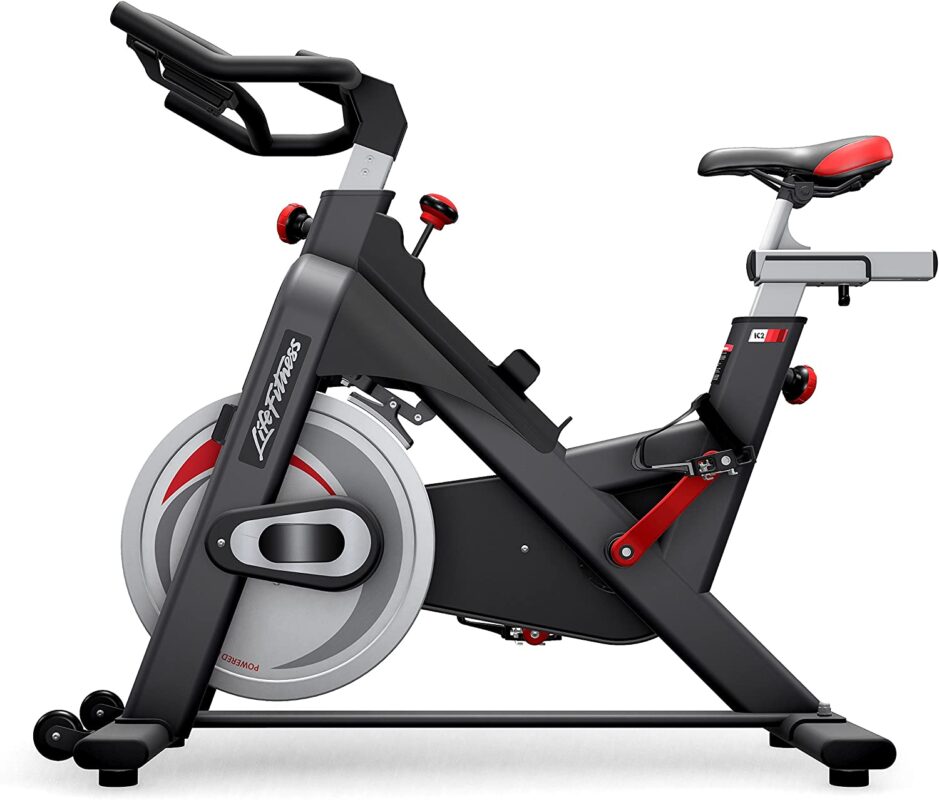 ---
---
Introduction to the Life Fitness IC2 Exercise Bike From The IC (indoor cycle) Range
The evolution of the IC1, Life Fitness' upgraded entry makes for an unquestionably desirable bit of gym equipment. Unsurprisingly, Life Fitness are always trying to develop ideas and expand on existing products. The reason why? To give you the best workout experience possible, all from developing their well-trusted brand and thinking on their feet to innovate.
So how exactly is this bike a step up from the IC1?
Well, despite the slight weight differences (IC2 has a lighter flywheel of 33-lb) the only difference is the price tag… oh and all the new improved technology.
The IC2 is revered for its parallel frame features, frame stabiliser bars and V Belt Drivetrain. And if you think the IC1 had high traffic commercial use then look up the figures for this machine. But it's not just popular because of the brand name or the IC family product tag; the IC2 has a range of improvements that we're going to break down in this list.
The product aside, if you're tentative about buying a bike in the first place then don't be; bikes give you so much from taking up next to no space at all. But just because something can help doesn't mean you're not maximising the potential to be getting the most out of a machine of this variety, so if you're looking for a rugged indoor cycle with a simplified feature set that's more than affordable then read on to substantiate that claim for yourself.
Let's get going with this Life Fitness IC2 indoor cycle and see how you could turn around your fitness game today.
Disclaimer – This website contains affiliate links. If you find the information useful and click on a product link and make a purchase, a small commission will be earned by GymFreakz and we appreciate your support.
---
Specifications
15kg perimeter weighted flywheel
Poly-V belt drivetrain (friction resistance)
Drivetrain Gear Ration 1:3
Steel frame
Q factor 6.81"(173mm)
Crank CrMo 6.79" (17.25cm)
Post and Sliders – aluminium, spring pin lock
User weight 20.5 stone (130kg)
Size L x 120cm W x 53cm H x 110cm (47.5" x 20.9" x 43.3")
Product weight 48kg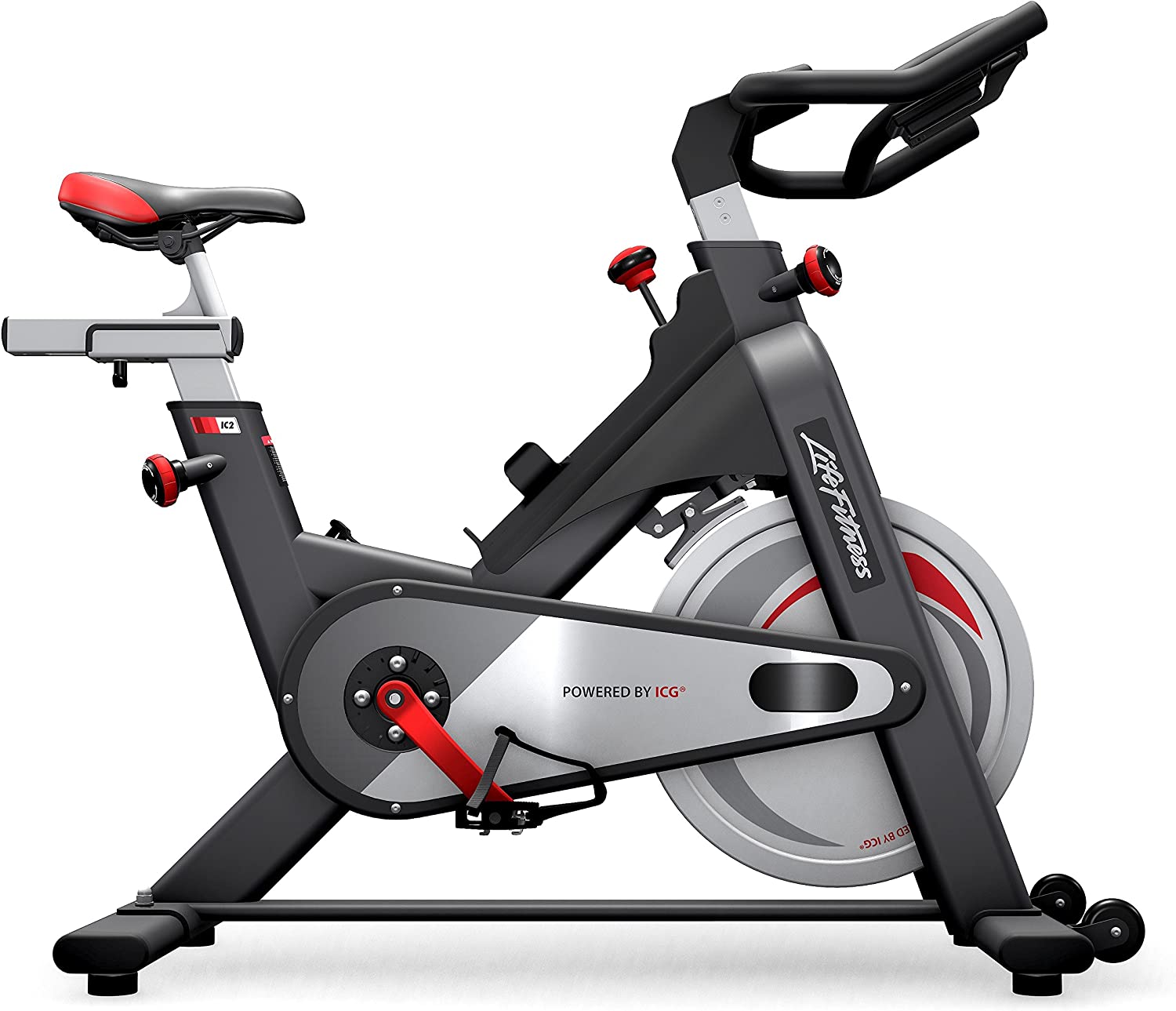 ---
KEY FEATURES
ANT Console (batteries)
15kg perimeter weighted flywheel
On board console – battery operated
Poly-V belt drivetrain (friction resistance)
4-way saddle adjustment – pop-pin vertical and horizontal
Multi-Grip Handlebars with pop-pin vertical adjustment
Hand grip pulse sensors
Aluminium posts
Sweat guard
Emergency stop
Unisex padded sport saddle
Water bottle holder
Levelling feet
Transport wheels
User weight 20.5 stone (130kg)
Size L x 120cm W x 53cm H x 110cm (47.5" x 20.9" x 43.3")
---
Warranty
Home Use: 3 years parts and labour. No warranty is available for non-domestic environments.
*Warranty may be subject to change without notice and may differ between retailers – please check carefully before making a purchase.
---
Pros and Cons
---
Overall Verdict:
To summarise, the IC2 is a brilliantly simple and sturdy machine. I loved the ease of use, movability and great range of adjusting too. While it doesn't have a crazy amount of extras, and the monitor not being included feels like a rarity amongst bike ranges, I just can't get over how easy this machine is.
From set up to post-workout I felt comfortable, well concentrated and unaffected by unnecessary complexity and faff that you often find with other bikes. On the theme of ease; if you ever need to tale this bike back or exchange it for some reason then the warranty is good and Life Fitness' customer service team is even better.
Most notably though I feel that for an entry-level cycle the premium grade materials make for a longer bike life than compared to others. This rarity is achieved through Life Fitness' proven engineering process, parallel frame technology and frame transport wheels to ensure safe moving.
To move away from components for a second, this entry-level machine looks like it belongs in an Olympic gym, and before you question aesthetics let me tell you that they are important – whether it's your home gym or your front room, you want to feel like a pro, keep integral with your interior design and be encouraged every time you look at it – so it's a good job the IC2 indoor cycle has a high chance of ticking all of those boxes.
---
---
What I Liked About This Exercise Bike
As far as comfort's concerned, the famed Poly v belt drivetrain makes for a quiet ride, improves pedalling technique and helps its rider work efficiently as a result. I can't stress enough how important the little things are in maximising your workout potential through eradicating issues with the basics. And besides rider comfort, you don't want to be worried about your neighbours getting frustrated, so the poly v belt drivetrain helps to remove that distraction too.
To add to this machine's distraction levels being minimised, the IC2's handlebar posts reduce weight (most notably making them easier to adjust), and the sweat guard improves performance, again through distractions being eradicated.
One thing anyone on the lookout for a good bike should consider is how well built the frame is, but for balancing too. Another thing I loved about this bike is an obvious factor – the sturdy and well built frame also results in stability and balance when riding.
Overall, I liked most things about this bike. I love how an application form online isn't the only option available, I love how the delivery method from Life Fitness is efficient and quick, I like how UK residents can benefit from deals (disclaimer – not all year round) and lastly I love the fact it's from Life Fitness.
Things That Could Have Been Better
Now, there a few things I didn't like with this model but the first one isn't necessarily about the bike itself. I don't want to talk about how some models have a lack of monthly payments options, or how resistance assembly can be difficult, I want to point out an obvious and frustrating buying experience for some – the lack of screen inclusion by default was frustrating for me.
While I like the fact that you have this option, it can result in frustration through extending the buying process and allowing for more potential error in the delivery (missed delivery date or wrong component etc). And while you don't have to worry about shipping weight if you're a UK resident, you do have to worry about the occasional delivery method mess up being a possibility.
This next point's subjective – the friction resistance system. Personally, I'm not a fan of how manufacturers attempt to mimic the feel of friction in outdoor biking. Not to mention that it makes a lot of noise as compared to other systems. While some people love the added challenge and added experience, I think that it may add an unnecessary bump in price for when, in reality, you can still have an effective and efficient workout.
Another factor that could be frustrating is the fact that the adjustment levels are hindered somewhat. What I mean by this is that horizontal adjustments are limited. This can make it difficult for the taller rider to really feel comfortable on this bike, and to be honest, it's an issue with the IC series. But don't let this put you off, it completely depends on whether or not you're a very tall rider with a specific grip technique – generally, you'll be able to ride this bike no matter your stature, you'd benefit from checking first though.
---
FAQ's
Will it arrive on the delivery date?
Nothing is certain in the world of delivery times, even Life Fitness get deliveries wrong or their delivery service misses the mark. Gym equipment can be missed when withstanding high traffic commercial use – it's like anything; the more things there are, the more things that could go wrong. Be sure to track your order if you can and make sure to ring customer services if possible.
Are vertical and horizontal adjustments needed if the handlebars are long enough?
Well, as the question suggests, horizontal adjustments may not be needed if they're long enough, but verticality isn't affected by their length. The way you as the rider would sit or use the handlebars will be affected your own verticality, but in order to gain the most comfortable experience you want a bike that adjusts in the most customisable of ways.
---
Affiliate Disclosure
In compliance with the FTC guidelines, please assume the following about all links, posts, photos and other material on this website:
Any/all of the links on this website are affiliate links of which GymFreakz receives a small commission from sales of certain items, but the price is the same for you.
www.gymfreakz.com is a participant in the Amazon Services LLC Associates Program, an affiliate advertising program designed to provide a means for sites to earn advertising fees by advertising and linking to Amazon.com & Amazon.co.uk. Pages on this site may include links to Amazon and its affiliate sites on which the owner of this website will make a referral commission.