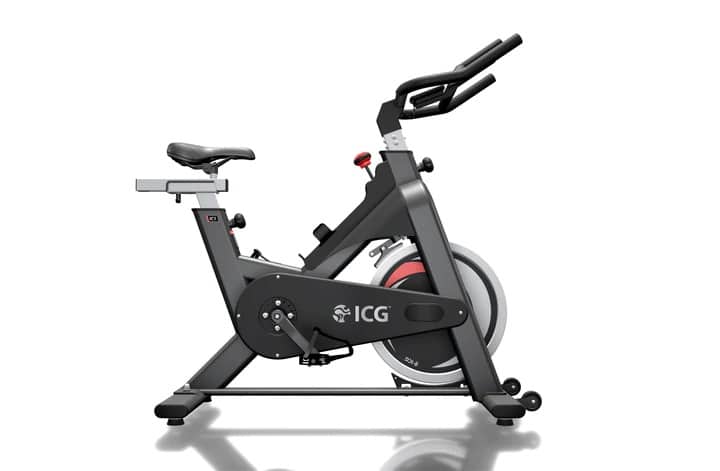 ---
---
Introduction to the Life Fitness IC1 Exercise Bike From The IC (indoor cycle) Range
This entry-level exercise bike is one of my favourite machines currently on the market. Life Fitness always deliver impeccably designed machinery at incredible prices, and the Life Fitness IC1 indoor cycle is no different. A seriously heavy hitter for its entry-level category, the IC1 boasts premium-grade materials, solid engineering and an easy-going aesthetic that fits most environments.
Some gym equipment cycles can be a little uncomfortable – I think we've all been there; shoddy seat, bad frame, and an all-round uncomfortable experience. Well, the IC1 is far from this kind of bike. For a smooth and quiet ride, Life Fitness have made sure that the unisex padded sport saddle adjusts 4-ways to meet the needs of multiple users, adding value for say a home gym owner or family fitness connoisseur.
Proven engineering on entry-level machines doesn't always mean top of the line, but what it does mean, however, is that it's durable, safe and easy to use. The IC1 boasts a poly v belt drivetrain for example, resulting in less maintenance, longer life spans and generally more value for your money.
In my opinion, Life Fitness have done it again, and I wouldn't be doing my job right if I didn't highlight some of the best value-for-money durable machines to add to your home gym equipment list. So, without further waiting let's break down why this Life Fitness IC1 indoor cycle could be the one for you.
Disclaimer – This website contains affiliate links. If you find the information useful and click on a product link and make a purchase, a small commission will be earned by GymFreakz and we appreciate your support.
---
Specifications
18kg perimeter weighted flywheel
Poly-V belt drivetrain (friction resistance)
Drivetrain Gear Ration 1:3
Solid steel frame
Q factor 6.81"(173mm)
Crank CrMo 6.79" (17.25cm)
Post and Sliders – chrome plated, spring pin lock
User weight 20.5 stone (130kg)
Size L x 115cm W x 55cm H x 110cm (45.3" x 21.7" x 43.3")
Product weight 51kg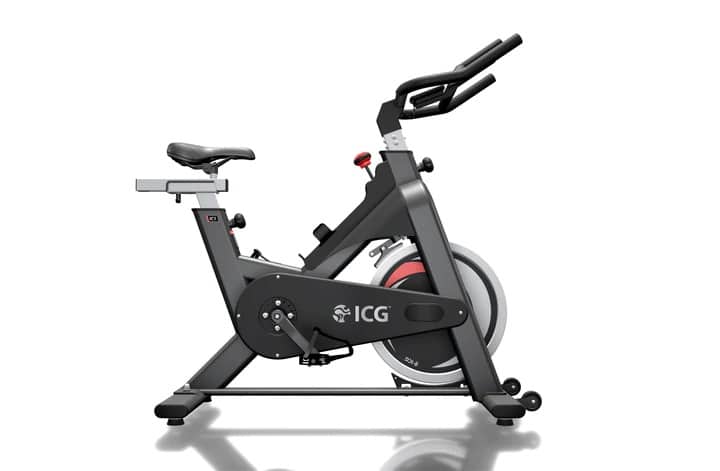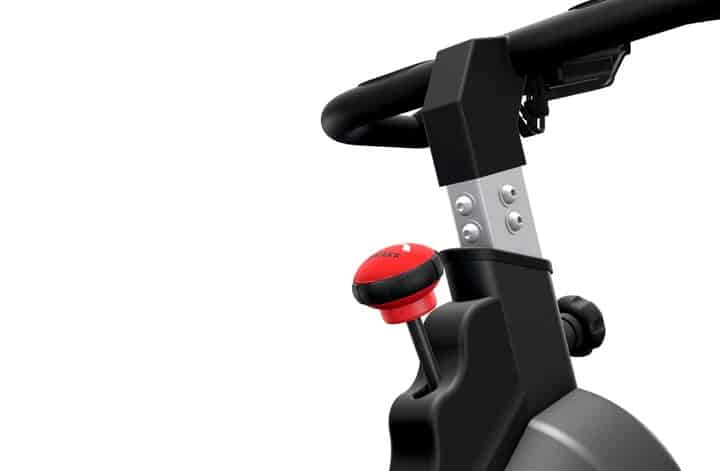 ---
KEY FEATURES
Regular Toe Caged Pedals
These sturdy toe-caged pedals allow for user comfort, exercise reliability and provide great safety for those wanting to push themselves.
Don't let the word regular put you off here, Life Fitness have done a great job engineering these pedals. They have a great life span, incredible spin durability, and most obviously… they're comfortable.
In order to have an incredible indoor cycling experience, you need a comfortable one, and the Toe Caged Pedals contribute to this experience.
Sweat Guard
What happens to a sleek and elegant frame when it's covered in sweat? It wears. Sweat guards are good for the frame, the surrounding area and… your overly critical family.
Seriously, this sweat guard could be the difference between your machine living and dying when it comes to aesthetics and wear, and nobody likes a sorry-looking bit of equipment in their home gym set up.
Water bottle Holder
Thinking of adding value to that sweat guard? Well, the water bottle holder is an obvious and fundamental feature even to entry-level bikes. It may feel like less of a problem in a home environment but at the end of the day the less time you need to think about the location of your bottle the more you can focus on losing weight, staying fit and upping your cardio game.
Without having to make vertical or horizontal adjustments, the water bottle holder is in a prime spot.
On-Board Console
An on-board console is pretty much expected for most equipment in the gym world, but not always for exercise bikes. This battery-operated console helps with intuitive performance measurement and keeps you up to date with the onboard power settings and data tracking (eg calorie expenditure) while the console doesn't display watt and power, it is a nice inclusion and a reminder that data tracking is a great way to improve or sustain your fitness game.
Chrome Posts
A reinforced chrome post doesn't just look good, it can go a long way to ensuring that it promotes frame protection safety, and safety doesn't have to be a boring word here. Chrome is a great material to use, often resulting in a sturdy build, reliable structure and less of a worry about decline after purchase. Chrome posting also helps with corrosion resistance, easier cleaning capabilities and a harder surface for general resistance (ever think about moving your machine around?)
---
Warranty
Home Use: 12 Months Parts & Return to Base Labour Warranty. No warranty is available for non-domestic environments.
The frame is under warranty for five years and the parts are covered for up to three.
*Warranty may be subject to change without notice and may differ between retailers – please check carefully before making a purchase.
---
Pros and Cons
---
Overall Verdict:
Overall this machine is incredible for its price and build. Gym, equipment like this doesn't need amazing extras, the build is enough to justify the machine's purchase, and leave you with no doubt that this exercise bike will unlimit your fitness levels.
With the potential for very high-calorie expenditure, the components of the IC1 are well made and long-lasting, adding value to your purchase. Stronger bike life = a stronger wallet, always remember that flashy extras might be nice but if the core mechanics and features don't stand the test of time then, well, keep your wallet open and ready.
While the adjustability of the handlebars may limit taller riders, the adjustability of the 4-way saddle is great, more than compensating for the slight con there. Parallel frame material is great too (chrome posts) resulting in not only comfort but a worry-free ride (longer bike life too… did I mention this?).
Something we haven't touched on is the line narrow Q-Factor. This refers to the way in which lateral stress on the knees and ankles is exerted. Because it's been designed incredibly well you can expect a smooth and quiet ride, and with a smooth ride, you can expect a comfortable padded sport saddle to accompany that.
Fitness beginners should revel in this machine. With a generally good delivery date, delivering an equally as swift fitness routine, the Life Fitness IC1 indoor cycle is a definite top marker on my personal favourites.
---
---
What I Liked About This Exercise Bike
Fitness solutions can come in the form of minimal inclusion. In other words, personally, I love the smaller features. The bottle holder and screen – these make a surprising difference to the overall level of fitness comfortability and ease when it comes to cycling. Speaking of ease, this exercise bike is comfortable, and despite the slightly irritating friction resistance system (noisy), the overall comfortability of this machine was top-notch.
Safety is an incredibly important factor here, and the IC1 helped no end. To ensure protection, a great level of design consideration has to go into the building of a bike. In short, one thing I love about this bike is actually the manufacturers behind it, not just the product itself. Life Fitness – clue's in the name. And if you want your workout progress to be climbing through your fitness career then invest in durable frames, affordable equipment and bikes like the IC1.
Things That Could Have Been Better
Yes the built-in console is important, and it doesn't have to be detailed to justify its inclusion, but having more functionality wouldn't have gone amiss. The fact that a wired on board computer exists in this machine is great but that doesn't mean it's as good as it could be. Forget the lack of fully-fledged vertical and horizontal adjustments for a second, the lack of power supply display on the monitor can be a bad thing. But even if you were checking the monitor a lot, then you might still have to worry about the standard frame stabiliser bars, as from my experience they're not the easiest to operate during a long workout.
The parallel frame features would have been nice to see too, but the lack of inclusion of this doesn't affect my liking of the bike, and certainly the safety and quality of the build (especially considering the good maximum user weight).
---
FAQ's
What's a perimeter-weighted front flywheel?
This is when the inner weight of an exercise bicycle has most of its weight loaded along the outside or perimeter of the disk. In other words, it's a disk design that helps with stabilisation and weight transference. This method is can be preferred for creating fitness solutions to the lack of realistic feel. In other words, through this method being included in the disk, you get inertia, and therefore a more realistic feel to your bike.
What is resistance assembly?
The purpose of a resistance assembly is to provide a mechanical connection between two or more parts while also allowing for movement or adjustment between those parts. A wide variety of different types of materials can be used to create a resistance assembly, but the most common are metals such as steel or aluminium. In order to create a strong and durable resistance assembly, it is important to select the proper materials and have a thorough understanding of the assembly process.
---
Affiliate Disclosure
In compliance with the FTC guidelines, please assume the following about all links, posts, photos and other material on this website:
Any/all of the links on this website are affiliate links of which GymFreakz receives a small commission from sales of certain items, but the price is the same for you.
www.gymfreakz.com is a participant in the Amazon Services LLC Associates Program, an affiliate advertising program designed to provide a means for sites to earn advertising fees by advertising and linking to Amazon.com & Amazon.co.uk. Pages on this site may include links to Amazon and its affiliate sites on which the owner of this website will make a referral commission.