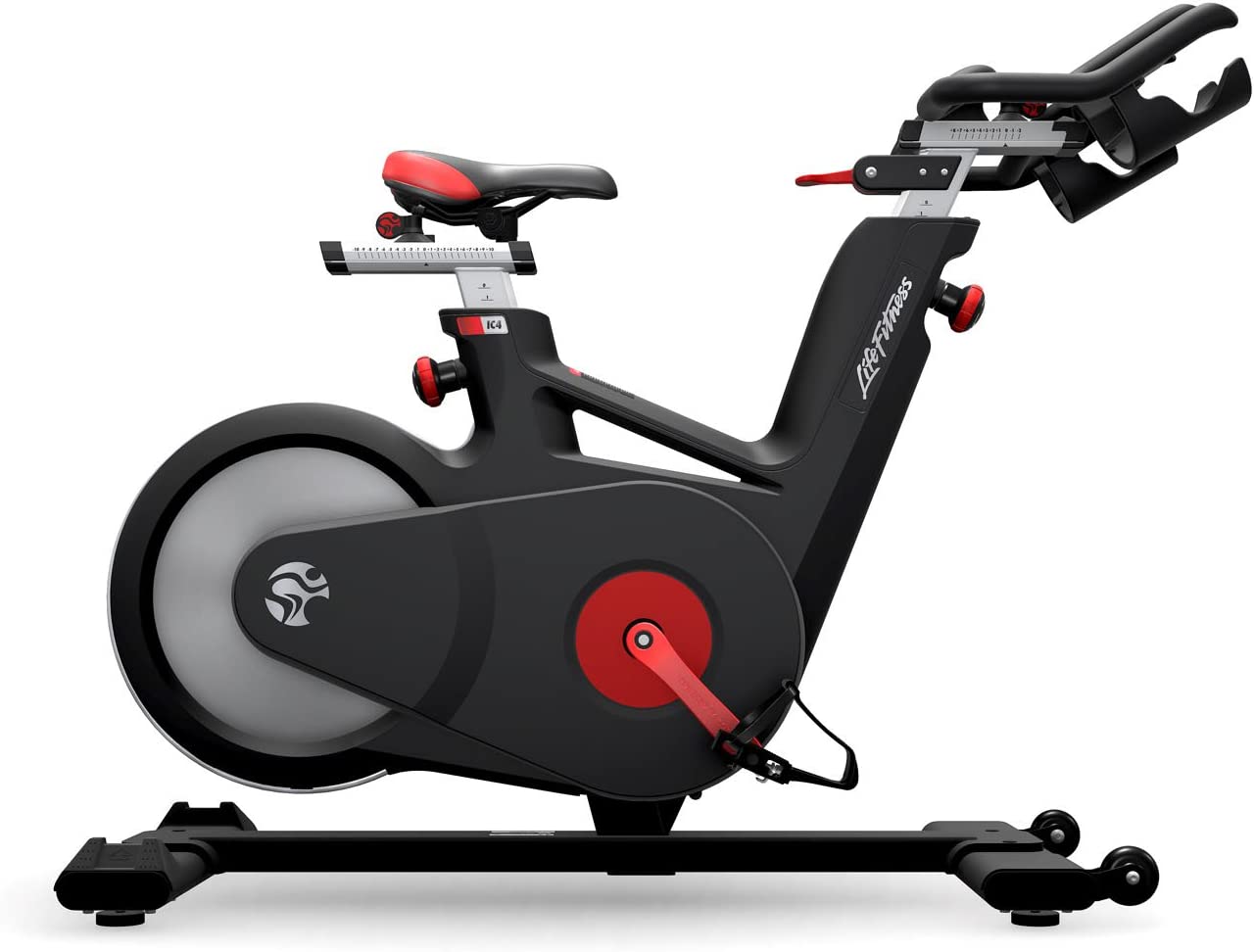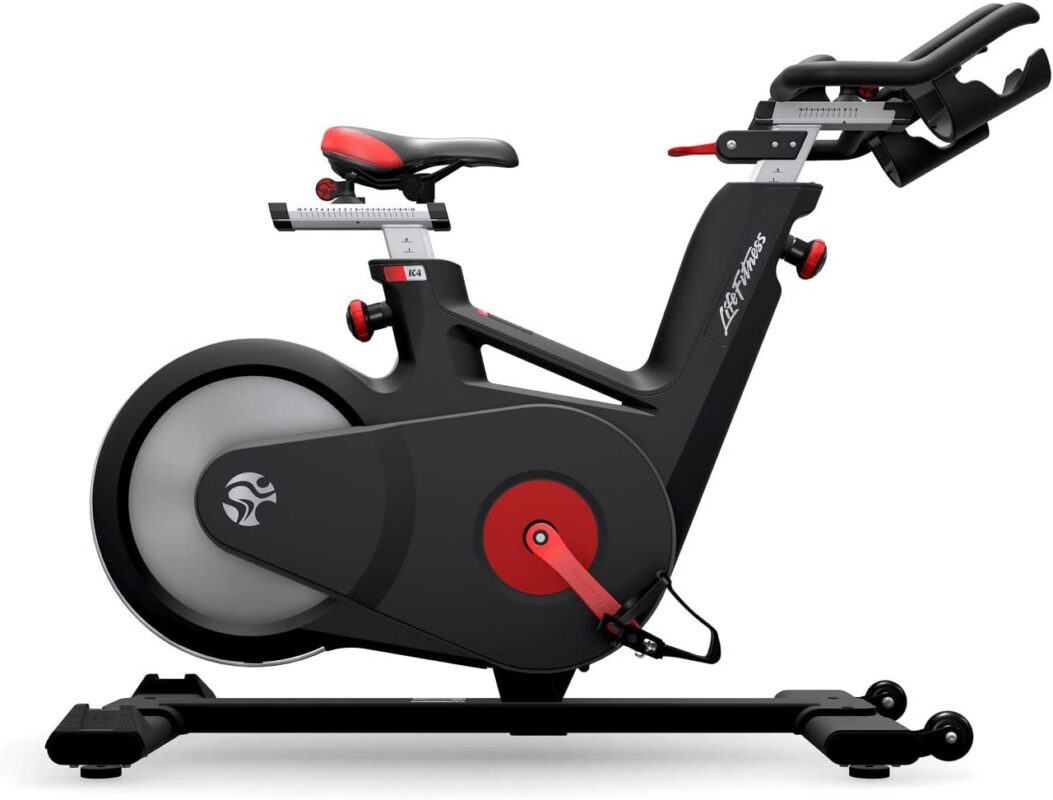 ---
---
Introduction to the Life Fitness IC4 Exercise Bike From The IC (indoor cycle) Range
If you're back with me today having read some of the other reviews on Life Fitness' predecessors then great; if you were excited by those or if you were put off them then you're still in the right place. Life Fitness always do a great job of expanding and advancing on build designs and features that set their exercise bikes apart from the rest, and the IC series is the best example of this over the years.
Previous entries of the IC series saw high grade mechanical components be improved handlebar assisted adjustment type development, and the advancement of the much sought after poly v belt drivetrain system. And now, with IC4 group exercise bike we can look into their intuitive designs and well known bike range have evolved once more.
With everything from aesthetics being built upon to create an even sleeker design to improved adjustment functionality, the IC4 is a giant step forward for those who love exercise bikes, and those who love bikes from Life Fitness.
For those put off more so about the idea of an exercise bike rather than the designs of the IC series itself then let me reassure you – exercise bikes are serious contenders for some of the most popular gym equipment types in the world.
Let's find out why.
Disclaimer – This website contains affiliate links. If you find the information useful and click on a product link and make a purchase, a small commission will be earned by GymFreakz and we appreciate your support.
---
Specifications
Aluminium evenly weighted rear flywheel
Poly-V belt drivetrain (magnetic resistance and magnetic brake system)
Drivetrain Gear Ration 1:10
Steel frame
Q factor 6.1"(155mm)
Crank CrMo 6.79" (17.25cm)
Post and Sliders – aluminium, spring pin lock
User weight 23.5 stone (150kg)
Size L x 132cm W x 52cm H x 120cm (52" x 20.5" x 47.2")
Product weight 50kg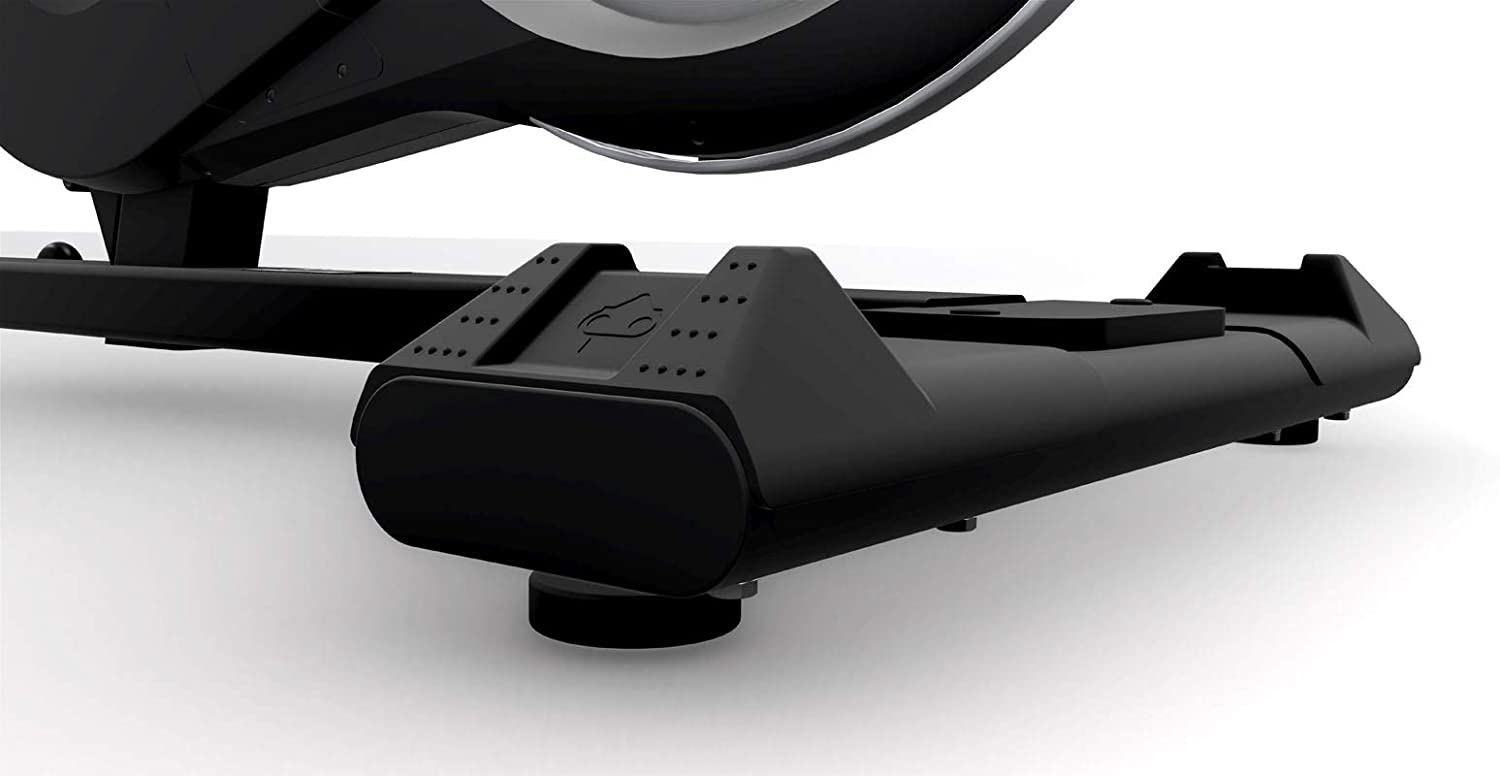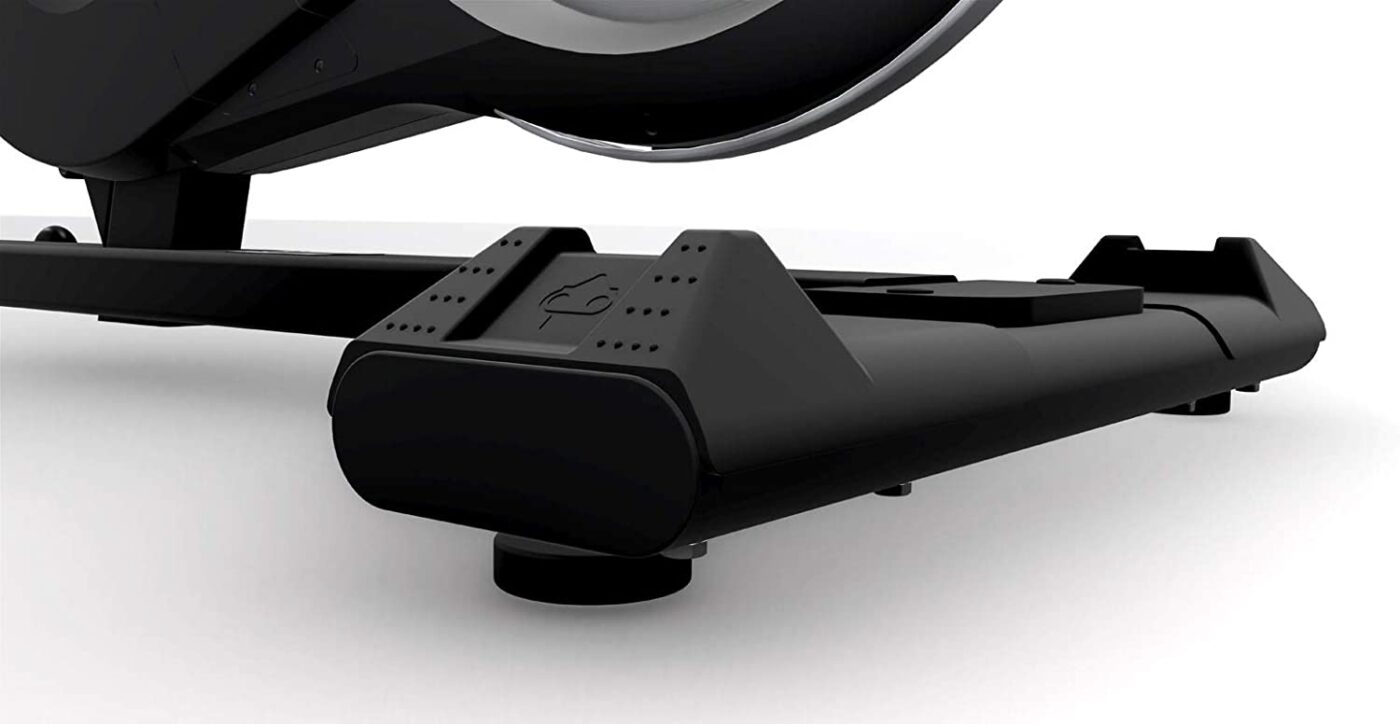 ---
KEY FEATURES
Aluminium evenly weighted rear flywheel
Poly-V belt drivetrain (magnetic resistance not just magnetic brake system)
4-way saddle adjustment -pop pin vertical and horizontal
Wide Multi Grip PVC Handlebars with pop pin horizontal adjustment and 'User-Assist' vertical adjustment
Handlebar device tray
Dual-sided SPD and toe cage pedals
Aluminium posts
Sweat guard
Unisex padded sport saddle with opening
Double water bottle holders
Stretch plates
Oversized stabiliser bars
Levelling feet
Transport wheels
User weight 23.5 stone (150kg)
Size L x 132cm W x 52cm H x 120cm (52" x 20.5" x 47.2")
---
Warranty
It offers 5 years on the structural frame, 3 on mechanical components, and a year on other parts and labor.
*Warranty may be subject to change without notice and may differ between retailers – please check carefully before making a purchase.
---
Pros and Cons
---
Overall Verdict:
There's a lot to be said about this machine, but before I get ranting about the specifics of why it both made me smile and left me spinning circles, I have to say that as an evolved edition in one of my favourite lines of exercise bikes its well worth the step up.
It looks great, it feels great, it moves great and the way I benefit from the straight forward hassle free design is exactly the kind of thing a lot of athletes should be on the lookout for. We all like technology to be included in our equipment to some degree, well most of us anyway, but I honestly found no detriment to having this machine tech free and spinning fast.
Now, the transport wheels are great, and a testament to this design is all focussed on build quality and ease of use. Fitness solutions like this are perfect for those who may be older, tired, or have limited space and need reorganise a lot so please bare that in mind. And, if you are moving a lot then you'll be pleased to know that the matte slate frame material hides scuffs and scratches like nothing else (if you want this for group cycling classes I'd highly recommend).
the sturdy steel frame helps with the above too, bit I want to focus on how it helped me feel. I felt incredible on this machine. I felt like a could pish myself and the bike wouldn't falter, I felt like I could change speeds fast and it wouldn't exert any stress on the frame and overall I felt like I was safe and quiet to enjoy my workout routine – this can be a rarity with certain gym equipment, so focus on this in your buying decision too.
In summary, this is exactly the kind of evolution I'd expect from Life Fitness and I'm overjoyed to see that the famed bike range just gets better and better with each entry.
---
---
What I Liked About This Exercise Bike
So, the specifics…
I love the new vertical and horizontal adjustments, they give me extra options that make me feel safe and secure and all in a way that the previous couldn't. I like the incredibly fast flywheel speed that's clearly been developed with not only speed but quietness too. Another part of why that's ace is the poly v belt drivetrain which you should compare to as the like the development of the motor engine itself.
I also read that this is an entry point machine, so I'll add the fact that it feels like a pro bike in here too. Besides the adjustment and comfort its the strength of the frame, how I felt the torque smoothly, how the dual water bottle holder helped to concentrate and the overall aesthetic design that made it feel pro.
And with great design and life long applications, naturally, an emphasis on on it being virtually maintenance free with sensible decisions like straying from oversized frame stabiliser bars and so on make this my ideal convenient bike of the week.
I love the material choice too. Solid steel makes for an extremely comfortable ride, and with the build shape potentially transferring extreme levels of stress then you can't fault Life Fitness' decision to use this. Gym equipment needs to be strong before its anything else, and the modern design with great looking aesthetics makes this strong, sturdy and reliable on all fronts.
Things That Could Have Been Better
However convenient, I did find the lack of technology to still be a bit of an issue here, and I'm not talking analogue 'pin to lock adjustments'. Yes, with the right models in this range you can buy some technology and add to your workout experience. But to see no default tech with this installment… It feels like Life Fitness could be missing a trick, especially considering the price tag they've fixed to it.
All that said, I don't mind there not being any technology personally, but data tracking and fitness tracking are quickly becoming more and more important with how competitors design their machines, so you don't want to feel out of date or left behind in years to come.
The newer multi position horizontal user assist adjustments are great too. But that doesn't mean they're enough for all. I still feel like the adjustments available can limit certain tall riders. I'm personally fine and I loved how it felt, but I'd be sure to check out reviews if you're any way close to the 6 foot mark. The fact that I'm saying this may be a problem denotes a chance of this being true…
Assembly has been noted to be a little tricky sometimes too. With the pedals being a little hard to attach for some users, it may be best to find a bike that's noted for its ease of construction, if you think you may struggle that is. I personally never found this hard but it's always worth sharing others' experiences of this too – and nobody wants a to put in a refund request with a new delivery date that may not be met.
---
FAQ's
What's the downside of not using high grade mechanical components?
The downsides can be plentiful, it's not all about a sleek matte slate colour machine's frame is integral to its survivability, comfort (stress levels) and over all quality. From the material of the LED/LCD display to the material of the grip – all of these design decisions are heavily considered, so if you're reading about a cheaply made machine with material quality being sacrificed then it doesn't just reflect badly on the bike but it can reflect badly on the manufacturers too (better have a good manufacturer's warranty if it's the case)
Vertical and horizontal adjustments should be a given, why should I trust a brand who's only just put them in with the IC4?
Designers make certain choices for a reason. It won't be through neglect that these adjustments may have been sidelined prior to the IC4 but very much a carefully weighed up decision to make sure their priorities were decided upon.
---
Affiliate Disclosure
In compliance with the FTC guidelines, please assume the following about all links, posts, photos and other material on this website:
Any/all of the links on this website are affiliate links of which GymFreakz receives a small commission from sales of certain items, but the price is the same for you.
www.gymfreakz.com is a participant in the Amazon Services LLC Associates Program, an affiliate advertising program designed to provide a means for sites to earn advertising fees by advertising and linking to Amazon.com & Amazon.co.uk. Pages on this site may include links to Amazon and its affiliate sites on which the owner of this website will make a referral commission.