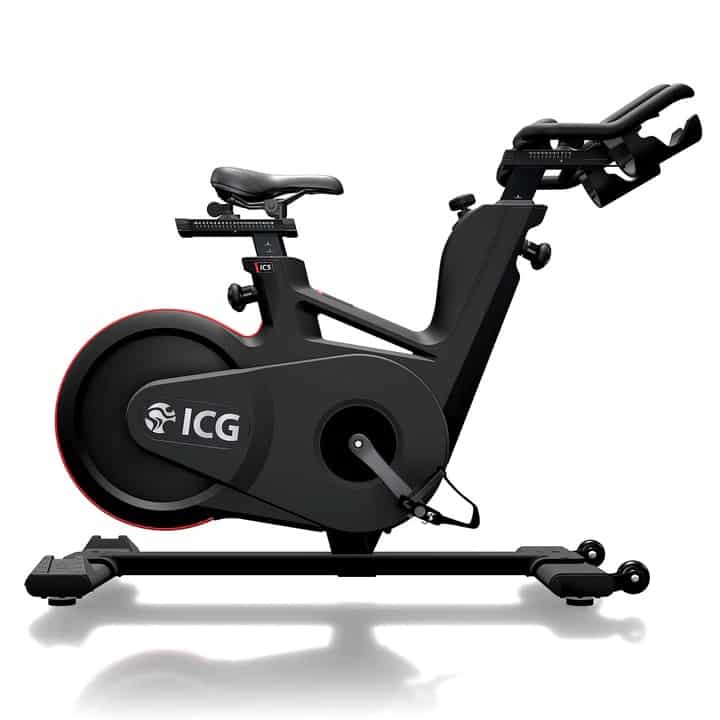 ---
---
Introduction to the Life Fitness IC5 Exercise Bike From The IC (indoor cycle) Range
Life Fitness are clearly trying to make their footprint with the IC series, and even before the Ic5 indoor cycle hit the market the print was already pretty deep. The machine we're going to be looking at today arguably sets this series as the most notable in the cardio gym equipment world, and we're going to find out why.
With entries before focussing on improvements to the well established poly v belt drivetrain and high quality mechanical components, the IC5 was designed to raise the bar even more. With a mantra to enhance, Life Fitness use well established workouts to benefit their design decisions and develop machines based on the existing market.
For this entry, Life Fitness clearly realised that in order to develop their IC series they needed to include a certain technological aspect for their users. Now an advanced console is featured to help track data. Remember, all the data available in these consoles can be the difference between be a great workout and falling short by losing progress.
Creating fitness solutions should be at the forefront of any manufacture's development process, and certainly in the mind of those making important purchase decisions. An indoor cycle is a great way to capitalise on key features that can help your heart and your space. For home gyms, front rooms or commercial application, this Life Fitness IC5 indoor cycle could be the perfect choice for you.
Disclaimer – This website contains affiliate links. If you find the information useful and click on a product link and make a purchase, a small commission will be earned by GymFreakz and we appreciate your support.
---
Specifications
Aluminium evenly weighted rear flywheel
Poly-V belt drivetrain (magnetic resistance via lever)
Drivetrain Gear Ration 1:10
Steel frame
Q factor 6.1"(155mm)
Crank CrMo 6.79" (17.25cm)
Post and Sliders – aluminium, spring pin lock
User weight 23.5 stone (150kg)
Size L x 132cm W x 52cm H x 120cm (52" x 20.5" x 47.2")
Product weight 51kg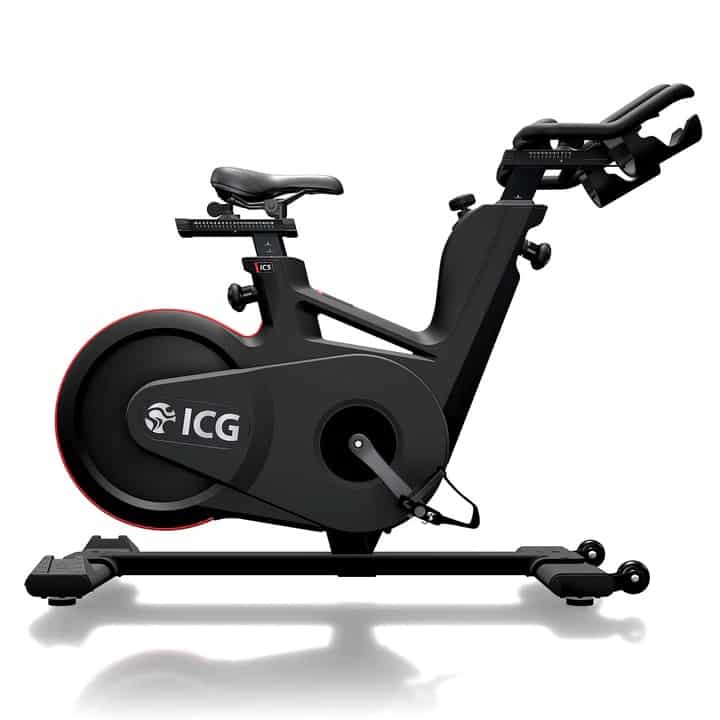 ---
KEY FEATURES
WattRate LCD computer (batteries)
Aluminium evenly weighted rear flywheel
Poly-V belt drivetrain (magnetic resistance via lever)
4-way saddle adjustment – pop-pin vertical and horizontal
Wide Multi-Grip PVC Handlebars with pop-pin horizontal adjustment and 'User-Assist' vertical adjustment
Dual-sided SPD and toe cage pedals
Aluminium posts
Sweat guard
Emergency stop button
Double water bottle holders
Stretch plates
Oversized stabiliser bars
Levelling feet
Transport wheels
User weight 23.5 stone (150kg)
Size L x 132cm W x 52cm H x 120cm (52" x 20.5" x 47.2")
---
Warranty
Home & Light/Full Commercial Use: 12 Months Parts & Return to Base Labour Warranty.
*Warranty may be subject to change without notice and may differ between retailers – please check carefully before making a purchase.
---
Pros and Cons
---
Overall Verdict:
Overall, this bike is an absolute machine for an absolutely reasonable price. Life Fitness often feel open and honest with their pricing, and where prior models in this series may have felt lacking in strong cause for buying, this should leave no doubt in your mind. With an innovative design that's been iterated on for years, adjustments to help strengthen the build and user customisation I just can't see any reason to not pick this thing up as soon as possible.
I do feel that this bike still has an entry-level feel in places, mainly due to its minimal feel but that by no means reduces my respect for it. With a great look, sturdy feel and reasonable price, well, you figure out what my overall verdict is.
---
---
What I Liked About This Exercise Bike
The first and most obvious thing I loved about this bike is its price. In my opinion, as far as finance is concerned, finding a bike with this many features, this much power potential and an excellent wider service isn't always easy.
The finer details like the dual water bottle holder and floor protection pads are a reminder that value is featured all throughout this design, and careful decisions to get you comfortable on the saddle were well thought out.
We can't forget about the main reasons this Bike is being featured on this list though. The IC5 is the first bike in this series to feature an LCD display. In my opinion, with the premium-grade materials used on all entries before and great engineering on the belt and frame, the only thing missing was data tracking – now we don't have to feel that loss.
With greater design comes an even better 'feel'. This may sound abstract but from the moment your feet touch the peddles, your hands grip the handlebars and the machine starts spinning you get a feel for this bike, and three words spring to mind – real-road bike feel. I honestly felt that I was riding a real road bike due to the magnetic resistance system and weighty feel of the bike. And with the ability to customise with multi-position components this soon became my bike too.
Besides the innovative of the bike itself, this Life Fitness model has been known to have a brilliant payment option (with monthly payments from the right vendors), great customer services and a brilliant warranty (again this depends on where you purchase but by and large you'll find good warranty on this bike. And if you find yourself in some of sort emergency its always good to use the push emergency stop situated near the centre of the bike – a good looking component too.
Things That Could Have Been Better
Just because the IC5 has considerable improvements to its counterparts and benefits over competitors doesn't mean it comes without its downfalls. Most bikes would benefit from improvement in one way or another, and your workout will benefit too. But without gearing improvements towards obvious factors like power or service, what could the IC5 improve on? Let's break it down.
Firstly, while technology inclusion is great, it doesn't mean it's been capitalised on in the best way. Compared to competitor's the Peloton exercise bike the screen is considerably smaller and the onboard training programs far less engaging. Life Fitness' intuitive LCD combines a great deal of workout factors, but just because they're included doesn't mean they're top of the line, if you want to track data in a simple way and don't a powerfully engaging exerciser experience then this shouldn't be an issue, however.
The light flywheel (9lb) doesn't really push the magnetic resistance system to the limit either. Advanced magnetic resistance is a great feature but for all its worth I don't feel like it's being capitalised on in the same way other bikes use it. That said, it does contribute to how the bike feels and in a realistic way, but with the light flywheel resulting in an incredibly fast flywheel speed it just doesn't feel like its something to shout about as compared to other models.
Data exchange would be a nice feature too – i.e. an exportable data option or some sort of data customisation. A lot of riders like to vary up their data types to personalise their work out too.
---
FAQ's
How do 'off set frame features' really help?
Offset frames can help with something called Q factor. The Q factor has strong ties with making a bike feel realistic, naturally moving and helps the frame take strain. These design choices really help by benefitting the sturdiness of the design and ensuring that the rider is free to focus on their work out, not the durability or structure of their frame.
What's the problem with oversized frame stabiliser bars?
Say you're in a group exercise bike class, you mount a bike and you find the stabilisers to be way too big. What kind of problems do you think you can run into? Most obviously, you'll be wasting time and a little bit of pride trying to get comfy on the machine, and as you realise everybody else is shuffling around having the same issue, you may start to a notice a decline in your enthusiasm for your teacher too. Oversized handlebars can lead to muscle tension, joint pain and overall discomfort. You want to be as comfortable as possible on a bike, not wearing yourself out just getting on the thing.
---
Affiliate Disclosure
In compliance with the FTC guidelines, please assume the following about all links, posts, photos and other material on this website:
Any/all of the links on this website are affiliate links of which GymFreakz receives a small commission from sales of certain items, but the price is the same for you.
www.gymfreakz.com is a participant in the Amazon Services LLC Associates Program, an affiliate advertising program designed to provide a means for sites to earn advertising fees by advertising and linking to Amazon.com & Amazon.co.uk. Pages on this site may include links to Amazon and its affiliate sites on which the owner of this website will make a referral commission.