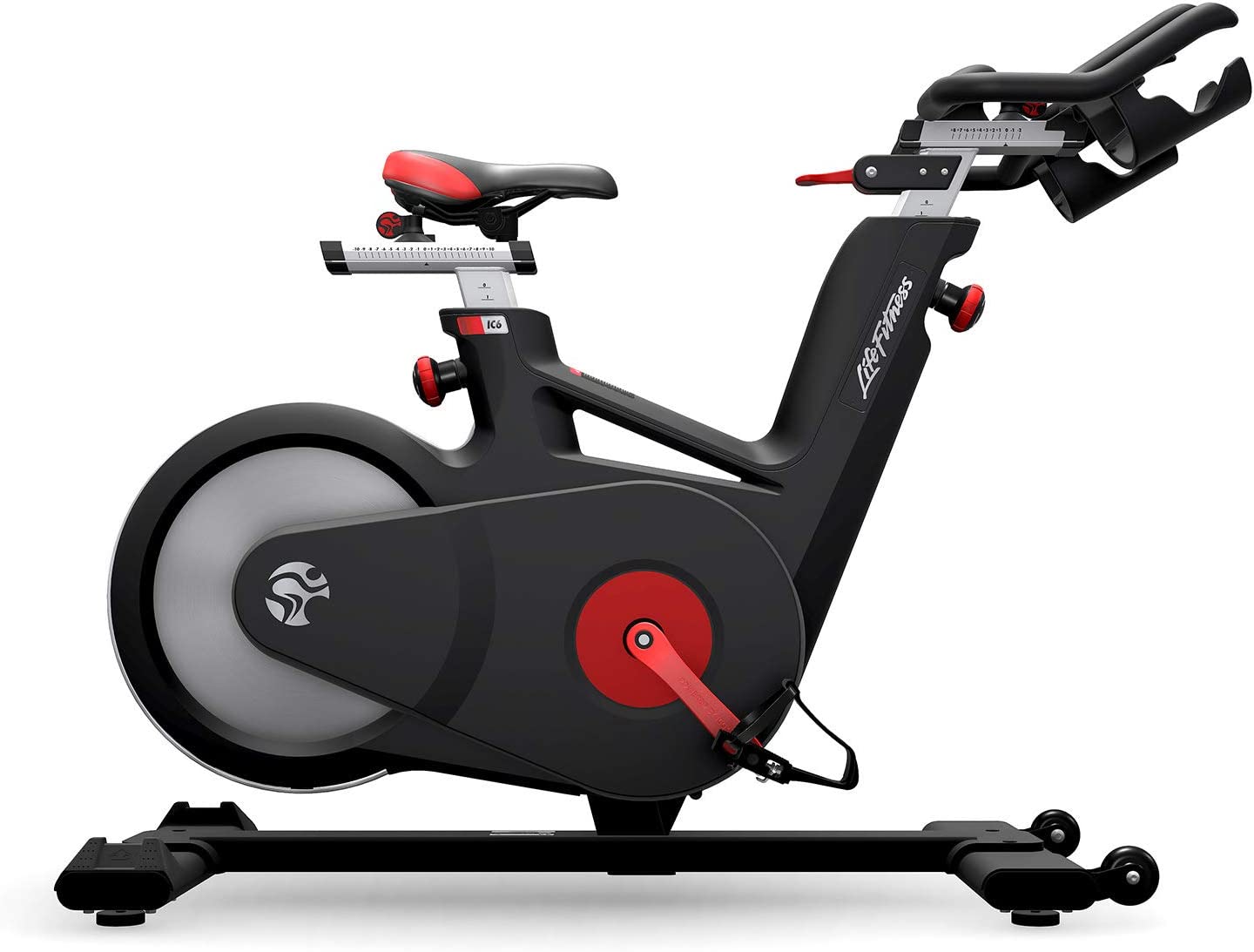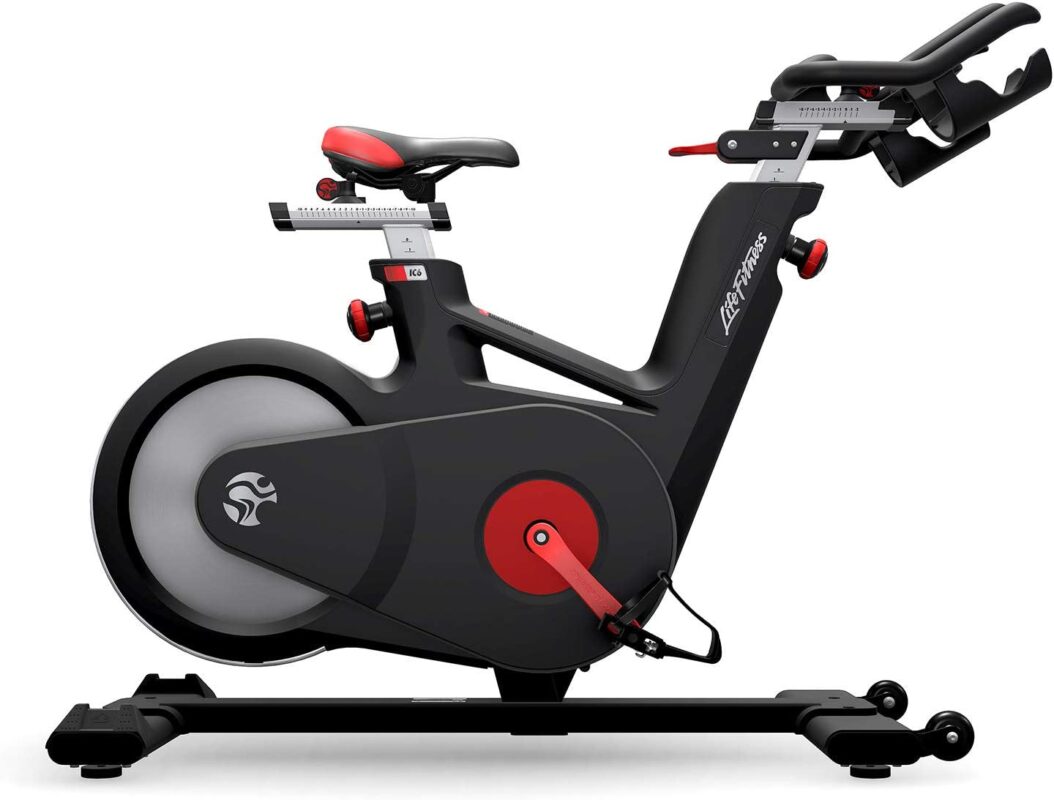 ---
---
Introduction to the Life Fitness IC6 Exercise Bike From The IC (indoor cycle) Range
Indoor cycle ranges vary in incredible ways. And that's no bad thing. While it may make it harder to pin down a buying decision, in reality having more options should help inform that decision and give you greater benefit as a result.
Features like a matte slate frame material or the lipo battery frame colour are important, but the fundamental question you should be asking yourself is what's more important to 'me' – the choice of solid steel vs user assist adjustments / the dual water bottle holder vs a push emergency stop situated in a sensible place… the point is, depending on your health, your stature, your fitness levels and your environment should perhaps take precedence over what colour the exercise bike is.
The above is why I'm reviewing (and recommending) the IC6, and in fact why I've taken the time to research and review the whole of the Life Fitness' IC series – they focus on durability, usability, and fitness first.
In this entry, we can see more improvements made over its predecessors. From a self-powered generator that recharges the integrated lithium battery to upgraded hardware such as the fully integrated TFT screen, the IC6 is the true step in this Life Fitness series.
Let's see how you could benefit from buying it.
Disclaimer – This website contains affiliate links. If you find the information useful and click on a product link and make a purchase, a small commission will be earned by GymFreakz and we appreciate your support.
---
Specifications
Self-Powered Generator with Lipo battery
Aluminium evenly weighted rear flywheel
Poly-V belt drivetrain (magnetic resistance via lever)
Drivetrain Gear Ration 1:10
Steel frame
Q factor 6.1"(155mm)
Crank CrMo 6.79" (17.25cm)
Post and Sliders – aluminium, spring pin lock
User weight 23.5 stone (150kg)
Size L x 132cm W x 52cm H x 120cm (52" x 20.5" x 47.2")
Product weight 51kg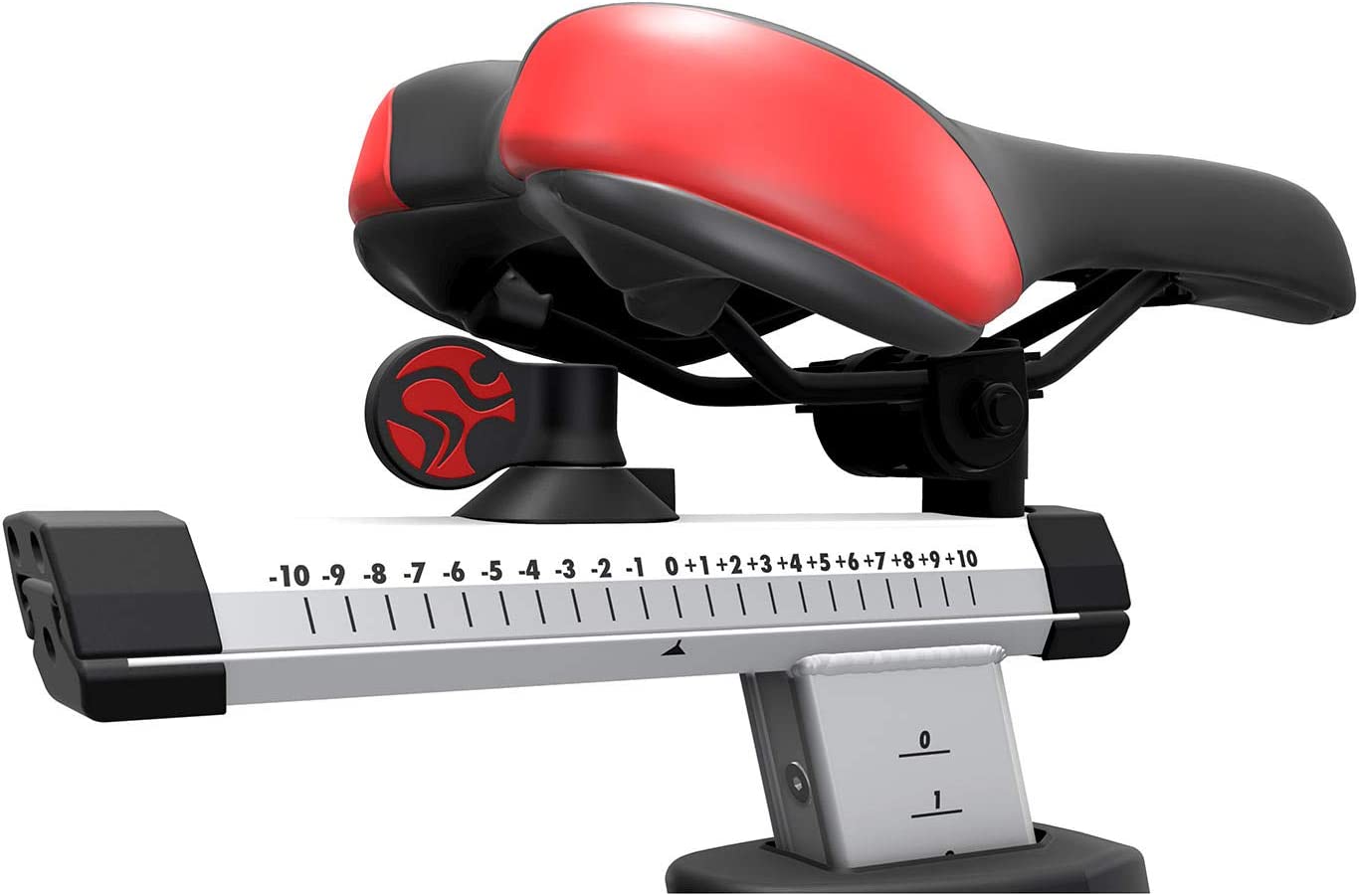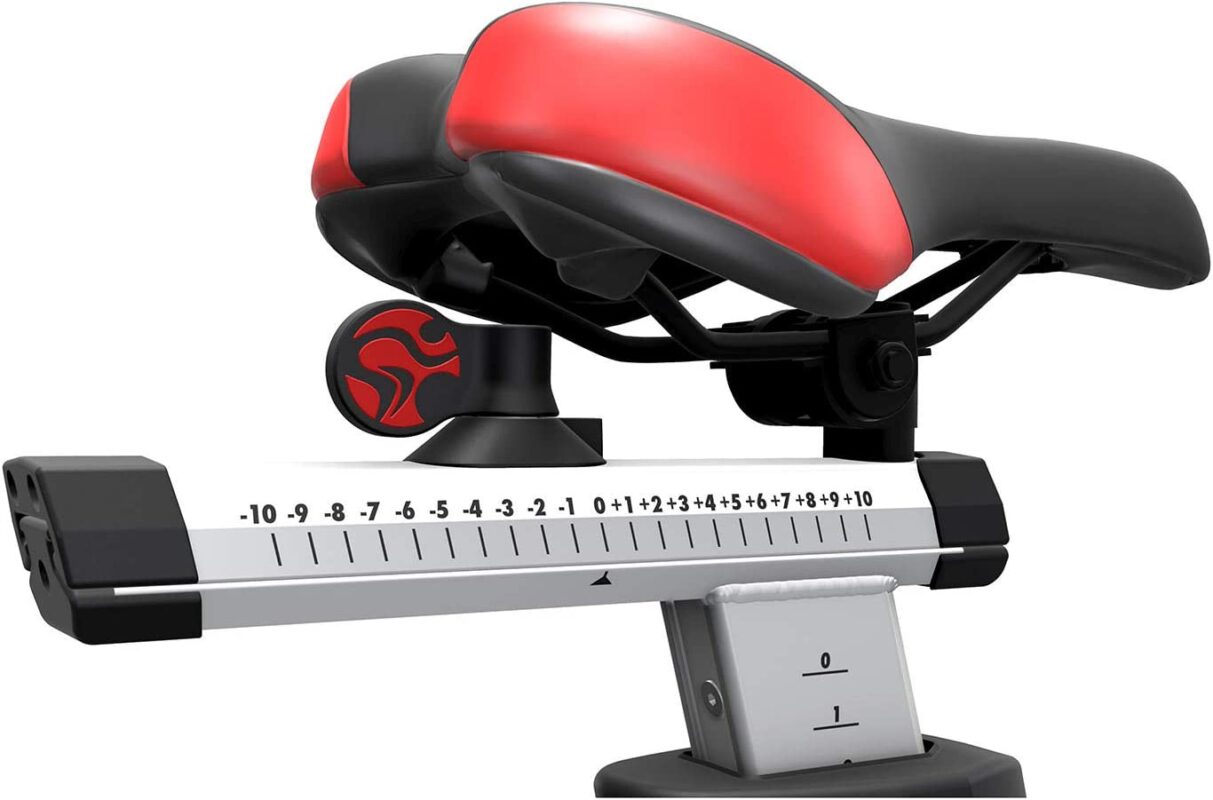 ---
KEY FEATURES
WattRate® TFT Computer 2.0
Self-Powered Generator with Lipo battery
Studio management via Halo Fitness Cloud
Tactile lever rapid resistance control
Aluminium evenly weighted rear flywheel
Poly-V belt drivetrain (magnetic resistance via lever)
4-way saddle pop-pin adjustment -vertical and horizontal
Wide Multi-Grip PVC Handlebars with pop-pin horizontal adjustment and 'User-Assist' vertical adjustment
Dual-sided SPD and toe cage pedals
Aluminium posts
Sweat guard
Emergency stop button
Unisex padded sport saddle with opening / moulded form fit protection
Double water bottle holders
Stretch plates
Oversized stabiliser bars
Levelling feet
Two transport wheels
User weight 23.5 stone (150kg)
Size L x 132cm W x 52cm H x 120cm (52" x 20.5" x 47.2")
---
Warranty
Home Use – 12-Month Warranty – This warranty covers the cost of any breakdown call-outs and labour time spent on site. It also covers the cost of all mechanical parts.
*Warranty may be subject to change without notice and may differ between retailers – please check carefully before making a purchase.
---
Pros and Cons
---
Overall Verdict:
In summary, and if you've read any of the previous entries on the IC series then you'll know that I love this range, and this entry is a great step forward.
Personally, I love the improvements made. The new console is far more powerful and allows you to do so much more. From heightened data tracking to superior build quality, if you're looking for an exercise bike to help you lose weight stay in shape or evolve your fitness levels then there's no reason whatsoever why you shouldn't pick this bike.
At first, the price seemed a little steep, but it was when I learnt of the features that were included in this bike that I understood the price as being more than fair. The self-powered built-in lipo battery makes for an incredibly smart design. With user-powered generation it keeps the machine efficient and power-friendly, adding to the price value in incredible ways.
The main and obvious features aside, this thing is so easy to use. User-friendliness is a massive consideration with modern technology. Some equipment can leave you feeling like you're at NASA with no training and in charge of an entire hub of technology. The IC6 group exercise bike, however, feels as easy as sending a text. The TFT computer is amazing; Bluetooth connectivity technology, extensive tracking from average to maximum readings, and ANT+ connectivity all contribute to the way this bike improves your game.
The sleek matte slate colour, the off-set frame features, the fact that the vertical and horizontal saddle feels great to use and to adjust are just a few reasons I love this machine. The incredibly fast flywheel speed lets you rocket on this bike if you want to, and the multi-position handlebars (handlebar assisted adjustment type) leave you with so many customisation options, and that's before you've even touched the console.
Before we got on to the specifics, I would encourage anyone to watch a few reviews if they're still unsure. As soon as see this thing in action (its usability and aesthetics are awesome) I guarantee you'll find it hard to resist purchasing.
---
---
What I Liked About This Exercise Bike
Before going onto stuff like a steel off set frame or soft PVC handlebar adjustments, let's break down the new monitor a little more. So, we know it has Bluetooth connect technology, data readings such as time, calories, watt, RPM, HR, resistance, speed AND training zones, and we know it now has full colour backlit functionality for a more vibrant look.
What's so special about what that console allows you to do, however, is that it lets you create user profiles. This means you can not only use it for families or a commercial gym, but it means you can have different workout regimes depending on the day, level of fitness at the time or simply how you're feeling.
The IC6 features computer technology like nothing else. The TFT computer essentially measures how strong you are. The monitor then gives you a colour range from green to red based on your fitness level, just like a training intensity guide. And once this fitness level is known, the fitness IC6 group exercise bike capabilities give you training zones to further hone in on what it is you need to be doing.
Now, the frame is as sturdy as ever and the looks of this beast are gorgeous (even the push emergency stop situated in a convenient place looks great).
The real road bike feel of this thing is ace too, giving you road types and terrain variants adds great variety to this machine, and that's before you've even begun workout tracking. The precise measurement, delivering real-time variation, of this system gives you consistency also, making sure you're fitness progression is correctly guided.
Things That Could Have Been Better
All of this doesn't mean that the IC6 is perfect though. In my opinion, the oversized frame stabiliser bars are indeed oversized but only by a touch. While it doesn't negatively impact my workout it does feel a tad unnecessary and extra material usage results in a higher cost.
I personally found the vertical and horizontal adjustments to be a bit fiddly but only at first, when I did it once I knew exactly what I was doing the next time around.
I wrote as one of the cons that it's a higher price for minimal improvements – let me explain. The new computer is incredible, but in my opinion, it should have been featured in bikes that have come before this, and with the new battery charger capability being included too, it does feel like some of that bump is justified. But the frame is pretty much the same as previous entries, the flywheel too, so it feels like this bike isn't a redesign and more of an extra inclusion build – which I understand adds value, but it would have been nice to see some changes to the frame, look and feel too.
---
FAQ's
Can you use an indoor cycle outside?
It doesn't matter how much you love your off set frame features, Life Fitness bikes wear in the rain or outside just like the rest.
You're welcome to use your IC6 indoor cycle outside for individual sessions (but be careful of moving, scratches and so on) but be warned; even being exposed to outside environments can do some damage, let alone rain.
So make sure to bring your bike in after a session.
---
Affiliate Disclosure
In compliance with the FTC guidelines, please assume the following about all links, posts, photos and other material on this website:
Any/all of the links on this website are affiliate links of which GymFreakz receives a small commission from sales of certain items, but the price is the same for you.
www.gymfreakz.com is a participant in the Amazon Services LLC Associates Program, an affiliate advertising program designed to provide a means for sites to earn advertising fees by advertising and linking to Amazon.com & Amazon.co.uk. Pages on this site may include links to Amazon and its affiliate sites on which the owner of this website will make a referral commission.