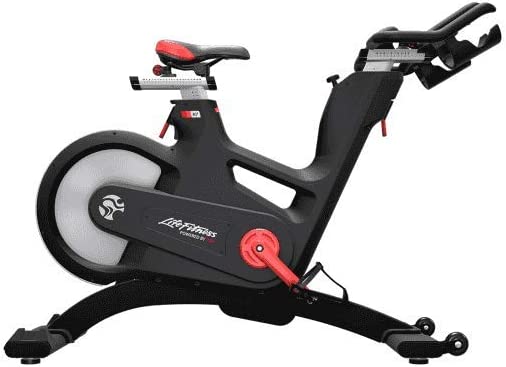 ---
---
Introduction to the Life Fitness IC7 Exercise Bike From The IC (indoor cycle) Range
Now, we should all know that Life Fitness create incredibly powerful, robust and user friendly machines. If you don't then here's their company motto – "Life Fitness is dedicated to delivering world-class exercise experiences to fitness professionals and exercisers worldwide."
Not all companies follow through with their mottos but Life Fitness is an exception here. Marking that exception? The IC7 group exercise bike.
As we reach the Life Fitness IC7 group exercise bike we also reach a superb model. With this entry in the IC series being an award-winning machine, we're going to find out why.
From superior biomechanics to an engaging digital experience, Life Fitness have considered all that it takes to create one of the best gym equipment bikes the world has seen. Not to mention their incredible customer service team, Life Fitness aren't holding back here.
With innovations seen on the two-stage drivetrain, bringing a lower and sleeker look to the bike, not only are you getting a top of the range functionality but a top of range look too. This sleek matte slate colour bike can now aesthetically fit into most homes, as an individually appealing look, it easily blends with a variety of environments too, so let's break down why you should look into this award-winning bike.
Disclaimer – This website contains affiliate links. If you find the information useful and click on a product link and make a purchase, a small commission will be earned by GymFreakz and we appreciate your support.
---
Specifications
Self-Powered Generator with Lipo battery
Aluminium evenly weighted rear flywheel
2-Stage Hybrid Poly-V belt, tooth belt drivetrain (magnetic resistance via dial)
Drivetrain Gear Ration 1:11
Steel frame
Q factor 6.1"(155mm)
Crank CrMo 6.79" (17.25cm)
Post, Sliders, Flywheel – Black Anodised
User weight 23.5 stone (150kg)
Size L x 132cm W x 52cm H x 102cm (52" x 20.5" x 40.5")
Product weight 54kg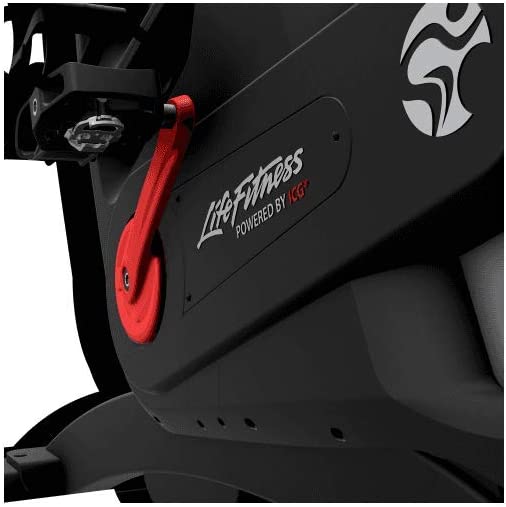 ---
KEY FEATURES
WattRate® TFT Computer 2.0
WattRate® Direct Power Meter(+/-1%)
Self-Powered Generator with Lipo battery
Studio management via Halo Fitness Cloud
300 degree dial 3800W magnetic resistance system
Aluminium evenly weighted rear flywheel
2-Stage Hybrid Chain Poly V Belt, tooth belt drivetrain (magnetic resistance via dial)
4-way saddle adjustment -vertical and horizontal. 'User-Assist' steppless vertical adjustment
Wide Multi-Grip PVC Handlebars with horizontal adjustment and 'User-Assist' vertical steppless adjustment
Dual-sided SPD and toe cage pedals
Black Anodised posts
Full cover sweat guards
Emergency stop button
Unisex padded sport saddle with opening
Single water bottle holders
Stretch plates
Oversized stabiliser bars
Levelling feet
Transport wheels
User weight 23.5 stone (150kg)
Size L x 132cm W x 52cm H x 102cm (52" x 20.5" x 40.5")
---
Warranty
Home & Light/Full Commercial Use: 12 Months Parts & Return to Base Labour Warranty.
*Warranty may be subject to change without notice and may differ between retailers – please check carefully before making a purchase.
---
Pros and Cons
---
Overall Verdict:
Another IC release another positive impression made. Not all bikes improve their game every time but this range is far from falling flat. Every time I try out the new IC release I can't help but be taken aback by the manufacturers attention to detail, integrity to improvement and consistency in betterment. The IC7 group exercise bike has an incredible amount of smart and innovative design features – the self powered console, the smooth and quiet yet seriously high speed, the list goes on…
While the machine does have a few downfalls you have to remember that a lot of cons in the world of machines are actually subjective. Take the elbow rest for example – It was comfortable for me but that doesn't mean it will be for you; size, build and other factors are important here.
User-friendliness is also consistent. Horizontal user assist adjustments (vertical and horizontal adjustments in fact), multi-position components for comfort, and single water bottle holders (as opposed to a dual water bottle holder) are here too. Fitness solutions to problems like the lack of the above are essential to develop but often don't need change, so don't surprised if you see a lot of familiarities with this bike to the others in the series.
---
---
What I Liked About This Exercise Bike
One thing I'm yet to mention in this IC series is that this line features components that are protected by full-frame shrouds (moulded form fit protection. This helps to prevent decline in the components' quality, a touch that you won't find on all machines of this type, and even this caliber.
Speaking of caliber, the IC7 group exercise bike features a groundbreaking accuracy on from the WattRate direct power meter using photocells to directly measure the torsion (twisting force). You won't find this level of monitoring in a lot of other machines and it'll help you to stay aware of all the power aspects you'll need to know about. The other thing about this level of accuracy is simple – it means data tracking is superior and therefore your ability to track your fitness levels are the best they can be. If you want to progress using data tracking to keep up to date with your progress then purchasing this bike is a no brainer.
The user assist adjustments (like a saddle assisted adjustment type) are brilliant too. Extremely easy to adjust components are surprisingly undervalued in the world of exercise machines. You want to keep all of the peripheral challenge to a minimal in order for you stay on track and keep motivated. If you're tired or frustrated and then you also have to mess around adjusting something that shouldn't be an issue then it not only says something about the bike but the developers too.
Power-based training intensity using the WattRate technology will simply keep give you faster results if you want to do so. You should never be restricted by a machine so if you're a fitness pro or an incredibly motivated beginner then you wont be limited here.
One last thing I need to mention isn't the incredibly fast flywheel speed, it's not the push emergency stop situated in a convenient place, it's the 300 degree dial 3800W magnetic resistance system. This spec gives you an incredibly realistic or at least real enough feel to your riding experience. It's important to be tested in smart ways, utilising the methods in which a bike can work with you to get results, instead of you having to push the bike to the limit to get anything back.
Things That Could Have Been Better
There are always flaws in anything ever created. While the flaws and downsides of the IC7 are few, they are still worth noting. The comfort levels, user-friendliness and adjustability of indoor cycles is important. The IC7 is incredibly friendly to all aspects of the above, but I have to say that the elbow rests aren't all too comfy. If you're like me and enjoy long cardio workouts, pushing yourself to the limit and getting the most out of your bike then you'll want a comfy frame and rest too. Yes the saddle is great and the handlebars good too but we all get tired and need to rest. I want to get tired through exercise not get tired of an uncomfortable position when riding.
While the technology inclusion is great too, the console isn't compatible with non-ICG apps without ANT bridge. Creating fitness solutions through having to buy the ANT bridge isn't laborious per se but, just like iPhone chargers, I personally don't like exclusive technology. It can be great to have exclusive tech in some ways – you get to experience the best parts of one fleshed-out 'thing', but the more options a bike's tech can give me the more I get out of my money, and the more I can shape my fitness routines in different ways to suit me.
---
FAQ's
What is a self powered generator?
A self powered generator is feature that allows for energy-saving qualities. Often, they can function through the user's input to the machine, powering as the user rides or operates the bit of gym equipment. They'll save you money, stop you from using too much electric power and should certainly be the way forward for equipment in the future.
What's the problem with oversized frame stabiliser bars?
Anything oversized can cause issues. With stabilizer bars, they can get in the way of your position and affect the feel of the machine, make sure to be careful when buying that you take note of components sizes.
---
Affiliate Disclosure
In compliance with the FTC guidelines, please assume the following about all links, posts, photos and other material on this website:
Any/all of the links on this website are affiliate links of which GymFreakz receives a small commission from sales of certain items, but the price is the same for you.
www.gymfreakz.com is a participant in the Amazon Services LLC Associates Program, an affiliate advertising program designed to provide a means for sites to earn advertising fees by advertising and linking to Amazon.com & Amazon.co.uk. Pages on this site may include links to Amazon and its affiliate sites on which the owner of this website will make a referral commission.