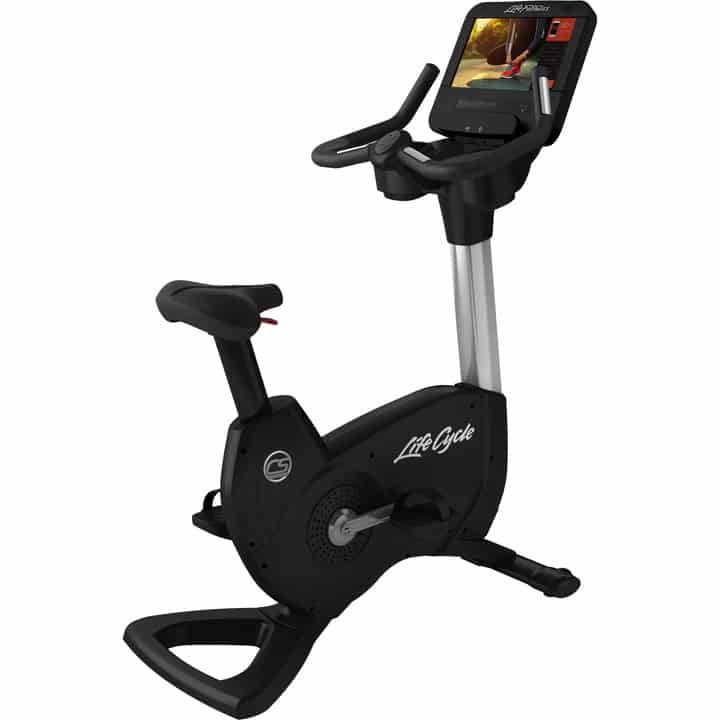 ---
---
Introduction to the Life Fitness Platinum Upright Bike SE3HD Console From The Club Range
During this article, we'll be breaking down one of the top entries in the history of Life Fitness. The manufacturers are absolute behemoths in the gym equipment world, so it's no surprise to see a fair few of their releases on this site.
From proper lower body mechanics to a range of entertainment and engagement options, the Life Fitness Platinum Upright Bike with Discover SE3HD console is as much a behemoth as the very people who made it.
Creative designs aside, Life Fitness consistently release sturdy, reliable and robust machines. They last for years and years and keep you riding for just as long. Investing in a robust Life Fitness machine is investing in your future fitness lifestyle, so what is it specifically that makes this bike a no-brainer?
Namely, the machine boasts intuitive engineering, user options, and a comfortable ride every time. From an easily adjustable comfort curve to the seat to the ability to explore popular entertainment apps, this entry could well be the one that lands for you.
Let's look at the pros, the cons, the specs and the rest until I give you my overall verdict to this great indoor cycle.
Disclaimer – This website contains affiliate links. If you find the information useful and click on a product link and make a purchase, a small commission will be earned by GymFreakz and we appreciate your support.
---
Specifications
Mains Powered
Discover SE3 HD console with TV
Wide Ride pedals
Easily adjustable pedal straps
Custom Curved Plus Seat
Deluxe racing handles
26 Resistance levels
Maximum 500 watts of resistance
Resistance controls integrated into the handle bars
Headphone jack
Digital hand grip pulse
Telemetric heart rate monitoring
Accessory tray
Transport wheels
Colour options
User height range 4ft 9" – 6ft 5"
User weight 28.5 stone (181kg)
Size L x 109cm W x 61cm H x 152cm (43" x 24" x 60")
Product weight 79kgFeatures
Self Generator Drive System (with the Integrity X console)
Integrity X Console with wireless connectivity
Deluxe racing handle bars (ergonomic design with elbow support)
Resistance controls integrated into the handle bars
0-25 Resistance levels
Maximum resistance 900+ watts
Self-levelling wide pedals
Easily adjustable pedal straps
Comfortable seat
Easy seat height adjustment
Lifepulse Digital hand grip pulse
Entertainment control pad when used with optional attachable TV
Maximum user weight 28.5 stone (181kg)
Size L x 105cm W x 62cm H x 138cm (41.5" x 24.5" x 54.5")
Product weight 76.5kg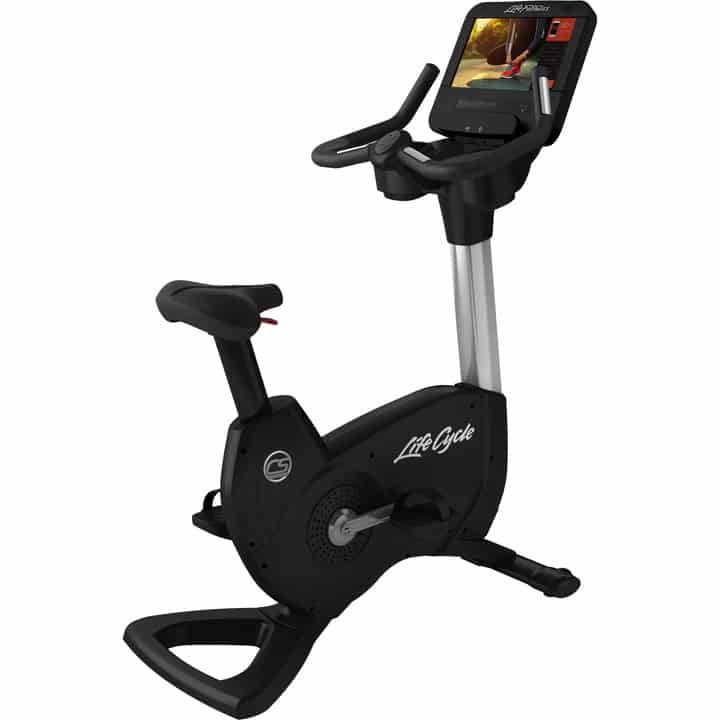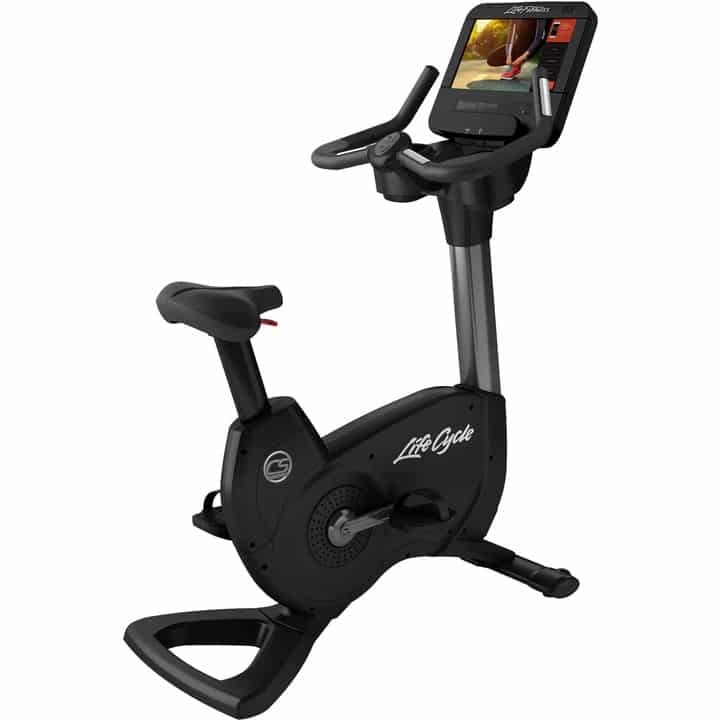 ---
Warranty
Home & Light Commercial Use Lifetime on frame and motor, 3 years parts and labour (home); 1-year parts and labour or 1000 hours (light commercial)
*Warranty may be subject to change without notice and may differ between retailers – please check carefully before making a purchase.
---
Pros and Cons
---
Overall Verdict:
Another Life Fitness entry another box ticked. The only problem with trying out so many top models is that it makes it hard to choose. But that's not to say the downsides make it easier.
Firstly, it's important to note that bikes of this calibre are aimed at health clubs as much as they are homes, but that's not to say they can't be used at home primarily. The reason bikes like this are aimed at health clubs and gyms is because of a few familiar words: Luxury, deluxe, superior – there should be nothing stopping you from adding these terms to your own home workouts too.
With a superior or luxury build, you get inclusions like enhanced interaction with the console, home screen customisation, ethernet or wireless connectivity and other things like android and apple device incorporation. Technology aside, you get great user options in adjustability, comfortable ergonomically designed components and power efficiency all round.
The Platinum Club Series Upright Bike with Discover SE3HD Console does justice to superb bikes everywhere. Resistance controls are found on the multi-grip handle bar paired with pedal straps (Wide Ride pedals) for ease. The hand grip heart pulse monitor is incredibly accurate, easy to use and great for tracking physical health.
Without going too into the nitty gritty and throwing an irresistible range of features at you here, I want to stress that the price tag is an undeniable reflection of how this bike can benefit you. It's luxurious, user-focused and, for the most part, comfortable and easy to use. If you have the cash, make the purchase today.
---
---
What I Liked About This Exercise Bike
Let's talk about options here. This Life Fitness Platinum Club series upright bike gives you two options for heart monitoring. Remember, heart monitoring lets you track pretty important details about your physical status while working, and if you like intense workouts like me then it's good to have the option. So, you can utilise heart rate monitoring through either the digital hand grip pulse (through digital signal processing) or telemetric heart rate monitoring. This choice adds to the overall user option, which is undoubtedly valuable in the face of demanding workouts.
For truly demanding fitness lifestyles you need great extras to enhance your workout and make the wider stuff easier. That's where the SE3 Console comes in. It's an incredible console with the power to change your exercise routine each and every time. The integrated touch-screen features an abundance of entertainment options, enhanced interaction all round and internet connectivity. Advanced console technology engage parts of your workout routine that you wouldn't know to without it. In short, these devices aren't just guides, they're teachers, coaches and lecturers – you'll learn a great deal from top-class machines so be sure to value these properly, and don't underestimate how much they add to the justified price tag.
Things That Could Have Been Better
I always pride bikes on their adjustability and usability. It's incredibly important for physique and body health to make sure adjustments aren't wearing you out, interrupting workouts and ruining your fitness flow. The Platinum club series upright bike, however, can make vertical seat adjustments a little bit tricky. With an ergonomically designed exercise bike, boasting of 'quick and easy adjustment' designs, as well as 'a precisely angled seat post' and making sure a seat ensures comfortable pedalling should all be present, especially if they're advertised as being so. Some of those are definitely true, but the easy adjustment side of things can be a little hit and miss. Just be wary – if you're the type to get annoyed at the difference a ratchet seat adjustment makes then maybe reconsider your choice here.
Internet connectivity isn't always a game changer to me either. If you like music, then you can have that in the comfort of your own home; if you like to watch things then, of course, it's worth it, but I don't think it's a game changer for me. While it contributes to the bike's value, I'd always be on the lookout for the build aspects first.
---
FAQ's
Is the optional chest strap required for the price justification?
Not at all. Options are always a good thing but try not to get bogged down in how much they contribute to the actual bike quality and therefore predominant value. This bike is incredibly well built, and the feel of it is immense, care less about the optional chest strap and focus on the bike.
What does a swept-back seat design mean?
A swept-back design helps to keep you comfortable, correctly positioned for well-optimised and healthy training and helps you to connect with the feel of the bike. They add a curve or a swept-back look; this mainly helps ground you and keeps you comfortable with high resistance training.
With the SE3HD, Life Fitness include the Comfort Curve Plus Seat with its convex shape and swept back seat design to provide excellent support.
---
Affiliate Disclosure
In compliance with the FTC guidelines, please assume the following about all links, posts, photos and other material on this website:
Any/all of the links on this website are affiliate links of which GymFreakz receives a small commission from sales of certain items, but the price is the same for you.
www.gymfreakz.com is a participant in the Amazon Services LLC Associates Program, an affiliate advertising program designed to provide a means for sites to earn advertising fees by advertising and linking to Amazon.com & Amazon.co.uk. Pages on this site may include links to Amazon and its affiliate sites on which the owner of this website will make a referral commission.