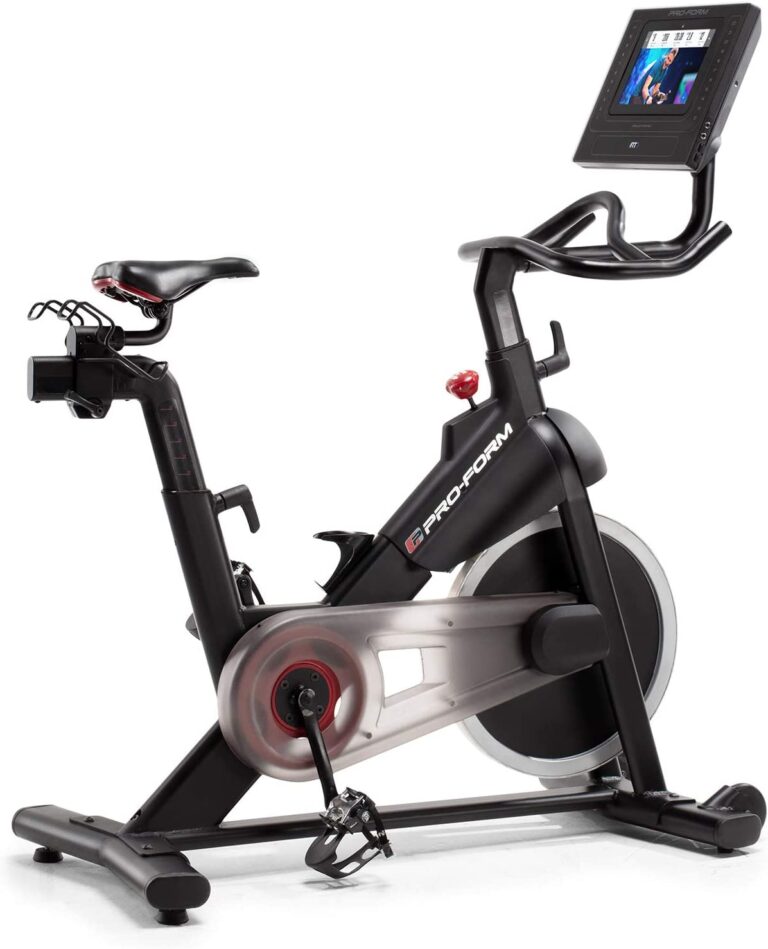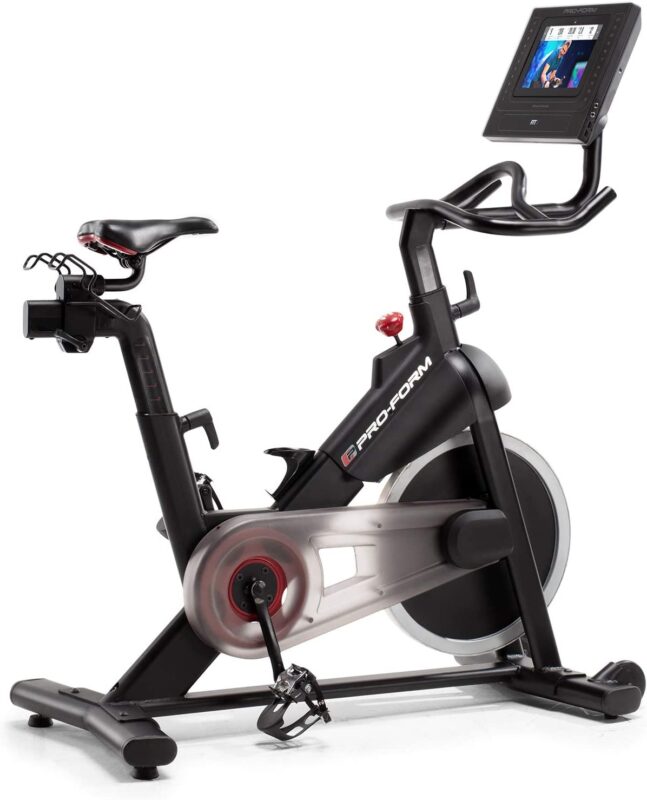 ---
---
Introduction to the Proform Smart Power 10.0 Exercise Bike
An exercise bike doesn't have to be iron girders and rusty chains. It's not just something you sit on, move your legs and hope for the best… an exercise bike is more than just a machine.
The experience of fitness, the feel of the workout are both as important as the bike's fundamental capability of giving you a chance to lose weight and stay fit. Wider motivation is incredibly important with fitness routines and schedules, especially if that schedule is a tight one. You want to feel like what you're doing is enriching your day in as many ways as possible, and so a Smart Bike could be the answer.
Incredibly smooth performance aside, workout stats, iFit workouts, an auxiliary port and feedback – all of these factors turn your bike into an interactive tool. Simply, do you think that's a good thing?
The developers at Proform certainly do. The result of their thinking is the Proform Smart Power 10.0 Exercise Bike. It's a great purchase with easy-to-adjust parts, engaging workouts to stay captivated, an amazing price and so much more. But don't worry if you think I brushed over a few things here because the rest of this article is filled with features and factors that not only make this bike incredible but can teach you a lot about what makes any bike incredible. Stay with me here to learn more about how the Proform Smart Power 10.0 Exercise Bike could change your fitness world, and discover how reading about equipment will always give you the upper hand as a buyer.
Disclaimer – This website contains affiliate links. If you find the information useful and click on a product link and make a purchase, a small commission will be earned by GymFreakz and we appreciate your support.
---
Specifications
Colour – Black Grey
Item Dimensions – 143 x 56 x 139 cm
Max height – 25 cm
Item Weight – 62kg
Magnetic resistance mechanism
Plastic components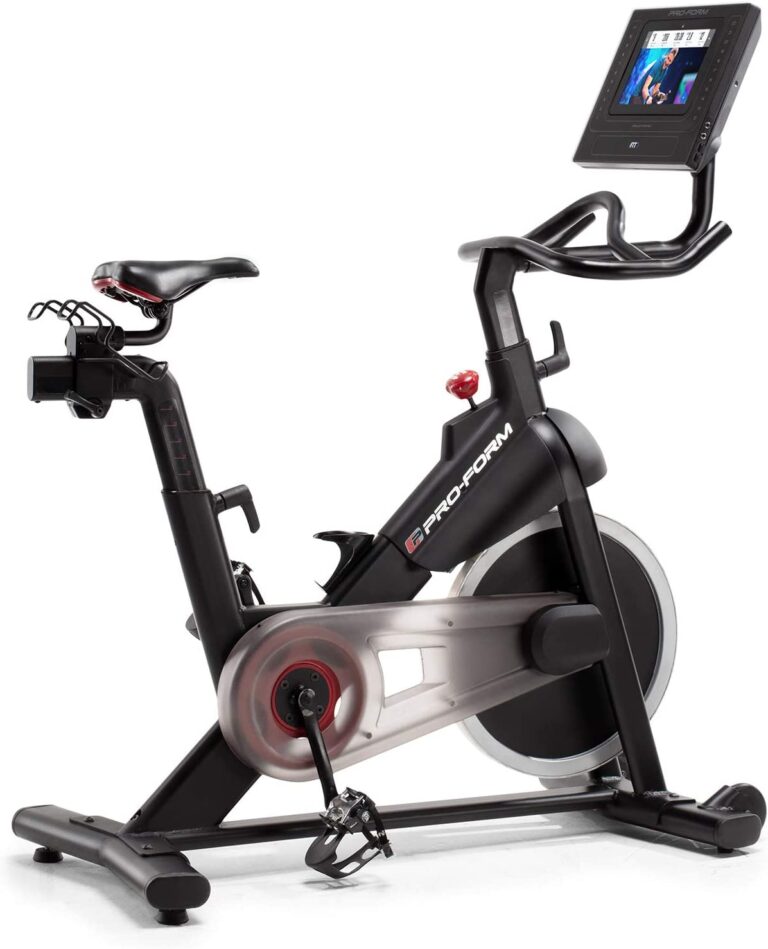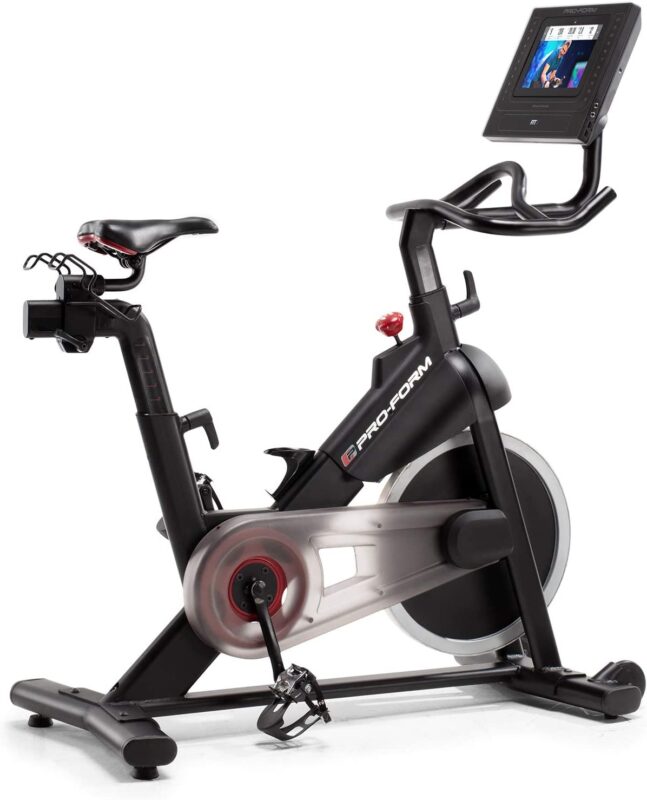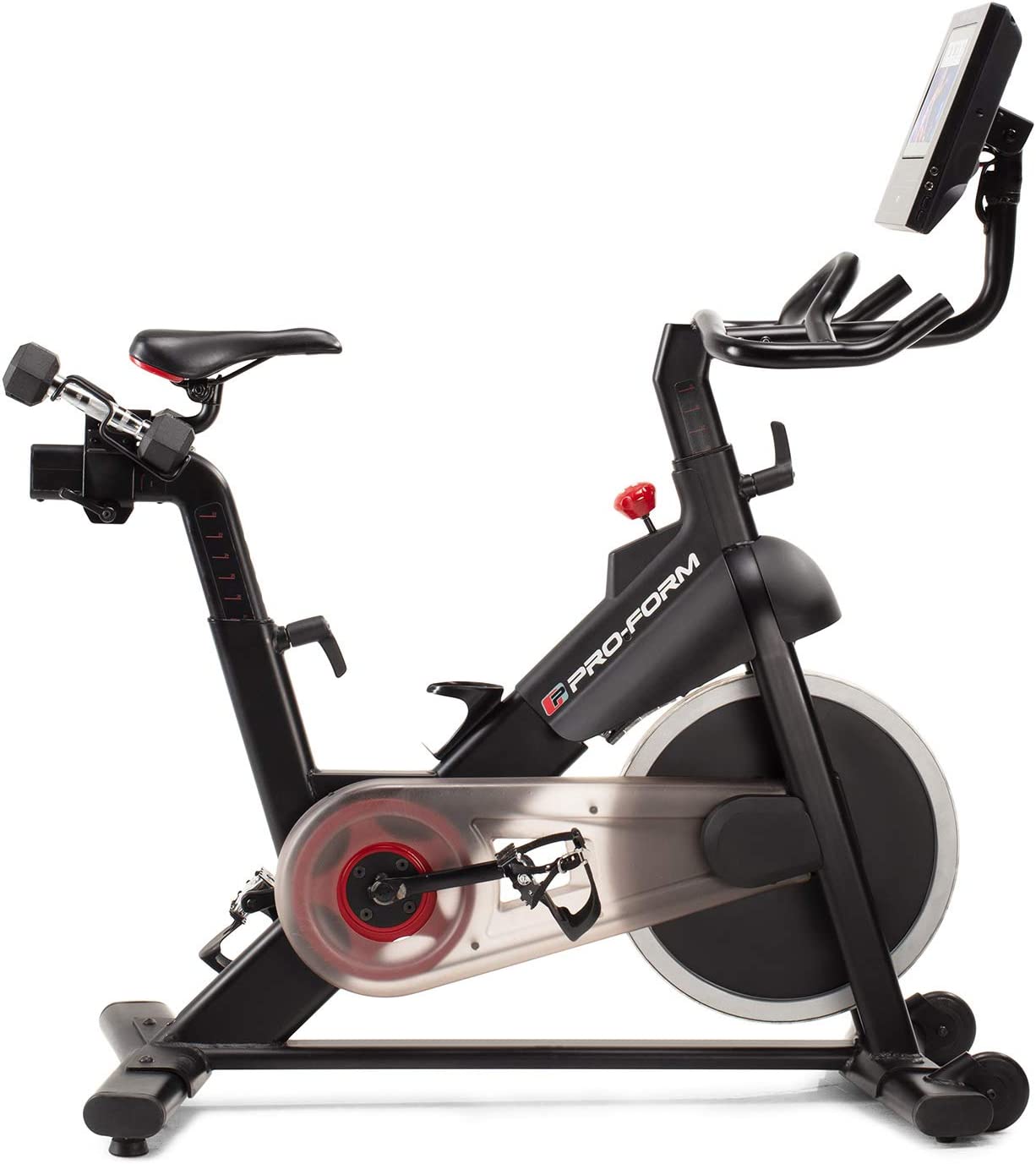 ---
KEY FEATURES
iFit membership (30 Day trial)
Interactive personal training
22 magnetic resistance levels
Vertical and horizontal seat adjustments
Pedal toe clips and straps
Water bottle holder
Aux port
2 loudspeakers
10-inch touchscreen display
---
Warranty
6-month Warranty on entire product
*Warranty may be subject to change without notice and may differ between retailers – please check carefully before making a purchase.
---
Pros and Cons
---
Overall Verdict:
It's difficult to know where to start with this bike. I want to talk about it in a positive light and reflect all that I love in an instance. This Proform smart power 10.0 exercise bike adjusts easily, holds a great maximum user weight, holds up to other exercise bikes and offers a great range of preset workouts. It gives you good options for fitness variation, looks nice and will certainly help you stay fit and healthy. As you can probably tell, however, there's a but.
This bike isn't the easiest thing to use. I'm not talking about transport wheels or clunky exercise routines, I'm referring to the feel of the bike (which I'll break down in due course). It just left me feeling that while there are comfortable options and features added to this bike, it could have been comfier in places and left me considering other options. The adjustability is great, with horizontal and vertical seat options, but again, the feel of the seat wasn't as good as other bikes. The feel of the handlebars, the way it forced my body position a rider of my size (6.3ft) may struggle with this entry.
---
---
What I Liked About This Exercise Bike
I love the material usage here. It's low-cost plastic (mainly) but still looks amazing. They've done a great job of strengthening that workout bike look, and it blends well in both health clubs and home gym environments. Yes, if I were to move this bike around I may find some light cosmetic marks, but because it's a good bike with great colouring I doubt I'd even notice. Besides, considering how much the bike costs as a result of this material usage it definitely outweighs a few light scuffs.
Exercise bikes like this are fairly straightforward. There isn't necessarily an ingenious level of engineering at play, but the designers did factor in a 12kg flywheel with 22 levels of resistance and silent magnetic resistance at that. This is a great design decision, but it's not pushing the boat out regarding indoor cycle innovation. The point is, however, they don't need to – Proform have created a good simple bike with a great console at a reasonable price.
While it might not feel like a traditional road bike like some indoor cycles do, it does provide the option for intense workouts. And that's not just because of the build. The console is incredibly diverse, multi-functional and workout enhancing. Let's take a closer look.
The 10″ full-colour touch display is a great addition to any bit of gym equipment. With an eye drawing design, crystal clear clarity and an index full of workout programs it's hard to not see the value here. The console hosts more than 50 workout videos. While some may not be to your liking, variety is the spice of life, and variation in a fitness regime can be the difference in you hitting your goals or not.
Things That Could Have Been Better
If you like an intense workout, then you may be in the wrong place. Let me explain – while this machine, like many Proform bikes, has an array of fitness solutions and programs the build and structure can get in the way. I felt a little restricted by the way this machine was shaped, and if I want to really intensify my workouts then it'll take more than commercial gauge solid steel to keep me strong – I need a comfortable riding experience and a stress-free position even on my upper body. That said, this only applies to taller riders. So I can't rightly apply this to every single person that wants to buy. In fact, I'd actively encourage this bike to those who may be of a smaller build and wanting a light and easy-to-use bike.
Besides that, there's not much in the way of negatives. It's a straightforward design with great fitness capability. It does, however, have a pretty unique look to it. While I love the aesthetics I know some may be put off by the use of plastic – smart power only goes so far if you don't like the look of the very things it's powering. Plastic can be hit and miss but structurally it's sound, so if you like the look then don't worry about the integrity of the frame or components.
Overall a great bike with little flaws and one that'll keep you spinning for years.
---
FAQ's
What makes a console good quality?
Contrary to what you might think, variation in workouts doesn't automatically result in a good quality console. There are so many factors involved here: the material, ease of use, display quality, variation in data tracking, accuracy, power consumption and so on. As is the case with most components on, well, just about any product going, it's a weigh-up of many different aspects – and you need to consider them all to make the best buying decision possible.
What makes a Proform bike so good?]
There isn't really one answer to this. Proform are great at making good-looking, easy-to-use machines. They like tech inclusion and boast an intelligently composed build across the board. Every company has its flaws, and every company has its strengths but believe me when I say that there are good and bad things about every company out there, it's down to you to discover this for yourself.
---
Affiliate Disclosure
In compliance with the FTC guidelines, please assume the following about all links, posts, photos and other material on this website:
Any/all of the links on this website are affiliate links of which GymFreakz receives a small commission from sales of certain items, but the price is the same for you.
www.gymfreakz.com is a participant in the Amazon Services LLC Associates Program, an affiliate advertising program designed to provide a means for sites to earn advertising fees by advertising and linking to Amazon.com & Amazon.co.uk. Pages on this site may include links to Amazon and its affiliate sites on which the owner of this website will make a referral commission.