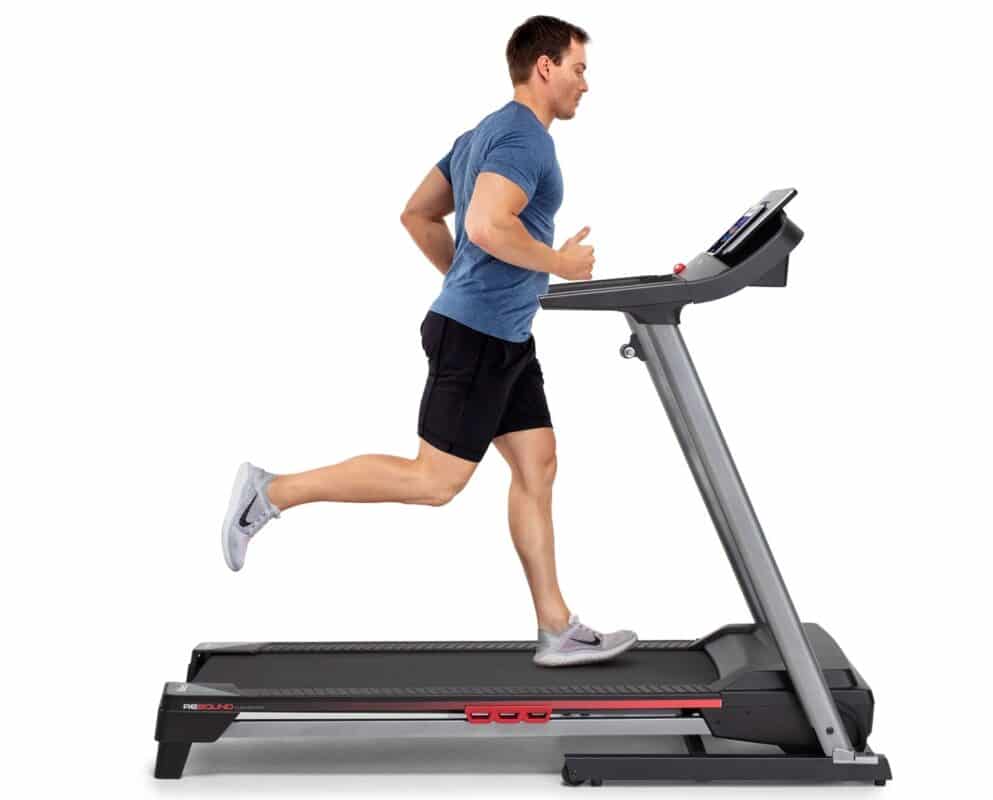 ---
---
Introduction to the ProForm 205 CST Folding Treadmill
The Proform 205 CST Folding Treadmill is a great addition to any home gym. With its large LCD window display, you can track your progress as you work out. The 1.75 CHP motor ensures a smooth and comfortable workout experience, while the 41 x 127 cm tread belt provides plenty of space to run or walk. Additionally, the 2 position adjustable incline range allows you to customize your workout to target specific muscle groups. The ReBound Pro cushioning system provides a comfortable and responsive running surface, while the 1.6″ precision-balanced rollers provide a smooth and quiet operation. Finally, the easylift assist and transportation wheels make it easy to move the treadmill around, even when folded.
To find out more about the ProForm 205 CST Folding Treadmill and all it has to offer, carry on reading below, where I go through the spec, features, the pros and cons and what I did and didn't like about this machine.
Let's get into it…
Disclaimer – This website contains affiliate links. If you find the information useful and click on a product link and make a purchase, a small commission will be earned by GymFreakz and we appreciate your support.
---
---
Specifications
iFit Compatible
iFit Family Membership Included
Large LCD Window Display
1.75 CHP motor
41 x 127 cm tread belt
0 – 16 kph Digital QuickSpeed control
2 Position Adjustable Incline range
ReBound Pro cushioning
1.6″ Precision-Balanced rollers
Folding deck
SpaceSaver design
EasyLift assist
Built-in speakers
Transportation wheels
Tablet holder
Auto stop safety system
Maximum user weight 115 kg
66 kg boxed product weight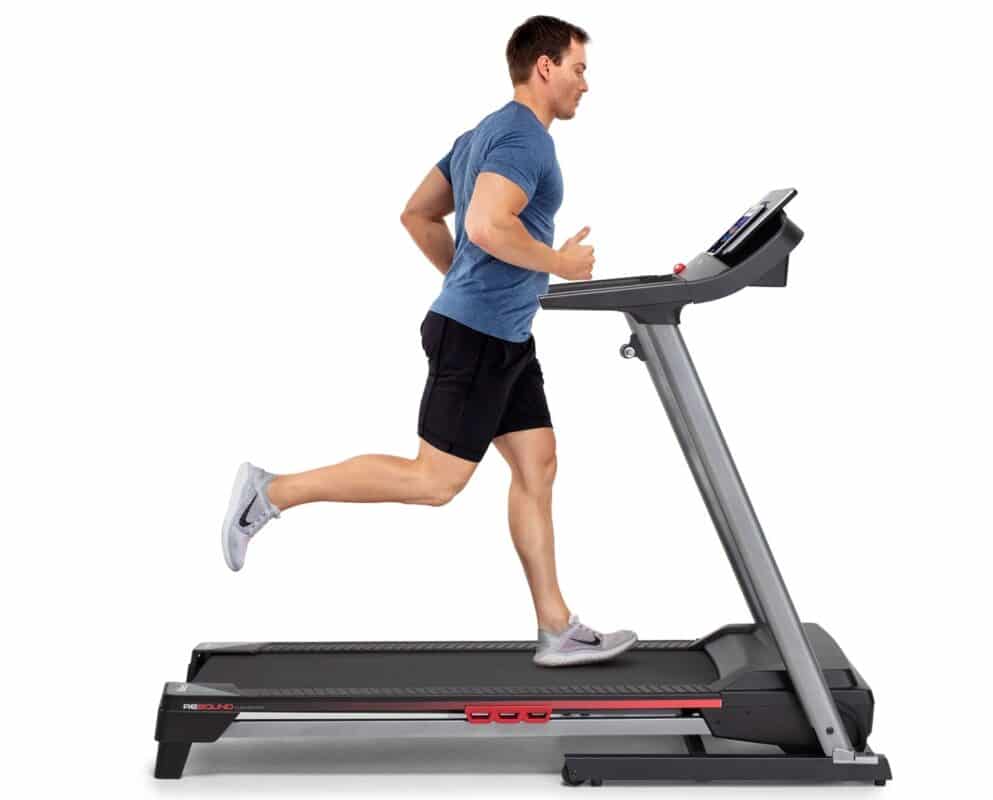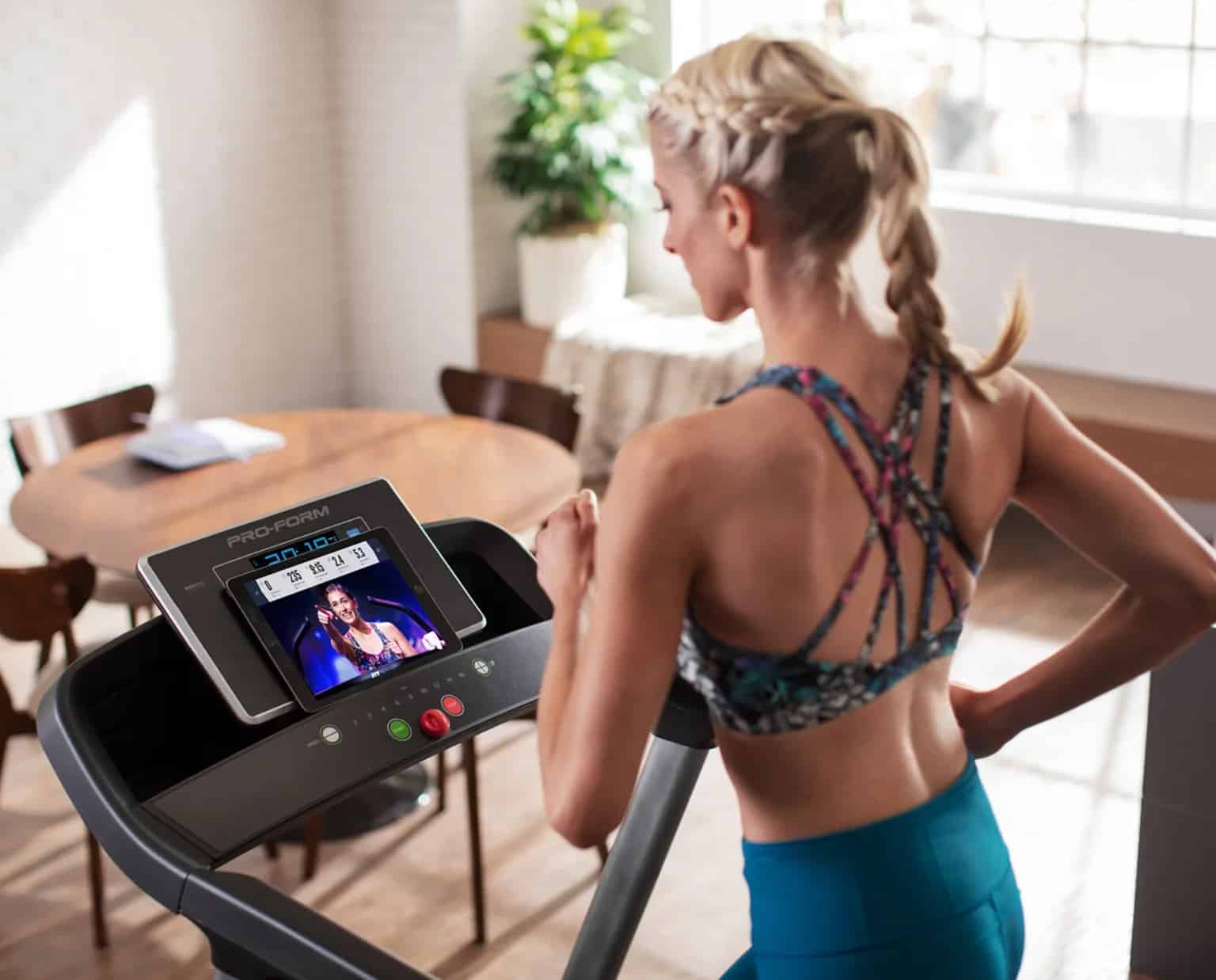 ---
KEY FEATURES
iFit Compatible
By connecting your iFit-compatible treadmill to the iFit app, you can access a variety of interactive features, including auto-adjusted Global Activities in exotic locations and Live Workout Videos. Cross-training workouts, like yoga and strength can also be done away from your machine. You may travel the world by jogging through towns and routes, or you can stay at home and participate in an indoor session led by a personal trainer. By monitoring the speed and incline, iFit trainers assist you with your fitness equipment. To examine your progress, each training session is automatically recorded and may even be used to influence future training sessions and provide you with customized options.
iFit Family Membership Included
If you purchase the Proform 205 CST Folding Treadmill, iFit will provide you with a free 30-day subscription for the entire family. After a month, you can subscribe to any low-cost plan because membership is provided separately. Your family will get instant access to a broad variety of global workout videos and an ever-growing fitness library. Personal trainers with extensive experience may assist you in staying motivated. To experience iFit, Wi-Fi is necessary. A credit card must be required for activation. Your family membership automatically renews for £28/month if you do not cancel in advance.
Large LCD Window Display That Shows Calories Burned
The Proform 205 CST Treadmill has a large screen with high contrast display that will certainly excite you (if you're anything like me that is). While working out, you may not only have fast access to professional training programs but you may also log your workout stats. This LCD shows training progress and workout stats such as time, distance, calories burned, top speed, heart rate, and inclination. You can stay in total real-world experience and effortlessly track your fitness experience with an easy-to-view high-contrast display.
1.75 CHP motor
This ProForm 205 CST treadmill improves strength, endurance, and cardiovascular health by offering safe, low-impact, and efficient aerobic exercises. The treadmill's 1.75 horsepower continuous duty motor provides smooth action and enough power supply to speed the belt.
41 x 127 cm tread belt
The running surface on the Proform 205 CST is broad enough for a good run, measuring 41cm in width. While it isn't as broad as some other small treadmills, it still has a nice running surface. With a length of 127cm, it is suitable for taller runners too. The run is safe, and while this style of treadmill is more suited to jogging than top-speed sprinting, the occasional surge of speed feels acceptable.
0 – 16 kph Digital QuickSpeed control
The top speed of the proform 205 CST treadmill is 16kph, which indicates how limited it may be to higher-end runners. This model is not intended for high-speed sprints but is quick enough for most household users. The easy-push Quick Speed buttons allow you to swiftly modify the intensity of your speed, so you have total control over your workout, whether your trainer pushes you hard or if you do want to sprint it out for a quick burst, you can change your speed rapidly without disturbing your stride or focus.
2 Position adjustable Incline range
Incline training is seen as a treadmill game changer since it prepares your body for strenuous uphill walks. The Proform 205 CST features two automatic inclination adjustment settings. When you exercise on an incline treadmill, you are giving your legs the best workout imaginable. With only two levels of inclination available, it's not particularly steep, but it's ideal for an in-home workout.
ReBound Pro cushioning System
The primary purpose of Proform is to deliver a pleasant run and a comfortable walk. Every treadmill these days has a cushioned deck and Proform are no exception utilising their unique rebound pro cushioning system with this machine. Powerful shock absorbers reduce impact, so your legs will thank you while you walk, jog, or run. You will be able to enjoy a longer workout and faster recovery time with less stress on your feet, ankles, knees, and hips.
SpaceSaver design and Compact Treadmills
Crowded living spaces don't appeal to many of us. That is why Proform created compact treadmills that are easy to store in restricted spaces. You no longer need to give up your living room to accomplish your fitness goals.
EasyLift assist
Proform also incorporated a powerful shock that allows you to raise the deck with only one easy push. Simply press the running deck vertically against the console, and you'll be all packed up and able to relax in your living room with your family.
User weight capacity 115 kg
The Proform 205 CST treadmill has a weight capacity of 115kg. This user weight capacity is less in comparison to other treadmills, yet it is enough for compact treadmills. Proform tests treadmills for a million cycles at more than the user's weight before releasing them to ensure they are of the best quality.
---
Warranty
The Proform 205 CST Folding Treadmill comes with a warranty of:
a two-year parts and labour warranty
a five-year motor component warranty
a lifetime frame warranty
Some ProForm devices include warranty updates. However, you must register your warranty within 28 days of purchase by completing and returning the warranty card that came with the device. ICON Health & Fitness Inc. gives manufacturing and material guarantee for its goods. It is valid for 12 months from the date of delivery. Terms and conditions apply.
*Warranty may be subject to change without notice and may differ between retailers – please check carefully before making a purchase.
---
Pros and Cons
---
Overall Verdict:
The Proform 205 CST folding treadmill is a perfect choice if you are a fitness enthusiast, enjoy working out and in general, just being healthy. Practically everyone enjoys caring for their body and health as health, as I say, is prosperity. One should not compromise on health & fitness and should therefore engage in mild activity regularly to extend and long and healthy life.
Since 1977, Proform (owned by ICON Health and Fitness) has been a recognized fitness brand that provides high-quality workout machines, including treadmills, in a variety of price ranges. The 205 CST treadmill is one of Proform's smart treadmills, ideal for home gyms.
Proform has a good reputation for producing treadmills and other devices with high specifications at reasonable pricing. Proform is one of the few greatest workout machine brands that does not sacrifice construction quality.
The Proform 205 CST is a well-built treadmill that provides a good workout while taking up little space than most treadmills. It is not as substantial as a full-sized treadmill, but which compact treadmill is? If you have a decent internet connection and are willing to subscribe to iFit you can get a wide choice of activities. Although, the inclination system only has two levels, which severely limits the kind of workouts you can perform on this treadmill. The ProForm 205 CST Treadmill is however still an excellent choice as it has several features, including a huge LCD, digital speed control, and a foldable deck.
The extensive parts warranty is appealing too. The power, programming, and cushioning should satisfy the majority of trainees so if you are searching for a compact treadmill with basic specs and features in this price range, the Proform 205 CST Folding Treadmill is hard to beat right now.
The availability of financial choices is the best component. You can purchase a treadmill in 5 or 12 interest-free instalments. Spread the amount across three instalments with a credit card without additional fees. What more could a person want? To take advantage of this offer, order a Proform 205 CST folding treadmill now. Remember that you must be at least 18 years old to take advantage of this credit offer.
So there it is – I hope this Proform 205 CST treadmill review has given you a breakdown of all the key features of the treadmill to make it easier for you to make a choice now of whether you want to buy it or not!
---
---
What I Liked About This Product
The Proform designer team considers your enhanced comfort and dependability. They also consider how it would fit into small places in your flat. The ProForm 205 CST treadmill is an excellent small walking machine that does not take up much room in your home.
Comfortable cushioning system
Due to the ReBound Pro cushioning, you no longer have to be concerned about stress on your legs. Even after a lengthy jog, your feet, knees and hips should all have been suitably supported.
Every Proform fitness equipment is iFit compatible. The interactive training support sets it apart from similar competitor products. You can now work out from the comfort of your own home while you can see all the information on the screen, such as heart rate, calories burned, incline range, and distance.
The Proform 205 CST treadmill is linked to virtual outdoor training programs. You can get instructions from personal trainers in fitness studio courses around the world. The only thing you need is the iFit membership.
Every customer has a different price point. As a result, having fitness equipment for different budgets is critical. ProForm does not disappoint any consumer in this regard.
What I Didn't Like About This Product
The Proform 205 CST 1.75 CHP motor gives a decent average speed; however this treadmill is not as durable as full-sized treadmills, yet it provides a comfortable jog and walk.
This model is not intended for high-speed sprints. However, it is speedy enough for most household users. Just two levels of the inclination system are accessible, which are ok but not particularly steep.
Because it needs to be assembled, it can sometimes be complicated and time-consuming. Also, you need two individuals to put it together (as is often the case with any treadmill to be fair)
Although not a deal breaker a modest built-in cooling fan may have been nice for this machine although I'd then expect the price to go up accordingly. If this is a must-have, you may be better suited to a treadmill higher up in the range.
---
FAQ's
How to assemble a Proform 205 CST Treadmill?
The Proform 205 CST treadmill, as is customary with treadmills, must be set up before usage. The task is rather straightforward because the device is practically pre-assembled, and you will only need to:
Unfold and secure the handlebars.
Turn the feet to the back so they are ready to use.
Fold the treadmill console and then secure it.
Attach the slow-drop safety bar.
Connect the machine to a power supply outlet or the mains.
You may always rely on the well-written Proform 205 CST treadmill handbook. However, you may require assistance from another individual. Remember that the real sweat will be shed when you hit the deck, not when you assemble the machine.
What is the smallest ProForm treadmill available besides 205 CST?
The ProForm City L6 is the most miniature treadmill that measures 70.25′′ L x 29′′ W x 44.5′′ H. Because of its exceptionally compact form, you may recoup both floorspace and headspace.
Is it possible to go 10,000 steps per day on this fitness equipment?
10k steps each day is feasible, but restricting it to 10k steps on a treadmill appears to be a difficult effort, but it isn't. Treadmills are the greatest method to get 10,000 steps in every day to lose weight. It makes no difference whether you have an under-desk, regular, or heavy-duty treadmill; you may record 10k steps at home or the workplace.
Is it easy to assemble?
Overall, it is quick and simple and requires only a few nuts and screws. The user handbook is nicely written and easy to understand, with clear illustrations and directions. And while it is still simple as a two-person job, the only time you'll break a sweat is when you go for a run, even if you set this up on your own.
Is the Proform 205 CST folding treadmill suitable for running?
The running space on the 205 CST is broad enough for a good run, measuring 41cm in width. While it is not as broad as some of the other small treadmills we have examined, it still provides a nice running surface and, at 127cm in length, is suitable for taller runners.
How can I receive a free trial of iFit?
You may acquire a free iFit trial by following a few simple steps, which include:
Log in to ifit.com with your initial password.
On the right side of your screen, click your name and then settings.
Once on the settings page, choose "billing" and input your unique code in the promo activation code text area.
Click to redeem.
If you are not already a member, go to ifit.com and select the join-up button.
Click "have an activation or promo code?" before selecting your membership package.
Enter the code and press the "redeem" button.
In your account, enter your billing information.
When you sign up for an iFIT account, you must provide your credit card information.
Delivery Conditions
All items purchased in the continent of the United Kingdom qualify for free delivery during the checkout procedure. If you choose basic delivery, two delivery members will carry your purchases into a ground floor room of your choice. One of the delivery partners will text or email you a reservation link, allowing you to book your delivery or phone call. You should get your products within 5-10 business days after placing your purchase (subject to bank holidays).
How is vertical distance important when choosing a treadmill?
The distance between the floor and the top of the deck is an important consideration when choosing a treadmill. The higher the deck, the more difficult it will be to get on and off the treadmill. If you are tall, you may want to choose a treadmill with a higher deck so that you don't have to stoop down as much.
---
Affiliate Disclosure
In compliance with the FTC guidelines, please assume the following about all links, posts, photos and other material on this website:
Any/all of the links on this website are affiliate links of which GymFreakz receives a small commission from sales of certain items, but the price is the same for you.
www.gymfreakz.com is a participant in the Amazon Services LLC Associates Program, an affiliate advertising program designed to provide a means for sites to earn advertising fees by advertising and linking to Amazon.com & Amazon.co.uk. Pages on this site may include links to Amazon and its affiliate sites on which the owner of this website will make a referral commission.