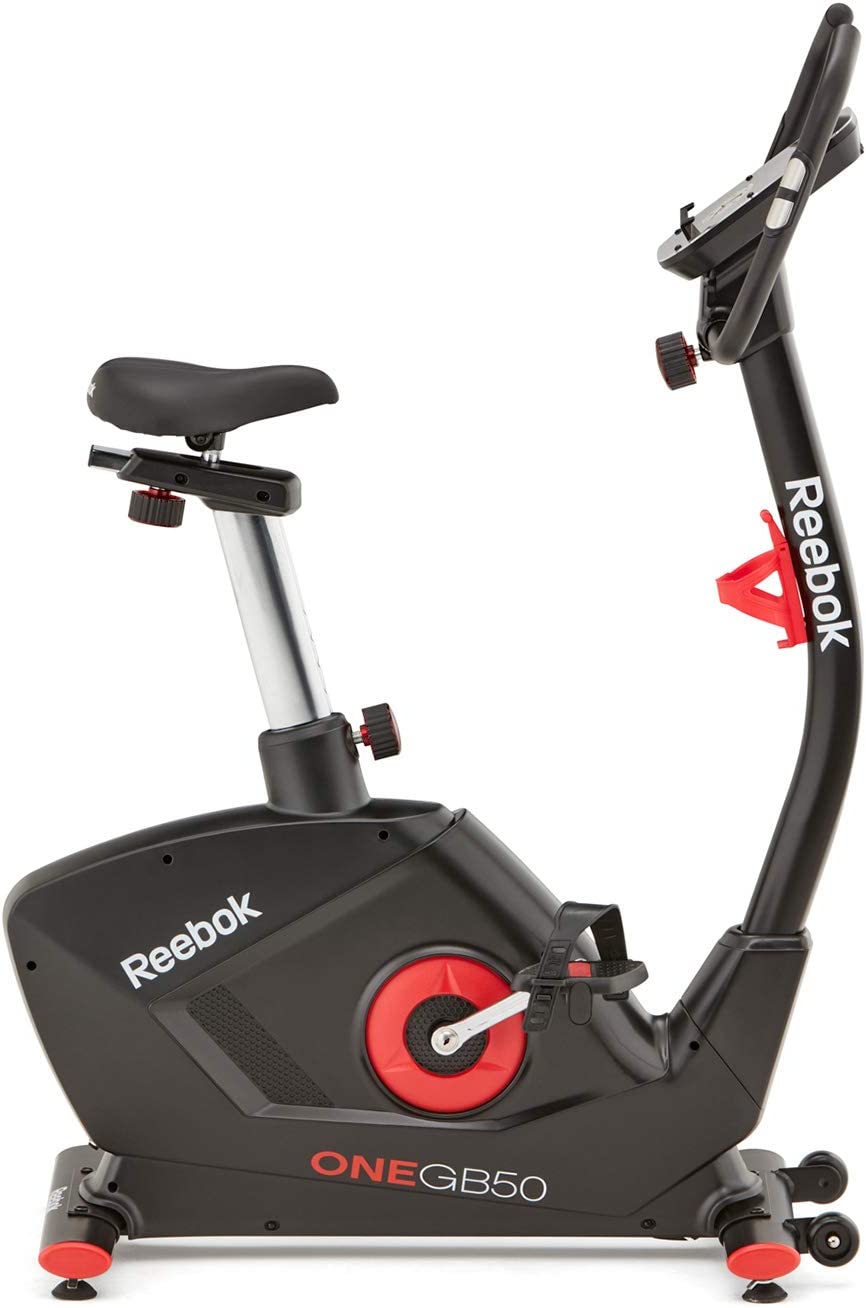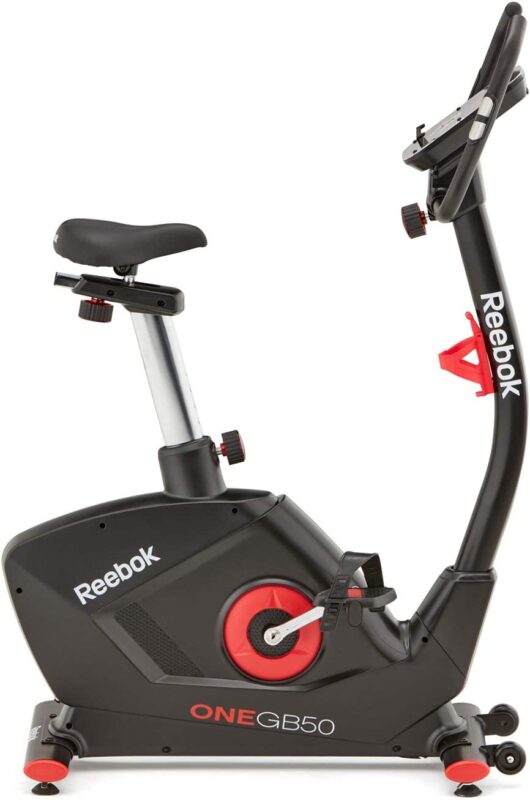 ---
---
Introduction to the Reebok Exercise Bike GB50
Things have to change. People have to adapt and evolve. The world of fitness equipment is no different. From the rise of HD consoles to developing magnetic resistance systems, health clubs and gym goers around the world have demanded that exercise machines stay at the forefront of innovation. But that's not to say all machines have to have every feature known to exist.
The Reebok GB50 is a great and solid machine. Besides the facts that a solid machine speaks for itself, the build being of note here, the console, this machine's internal engineering and adjustability are pivotal. But the extras, fine details and smaller choices are better than ever too.
We all have to be honest with ourselves as well; we're on a budget. With budget comes limitations, but Reebok haven't worked within those limitations, they've worked around them. In any case, no matter your credit and account status, whether you have multiple partial payments on the go, even if you always find the most low interest bearing option, it's difficult to say no to a top quality bike that's as affordable as the GB50. Sometimes, simply, it's worth it.
Reebok consistently deliver a great range of both bikes and the very component that form them. They deliver time and time again to keep you on the machine burning calories and staying in shape. They know that in order to appeal to someone, a purist perhaps, who's main concern is the machine, then all they have to do is focus on the fundamentals – Let's take a look at the Reebok GB50 exercise bike, and see how the machine can fundamentally change your life.
Let's get into it.
Disclaimer – This website contains affiliate links. If you find the information useful and click on a product link and make a purchase, a small commission will be earned by GymFreakz and we appreciate your support.
---
Specifications
Machine weight – 120 kg
LED Display
Height – 132 cm
Item display width – 48 cm
Corded electric power source
No batteries – no
9 kg flywheel
Watts, Distance, Speed, Calories, Time, pulse and and RPM displays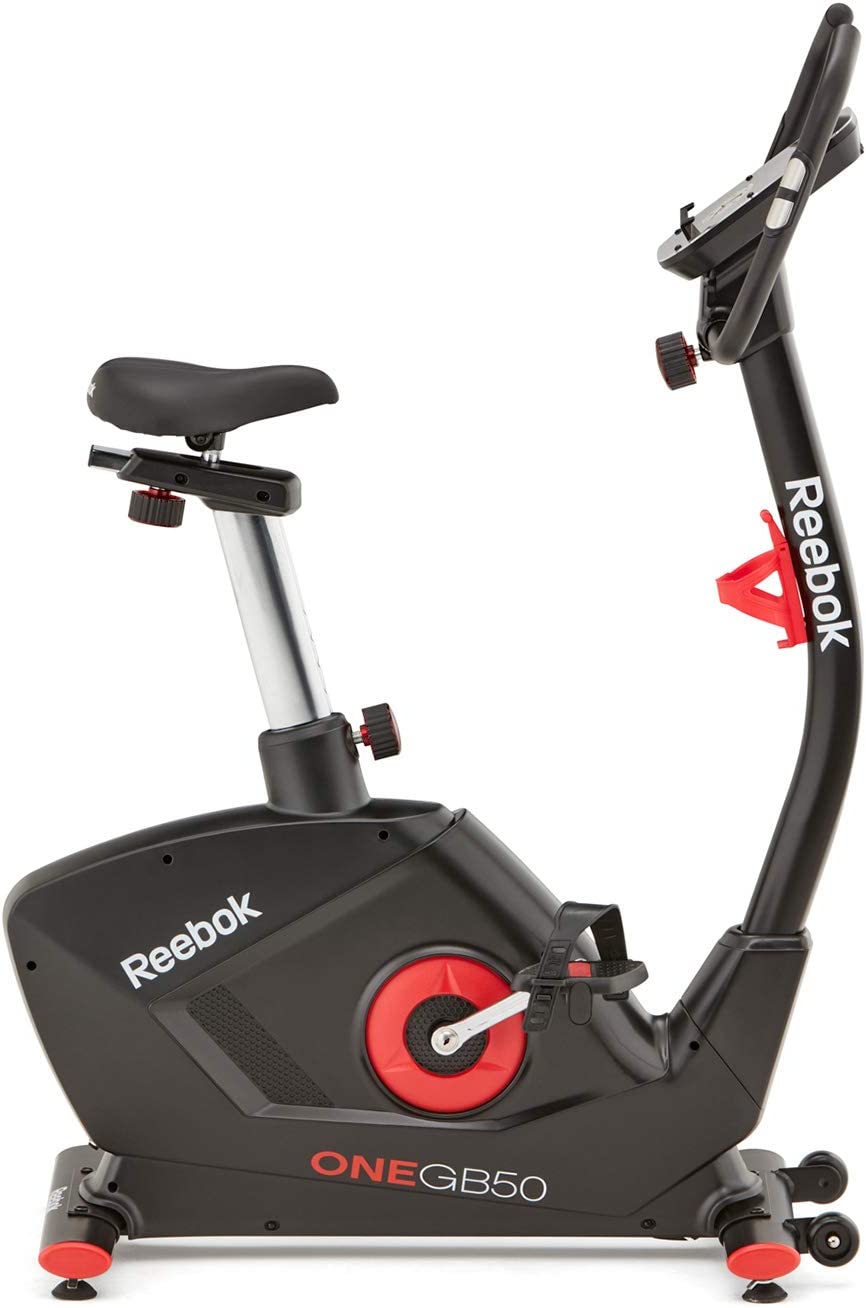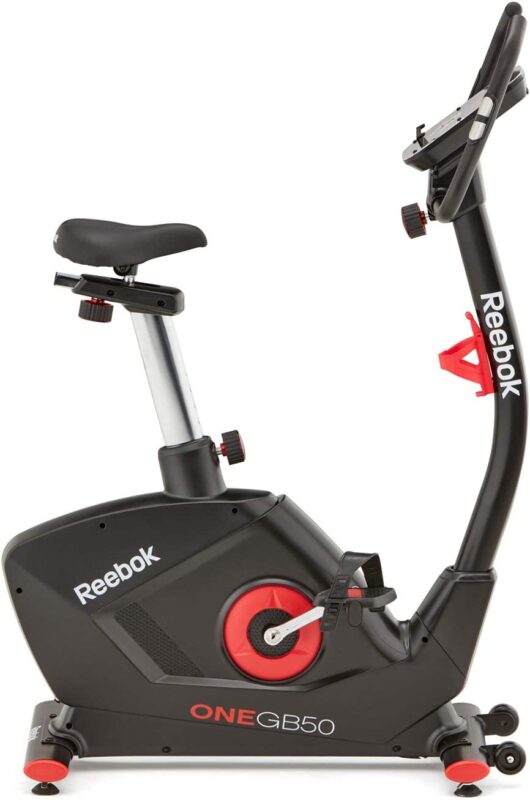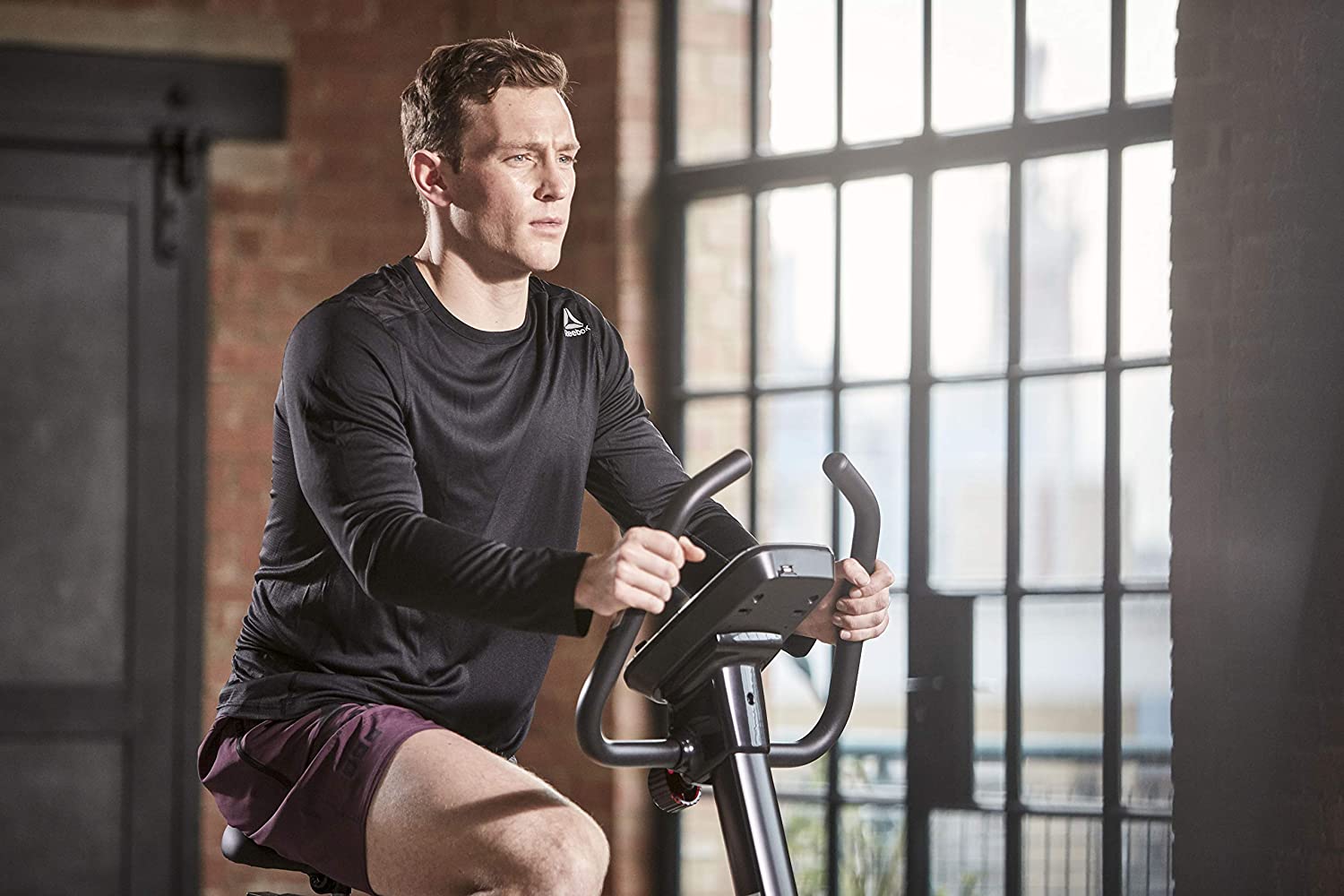 ---
KEY FEATURES
Padded comfortable seat
Horizontal and vertical seat adjustments
Self levelling pedals with adjustable straps
Light frame
Soft hand grips
20 fitness programs
32 levels of electronic resistance
Premium build quality
---
Warranty
2-year parts and labour
*Warranty may be subject to change without notice and may differ between retailers – please check carefully before making a purchase.
---
Pros and Cons
---
Overall Verdict:
To conclude, this entry is exactly what I'd expect from the next level in the GB line. The console being most notable here, things have just been added to and gaps have been plugged, all for pretty much the exact same price as the GB40. Certain things stay largely unchanged: The maximum user weight, handy transport wheels, hand grip pulse sensor, and self levelling pedals. But this isn't a problem. The problem? The last entry only had 4 preset workout programs. The GB50 has 20.
With great exercise stats, a water bottle holder and multiple speed capabilities this bike is another simple yet effective entry. Whether you use a full or partial payment simply log what you've saved if you buy this bike; affordable quality are the two words that come to mind.
You should be less concerned with minimum payment and more concerned with how much money you'd be spending each time you get on the machine. In fact, because you'll make it back so quick you shouldn't have to worry about cash price, having to avoid paying interest, a delayed payment period or any potential outstanding balance at all – this machine will pay for itself over time, and quick.
With cardio gym equipment like this, a stand out choice of programs and all your exercise stats on display it's hard to think of reasons not to buy this machine. Okay, it's not exactly the star ship enterprise, but as is the case with low cost – high quality machines they just don't need to be.
I'd recommend this bike every day of the week. It has a good quality build, good features and an incredible price tag.
---
---
What I Liked About This Exercise Bike
Let's forget about credit and account status or using a shop direct finance company for a mo. Funds are important but its easy to get bogged down in it all. In essence, this is a great bike and that's all that should be on your mind. As trainers, exercisers or even casual riders we really want something that's going to appeal to us, keep us motivated and encourage us to keep on going. The Reebok GB50 exercise bike is one of many that'll do exactly that.
With great adjustability from the vertical and horizontal seat adjustments to the sharp and determined looking aesthetics, I'd encourage anyone to welcome this machine into their home or health club. The 6kg flywheel is around the lower tier of wheel you'll find in terms of weight, but with the resistance available, and your ability to change those, then you won't be short of a challenge (the heavier flywheels are generally for the top tier cyclists who absolutely need a bigger challenge)
If you're worried about the build quality then, despite all that I can say to dissuade you, I do understand. There's a natural worry with cheaper models but to offset those doubts then a great warranty is used here. You'd be part of a direct group limited by their bike quality, and the manufacturers know this isn't acceptable. Great warranties aren't always present so make sure to take note of the 2 year deal here, and hopefully you'll be moving closer to making the right purchase.
Things That Could Have Been Better
Some of the design aspects aren't to my liking. While subjective, I have to say if I missed clothes while hanging some up to dry then I guess I could use this has a second choice; the handlebars don't compliment the frame and feel a little too tall to me.
I also think, despite the benefits of a lighter flywheel, that they could have upped the weight. Yes, the price does dictate the general level of build but by having a lighter flywheel in there you're cutting off any chance of people with a slightly higher need for more powerful equipment, too. This isn't a bad thing per se; the target audiences very much known and met but I see no reason why you can't up your game a tad and widen the potential demographic for this bike – entry level doesn't always mean amateur, but in this case the Reebok GB50 might not be used by the pros.
---
FAQ's
Can I buy a bike no matter my credit and account status?
This completely depends on the status of your account. If you have the money then you'll most likely be able to make the payment. If you need a credit option however, (want to delay payment), and depending on a single account minimum payment request, then it lies on how healthy your credit is. It also depends on when your delayed payment period starts, as that can interfere with other purchases before then. There will always be a range of factors that affect this so please be sure to consult your bank or search online for specifics.
Are exercise bikes this cheap really good quality?
Absolutely. Rest assured, if they're on this site then they're good. More specifically though, these bikes have a great range of top quality components.
Certain material usage or component crafting aspects may have been optimised for low cost production, but that doesn't mean they're bad; a more expensive bike will usually have better components, but that doesn't leave prior entries in the category of bad quality.
Besides, there's an incredible amount of average customer ratings online for bikes that you think would be incredible, and great reviews for the cheaper end of the spectrum – always look for yourself.
What is the average rating value of the Reebok one GB50?
The average customer rating is 4.7 out of 5.0, with a total number of reviews around the 2,500 mark.
---
Affiliate Disclosure
In compliance with the FTC guidelines, please assume the following about all links, posts, photos and other material on this website:
Any/all of the links on this website are affiliate links of which GymFreakz receives a small commission from sales of certain items, but the price is the same for you.
www.gymfreakz.com is a participant in the Amazon Services LLC Associates Program, an affiliate advertising program designed to provide a means for sites to earn advertising fees by advertising and linking to Amazon.com & Amazon.co.uk. Pages on this site may include links to Amazon and its affiliate sites on which the owner of this website will make a referral commission.