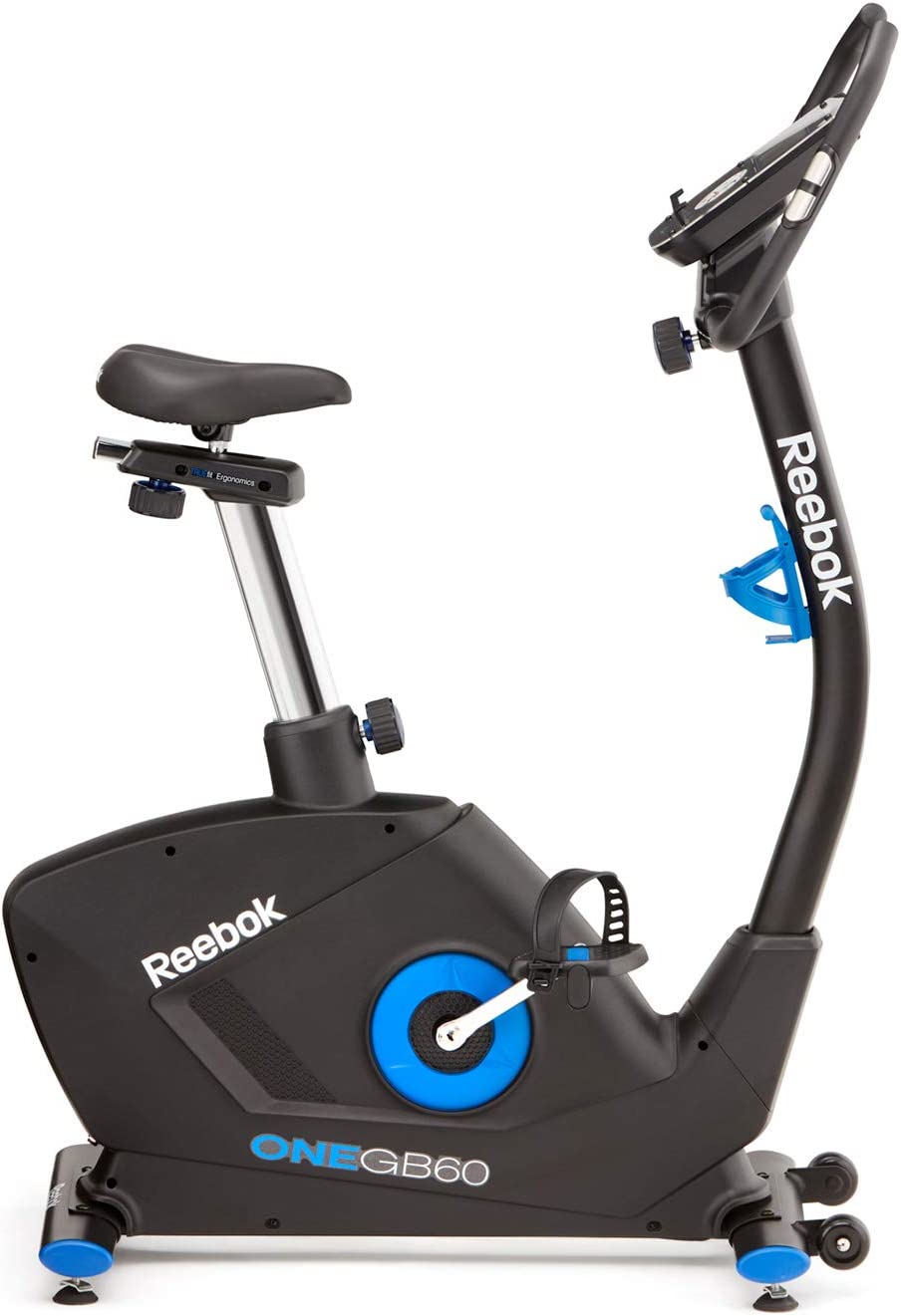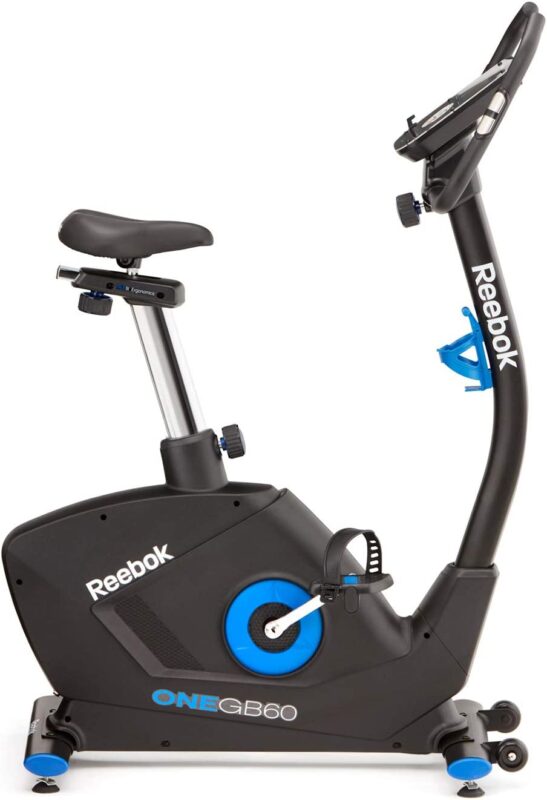 ---
---
Introduction to the Reebok Exercise Bike GB60
At the end of an evolutionary chain you get the apex predator; the best of the best; an undoubtable champion in its field. Gym equipment is no different. We often review the best machines going, but that doesn't mean we exclude ranges. It's important to highlight the best product lines, from the best brands giving you the knowledge needed to pick your favourite. Just because a certain model is the bottom or most affordable of it's series doesn't mean it's bad, and certainly doesn't mean it's not for you.
Thankfully, we don't have to worry about the bottom of a series because today we're looking at that apex predator. Reebok have a rich history of top-quality products. There's a reason we all know the name. But what we might not have known is that their GB series is one of the most underrated bike series on the market, not to mention that Reebok genuinely release indoor exercise equipment in the first place.
From an incredibly designed hand grip pulse sensor to pre-set programmes that help with losing weight the Reebok GB60 exercise bike features components just like those, and the design detail (even with a more affordable range) is simply impressive. Now, many things are still as impressive as the products that have come before. This should be of no surprise of course as the specs are largely the same… but we're going to discover what has changed and give the bike a full breakdown whether you're aware of it's predecessors or not.
Disclaimer – This website contains affiliate links. If you find the information useful and click on a product link and make a purchase, a small commission will be earned by GymFreakz and we appreciate your support.
---
Specifications
LCD Display
Height – 132 cm
Weight – 32 kg
Item display width – 48 cm
Plastic material usage
Battery power source
Batteries included
Product dimensions – 110 x 51 x 140 cm
6 kg flywheel
Balanced pedals
Adjustable pedal straps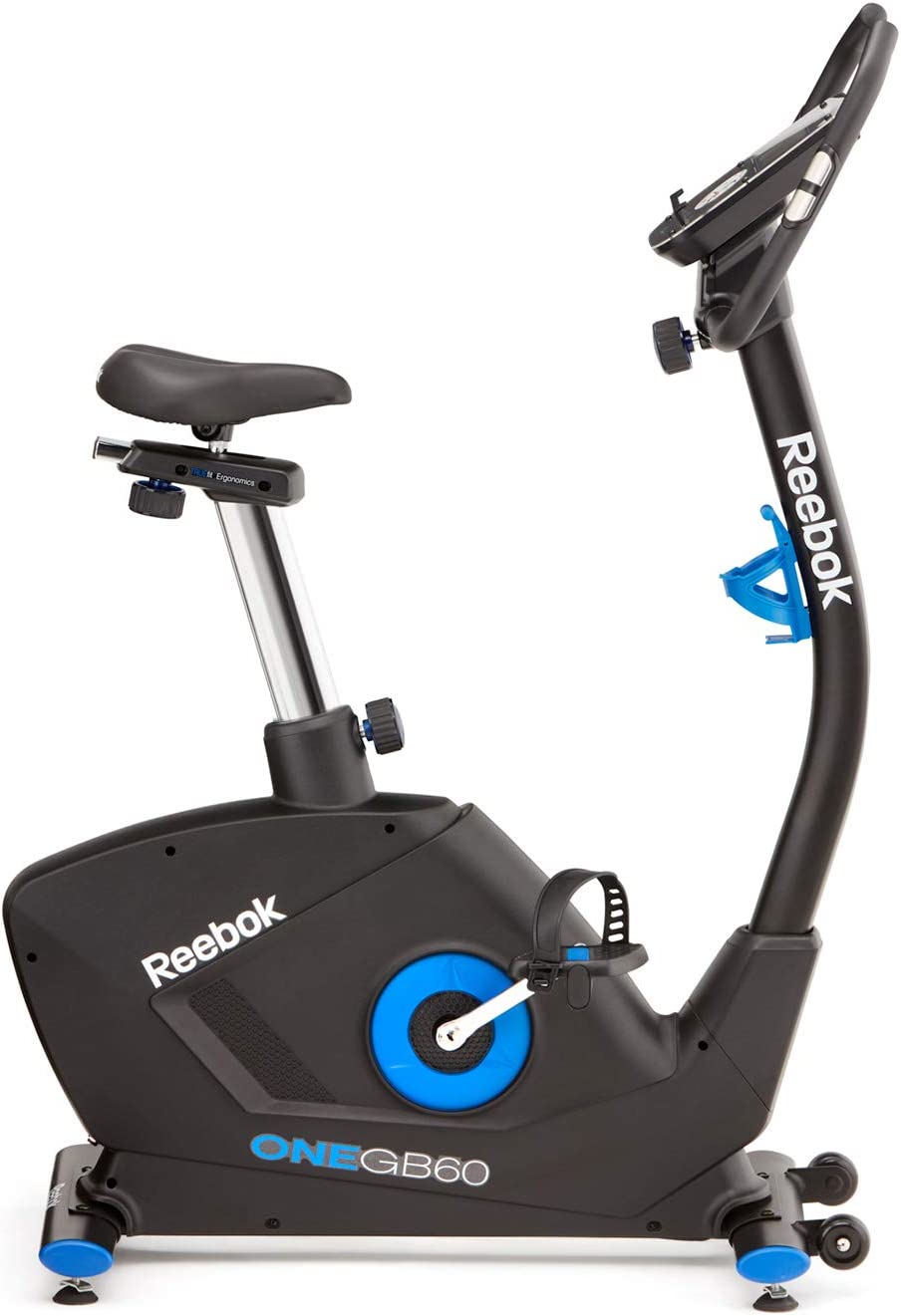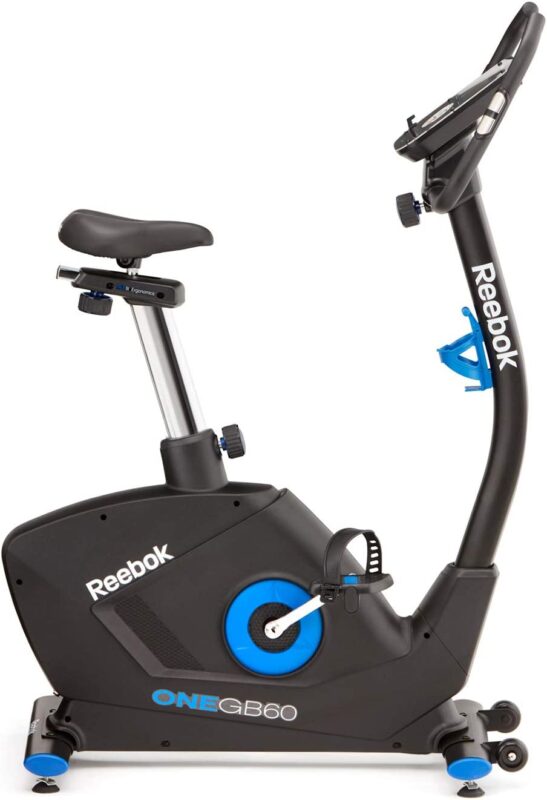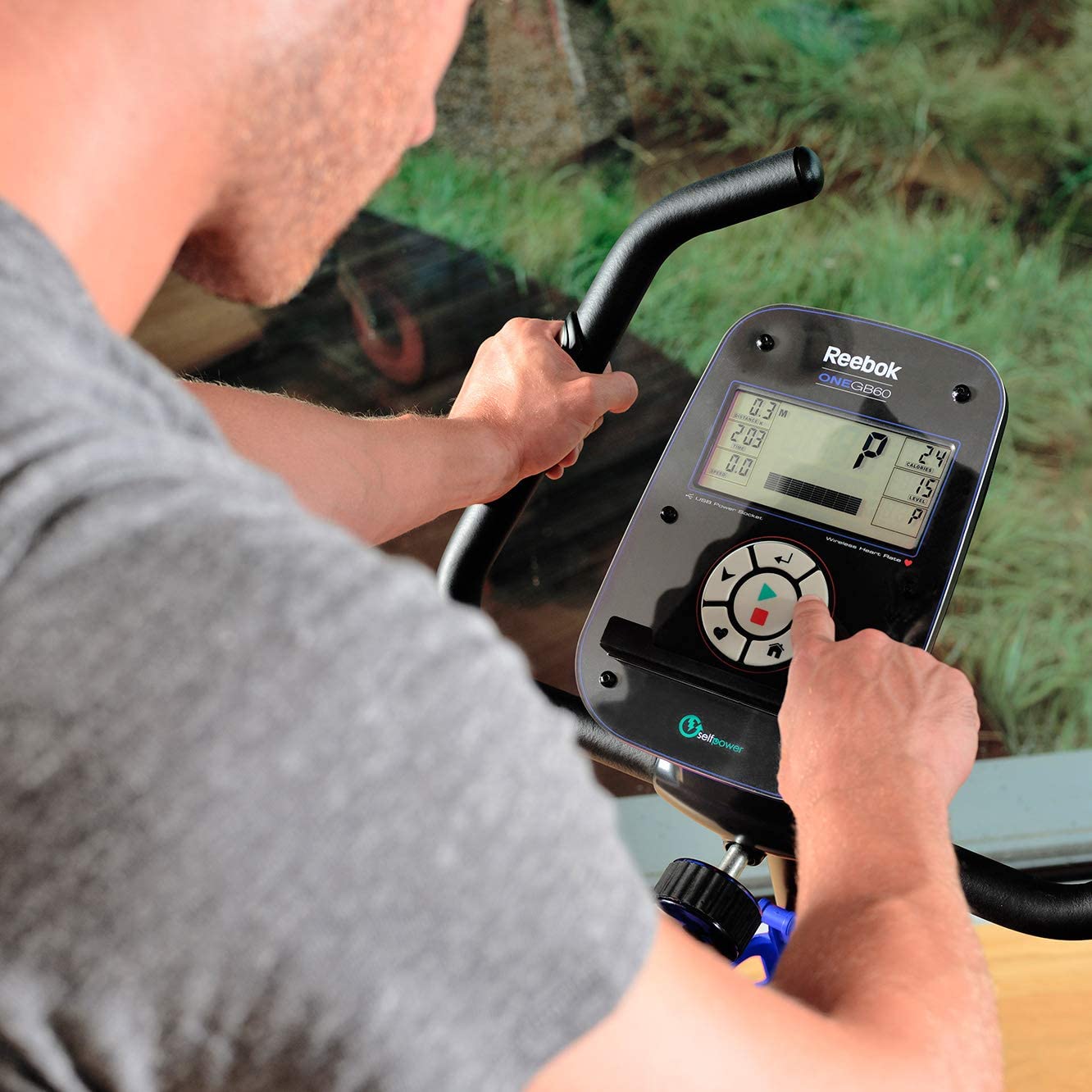 ---
KEY FEATURES
Self-generating power capabilities
Premium a build quality
Comfort additions
Soft hand grips
Padded comfort seat
Progress tracking
Data display (Speed, Distance, Time, Calories, Pulse, Watts, Bodyfat, RPM)
Light frame – added movability
32 levels of electronic resistance
---
Warranty
2-year parts and labour
*Warranty may be subject to change without notice and may differ between retailers – please check carefully before making a purchase.
---
Pros and Cons
---
Overall Verdict:
Overall… it's phenomenal. Look at it – the aesthetics are beaming, professional, sharp and modern. Make sure you have an agreed collection date because you'll regret not getting this machine for this cheap while it lasts. Whether it's a lump sum with direct home shopping or partial payments and collection from store, this thing is worth both the price and process of ordering it. Bikes like this essentially compound interest – it pays for itself so quick AND can rapidly grow your fitness levels time and time again.
The self-levelling pedals and stable frame both contribute to outstanding balance properties. With a phone or tablet holder, you can use those superior balance features to steadily watch films or even read during a lower intensity moment of your workout.
No matter your chosen payment method, the only cost you'll face is not getting it sooner. I can wholeheartedly say that this bike is worth it, and for the price it is, I can't see any arguments being made here. If you want top-of-the-range units built like a tank then yes look elsewhere, but if you want a bike that can enhance your fitness regime, take the slightest of nips out of your wallet and keep you going for years then this is one, no doubt. Oh, and if the frame doesn't hold up for whatever reason, then you have a 2-year warranty. I challenge you to give me a reason why you can't get this bike… go on, I'm listening.
---
---
What I Liked About This Exercise Bike
So, other than comfort features and aesthetics, I love the console improvement. With 20 preset workout programs and just as much data accuracy as before, I love the changes Reebok have made. Exercise bikes can often overcomplicate the console aspects so, while I don't love the look of the console specifically, I do love its ease of use and handy utile design. If you search descriptions for this bike, you'll read great things. And they aren't lies. Your training routine will be enhanced every time you step onto this thing, no doubt.
I also like the fact that the LCD display has been made slightly bigger. From 5.5″ to 5.75″ you'll be stunned at how much more impactful this part feels. We previously touched on ease of use, and with this new console you'll be struggling to find it hard to operate the console, even at peak routine. Just as kids discover games, you'll find the programs a much-welcomed improvement from the last.
Now let's touch on the self-generating aspect of this bike. With self-generating power comes self-generating money saving. Whether you look for a multiple partial payments option, if your delayed payment period starts late or the minimum payment feels high at the time then don't worry, power saving is just the job. And if you're worried about money, then a company accepting partial payment simply log how you've contributed, and sometimes distributors giving you a machine on loan can adjust the payment plan anyway. Choosing the least interest-bearing option can help here too, making the bike not only a great enhancement to your fitness but a great investment to your financial future. Exercise bikes often come with the option of full or partial payment. You can usually go to a shop direct finance company to help cover this too.
Finance options aside, I love the colouring, the expansions and the feel of this bike. Definitely consider it for your future, as you won't have to fork out to change your life today.
Things That Could Have Been Better
For this I'm actually going to move away from the bike itself for a mo. Because of how popular this machine is it's often out of stock from many different store pages. With a rarity of average customer ratings, I'm not surprised you might have to delay payment until one comes back on the market. This is the time of writing though so please, please check.
I personally want to push myself and the lighter flywheel is a little too light for me. If you're after what's essentially a high volume or endurance workout (which is great for cardio training and stamina growing), then this bike is for you. If you want a serious hardcore ride then the 6kg flywheel might not cut it. Also, because it is a cheaper model the turning action of the pedals don't feel as smooth as high models. Mid-ride, this isn't an issue, however.
---
FAQ's
Is marketing to a direct group limited for companies? Why would they target a narrow audience?
Some products absolutely benefit from very specific audiences. The top range of bikes, treadmills or any bit of equipment on this site is itself limited to a narrow group – those that can afford upwards of about £1500 (and trust me… it doesn't stop there) By doing this, you can sustain a business, build a very dedicated and loyal buyer base and build an almost exclusive brand, all the while giving a more niche audience exactly what they want. These more expensive bikes aren't aimed at the average account, 'minimum payment request' – they're for those who can comfortably splash out.
How do I avoid paying interest with a bad credit and account status?
The truth is, it's very hard. Interest may be common with payment options, and distributors and stores are less likely to give you interest-free purchase options if you have a bad account status. There are so many ways to rectify this and comfortably make the right equipment purchase, but it takes some research and time to be patient enough to get back to balance.
---
Affiliate Disclosure
In compliance with the FTC guidelines, please assume the following about all links, posts, photos and other material on this website:
Any/all of the links on this website are affiliate links of which GymFreakz receives a small commission from sales of certain items, but the price is the same for you.
www.gymfreakz.com is a participant in the Amazon Services LLC Associates Program, an affiliate advertising program designed to provide a means for sites to earn advertising fees by advertising and linking to Amazon.com & Amazon.co.uk. Pages on this site may include links to Amazon and its affiliate sites on which the owner of this website will make a referral commission.