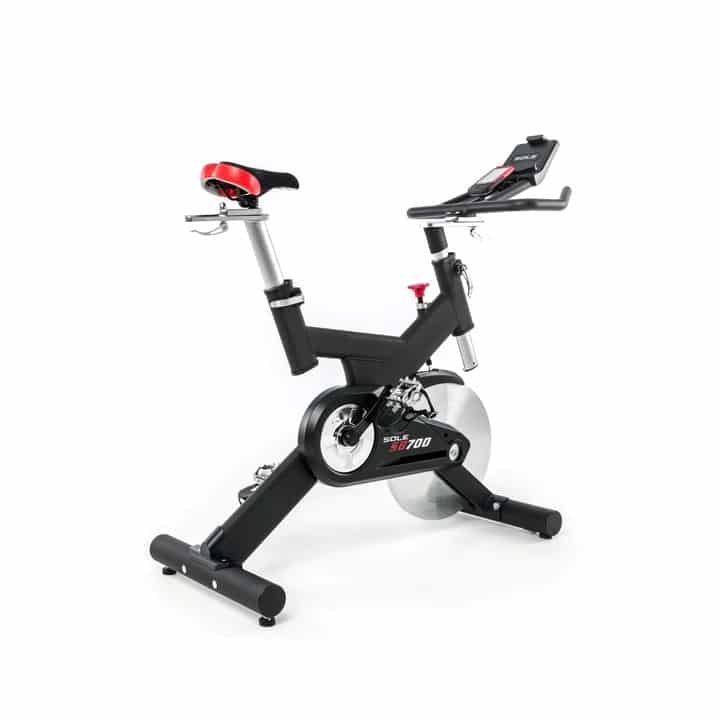 ---
---
Introduction to the Sole SB 700 Exercise Bike From The Upright Range
There's no point looking at the best bikes on the market if you're not going to like how they look…
While some obviously wouldn't care about aesthetics, I personally think it's important. Why? I take pride in the way I've organised my home, my home gym and always want my friends or family to feel that when they're around. Not to mention that a great-looking bike can be the difference between me riding or not. Motivation is incredibly important, and I want to feel like my equipment is the best around, so I can be pushed into becoming the best version of myself too.
Sure, a quiet and smooth ride, tablet holder, adjustable seat and integrated console are all great things to have, but if they look bad, then I feel bad. Some may be reading with a puzzling expression – a shiny red frame vs a reliable braking system… one takes precedence here. And hey, I completely agree. That's why we're looking at bikes that combine both pivotal components and eye-grabbing visuals.
Sole Fitness always have a way of churning out interesting-looking bikes. The Sole Fitness SB700 indoor cycle is one of those machines. With a futuristic look, compact design and well-built components, this bike may well be the one for you. Let's break down just how this machine combines great looks with incredible engineering, and help you to decide how to spend your money in the right way.
Disclaimer – This website contains affiliate links. If you find the information useful and click on a product link and make a purchase, a small commission will be earned by GymFreakz and we appreciate your support.
---
Specifications
22kg Chrome plated balanced flywheel
Kevlar brake pads
User Weight 21.2 stone (135kg)
Product weight 64kg
Size L x 106.5cm W x 53.8cm H x 102.5cm (42" x 21" x 40")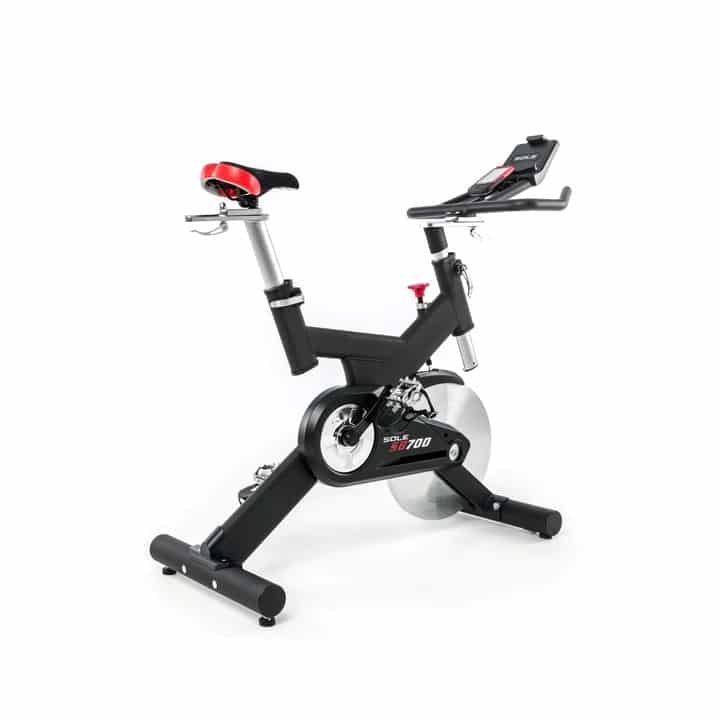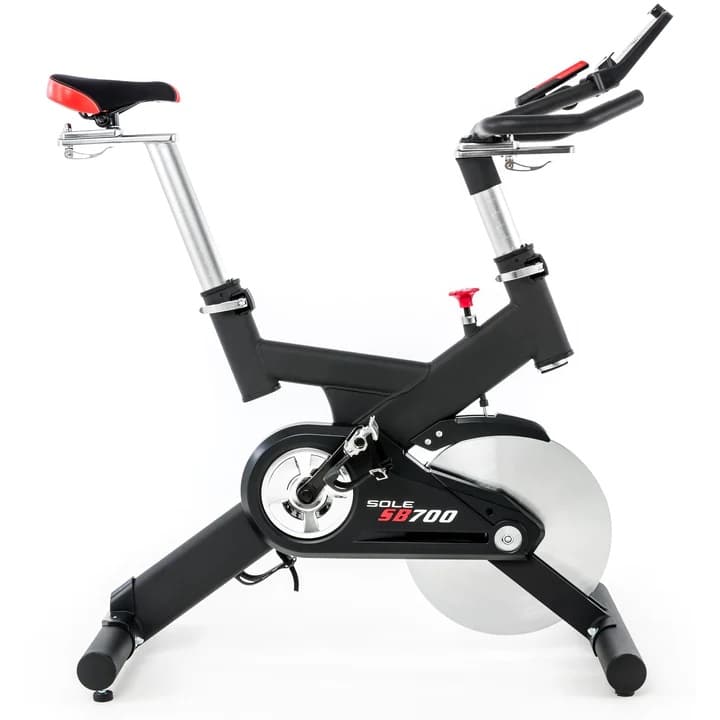 ---
KEY FEATURES
22kg Flywheel
Resistance -Kevlar brake pads
Handle bars adjust vertically and horizontally
Seat adjusts vertically and horizontally
Gel seat for comfort
Toe strap pedals
Large stop button
Integrated console with rechargeable battery (Charge time 2.5 hours, user time 120-130 hours)
Tablet and Smartphone holder
Telemetric heart rate monitoring (with optional chest strap)
USB port
Transport wheels
User Weight 21.2 stone (135kg)
Size L x 106.5cm W x 53.8cm H x 102.5cm (42" x 21" x 40")
---
Warranty
5 Years parts, 3 years labour and 10 years motors.
*Warranty may be subject to change without notice and may differ between retailers – please check carefully before making a purchase.
---
Pros and Cons
---
Overall Verdict:
Okay, so this machines not only looks great but it feels great too. The integrated console displays rpm and other readings, the technology is amazing with just the right settings and heart training zones give you accurate and guiding feedback.
Like a lot of the machines on this site it's not just about going from a virtual A to B. We want to give you the ultimate exercise experience, whether you're an indoor and outdoor cyclist, no matter where you want to put these bikes. With machines like the SB700 I can't help escape the feeling that we've done it again. It looks amazing, feels great, has awesome technology and most of all – I can't think of a single good reason to not buy this bike if you fall into the category of 'majority of riders.' If you're a heavier person with a need to thrash out a fitness session then I would suggest a heavier bike… other than that, look no further.
In conclusion, this bike has left its mark in my mind. I genuinely get excited by the way it looks, and can't wait for you to check it out too.
---
---
What I Liked About This Exercise Bike
Okay, so I'll shut up about the aesthetics here and focus more on the bike's inclusions and build qualities. But before I do, here's a question – do you value technology?
Have a think.
Personally, I think technology has changed the way I work out. It gives me guidance, focus, data tracking and often adds an element of fun to my routines. This machine let's me incorporate apps like Swift and Kino to boost data capabilities and ride entertainment quality. Let me explain. I love the Swift app functionality on this bike. In short, this app converts your speed in Realtime (and other input data) using algorithms to convert and display those readings in the form of an avatar. Yes, it's very modern and only for some, but for me this is awesome. I love to see these gamification aspects. They're fun, engaging and make me feel like I'm more connected to the bike. Naturally, the app does much more than this, so be sure to check it out. Kino gives you a simulation-like experience through Kinomaps. From feeling you're riding through tropical islands to bustling cities, Kino plays back videos of some of the best routes in the world. Again, this bike is incredible for modern tech inclusion and really enhances your workout in ways I could never imagine.
As to the rest of the bike's more infrastructural aspects, it's well built, lightweight and offers ample support and frame durability for a great life span and solid workout. The reliable braking system ensures a safe ride. Injuries are common in the world of fitness, whether you're outside or not, so to keep safe and healthy make sure to assess bikes with safety features like this. This design also makes for a smooth and quiet ride, with the streamline and minimalist frame you won't get too much swing either.
Things That Could Have Been Better
With a lightweight design and minimal frame comes a few drawbacks, however. For the best indoor exercise bike experience, often, you need as much added on to reach that. Things like a cooling fan, bigger console for more power and options, integrated tablet holder plus water bottle and USB ports… you can't have it all, but the SB700 doesn't come close (but then again, it isn't really supposed to).
Now, as I said, I love technology, aesthetics and the lighter frame of this bike. If you want to ride comfortably, lose weight and incorporate technology then this is the bike for you. While I know this is all one needs to develop an indoor bike efficiency, we all like to have a little more, and some of us would absolutely need a heavy-duty frame to justify the price and their time spent on exercise machines. While it has a sturdy frame, on the SB700 it's more about room than weight; you just can't fit everything you want with the space available.
This is also a rarity in that it isn't compatible with iFit. You'll see a lot of criticism with iFit memberships so it's not a deal breaker for me, but for you to have a home gym with machines that are then you should know this couldn't join your equipment network. Besides, it's not like it's lacking on the integration front…
Other than this bike missing some of the more luxurious (not essential) components, I do feel like it's hard to find fault. Great for kids and parents, suitable for homes and home gyms… if you don't mind the above factors missing then get this bike today, and change your fitness lifestyle as soon as you click order.
---
FAQ's
Do I need heart rate training zones for a great workout?
Not at all. A great workout looks very different for different kinds of trainers. Some enjoy a light, more minimal build with a focus on sturdiness and comfort, others may enjoy a more heavy-duty frame with lots of tech… either way, while heart training zones are great for varying up your routine, you don't need them to have a great fitness lifestyle what so ever.
How many resistance levels is too little?
Technically, you can still do a lot with no resistance levels at all. For example, if the bike was set to a medium resistance and stuck there, you can still control speed, overall length of workout and intensity variation yourself. However, resistance levels give you variation, more personalisation and greater control of your day to day workouts. Personally, I've seen bikes with 10 different levels all the way up to 40 odd, so it's down to you decide what you think.
What does a reliable braking system ensure?
A good braking system will be quiet, consistent and safe. It's important to have a bike that won't make too much noise, as this can be distracting (or even annoying) when working out at home. A consistent brake means that you can trust the bike to stop when you need it too, and a safe brake ensures that there are no sudden jolts or unexpected movements that could cause injury.
---
Affiliate Disclosure
In compliance with the FTC guidelines, please assume the following about all links, posts, photos and other material on this website:
Any/all of the links on this website are affiliate links of which GymFreakz receives a small commission from sales of certain items, but the price is the same for you.
www.gymfreakz.com is a participant in the Amazon Services LLC Associates Program, an affiliate advertising program designed to provide a means for sites to earn advertising fees by advertising and linking to Amazon.com & Amazon.co.uk. Pages on this site may include links to Amazon and its affiliate sites on which the owner of this website will make a referral commission.