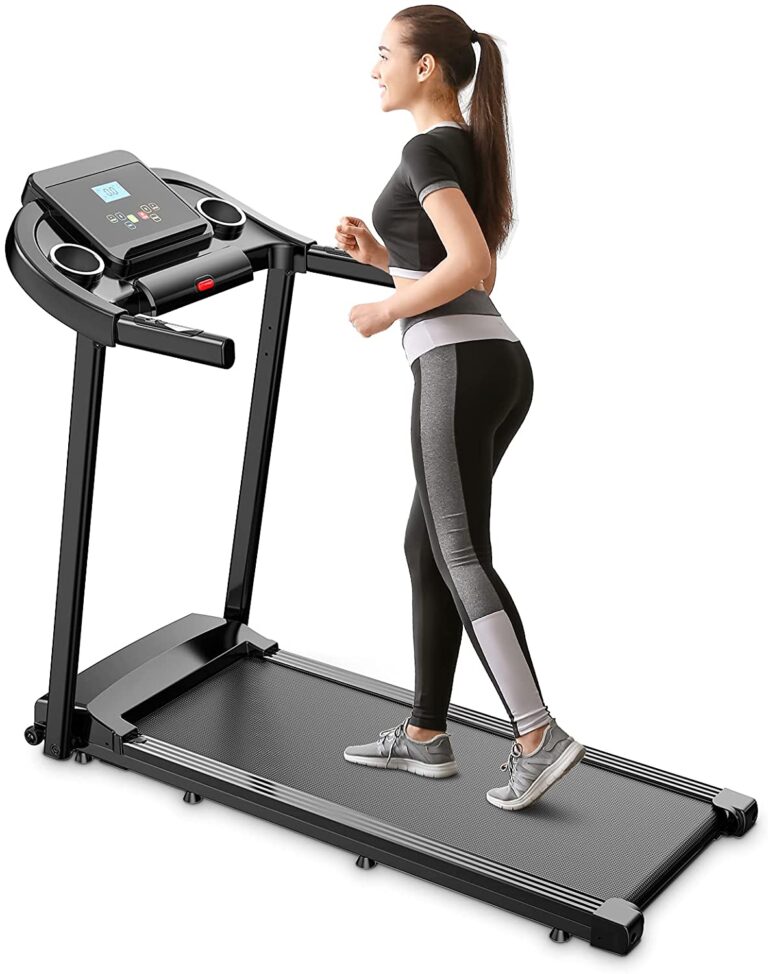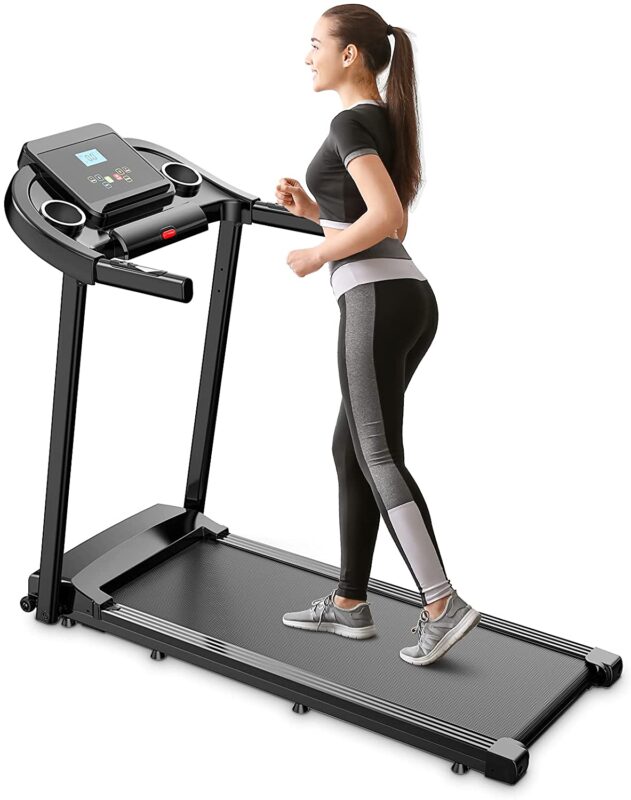 ---
A review of its specifications, along with some pros and cons
---
---
Introduction
The Dripex treadmill machine is a very effective tool for enthusiast runners, especially in uninvited weather conditions, allowing a running experience in the comfort of your own home. Perfectly suited to this environment due to its low noise roller, the Dripex treadmill is a great addition to any home gym.
Treadmills provide a wide range of benefits from both a health and practical standpoint. They are very effective when it comes to achieving fitness goals and the perfect equipment to begin your workout journey.
In this article, we have reviewed the Dripex treadmill which offers its users a great, comfortable workout. It comes with an ultra-wide running surface to give a smooth running experience and could well be the right home treadmill to incorporate fitness into your daily life.
Enjoy exercise from the comfort of your home with this compact machine ideal for beginners and medium to high-intensity training. With its powerful motor, you'll enjoy cardio workouts by engaging multiple muscles for a full-body workout.
This treadmill is user-friendly and easy to use especially if you are a beginner. Dripex is well known for its high customer service and quiet running experience.
Disclaimer – This website contains affiliate links. If you find the information useful and click on a product link and make a purchase, a small commission will be earned by GymFreakz and we appreciate your support.
---
Running Mode
It comes with preset running modes with a maximum running speed of 1 km/h to 12km/h (walking mode to top speed) making it one of the best treadmill choices for all levels.
---
Dripex Treadmill Running Machine Specifications
Deck size: 133.5 x 60.2 x 122 cm
Motor: 2.0 HP
Maximum User Weight: 100kgs
Maximum Speed range: 1 km/h to 12km/h
LCD display
Performance statistics
Heart rate monitor
Robust and stable design
Multi-layered shock absorption
Durable steel frame
Low noise roller
Intelligent chip
Ultra-wide running area
Comfort hardness
Transportation wheels
Three countdown modes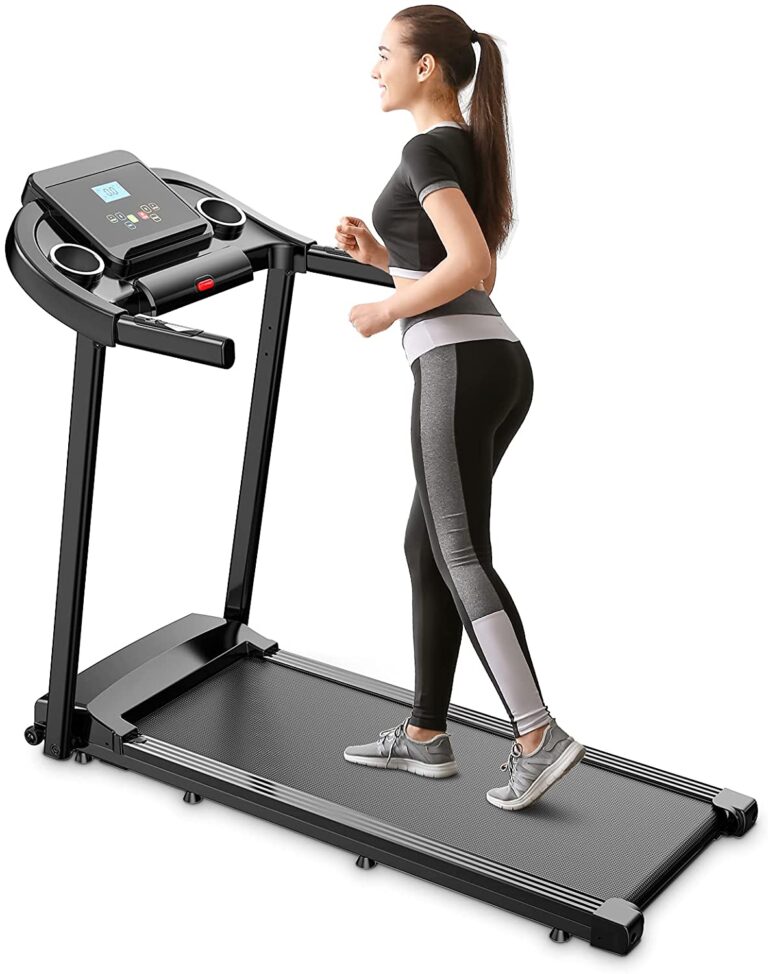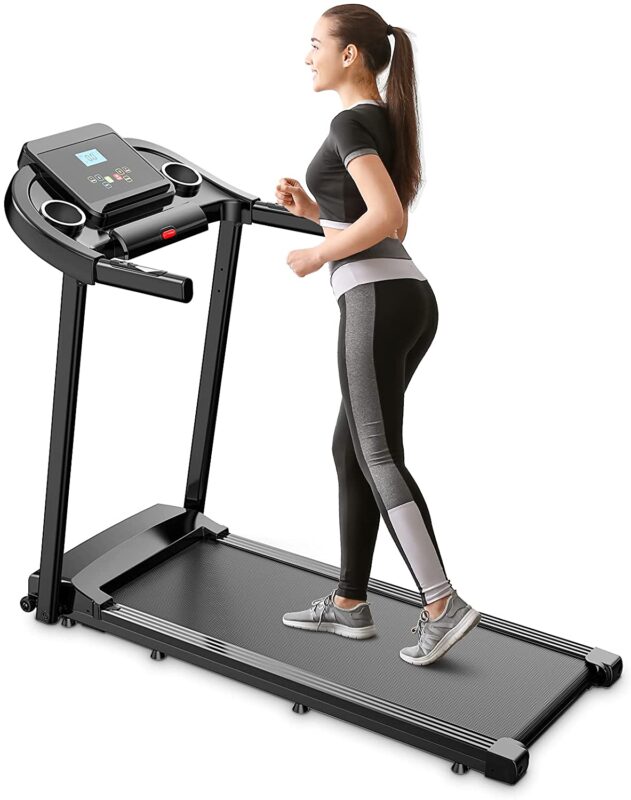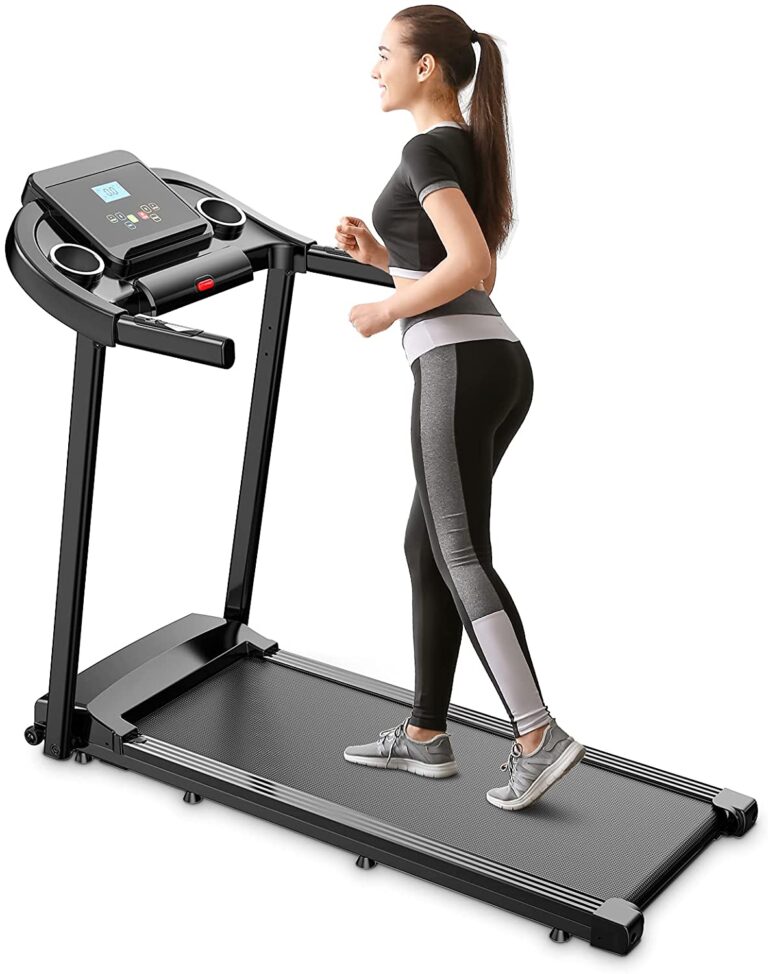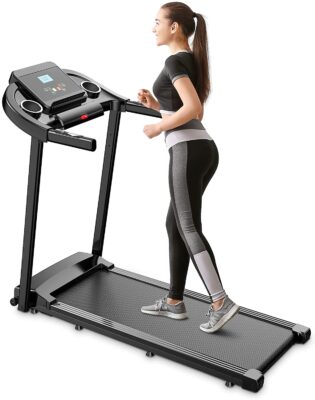 ---
FEATURES
2.0 HP Motor / Maximum Speed
It features a high-performance motor of 2.0 HP along with P1-P12. The running machine has three running modes designed to meet the needs of everyone. It allows smooth operation with low noise.
The Dripex running machine has a maximum speed of 1 km/h to 12km/h (from walking mode to max speed). It is not just powerful but self-cooling as well. Even after extensive use, it won't overheat. It makes indoor running fun in a quiet environment without disturbing the neighbours.
Also, the maximum load-bearing capacity is 220lb for this running machine.
User-friendly Design
The best part of the Dripex treadmill is that it comes in a perfect home-size design. It comes with a robust and stable frame that is built to last and if you ensure proper maintenance, a treadmill that will grow with you over the years.
The Dripex treadmill features an anti-slip and shock-absorbing mechanism that ensure the complete safety of users. It also helps in protecting the knees by reducing the impact and lowering the risk of injuries.
The Dripex treadmill is made with a sturdy durable steel frame that reduces the noise and vibration to the floor. It helps in giving a stable running surface along with a quiet workout experience with an adequate speed limit.
LCD Display
It comes with a multifunctional LCD display that helps the user by displaying the speed, heart rate, calories burned, time, etc. It is easier to track the performance statistics with an LCD display as compared to treadmills without it.
The Dripex is one of the best home gym equipment that helps in fulfilling your fitness requirement easily. It will help users identify where they are lacking and what muscles to work on by analyzing the statistics of their workout sessions.
To conclude, LCD display treadmills are good when it comes to performing goal-oriented workouts
Ultra-Wide Running Area
The Dripex is one of the best folding treadmills with a wide shock deductive running platform area of 400 x 1100mm which gives a smooth running experience. It is an ideal choice for those who want to run comfortably especially if you are 6ft tall or over. That's because it brings impact to overall feet and the wider it is the lower the impact will be.
The running area also increases the efficiency of the running machine. And with a compact folding design, you don't have to worry about the machine taking space. With the transport wheels, you can easily move it from place to place. The Dripex treadmill has chosen the best of its features to bring ease to its customers.
---
---
Overall Verdict:
If you are looking for a running machine with efficient performance and good customer service then the answer is the Dripex. It comes with a high-performance motor and speed adjustment. It gives a smooth running experience with a wide running area and makes indoor running more fun.
The Dripex folding treadmill is the best to when it comes to customer service as it is their first priority. It comes with a powerful motor of 2.0HP with a low noise roller which effectively reduces the noise and makes it a shock deductive running platform. Its durable steel frame reduces the vibration to the floor by providing stability and making it motor shock deductive running.
It comes with an LCD display so that you can easily keep track of your progress and a heart rate monitor to control the heart rate. The Dripex treadmill is built to give smooth running with a maximum load-bearing of 220lb. It makes indoor running fun in a quiet environment without disturbing others.
>>Dripex Treadmill Running Machine is featured on our "best cheap foldable treadmill roundup" here.<<
---
What I liked about the Dripex Treadmill
It comes with high-quality accessories, electric roller to give higher efficiency. Dripex has smartly worked on its roller as most of the treadmills have bad rollers with a clunking or grinding noise. It comes with a low noise roller that effectively reduces the noise and wear.
It also helps in decreasing the impact to the knees, hips, and ankles while running to give a better experience. The noise in the treadmill is caused by bearings, a fraying belt, or a worn motor belt but you don't have to worry when choosing Dripex.
The Dripex treadmill features a heart rate monitor that displays when the treadmill is powered on. It uses the pulse sensors on the side rails to help you monitor the heart rate and keep it in control.
It flashes heart-shaped markers to display the pulse value. The measurement of the heart rate is a good feature while running as it shows how hard or intense you're working. It increases as the pace increases and the blood circulates to the muscles so that they can get oxygen. The heart rate monitor allows you to keep your heart rate stable and makes sure that enough blood is circulating throughout the body.
You can determine your target heart rate for running by using the formula below. A simple tip to get better results from your workout.
Target Heart Rate is usually expressed as a percentage of your maximum heart rate (normally around 50-85%)
Your maximum heart rate is 220 minus your age. So for a 50-year-old, it would be: 220-50 = 170 beats per minute
Therefore a training heart rate for a 50-year-old would be at 50% of 170 = 85 beats per minute
Dripex treadmill features a highly integrated and intelligent chip. It gives high-speed and incline level running as its circuit is logical. It is good for high-speed incline training as it provides enhanced loading of muscles responsible for increasing running speed.
It is good for both home and office use as it will not disturb the neighbours or colleagues around you. IC board treadmill has magnetic strength to effectively improve training efficiency.
Dripex provides high customer service to make sure that its users remain satisfied. This aspect is like a cherry on the top as heavy equipment requires yearly maintenance, especially home treadmills.
It needs lubrication and fixing every 6 months so if there is excellent customer service you don't have to go anywhere else. Keeping the treadmills maintained will help them to last longer.
---
Things That Could Have Been Better
The efficiency of the running machine could be better if there is something for entertainment like a built in Bluetooth speaker or Bluetooth.
The user is more likely to perform better daily workouts when the workout includes their favourite song.
---
---
FAQ's
Who will this treadmill ideally suit?
Tall Runners:
The efficiency of the Dripex is suitable for anyone looking for a light running experience. However, when you compare the power and convenience for larger users, with its running deck size, the Dripex is a good option for them.
Its powerful motor enables high-intensity workouts and is spacious enough to accommodate users with a longer stride.
Beginners:
For people looking for an easy to follow exercise routine with low intensity in an accessible format then Dripex treadmill is an excellent option for them.
They can begin their fitness journey along with a maximal heart rate effort.
The goal is to exercise for 30 minutes in an hour to have the most of their workout session.
How to add lubricant?
Open the sidebar left front of the refuelling decorative cover, with scissors or art knife to press the lubricant bottle to cut the size of the figure
Press the bottom illustration to refuel
Pay attention to the oil bottle front of the thin rod inserted into the fuel pipe on the platform and then pour oil into it
How often should you spend on a running machine?
These types of workouts are better for a short duration or depend upon the type of workout. For instance, 20 minutes are recommended for light running, a bit longer on a steady-state treadmill. Similarly, 30 minutes for the moderate intensity of the workout like jogging and 40 minutes for low intensity walking.
What is a running machine good for?
Treadmills are effective when it comes to increasing heart rate to a healthy level and warming up. Promoting a healthy heart rate will help in performing other exercises like weight training and cardio training. A running machine is safer than a manual exercising machine with increased safety.
Does it affect the knees?
Yes, it affects the knees with the increased speed of the treadmill and higher the risk of putting more pressure on the knees. It can cause increased pain and irritation in the joint.
What are the side effects of the treadmill?
Muscle spasms in legs
Shortness of breath
Slow movement
Dystonia
---
Affiliate Disclosure
In compliance with the FTC guidelines, please assume the following about all links, posts, photos and other material on this website:
Any/all of the links on this website are affiliate links of which GymFreakz receives a small commission from sales of certain items, but the price is the same for you.
www.gymfreakz.com is a participant in the Amazon Services LLC Associates Program, an affiliate advertising program designed to provide a means for sites to earn advertising fees by advertising and linking to Amazon.com & Amazon.co.uk. Pages on this site may include links to Amazon and its affiliate sites on which the owner of this website will make a referral commission.