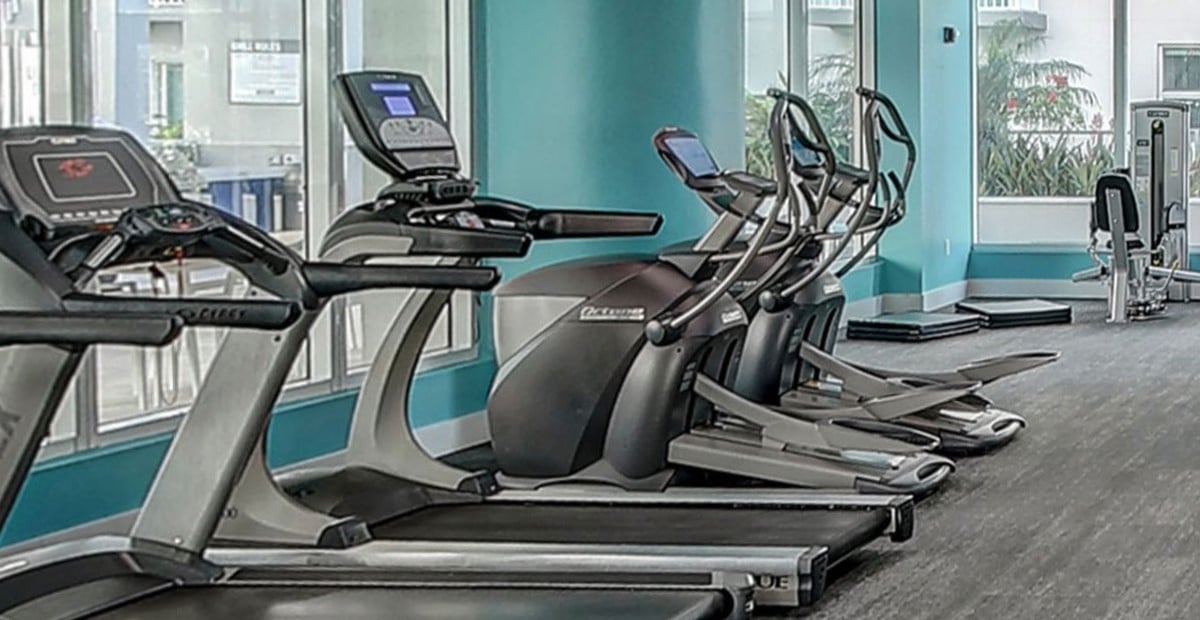 ---
---
Compact treadmill for space, folding treadmills for storage, what else can a lightweight treadmill offer you?
Just imagine, you're stepping off the treadmill from a 10K run, you've sweat dripping from your brow, no water, and you've got to navigate your clutter-filled room, shakey-legged and wishing there was something you could do about that heavy-duty-treadmill in the corner.
The above is a common problem, for a lot of people. This is part of the reason why so many alternative types of treadmill exist. You could have a compact treadmill, a folding treadmill, a desk treadmill in a workspace, or invest in a treadmill that boasts a small dimension and ease of storage or moving.
Today, we're going to be breaking down some of the best folding treadmills and compact treadmills so you don't have to worry about searching through Amazon and eventually being swayed by a heavy-duty treadmill anyway.
With very few drawbacks, lightweight treadmills have resulted in the best compact treadmills on the market. Most compact treadmills result in easy storage, save floor space, and fit perfectly in your home gym.
So, let's break this list down.
Disclaimer – This website contains affiliate links. If you find the information useful and click on a product link and make a purchase, a small commission will be earned by GymFreakz and we appreciate your support.
In A Rush?
See Best Featured Brands Below:
| | Best Branx: | Best Dripex: | Best JLL: | Best JTX: | Best Proform: |
| --- | --- | --- | --- | --- | --- |
| Brand | Branx Fitness | Dripex | JLL | JTX | Proform |
| Model | Start Run | Running Machine | S300 Digital | Sprint-3 | L6 City |
| Photo | | | | | |
| Max. Speed | 16.5 kph | 12 kph | 16 kph | 16 kph | 8 mph |
| Max. Weight | 125 kg | 100 kg | 120 kg | 120 kg | 110 Kg |
| Running Area | 120 cm x 42 cm | 110 cm x 40 cm | 123 cm x 41 cm | 129 cm x 46 cm | 17.5″ x 45″ |
| PRICE* | £599.99 | £219.99 | £499.99 | £599.00 | £799.00 |
| | | | | | |
| Check Prices | | | | | |
*Prices correct at the time of writing
---
Best Lightweight Branx Treadmill:
Branx Fitness Start Run Treadmill (£599.99)
Key features
Speed Range: 0-16.5km/h = 0-10.2mph
Motor: 3 CHP- 5 HP peak motor
Running Area: 120cm (Length) x 42cm (Width)
16 Level Auto Incline
12 Built-in Programs
Soft Drop System
BMI Feature
1.8mm running belt thickness
Maximum User Weight: 125 KG
Entertainment: 5.5-inch LCD Display, Built-in speaker, BlueTooth Wireless Technology
Warranty: 2 years on parts & labour and 5 years on motor and frame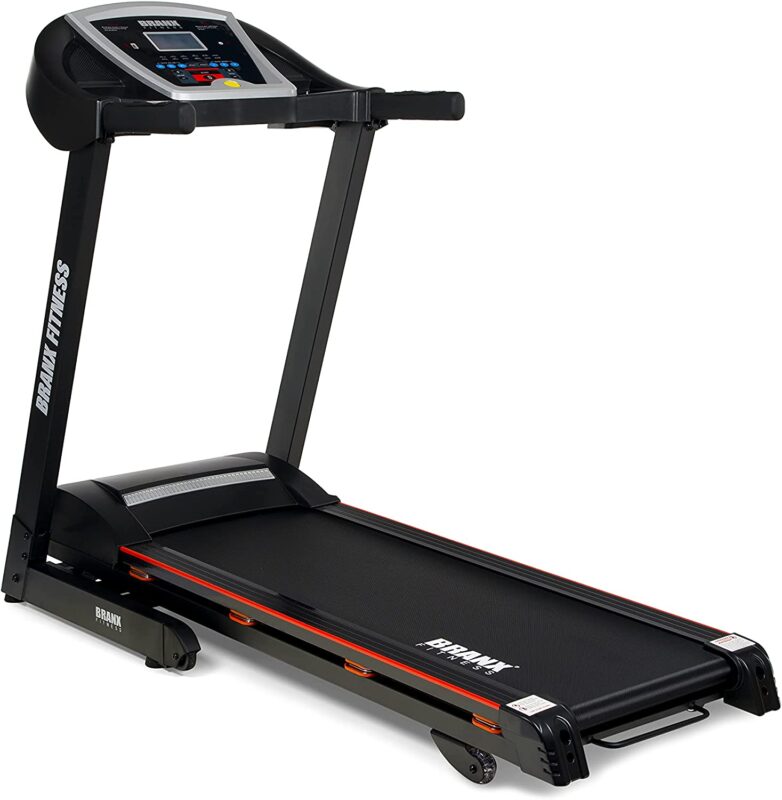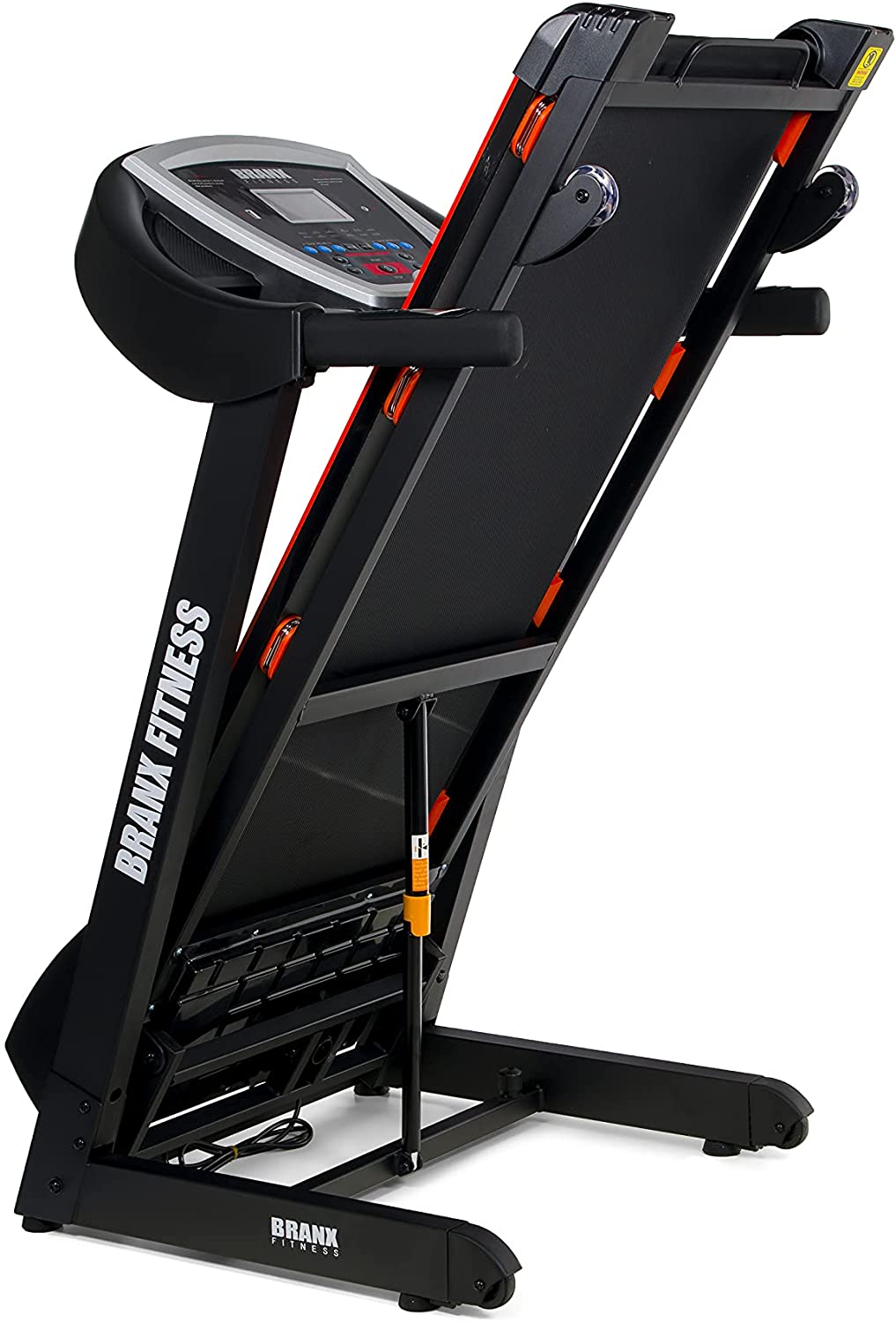 ---
Overview
There's nothing lightweight about losing weight, which is why the first thing to note about this lightweight treadmill is its reasonably powerful motor creating top speeds of 16kmh.
Lightweight exercise equipment can get a bad reputation for their label – lightweight. But just because something is lightweight doesn't mean it won't have great maximum user weight, a solid running surface, and robust incline options… the Branx Fitness Start Run treadmill is no different.
One of the great features of this lightweight machine is, as expected, its ease of assembly and storage.
This treadmill boasts a great assembly time and an even better folding mechanism, making your solid workout that bit easier.
Given the fact that it's not a heavy-duty machine, it boasts an impressive 5.5″ display for entertainment
Want to know more? Read our full review of the Branx Fitness Start Run Treadmill here.
---
Best Lightweight Dripex Treadmill:
Dripex Treadmill Running Machine (£219.99)
Key Features
Deck size: 133.5 x 60.2 x 122 cm
Motor: 2.0 HP
Maximum User Weight: 100kgs
Maximum Speed range: 1 km/h to 12km/h
LCD display
Performance statistics
Heart rate monitor
Robust and stable design
Multi-layered shock absorption
Durable steel frame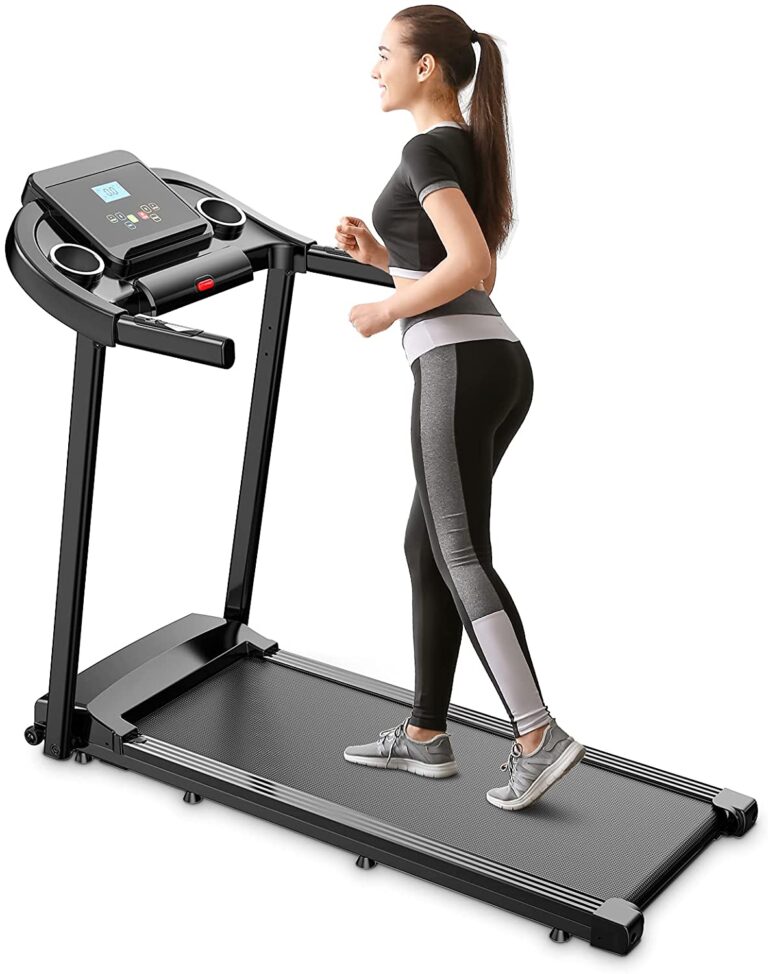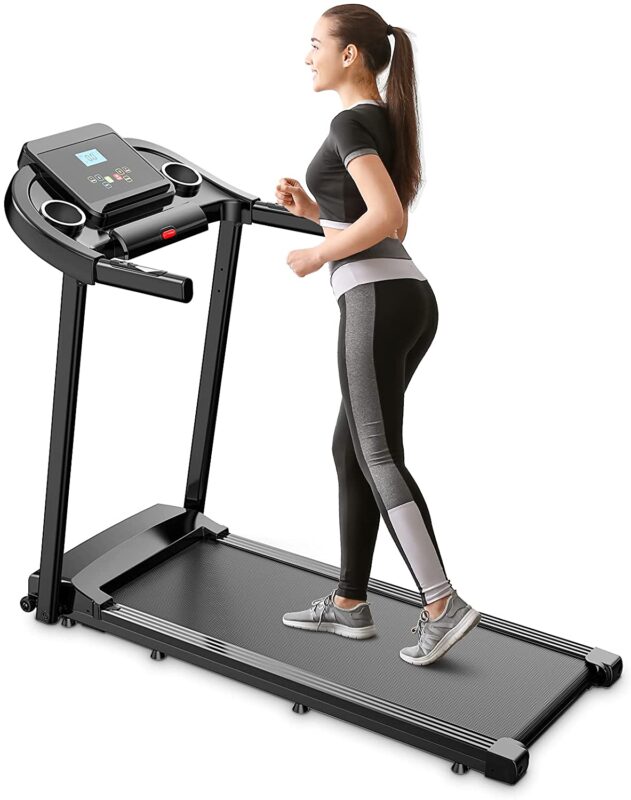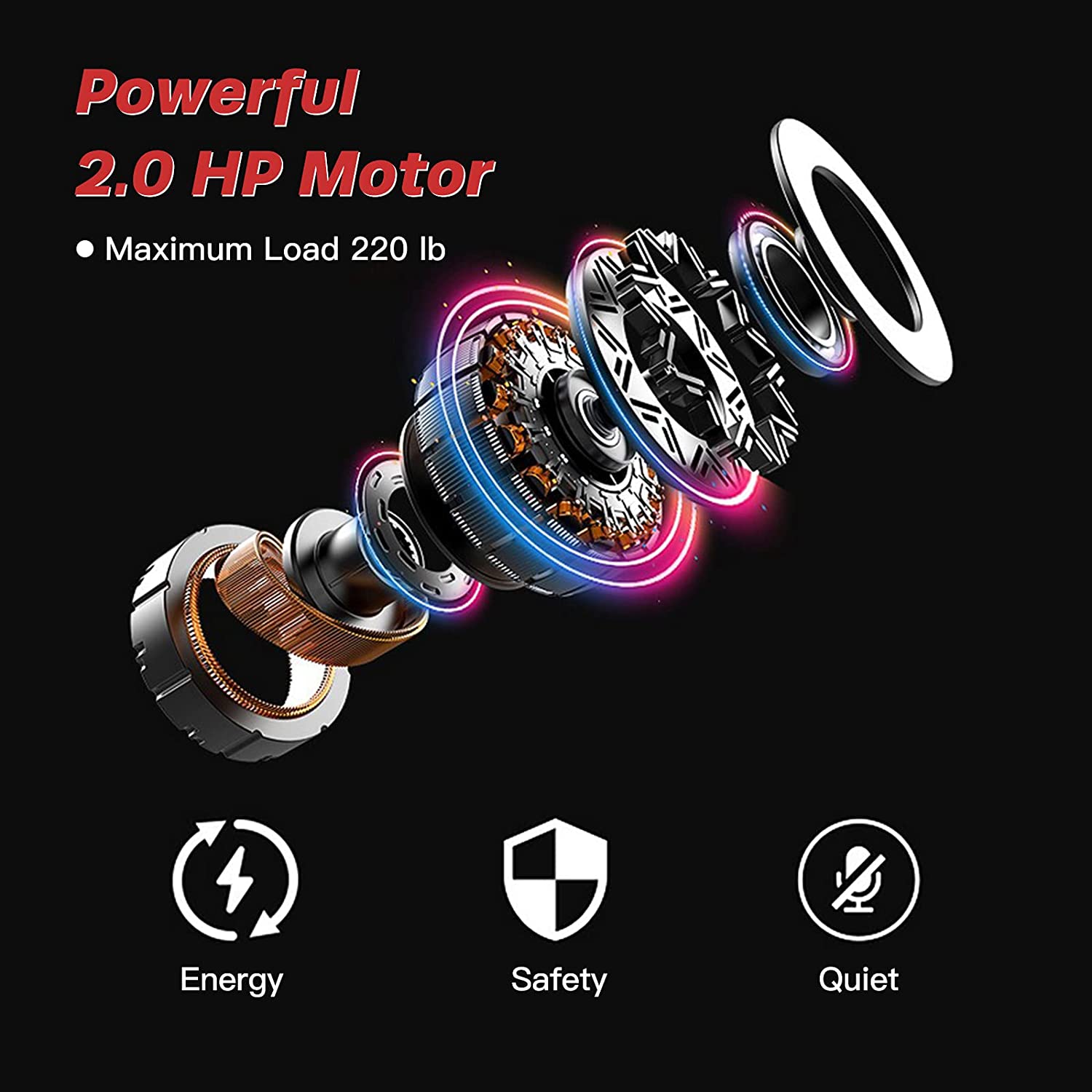 ---
Overview
This Dripex machine is an absolute favourite amongst beginners and pros alike. And no matter your ability or ex[erience, one of the reasons this is a favoured machine for home gyms is the price.
Far outweighing the weight capacity is how much the machine costs.
Now, just because it's cheap doesn't make it the best compact treadmill on the market. But what it does make it is well worth consideration.
Let's get back to how it'll help your exercise routine. First of all, the suitably powerful motor will help keep things quiet. It's one reason this machine is the right compact treadmill if you have a small space and perhaps neighbours.
Unlike many treadmills in its category, the minimal design still allows for a decent max speed, a quality LCD screen and at the end of your workout you can fold it away allowing us to get the most out of our small spaces.
Besides the fact this machine helps you to burn calories on a budget, I personally love the way it looks, the way it fits in my room, and the way it helps me to focus on my fitness.
Want to know more? Read our full review of the Dripex Treadmill Running Machine here.
---
Best Lightweight JLL Treadmill:
JLL S300 Digital Folding Treadmill (£499.99)
Key Features
Peak power of 4.5 HP and continuous power of 2.5 HP
Speed: 0.3km/h – 16km/h / 0.18 mph – 10 mph
Running Deck Area: 123 cm (L) x 41 cm (W) / 48.4 inch (L) x 16.1 inch (W)
Programs: 15 (the 3 first programs can be reset to your own specification)
Incline Levels: From the floor to the running deck. Lowest = 19cm / Highest = 26cm
Max User Weight: 120kg / 18.8 St / 264 lb.
Display: LCD display shows speed, time, distance, calories burned and more plus good quality built-in speakers
Foldable? Yes
Warranty: 2 years on parts/labour warranty and 5 years on the motor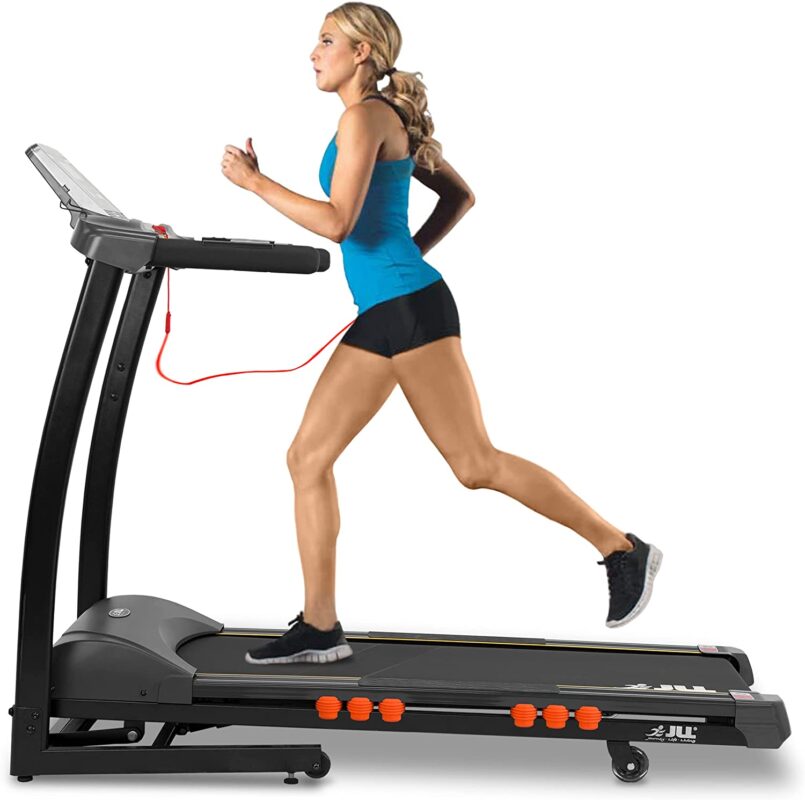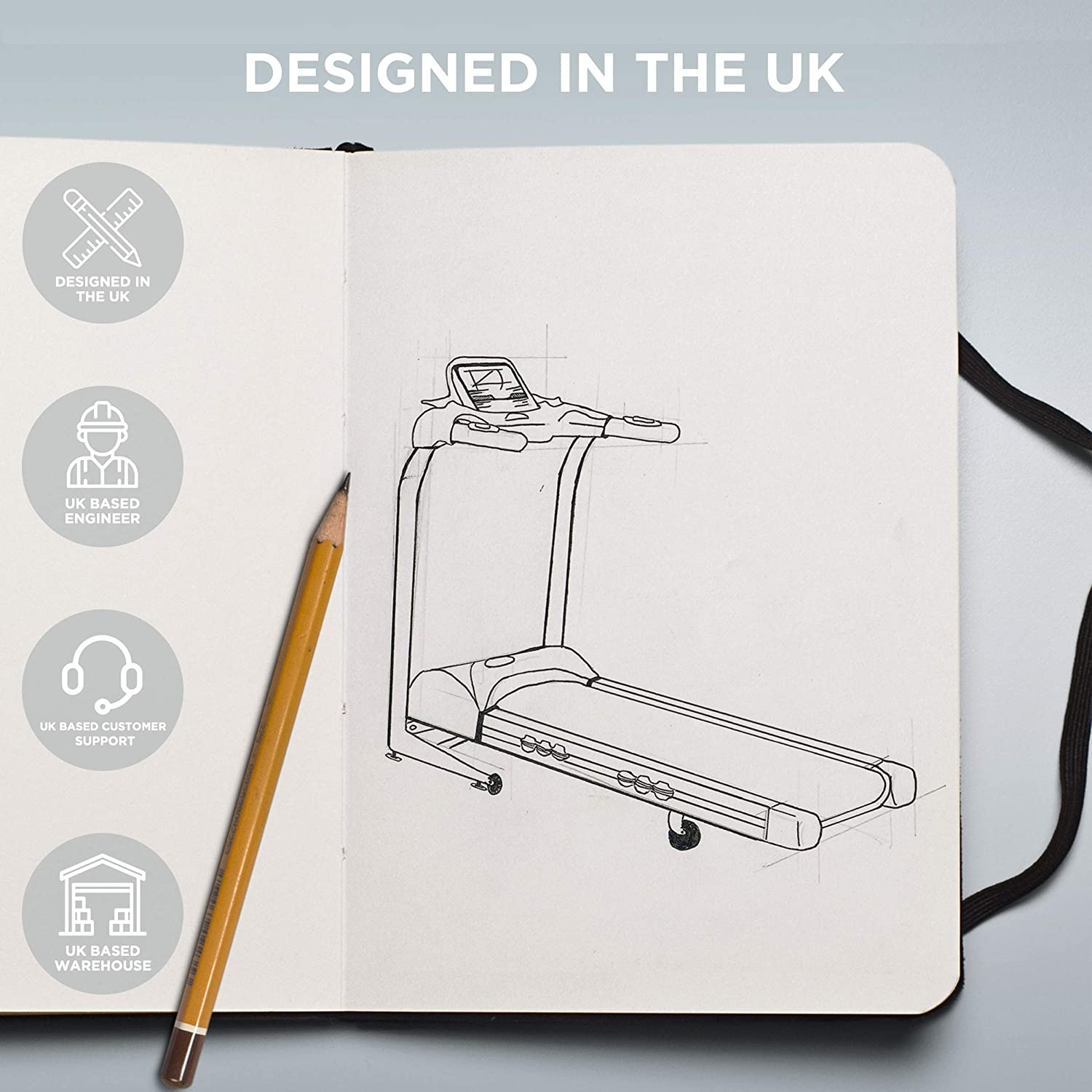 ---
Overview
So we've moved up a step in the price range since the last machine, why? Because I want to unveil a little more as to how much you get from a slightly more expensive machine.
And considering this is a lightweight treadmill with a relatively lightweight price tag then you'll be amazed at all the stuff that comes with it.
Firstly we've not only got nine built-in programs (like a lot of machines) but 15, 3 of which can be personalised.
This kind of inclusion gives you far more training options, all from the comforts of an LCD screen. Whether it's power walking or staged speed settings, workout programs like this can change your workout regime for good.
Secondly, the motor is powerful (which supports those programs). Weighing in at 4.5 hp, the top speed of this machine is more than enough, even for pro runners.
Usually, small treadmills don't give you power options like this so, if you're looking to push yourself then this is the one for you.
Unlike standard treadmills, and commonly for portable treadmills, it's foldable.
But unlike a lot of foldable treadmills this machine has a large running deck yet can still save space with the folding mechanism.
A personal favourite.
Want to know more? Read our full review of the JLL S300 Digital Folding Treadmill here.
---
Best Lightweight JTX Treadmill:
JTX Sprint-3 Electric Treadmill (£599.00)
Key Features
Roller Size: 2.2″
Running Area: 129cm x 46cm
Cushionstep™ Deck
Maximum speed: 16kph
Incline: 10%
Suspension: 8-Point shock system
Computer Console: Displays time, pulse, speed, incline, distance and calories burnt
Workout Programs: 40 Programs
Folded Dimensions: 74(w)x 105(l) x 150(h)cm
Dimensions: 72(w)x 160(l)x 149(h)cm
Floor to Deck Height: 16 cm (16.3″) (Flat deck)
Boxed Dimensions: 175 x 78 x 32.5cm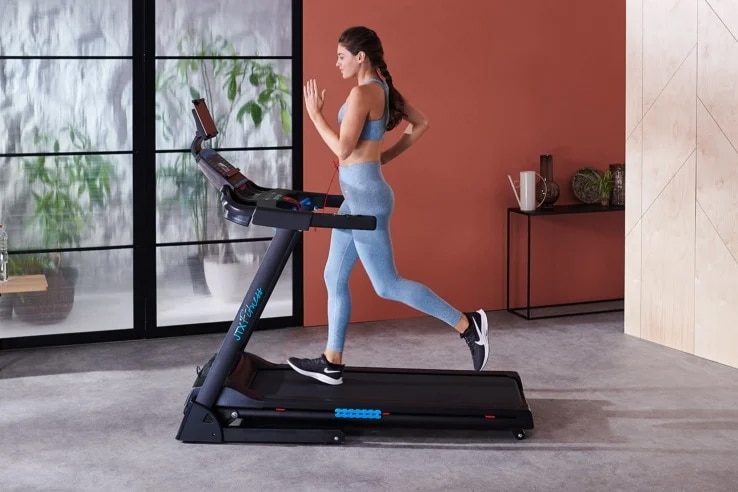 ---
Overview
Now, this machine isn't the most powerful so if you're a pro runner looking to push yourself you may want to skip this.
However, if you're somebody looking for a well-built, versatile and long-lasting machine then this is for you.
The exceptional build quality means you're getting more out of your home gym for longer. The inline options (adjustable incline) and incline range are good, but it's the design that makes this relatively cheap treadmill well worth your money.
A quality treadmill isn't always hard to find, especially one that helps save space and money.
Despite the motor being a little on the weak side, if you're looking for workout options, long runs and a long life span then this JTX is definitely worth checking out.
With over an incredible 40 workout programs, this machine is like a service.
And if you're after programs that educate you on running and help you with burning calories at the same time then please read up on the specs a little further, because you may have just found your treadmill.
Want to know more? Read our full review of the JTX Sprint-3 Electric Treadmill here.
---
Best Lightweight Proform Treadmill:
ProForm L6 City Folding Treadmill (£799.00)
Key Features
Dimensions: 118H x 75W x 157Dcm
Running surface: 17.5″ x 45″
Maximum speed: 0-8MPH
Max user weight: 110kg
Drive system: 2.0CHP
5" High contrast display
Integrated device shelf
Smart speed controls
Space saver design
Proshox cushioning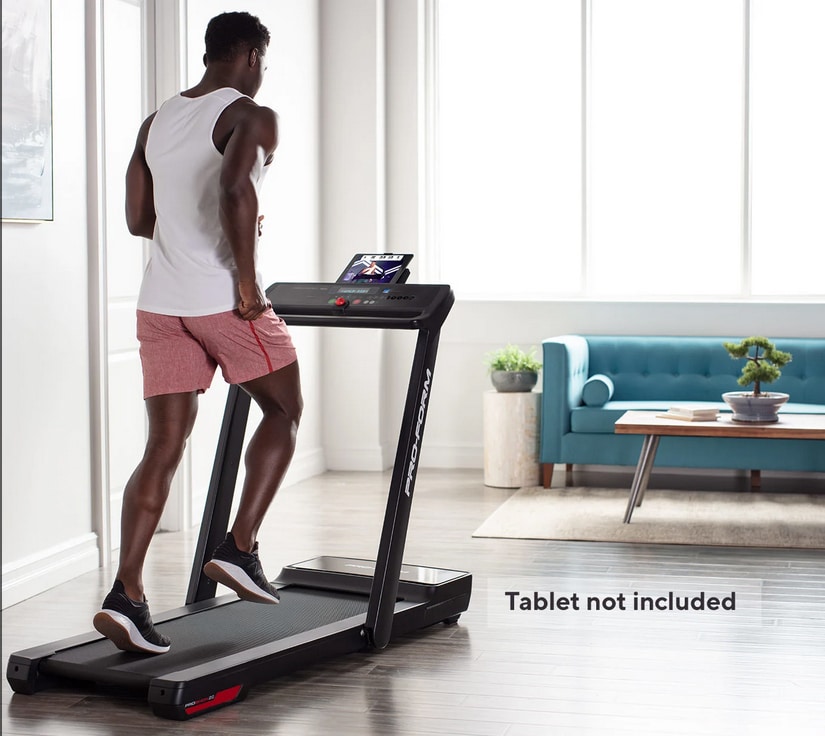 ---
Overview
I view this as the king or queen of space-saving designs. It's minimal, narrow, it's spacious but compact and it's still very much in the category of affordable treadmills.
Larger treadmills don't have the luxury of looking so good in cluttered or busy spaces, let alone being able to fit in them.
But with treadmills like this, treadmills that fold and save space, a careful balance is struck between function and lifestyle merging. It may be a little treadmill, but that's a good thing here.
And despite its weaker engine and lack of incline options, if you're the right person then this treadmill is perfect for you.
The tech integration is awesome here too. A great treadmill with a weak motor needs these kinds of things to bring it up to worthwhile, and the ProForm L6 City far surpasses the mark.
With on-demand workouts (streamable), a built-in device holder, smart speed controls, and more, the L6 should be every inner-city apartment owner's dream treadmill, and anyone looking for the best compact treadmill might have found it.
If you love the sound of this then check it out and read more (finding the best compact treadmill will always take a bit of reading)
The only thing I'd say is that the manufacturers don't specify what parts are covered in the warranty, so eyes peeled for that info, especially if you want a portable treadmill.
Want to know more? Read our full review of the ProForm L6 City Folding Treadmill here.
---
Conclusion
We've done it again.
We've waded through a list of the best lightweight treadmills, looking at incline settings, manual incline, a treadmill's weight capacity, spotting an affordable treadmill and all for the best treadmills in neat small spaces giving you different training options all day long.
Always look at folding treadmills worth as much as some of these.
You can find cheap ones but a quality treadmill doesn't always come so easy.
I hope that you've identified a comfortable balance between affordable and efficient in the race to save space.
>> Read More Helpful Treadmill Guides Here<<
---
FAQ'S
Does a compact treadmill mean a foldable treadmill?
Under desk treadmill, a treadmill folds easily, the best foldable treadmill – a lot of different treadmill sizes and qualities can be classed as a compact treadmill, so don't let labels get in the way of finding the best compact machine for you.
Is the best folding treadmill the best built?
You have to look out for the quality of build of a folding treadmill, but as always, all of the features of any treadmill need to be considered.
Do lightweight treadmills come with a cushioned deck?
yes, some might not have the thickest cushioned deck (as this could affect the overall weight), but a lightweight treadmill will come with some kind of shock-reducing feature.
---
Affiliate Disclosure
In compliance with the FTC guidelines, please assume the following about all links, posts, photos and other material on this website:
Any/all of the links on this website are affiliate links of which GymFreakz receives a small commission from sales of certain items, but the price is the same for you.
www.gymfreakz.com is a participant in the Amazon Services LLC Associates Program, an affiliate advertising program designed to provide a means for sites to earn advertising fees by advertising and linking to Amazon.com & Amazon.co.uk. Pages on this site may include links to Amazon and its affiliate sites on which the owner of this website will make a referral commission.