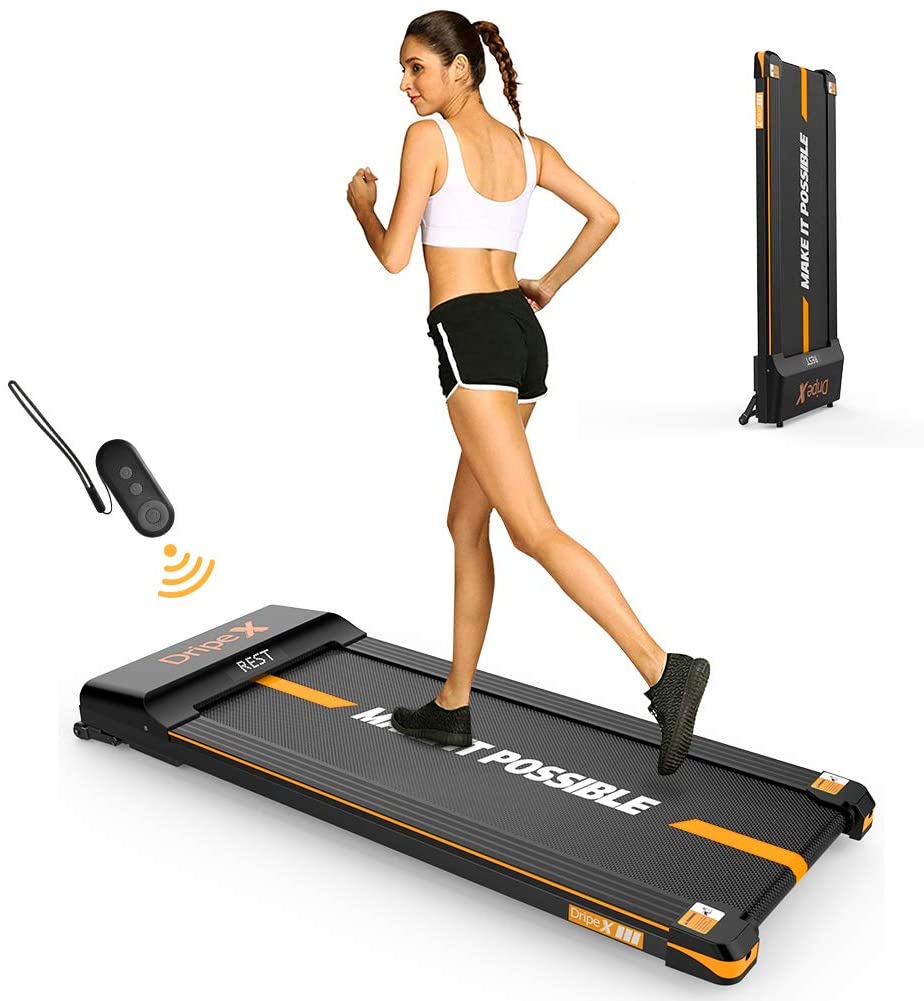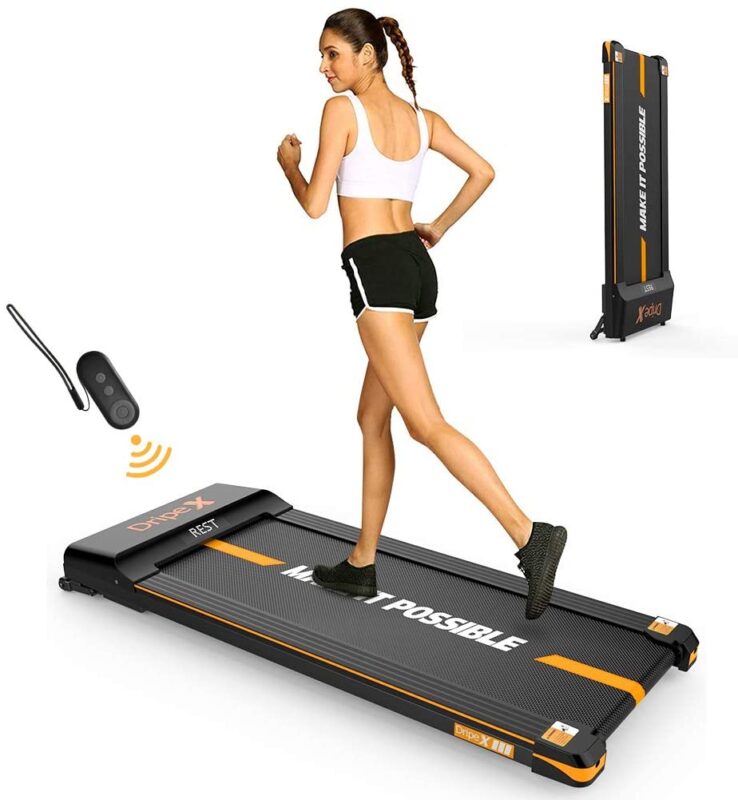 ---
---
Introduction
If you want to increase your energy, reduce back and joint pain then thus type of treadmill can be an excellent solution!
Under-Desk treadmills are best known for their improved productivity from prolonged standing and sitting and also help in reducing blood pressure.
They are a great option if you want to make your day productive by walking whilst working. It is a known fact that treadmills stored under desks can effectively enhance your lifestyle and even though you can't do vigorous workouts you can still enjoy a little light running and jogging during working hours.
In this article, we have reviewed one of the best brands of under-desk treadmill by Dripex. It comes with a 500w motor along with a wireless remote control. The treadmill also features a real-time LED display that shows distance, calories burned and more.
It comes with an installation free design and a walking machine powered by ground supply.
There are more such exciting features, so keep on reading as I break down this technology for you.
Disclaimer – This website contains affiliate links. If you find the information useful and click on a product link and make a purchase, a small commission will be earned by GymFreakz and we appreciate your support.
---
Dripex Under-Desk Treadmill Specifications
Operating voltage: 220V±10% 50Hz
Speed range: 1.0-6.0 KM/H
Runway size: 115cm x 41cm / 45″ x 16″
Size details (when put flat): 147cm x 60cm x 15cm
(when put upright): 145.5cm x 60cm x 22.5cm
Maximum User Weight: 100KGS
Motor Continuous Power: 500W
Continuous Usage Time: maximum 99 mins
Control method: Remote Control / App
Space-saving design
Transportation wheels
Large running area
Real-time LED display
Multilayered shock absorption running belt
Quiet and powerful DC motor
UK Plug
Variable speed settings
Low noise
Durable and solid construction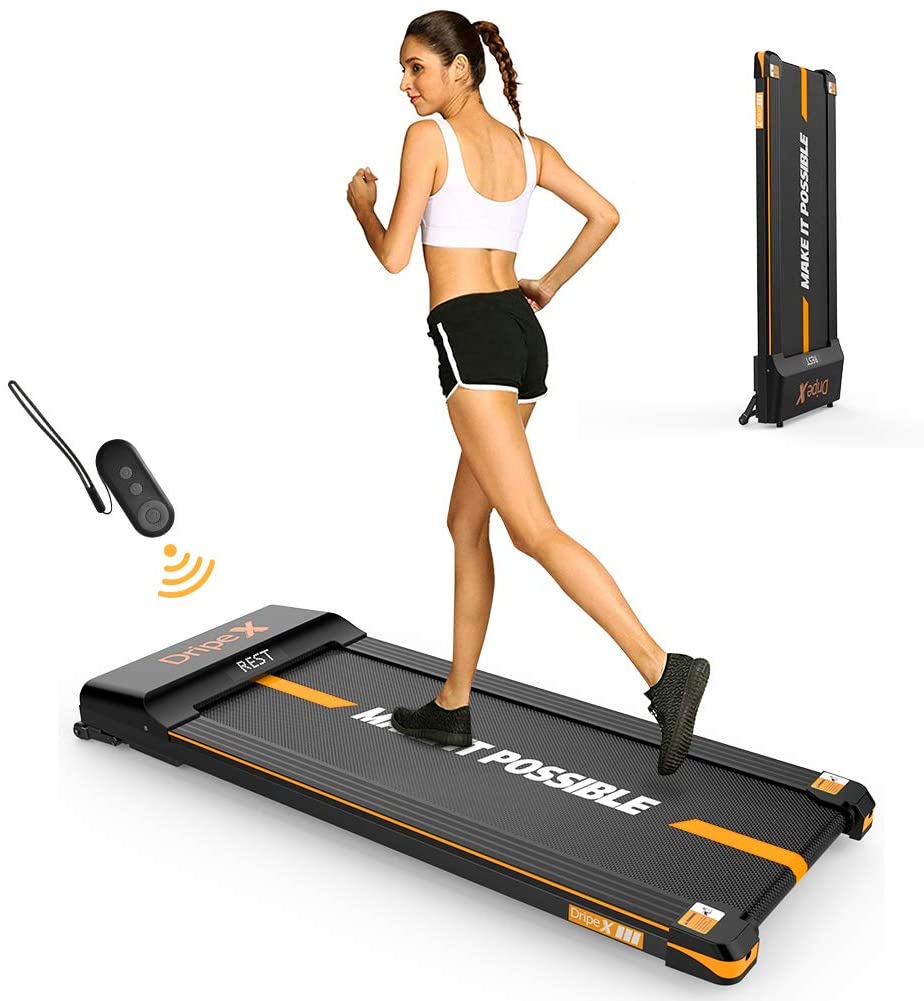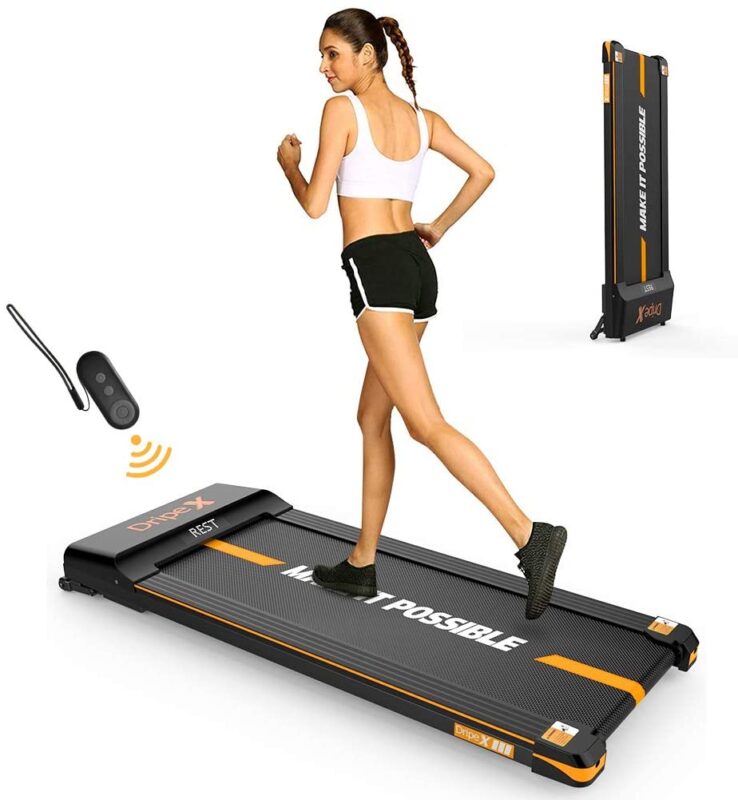 ---
FEATURES
Compact Design
The Dripex Under-Desk treadmill is best known for its space-saving design that is easy to move and perfect for small spaces. It can easily stand and store right in the corner with a small footprint of 58cm x 15cm which saves up to 85% of space. The treadmill can also fit under the bed or sofa as it has an Under-Desk walking pad with a maximum thickness of 15cm.
If you are looking for a treadmill that is best suited for limited space then this is the best option for you. Its compact design makes it an ideal choice for a room or apartment short on space. It comes with two transportation wheels so that you can move it easily. Weighing 31.5kgs these wheels help in lifting and moving the treadmill from room to room easily.
Simply Speed Adjustment / Speed Range
This desk treadmill comes with a portable remote control so that you can easily increase or decrease the speed, also allowing it to be easily turned on and off with the help of buttons on the remote control.
In addition, it also has a Bluetooth connection which helps you in adjusting the speed accordingly using the app. The app is available for both iOS and Android devices so that both of them can take advantage of this interesting feature.
The treadmill has a max 6 km/h adjustable speed that makes it a suitable jogging / walking machine. The speed adjustment works with the help of a speed sensor that records revolutions per minute. You can simply control it using the buttons on the treadmill.
Shock Absorption Running Belt With LED Screen
The Dripex Under-Desk treadmill features an anti-slip multi-layer running belt that is designed to protect your knee joint, ankle, and back, focusing on the best way to prevent stress to your joints or the risk of injuries. The cushioning system is located beneath the belt and the deck works as a shock absorber.
It helps in giving a smooth running or walking experience making it a perfect walking pad. It also features a big led screen display that shows real-time speed, distance, and calories burned during the workout session, offering the perfect way to monitor the progress of your workout experience.
Under-Desk Walking Pad Treadmill
Dripex treadmill comes with a sleek design along with colourful stripes under the belt and down the side. You can easily walk whilst working as it can also be used as an under-desk walking pad. The belt also has a motivational message "Make it Possible" to keep the users motivated.
Its multi-layer cushioning protects the joints and has a textured surface for added security. It can also lie flat under your standing deck which helps you in 'walking while working'. This feature is helpful when it comes to achieving more movement throughout the workout.
Durable And Solid Construction
The treadmill is built with a powerful 500W low noise motor along with high-quality steel frames. Often at-home treadmills are not durable enough, especially the cheaper models but Dripex stands out when it comes to build quality and durability, and with the low noise motor, your neighbours will remain undisturbed hopefully ensuring everyone has a productive day!
The material of the frame is alloy steel which makes it durable enough to withstand a maximum weight capacity of 100kgs. It features a maximum speed range of 1-6 km/h that may not suit elite runners but is ideal for people who just want to slow jog or walk.
The treadmill is ideal for both the gym and home or office and its functionality is unbeatable.
---
---
Overall Verdict:
With many brands of Under-Desk treadmill on the market, Dripex's sleek and compact design stands out as more appealing than most other treadmills and therefore one of the best in its group.
The walking machine is powered by the grounded power supply along with a remote control that is powered by a CR2032 button cell.
It comes with a wide running area of 115cm for a good stride and 45in width for better stability while picking up speed. The machine can be stored under a bed or a sofa making it a compact space-saving treadmill and with its 500W powerful silent motor comes with a low noise impact that won't disturb your neighbours.
The running machine also has a portable remote control for easy speed adjustment and on\off buttons. It can be connected via Bluetooth using an app making it easier to control the machine with a smartphone.
The Dripex Under-Desk treadmill requires no assembly as it comes fully assembled just take it out from the box and plug it. It allows walking while working with a top speed of 6km/h along with transportation wheels to move easily. It can lie flat to stand upright in the corner with a small footprint of 58cm x 15cm to allow easy storage.
It features a multilayered running belt that protects knee joints from the running impact of a treadmill. It is a non-slippy running belt so you don't have to worry about any injury and will allow you to easily achieve your daily 10000 step goal. Its big LED screen display shows real-time distance, workout time, and calories burned along with on/off by simply pressing the basic buttons.
---
What I liked about the Dripex Under-Desk Treadmill
This walking pad treadmill comes with a large running area of 46 x 16 which is ideal for runners that take longer strides. A large running area is easier to focus on and runs smoothly at the desired speed. One of the best aspects of a large running area is that it can accommodate multiple users easily.
The Dripex treadmill is both long and wide enough to withstand typical walking and running strides to prevent the user from falling, therefore it gives you a focused workout instead of worrying about falling or any injury. Also, the larger the running area the better the cushioning, so this also helps in reducing the impact to joints without being bouncy.
Multilayered Running Belt
Its multi-layer design is what makes it exceptional. It provides a better grip and a safe workout environment. Its non-slippy running belt gives cushioning to your ankles, knee joints, and back. This helps in giving a comfortable workout experience of walking and running.
Multilayered design treadmill helps in giving the supreme cushioning quality for enough absorption to make the machine stable. Many of the treadmills in this category give bouncy strides which makes them unstable to walk on and increases the risk of injuries.
It is easier to shift the machine when transportation wheels are there. The Dripex Under-Desk treadmill comes with two transportation wheels, fitted at the front. They are placed at the front for easy portability and roll out for use. The treadmill can be lifted and moved from room to room easily.
Just simply tilt, roll out, and wheel away for storage making it easier to shift the machine and utilise space-saving when not in use. Unlike other treadmills, it does not require heavy lifting, simply roll out the machine and move it to a place of your choice. This also helps in protecting the floor or the place it is being kept.
Remote Control Adjustment
The Dripex treadmill comes with a remote control to adjust the intensity of the workout. It allows easy adjustment at the desired speed to increase/decrease workout activity. It is easy to turn on/off by simply turning off the button with the help of remote control.
It also allows compatibility with an app where you can adjust the speed via Bluetooth connection. The speed can be adjusted from 1-6 km/h with the help of remote control. Also, the app can be used on both iOS and Android devices like phones and tablets easily.
---
Things That Could Have Been Better
Dripex Under-Desk treadmill doesn't allow much in the way of programming. There is no mechanism to adjust the treadmill for a tougher intensity. There is no additional feature like a heart rate monitor or pre-set workout programs that would help allow versatile workout sessions.
It is one of the important aspects that should be taken into consideration especially if you are an elderly or infirm user. It is usually controlled via a key while you are exercising and the key is attached to your body with a lanyard. This will help in preventing accidental activation or if you slip, the key will disengage and the treadmill will stop automatically.
---
---
FAQ's
Is an Under-Desk treadmill effective?
Yes, they are effective when it comes to burning more calories. One of the well-known clinics found out that standing and walking at a treadmill desk while working helps in burning 100 more calories in an hour than sitting.
Is it helpful in losing weight?
Yes, desk treadmills are helpful in losing weight. It is observed that along with a focused diet plan, you can lose 1.4kg of your actual weight per week when using the desk treadmill.
What should be considered when choosing a desk treadmill?
It is important to choose a standing desk that lies flat when needed and one that can reach proper ergonomic height to avoid unnecessary stress to joints.
How often should you spend on a running machine?
These types of treadmill workouts are better for a short duration or should be tailored depending upon the type of workout. For instance, 20 minutes are recommended for light running. Similarly, 30 minutes for the moderate intensity of a workout like jogging and 40 minutes for low intensity walking. This is all subject to what your training plan is of course
What is a running machine good for?
Treadmills are effective when it comes to increasing heart rate to a healthy level and warming up. Promoting a healthy heart rate will help in performing other exercises like weight training and cardio training.
---
Affiliate Disclosure
In compliance with the FTC guidelines, please assume the following about all links, posts, photos and other material on this website:
Any/all of the links on this website are affiliate links of which GymFreakz receives a small commission from sales of certain items, but the price is the same for you.
www.gymfreakz.com is a participant in the Amazon Services LLC Associates Program, an affiliate advertising program designed to provide a means for sites to earn advertising fees by advertising and linking to Amazon.com & Amazon.co.uk. Pages on this site may include links to Amazon and its affiliate sites on which the owner of this website will make a referral commission.