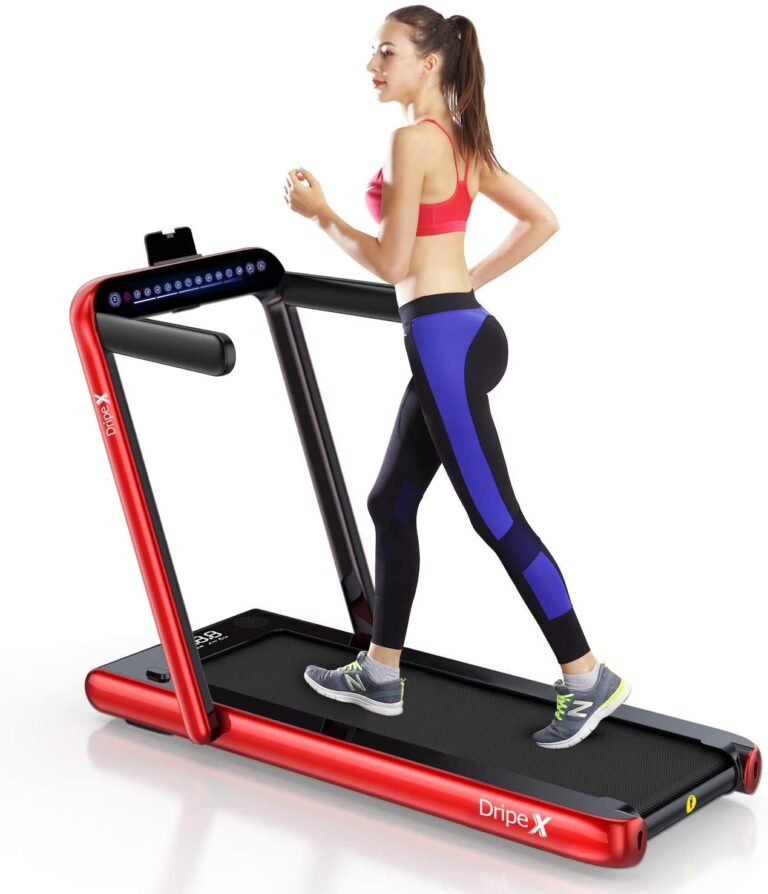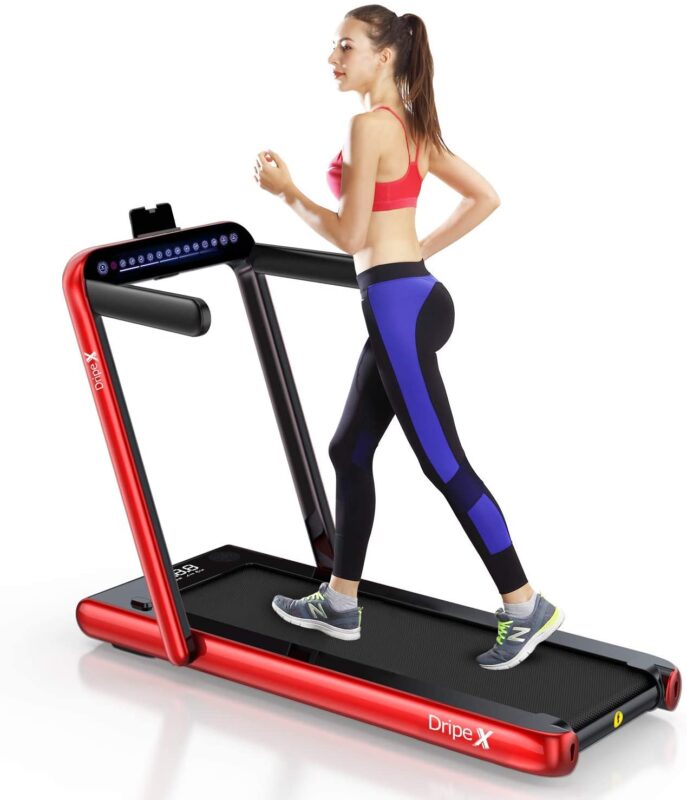 ---
---
Introduction
If you are a fitness enthusiast and want to enjoy a workout on a machine that gives the advantage of two then the new Dripex 2 in 1 folding treadmill will excite you. It comes with the compatibility of an under-desk walking pad and a running machine.
Under-desk treadmills are good for increasing your energy, whilst reducing back and joint pain. They are also best known for their improved productivity from prolonged standing and sitting and for reducing blood pressure.
Treadmills provide a wide range of benefits from both a health and practical standpoint. They are very effective when it comes to achieving fitness goals and the perfect equipment to begin your workout journey. It is a well-known fact now that treadmill desks can effectively enhance your lifestyle.
The Dripex 2 in 1 folding treadmill is one of the best folding treadmills out there in the market as it features unique attributes for its users.
You can watch your favourite TV series while walking or running as it includes a phone holder for entertainment.
Its dual display allows you to read your data effortlessly by displaying the number of calories burned, distance covered in metric units and you can also play music via its built-in Bluetooth speakers and enjoy incredible sound.
Disclaimer – This website contains affiliate links. If you find the information useful and click on a product link and make a purchase, a small commission will be earned by GymFreakz and we appreciate your support.
---
Dripex 2 in 1 Folding Treadmill Specifications
Folding mode: 1-4km/h
Unfolding mode: 1-12km/h
Running surface: 40 x 16 inch
Folded dimension: 52 L x 27 W x 5 H
Assembled dimension: 49 L x 27 W x 42 H
Assembled weight: 74lbs
Maximum user weight: 120kgs
Maximum speed for the running treadmill: 12km/h
Maximum speed for under desk walking pad: 4km/h
Stylish appearance
Dual display
Remote control
Phone holder for entertainment
5-layer running belt
2.25HP powerful motor
Built-in speaker with Bluetooth connectivity
2 in 1 Folding treadmill
LED display
Two transportation wheels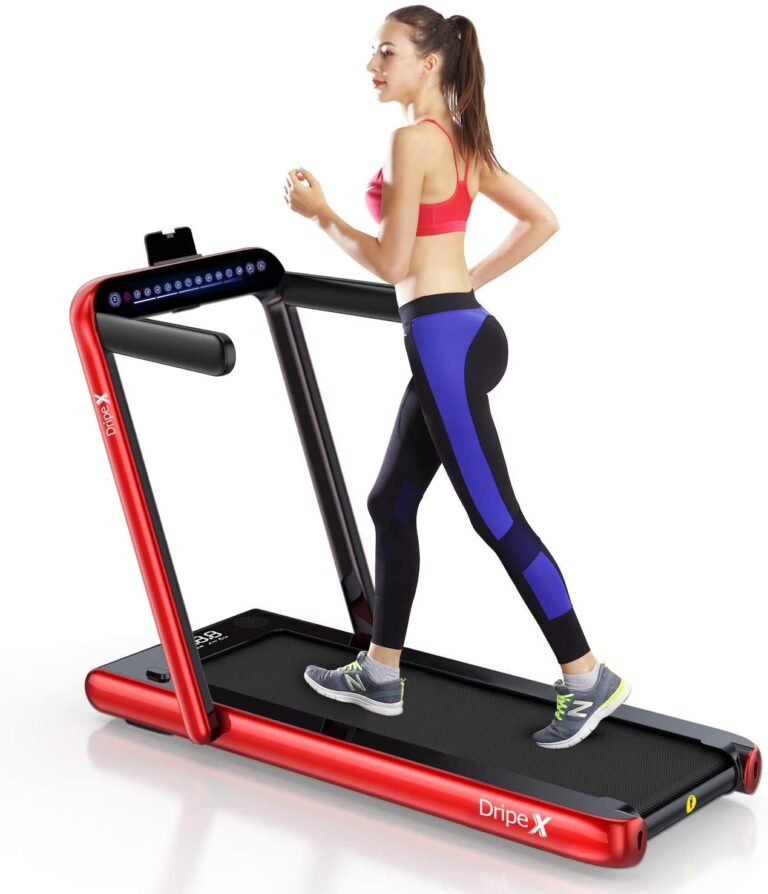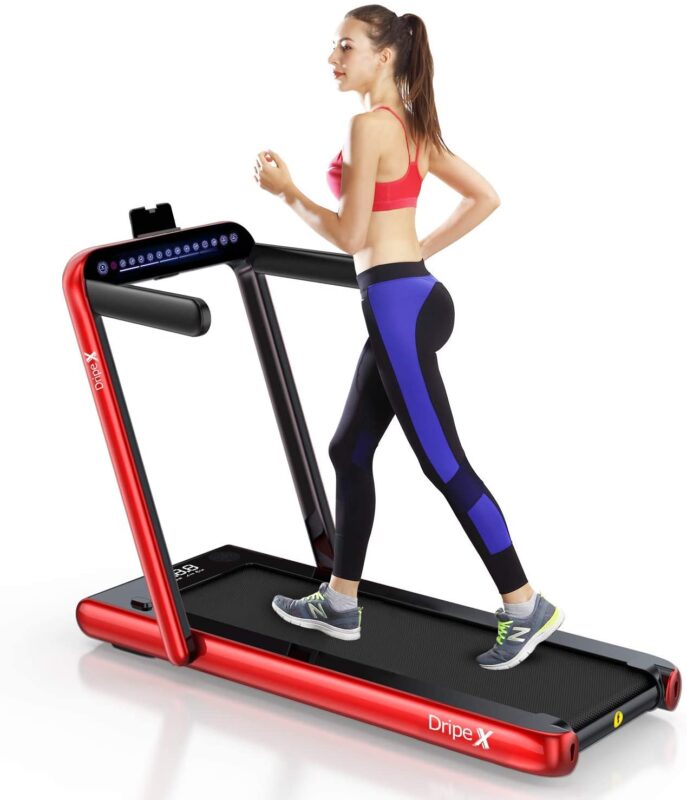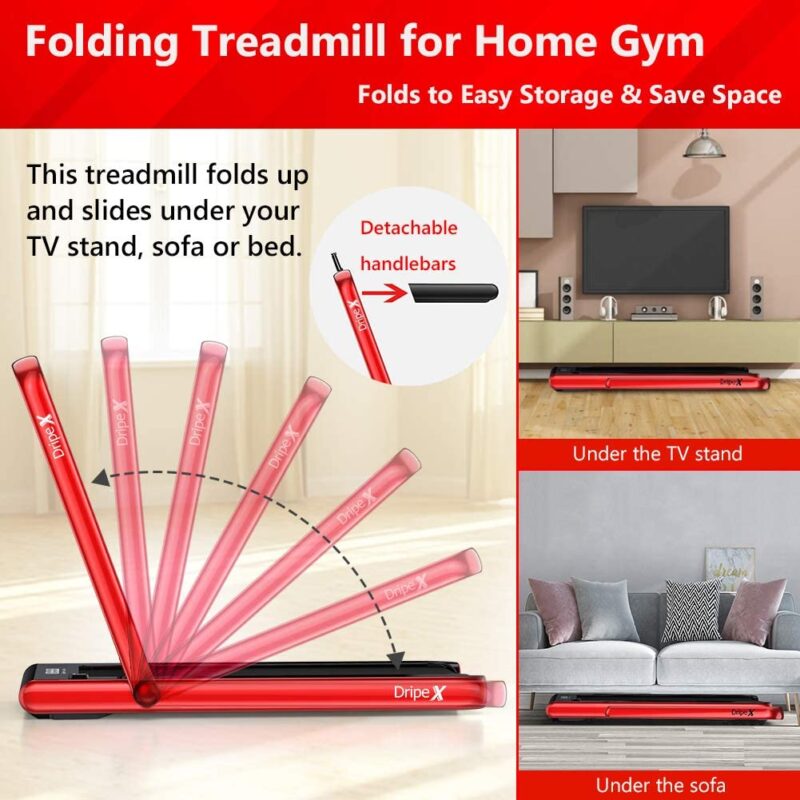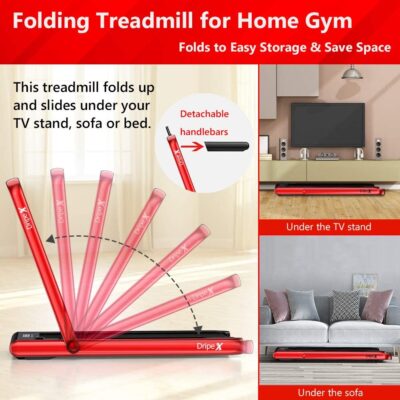 ---
FEATURES
2.25HP Powerful Silent Motor And Shock Absorption
The Dripex 2 in 1 motorized foldable treadmill comes with a 2.25Hp powerful silent motor. It is designed to meet the needs of everyone without disturbing the neighbours as it allows a smooth running mode experience with low noise. It is good for both home and office use and with its dual functionality, you can use it according to your preference.
It also includes a shock deductive running platform which helps in preventing injuries. This aspect is helpful when it comes to the joint impact as it reduces the shock and prevents the risk of sudden injuries. The best part of the shock-absorbing running belt is that it gives a more comfortable running mode experience than others. It is gentle to your knee joint, back, and ankle which allows you to take better strides while running.
Multi-Layered Running Belt
The Dripex foldable treadmill's belt comes with an exceptional thickness of 5 layers making it a non-slip running platform. This feature will help you in getting a better grip on the surface and create a safe workout environment. Multi-layered belts give more cushioning to the balls of your feet making them comfortable for the longer strides. It provides a comfortable workout experience with a runway size of 40 x 16inch whether you are running or walking.
Moreover, it also offers effective protection to your knees, joints, and ankles along with strong machine stability. The Dripex 2 in 1 folding treadmill has smartly worked on this aspect by eliminating the constant shaking of the machine that makes the user less focused on the session. Its multi-layered running belt gives supreme absorption that prevents bouncy strides and maintains machine stability.
2 in 1 Dual Mode
The Dripex treadmill comes with a stylish sleek finish of two modes designed to best suit your needs. It is both a folding treadmill and an under-desk running pad which makes it more exceptional than other treadmills. This means you can take advantage of two different modes that only add to your convenience.
When the uprights unfold, the treadmill has the running mode with a speed range of 1-12km/h. It is ideal for jogging and running where you can run at your desired speed that helps in achieving your fitness goals. The best part is that its space-saving design allows you to save space and store it away when not in use due to its foldable feature.
Moreover, when the Dripex treadmill uprights fold down, it is set as walking mode and turns into an under desk walking pad. It allows a maximum running speed of 4km/h and can be stored under a sofa or the TV stand. A walking treadmill is also said to be an excellent way to increase your activity rate; recent researches show that an under desk treadmill has three major health benefits which include,
Lower risk of neck and back pain
Better memory and cognitive skills
Lowers the risk of early death
Dual Display And Easy Assembly
The Dripex 2 in 1 folding treadmill comes with a dual-display system that is designed to make the data easily readable. It displays calories burned, time, speed and distance reading in both modes. It comes almost fully assembled and all you need to do is install the handrails and the phone holder which takes 15 mins or less. The Dripex dual display makes it easy to monitor your workout progress and design your fitness routine accordingly.
It also includes a safety clip for the emergency stop function. This is helpful to prevent unnecessary circumstances especially if there are kids in the house. The key is attached to your body with a lanyard and is usually controlled while you are exercising.
Make sure that it is placed before you start the treadmill and don't forget to remove it once you are done.
Phone Holder
The Dripex treadmill also allows its users an entertainment mount to enjoy their workout session. You can easily mount your phone on the treadmill using the phone holder and enjoy your favourite shows during exercise. It can easily hold the device of 5.5cm-8.5cm width.
It is observed that people are more likely to focus on their workout while their favourite song or show is on. It keeps them enthusiastic towards their workout session and assists them effectively in achieving their fitness goal.
>> Dripex 2 in 1 folding treadmill is featured on our list of the best running machines on Amazon and "Treadmill For Elderly UK roundup"<<
---
Warranty
The Dripex 2 in 1 folding treadmill comes with a 2 years warranty on the motor and frame. During this period — if you encounter any issue with the treadmill, you can always contact customer support.
Users speak highly of customer support so hopefully, you too will have a satisfying experience.
*Warranty may be subject to change without notice and may differ between retailers – please check carefully before making a purchase.
---
---
Overall Verdict:
If you are looking for a treadmill that gives true value to your money then the Dripex 2 in 1 folding treadmill is what you should look for! It comes with 2 in 1 functionality; a running treadmill and an under-desk walking pad, but it's the stylish appearance and compact design are what make this treadmill unique from others.
It is best suited for those with limited space and looking for a compact folding design. It comes with a powerful motor powered by a 2.25HP brushless motor with low noise compatibility. It runs quieter than most of the other treadmills and comes with a multi-layered running belt that provides protection to your knees and joints. This makes it an ideal choice for those who live around nasty neighbours as the sound of the machine will not disturb them. It is made with a sturdy durable steel frame which gives good balance and prevents the machine from being wobbly while running.
It also includes additional features like a mobile phone holder, built-in high-powered speakers, remote control design, and more. Its sleek finish is what adds colour to your room or office. And guess what? It is available in three different colours so you can choose the one that perfectly fits your decor.
It comes with transportation wheels and folds flat to be wheeled easily from room to room. And when not in use, it can be placed under the sofa or bed for storage. The folding treadmill supports speeds up to 12km/h which is the maximum speed of this treadmill. Overall, this treadmill is an all-rounder that assists in improving your fitness while simultaneously offering features to keep you entertained during vigorous workout sessions.
>>Find out the best treadmills on Amazon here<<
---
What I liked about the Dripex Treadmill?
Built-in Bluetooth Speaker And Remote control
The Dripex 2 in 1 folding treadmill comes with a high-powered Bluetooth speaker and remote control. To keep yourself motivated through your workout session, you can listen to favourite music via Bluetooth connectivity
Besides, the remote control allows easy speed adjustments. It is easier to adjust the speed via a controller as compared to others. All you need to do is take the remote control to adjust the speed quickly by pressing the (+/-) button.
Compact Design And Convenience Storage
The stylish treadmill features a perfectly compact design which makes it ideal for those short on space. The best part of such treadmills is that they can be folded when not in use and equipped with two transport wheels to move easily. The Dripex 2 in 1 folding treadmill has a 5-inch thickness which makes storage easy and prevents damage.
It can also be folded to place under the sofa or TV stand making it perfect for an apartment or small room. However, make sure the folding handle is locked securely in its folding position when you move the treadmill by wheels.
Dripex has not compromised on its quality so you don't have to doubt its construction when it comes to durability. It is built with a sturdy durable steel frame and thanks to the low-noise motor, your neighbours will be undisturbed, and you will have a productive day.
Dripex delivers excellent customer service to ensure that its customers are pleased. This aspect is like a bonus since heavy equipment, particularly home treadmills, requires regular maintenance.
It requires maintenance and repair every six months, so if the customer service is good, you won't have to go somewhere else. If you ensure proper maintenance of the treadmill, it is guaranteed to last longer.
---
Things That Could Have Been Better:
With all the extra features it would be great the treadmill also includes a Heart Rate Monitor. It is useful in monitoring the heart rate and keeping it at an optimal level when you work out.
---
---
FAQ's
Is this treadmill suitable for tall users?
Yes, the treadmill is suitable for users up to 6ft as it features enough running area. Although, it obviously depends upon how long the stride is as every user has a different running style.
Are Under-Desk treadmills effective?
Yes, they are effective when it comes to burning more calories. One of the well-known clinics found out that standing and walking at a treadmill desk while working helps in burning 100 more calories in an hour as opposed to just sitting.
What should be considered when choosing a desk treadmill?
It is important to choose a standing desk that lies flat when needed and reaches proper ergonomic height to avoid unnecessary stress to joints.
How much time should you spend on a running machine?
These types of workouts are better for a short duration. For instance, 20 minutes are recommended for light running, a bit longer on a steady-state treadmill. Similarly, 30 minutes for the moderate intensity of the workout like jogging and 40 minutes for low intensity walking.
How to add lubricant?
Open the sidebar left front of the refuelling decorative cover, with scissors or art knife to press the lubricant bottle to cut the size of the figure
Press the bottom of the bottle to refuel
Pay attention to the oil bottle front of the thin rod inserted into the fuel pipe on the platform and then pour oil into it.
>>Want to see the best treadmills under £500? Click here<<
---
Affiliate Disclosure
In compliance with the FTC guidelines, please assume the following about all links, posts, photos and other material on this website:
Any/all of the links on this website are affiliate links of which GymFreakz receives a small commission from sales of certain items, but the price is the same for you.
www.gymfreakz.com is a participant in the Amazon Services LLC Associates Program, an affiliate advertising program designed to provide a means for sites to earn advertising fees by advertising and linking to Amazon.com & Amazon.co.uk. Pages on this site may include links to Amazon and its affiliate sites on which the owner of this website will make a referral commission.