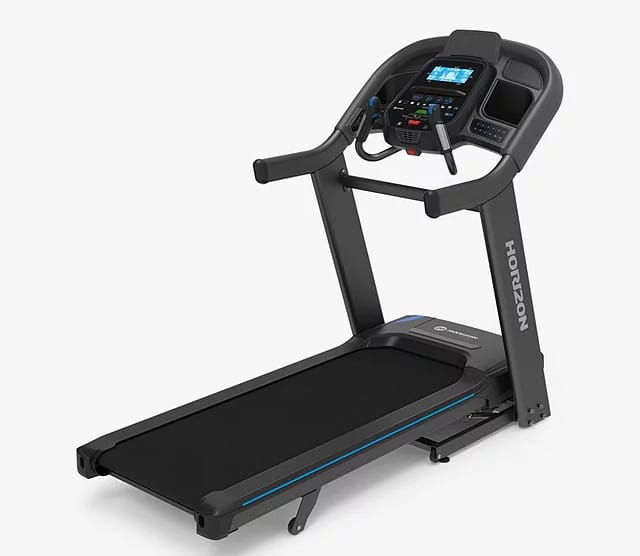 ---
---
Introduction to the Horizon 7.4AT
The Horizon 7.4AT Folding Treadmill is a one of a kind treadmill that has successfully made its way into consumers' homes. Ideal for fitness freaks or for those who just want to take their exercise regime to the next level.
Regardless of whether you're looking to put it in your home or are planning to put it in a gym this treadmill will suit anywhere you wish due to its modern design. With an increase in the popularity of treadmills and their uncountable benefits to our health, this treadmill was designed while keeping everyone in mind.
Whether you are an adult, teenager or in your later years and just want to keep yourself fit this treadmill is perfect for all ages!
Horizon has designed this treadmill to be user-friendly with most fitness apps being compatible, plus it is designed while keeping on-demand workouts in mind too.
Deep down, you'll probably know that this treadmill is the one you're looking for, however, you might still be a little undecided about whether you should buy it or not?
That's why we have made a list of all the features you will get as a consumer!
We will cover everything from its features that include its controls, Bluetooth, user weight, and whether this treadmill is foldable or not.
Keep reading to know everything you need to know about the Horizon 7.4AT Folding Treadmill!
Horizon Fitness
Horizon Fitness is gaining popularity day by day and it won't come as a shock to know that many people are now choosing and trusting this company with their treadmill purchases.
Horizon Fitness provides lots of options to choose from in their treadmills. From Bluetooth and a strong motor to a good warranty, you name it, you'll get it with Horizon Fitness!
Disclaimer – This website contains affiliate links. If you find the information useful and click on a product link and make a purchase, a small commission will be earned by GymFreakz and we appreciate your support.
---
Horizon 7.4 AT Treadmill
Let 's take a look at some key specifications of the Horizon 7.4AT Folding Treadmill.
Partial self-assembly is required.
It has built-in speakers.
The motor is 3.5CHP.
It has 10 program settings.
Speed is between 0.5 to 12 mph.
It has a running surface of 56×153 cm.
It comes with a workout fan.
The weight of this treadmill is 146 kilograms.
It comes with transport wheels.
You can also measure your heart rate monitoring via hand sensors.
The maximum user weight is 159 kilograms.
While you can incline it from 0-15 percent.
It's polar compatible and comes with a LCD-colored screen.
It has a warranty of frame and motor of a lifetime.
Parts have a warranty of 5 years while labor has a warranty of 2 years.
The belt is made up of 1.6mm silicone and deck thickness is o.8 inches.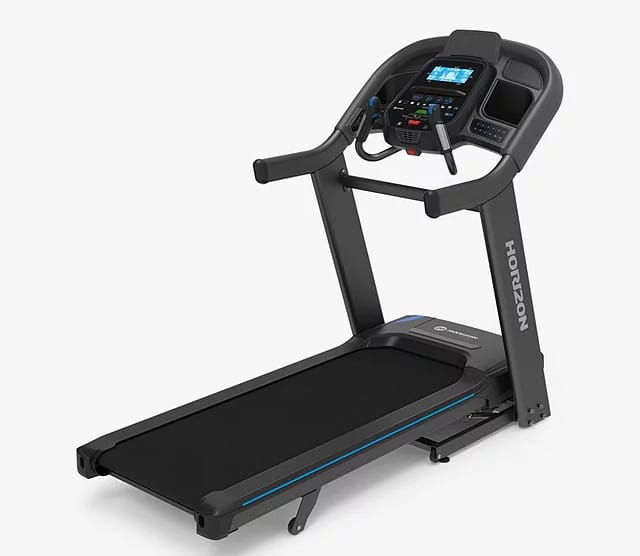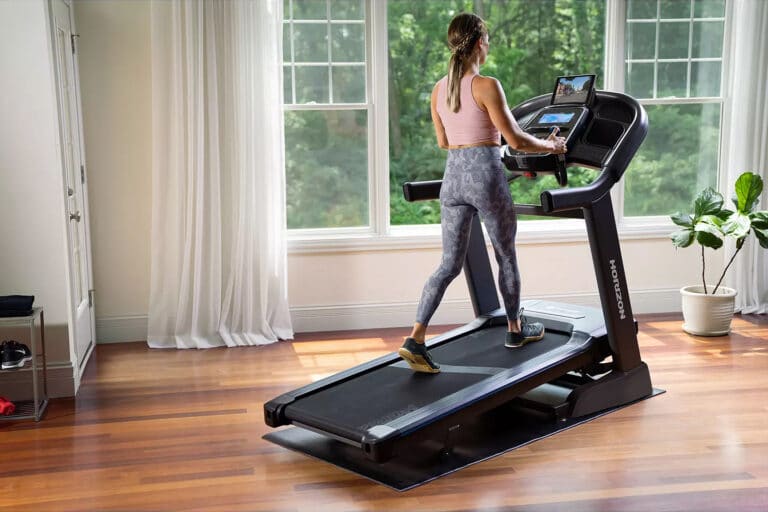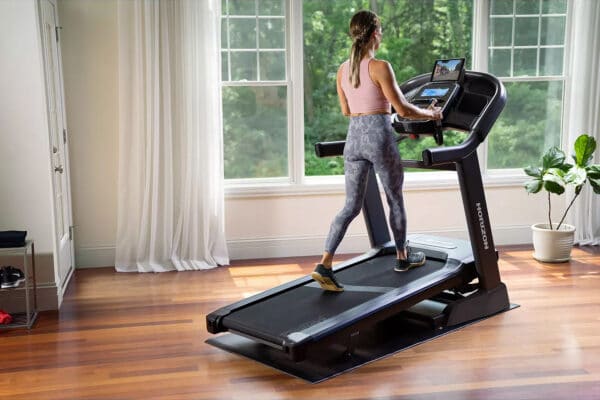 ---
FEATURES
If you want to know more about the features of Horizon 7.4AT Treadmill then keep reading below! To get you started it provides interval training, and also has an energy saver mode!
…and with custom interval keys and a rapid charge USB port, you never have to worry about your tablets running out of battery!
Running Surface
In our opinion, running surfaces are one of the most important aspects of any treadmill and every review of treadmills needs to have this included in them! It shouldn't come as a shock but a treadmill that has a larger surface area is the one most people prefer more.
So although there's no hard and fast rule as to how big a surface should be, generally speaking, it mostly depends on the weight and size of the person using it. However, a standard size that is preferable is around 20×60 inches, and this is exactly the spec that this treadmill offers. With this large running, surface height does not matter since no matter what a runner's height is, a person can use this running surface easily.
People are also very happy with the 3 zone variable response cushioning deck. This, basically means that like other Horizon Fitness treadmills this treadmill will guarantee you have a comfortable stride experience. You will get more than enough cushioning but it can depend on where you hit the deck. Overall the shock absorption system makes it a customers' favorite.
This fitness equipment is one of a kind and it is just the right option for beginners and experienced runners!
Motor
For all treadmills, the motor is also a very important part. It is crucial to know the motor warranty, especially if you intend to be running regularly.
Look for a stronger motor since that will not only increase the life of your machine but will also help you to exercise and run effortlessly.
The 7.4AT Treadmill comes with a 3.5CHP motor which is quite impressive when we look at its price. Since it also comes with a zone variable response cushioning, this will ensure that we run smoothly without damaging our knees and prevent any other injury.
This treadmill also comes with rollers that are 60×46 mm. These help to propel the belt along the deck. It is usually said that the larger the rollers are the better the machine is since it helps with a smooth run.
The Horizon Treadmill also comes with a responsive drive system that ensures a longer life for your machine.
Workout Programs and Interval Training
The Horizon 7.4AT Treadmill has 1o workout programs from which you can choose any one you wish. It also includes a HIIT workout known as 'Sprint 8' which helps you burn lots of calories in a short amount of time. Through these workout programs, you can do various forms of interval training that will help burn a lot of fat in your body very quickly.
Energy Saver Mode
In this day and age, we need to understand the importance of sleep mode or energy-saving mode. Treadmills did not have this option before but now the Horizon 7.4AT Folding Treadmill does. So if you are not using your treadmill for more than 15 minutes it will go into energy saver mode on its own.
We're all guilty of forgetting to take the socket out of electrical devices but you don't have to worry about using unnecessary power as your treadmill will automatically go into sleep mode.
However, it is an important thing to note that when you are not using your treadmill always try to remember to take the socket out and unplug it. This will not only help your treadmill to have a longer life but will also protect your loved ones from any damage.
Rapid Sync Technology
The rapid sync technology of the Horizon 7.4AT Treadmill will never let you fall 'off the track' while exercising. It will respond to any immediate and unnatural change in speed faster than any other traditional treadmill.
You can therefore feel confident in your fast pace workouts easily with this technology!
Bluetooth
The Horizon 7.4AT Treadmill comes with an advanced Bluetooth option which you can connect with while exercising. Whether you like listening to music or watching your favorite show with this advanced Bluetooth option, your workouts will go by quickly and you won't ever get bored.
Streaming workouts have never been so easy to do. With Treadmill Horizon Fitness your dreams of having a good experience while working out have now come true!
Quickdial Controls
The Quickdial controls will let you change the speed or incline of your treadmill swiftly. You will find Quickdial on the right side. To increase the speed move the dial forward and roll it back if you want to decrease the speed.
On the left side of your treadmill, you will find the incline quick dial controls. If you want to move it upwards roll it forward and to bring it back to its position roll it backwards. The interval keys simplify speed when you use them without creating a disruption in your workouts.
Application Connectivity
Get a better-connected experience because the 7.4AT Treadmill is designed to watch any of your favorite on-demand or live fitness applications. It has an ultra-responsive motor that will let you stream your favorite media through the bluetooth speakers. You can also easily pair applications like Zwift for an enhanced experience.
The on-demand fitness app will also help you select your favorite workouts while using the treadmill that will ensure you burn more calories in a short period of time. The option for streaming fitness classes might just be what you're looking for in your treadmill workouts. You can easily stream fitness classes and can also do basic HIIT workouts too.
Get Maximum Results In Short Amount Of Time
Due to the high-intensity workouts, this treadmill trains your body and muscles like no other regular workouts will. The workouts available have proven to give results in just eight weeks and by doing a workout for only 20 minutes a day, you will begin to see a significant change in your body.
It has proven to lower bad cholesterol while reducing body fat – this also encourages lean muscle mass while burning fat.
Large Deck
The extra-large deck provided by the Horizon 7.4AT Treadmill gives you the freedom to walk or run at your own pace. As either a jogger or a sprinter the large deck will ensure that you get the confidence to run however you want to.
The Horizon Treadmill decks provide you with enough space to hold your own device or even to hold multiple devices while working out. It also has a water bottle holder and easy incline adjustments.
---
Warranty
The Horizon 7.4AT Folding Treadmill will need regular servicing in order to remain in its best shape. And although the Horizon is great with its warranties you should still get your treadmill serviced every six weeks.
The Horizon 7.4AT Folding Treadmill comes with the following warranties:
Lifetime warranty
Lifetime motor
2 years labor
5 years parts
The Horizon 7.4AT Folding Treadmill should be given its due; credit for giving such amazing warranties especially for a treadmill that is less than £2000.
These days you rarely get a lifetime warranty on a motor plus 5 years on parts is also impressive. So overall if we look at the warranty offered by the Horizon 7.4AT it is great in all terms!
*Warranty may be subject to change without notice and may differ between retailers – please check carefully before making a purchase.
---
Let's take a look at some of the pros and cons of the Horizon 7.4AT Folding Treadmill.
---
Overall Verdict:
It's safe to say that the Horizon 7.4AT Treadmill does have a lot to offer when we look at its price and compare it with other products. The Horizon 7.4AT Folding Treadmill has lots of functions with a spacious running surface, an amazing warranty and a powerful motor.
The Horizon 7.4 comes with Bluetooth and has a high weight capacity. It also has a USB charging port that will enable the users to charge their tablets or phone without disrupting a workout.
If we compare this 7.4 AT Treadmill to other treadmills in this model bracket it is safe to say that this treadmill stands out pretty well.
However, when we compare the 7.4 AT Treadmill to the T7.1 Folding Treadmill there are some slight differences that the T7.1 improves on, for example, having a higher top running speed, but this obviously comes with a greater price tag.
Whether you're a serious runner or just someone who likes to exercise gently on a daily basis, the Horizon 7.4 AT Treadmill might be just the one you're looking for!
Horizon has developed this treadmill while keeping people of all sorts in mind and with its Bluetooth speakers included it's a no brainer that anyone will enjoy working out on the Horizon 7.4AT Treadmill!
---
FAQ's
Does the Horizon 7.4 Treadmill fold up?
The Horizon 7.4 AT Treadmill is a fairly large treadmill but thankfully because you can fold it in a V it reduces in size which makes it easier to store it anywhere you wish to.
Is the Horizon 7.4 a good treadmill?
It is safe to say that for people who don't want to go outside for a workout they can safely use this treadmill and enjoy their workout indoors. This treadmill is good for running and its 3 cushioning response makes it easier for people to run longer and faster in a short amount of time.
How much does a Horizon 7.4AT Treadmill Weight?
The Horizon 7.4AT Treadmill weighs around 318 pounds and its assembled dimensions are 76x37x63.
Does Horizon Make Good Treadmills?
Horizon treadmills are a good option for those who are looking to buy a treadmill within their range and have a small to medium budget.
While Horizon is famous for its treadmills it might not be a good option for people who workout vigorously and want a better option.
If you're a serious runner then you might want to look into other treadmills however, if you want to use the treadmill occasionally you can go for this treadmill!
---
Affiliate Disclosure
In compliance with the FTC guidelines, please assume the following about all links, posts, photos and other material on this website:
Any/all of the links on this website are affiliate links of which GymFreakz receives a small commission from sales of certain items, but the price is the same for you.
www.gymfreakz.com is a participant in the Amazon Services LLC Associates Program, an affiliate advertising program designed to provide a means for sites to earn advertising fees by advertising and linking to Amazon.com & Amazon.co.uk. Pages on this site may include links to Amazon and its affiliate sites on which the owner of this website will make a referral commission.