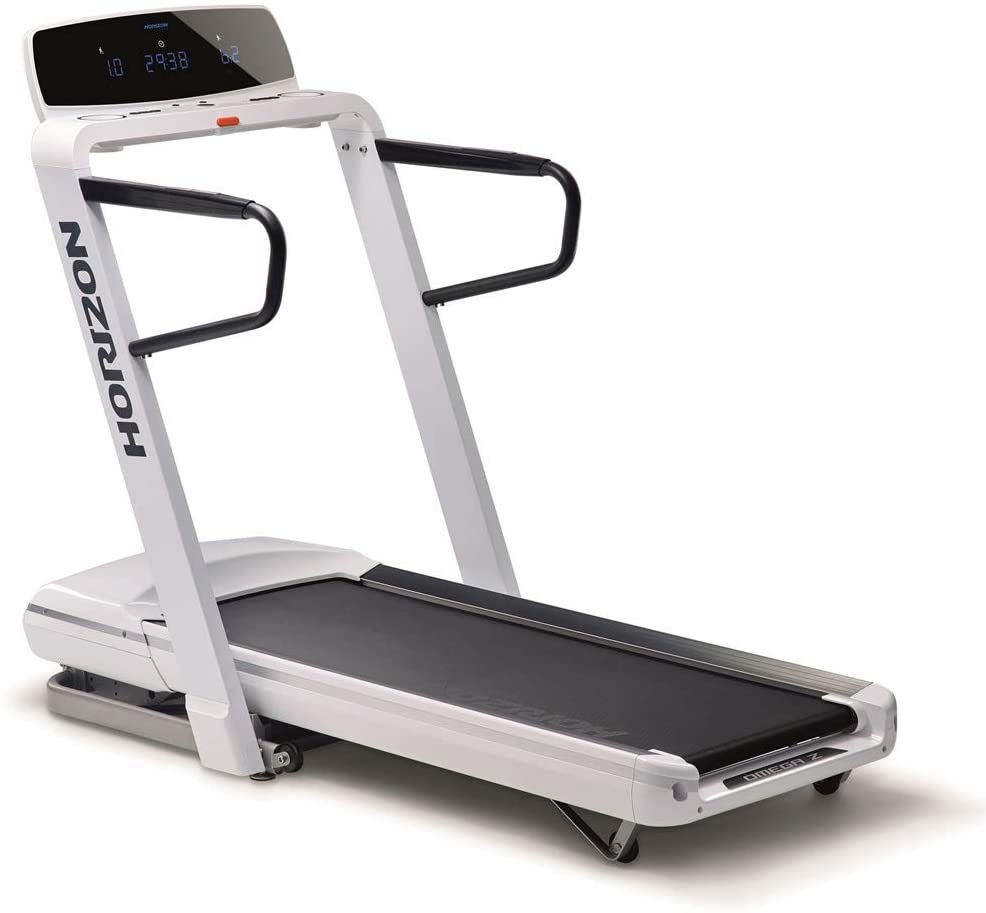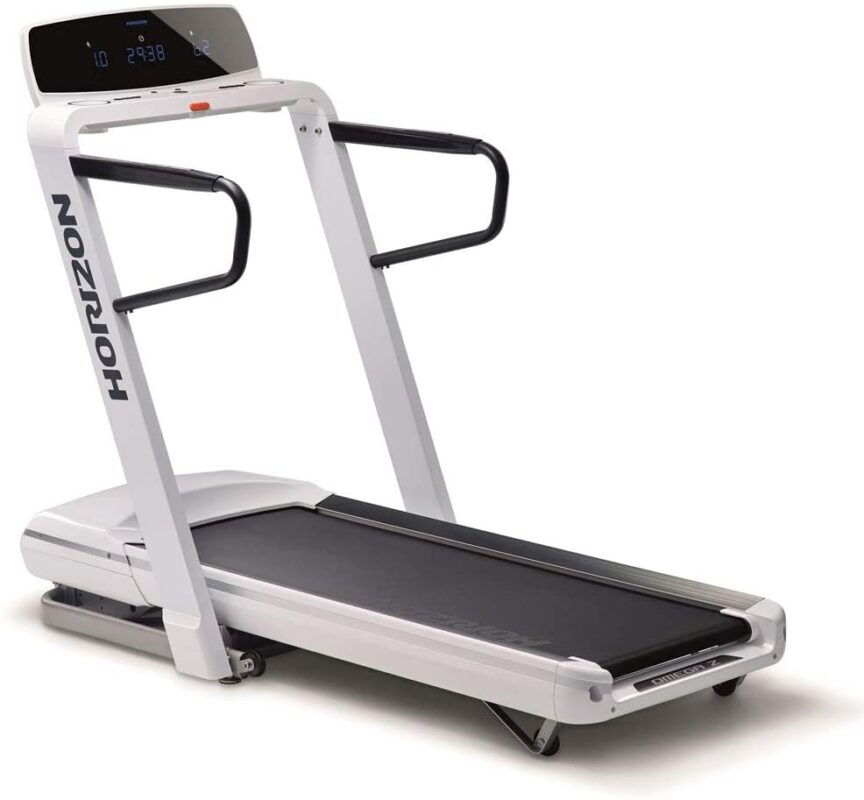 ---
---
Introduction to the Horizon Omega Z
The Horizon Omega Z Folding Treadmill will help you achieve your fitness goals in no time! This treadmill has a body structure of a traditional treadmill while giving you all the benefits of the most up to date ones! You can also choose endurance training to add to this as it comes with essential programming.
This foldable treadmill is easy and simple to use plus it's also easy to store! Since it is foldable it can fit anywhere so you won't have to worry about finding a large enough place to keep it!
It has an appealingly simple aesthetic design, using simple shapes, an open frame and clean lines with easy features that will fit virtually any living space. It has different programs that are simple to use and is ready to enhance any home you wish it to!
It comes with exclusive pulse train programming that leads to improved cardiovascular exercises plus its ideal console will make sure that there's nothing missing between you and your workout.
With all of this is in place, the Horizon Omega Z Treadmill guarantees you'll have a smooth experience while working out!
Disclaimer – This website contains affiliate links. If you find the information useful and click on a product link and make a purchase, a small commission will be earned by GymFreakz and we appreciate your support.
---
Specifications
Partial self-assembly required
Console position is fixed
It does not come with built-in speakers
Dimensions of this treadmill are, height is 144cm, width is 89 cm and diameter is 183 cm.
Heart rate monitoring is available with a chest strap but it is not included in the treadmill.
Heart rate monitoring via hand sensors are also available with hand grip pulse measurement.
Incline range is from 0-12 per cent.
Maximum user weight capacity for this treadmill is 159 kilograms.
Its motor is 3.0 MHP.
Number of programs and settings included in this treadmill is 18.
It is polar compatible.
Power supply is through mains.
The running surface of this treadmill is width is 51 cm and length is 140 cm.
It also comes with a coloured screen.
Screen type is a LED.
Speed ranges from 0.8 to 20 km/hour.
It also comes with transport wheels.
The weight of this treadmill is 93 kgs.
It does not come with a workout fan.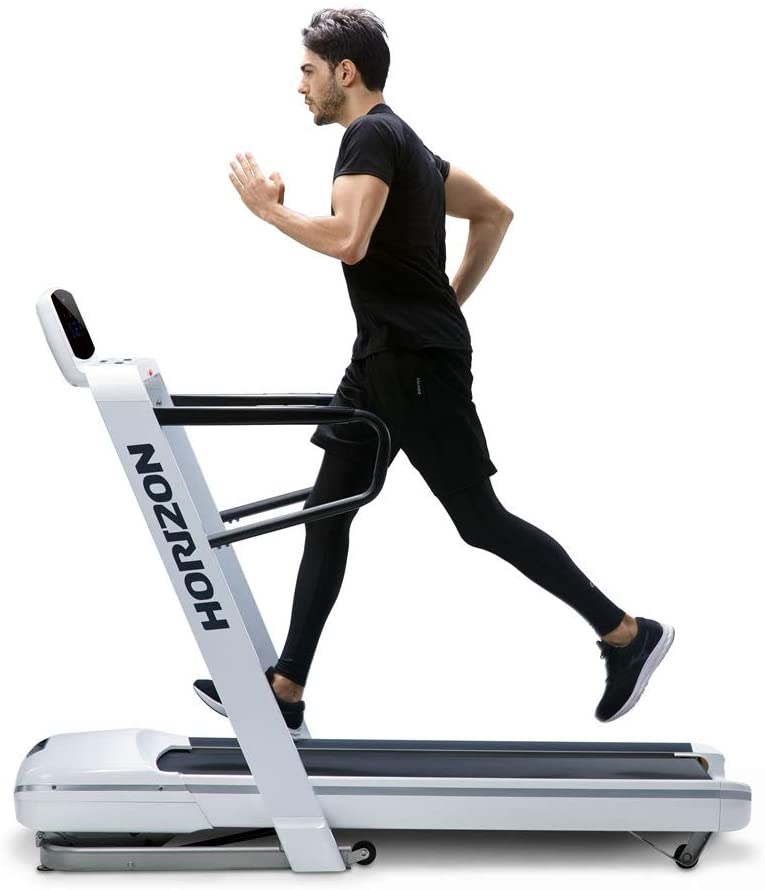 ---
FEATURES
Pulse Train Programming
This feature of the Horizon Omega Z Folding Treadmill uses your heart rate to help you achieve your goals. It will keep you on track and will also keep you motivated whilst training. Whichever program you choose be it endurance training or aerobic training this feature will continuously check your heart rate and will keep showing on the console whether you're working out properly or if you need to work harder. The streamlined exercise experience lets you enjoy your aerobic training whilst monitoring you step by step!
FeatherLight Folding
Horizons hydraulic folding system makes it effortless for you to fold and store this treadmill. This ensures easy storage in between your workouts.
Variable Response Cushioning
Variable response cushioning gives your legs and feet the right amount of protection while you run on your machine. Just like you use shoes for running to protect your feet this feature of this treadmill will ensure that you get just the right amount of protection for your legs to avoid any injuries.
FitDisplay App
With this application, you can connect your phone with Bluetooth enabling you to sync with your treadmill automatically. This gives you the freedom to work out however you want to plus it will motivate you and keep you on track with your goals. If you want an engaging workout then this app is a good option for you.
Johnson Drive System
With the Johnson drive system, you can use this treadmill anywhere as it runs at such low RPMs the noise is so low, you can train without worrying about disturbing anyone. Plus with each footfall, this responsive system continuously recalibrates to help maintain your rhythm.
Displays Essential Workout Feedback
With the Omega Z Treadmill, you will get all the workout feedback, essential for your stats. It will let you know the steps, distance, calories and also if you're working too hard according to your heart rate then it will let you know as well!
---
Some Other Features
Due to its minimalistic aesthetic design, this machine fits virtually anywhere.
It has simple shapes and clean lines.
Open frame creates a nice aesthetic.
With just one push of a button, it starts or stops workouts.
LED clearly displays essential workout feedback.
Side rails also provide great support during your intense HIIT workouts.
Bluetooth syncs workout data and you can use all of your favorite applications while you workout!
Circular handrails give you support no matter what your weight is.
Contact grip gives you an accurate heart rate.
This treadmill also has wheels that make it easier to move it around
It has a forward-leaning frame design that gives you a lot of room for your workouts!
It also has a responsive digital drive system.
You can do anaerobic training and threshold training as well.
It also stops workouts automatically if there's any danger.
---
Warranty
This product offers a great warranty just like all of Horizon fitness other products! Let's take a look at this machines treadmill.
Parts: 2 years
Labour: 2 years
*Warranty may be subject to change without notice and may differ between retailers – please check carefully before making a purchase.
---
Pros and Cons
All products have some pros and cons so let's take a look at some of them below in detail.
Let's take a look at the pros first!
---
What I Liked About This Treadmill.
The thing I liked about this treadmill is that the motor of this treadmill is not just strong but also very powerful. It does not make any noise and if you're next to a room where you have kids sleeping or you want to exercise quietly then this treadmill is the right option for you!
Also, it comes with 2 x water bottle holders that's always a must-have and the heart rate measurement is pretty accurate, and while working out, the screen will also tell you if you need to work out harder or if you need to slow down through calculating your heart rate.
On top of that, the workout feedback this machine is great; displaying your time, distance, incline, speed target, calories target and heart rate. It contains lots of programs too including pulse train programming, calories, interval, performance, heart rate, step and distance.
The FitDisplay app includes beat, contest, sprint 8, virtual active, distance target, speed target, calories target, heart rate, intervals and manual. It also comes with wheels that make it easier to move this treadmill around and side rails also provide support if you need to rest between your HIIT rest intervals. If your price match this treadmill with others then you should be happy with the amount of features this treadmill offers.
---
What I Didn't Like About This Treadmill.
The main thing I didn't like about this treadmill is that it takes a little longer to assemble the treadmill. On top of that since there are no speakers in this treadmill you will have to connect other speakers if you want to watch or listen to anything. On top of that if you have any problem with your treadmill horizon is not that responsive in that regard. This is why you might have to wait a long time before you are able to get your problem fixed.
---
Overall Verdict:
The Horizon Omega Z Folding Treadmill is an excellent choice for a treadmill if you're looking to lose weight. Whether you work out inside your home or at a home gym this machine is a good choice for your exercise regime.
It has a simple aesthetic and clean design plus the LED gives you a crystal clear display panel and this along with the advanced Bluetooth gives you a truly great running experience incorporating all these beneficial comforts. This machine has so many positives from its Bluetooth connectivity to its FitDisplay applications that allows you to use your favorite programs or workouts while your work out. You can listen to your favorite music while working out and this ensures that you enjoy your time training, plus you get clear feedback on your stats.
The effortless hydraulic folding system makes it easier to move this treadmill around. Max user weight capacity of this treadmill is also pretty good so even if you're a heavier person you can still workout on this machine.
Sometimes people tend to get a little uninspired while using a treadmill, however, with this treadmill, horizon has made sure that you never get bored! With this machine, you will get smart exercise experience plus you can do aerobic training and really get into some engaging workouts! This treadmill has all you need to give you a challenging workout.
If you work out on the Horizon Omega Z Folding Treadmill it will also make a measurable cardiovascular improvement if you use it frequently. Omega combines clean design with an appealingly simple aesthetic to make give you your ideal workout! The folding frame reduces the size of the machine making it easier to store it anywhere you wish to!
---
FAQ's
Is the Omega Z Folding Treadmill good?
Yes, the Omega Z Folding Treadmill is a good treadmill and is reasonably priced for the variety this machine offers!
How to move your Horizon Omega Z Treadmill upstairs?
Since the Omega Z Folding Treadmill is a heavy treadmill and stands at about 93 kilograms people often wonder how to move this heavy treadmill upstairs. Let's take a look at how to do it step by step!
Firstly remove all the furniture and objects that might come in your way where you want to move the treadmill.
Then it would be a good idea to place a mat on the floor where you want to move your treadmill as this will reduce damage to the floor.
Lock the treadmills belt and tighten it so that there's no chance of the lock opening while you're moving it.
Lift the treadmill slightly backwards and lift it off from one side.
Take help from someone else and then pick up the treadmill and take it upstairs. Don't forget to take necessary breaks in between if you get tired.
Now place your treadmill on the mat you had placed and now unlock the belt and gently lower it to the floor.
If your treadmill is in a box now read the manual and set it up according to the steps mentioned on your treadmill.
Can I put my treadmill on the carpet?
Yes, you can put your treadmill on the carpet and it won't harm your carpet. However, with its weight, it will leave indentations over time. These may disappear if the treadmill is relocated elsewhere but this will be dependent on the carpet's quality.
---
Affiliate Disclosure
In compliance with the FTC guidelines, please assume the following about all links, posts, photos and other material on this website:
Any/all of the links on this website are affiliate links of which GymFreakz receives a small commission from sales of certain items, but the price is the same for you.
www.gymfreakz.com is a participant in the Amazon Services LLC Associates Program, an affiliate advertising program designed to provide a means for sites to earn advertising fees by advertising and linking to Amazon.com & Amazon.co.uk. Pages on this site may include links to Amazon and its affiliate sites on which the owner of this website will make a referral commission.