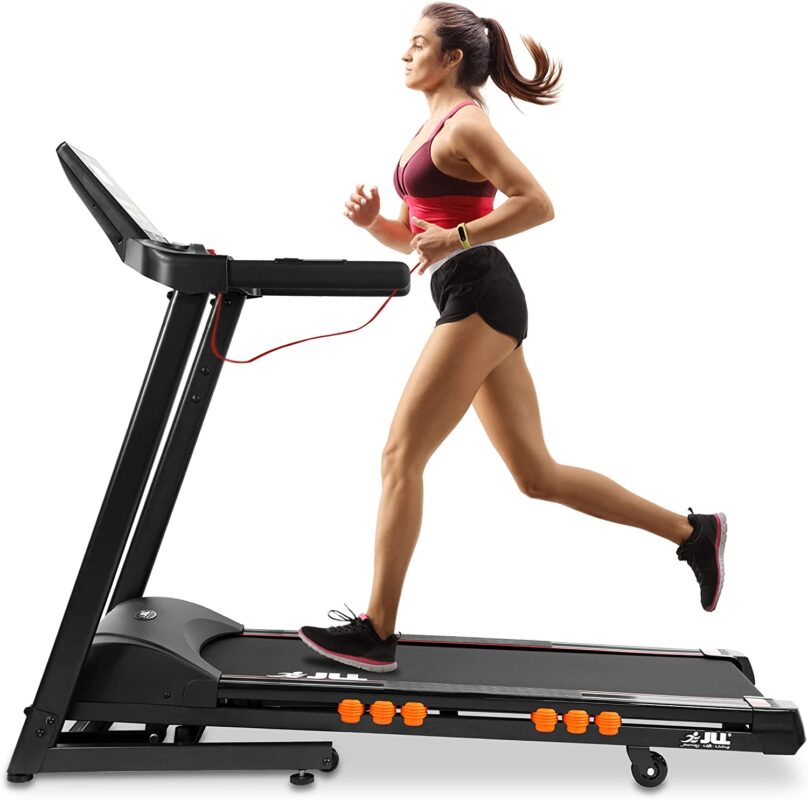 Introduction
---
Fitness Equipment Review
The JLL T350 Treadmill is a fantastic home treadmill with a running surface of 121cm x 41cm that's ideal for beginners and advanced runners alike.
With a 5″ LCD display, Bluetooth enabled wireless connection, 20 programs and 20 level incline, this treadmill is superior to much of the competition out there and pretty much covers 'all the bells'.
With a cushioned running deck as part of the spec, along with its high powered speakers, it makes for a fantastic all-round piece of fitness equipment and allows you to workout anytime.
Read on to find out more about the JLL T350 treadmill's specifications, features and also its pros and cons and find out if this is the right treadmill for you.
Disclaimer – This website contains affiliate links. If you find the information useful and click on a product link and make a purchase, a small commission will be earned by GymFreakz and we appreciate your support.
JLL T350 Digital Folding Treadmill Key Specifications
Motor: Peak power of 4.5 HP and continuous power of 2.5 HP
Speed Range: 0.3km/h – 18km/h / 0.18 mph – 11.2 mph
Running Area Size: 121 cm (L) x 41 cm (W) / 48.4 inch (L) x 16.1 inch (W)
Programs: 20 (the 3 first programs can be reset to your own specification)
Incline Levels: From the floor to the running deck. Lowest = 19cm / Highest = 26cm
Max User Weight: 120kg / 18.8 St / 264 lb.
Display: 5-inch LCD display shows speed, time, distance, calories burned and more plus good quality built-in speakers (option to use as USB port or Bluetooth enabled)
Foldable? Yes
Warranty: 2 years on parts/labour warranty and 5 years on the motor. Lifetime guarantee on the frame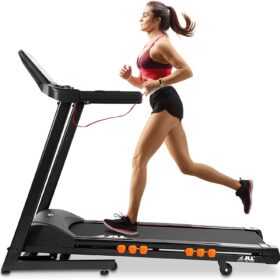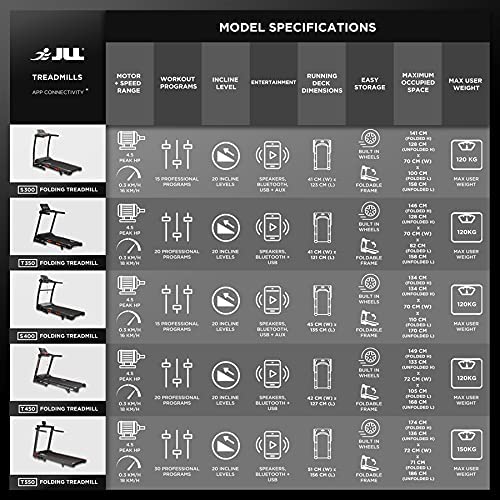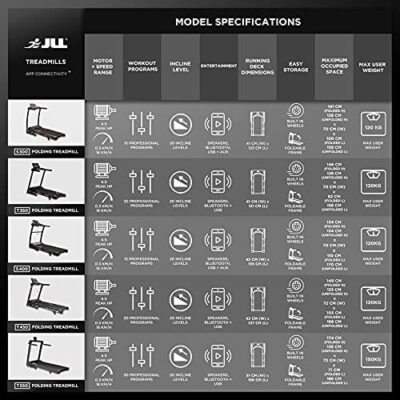 ---
FEATURES OF THE JLL T350 DIGITAL FOLDING TREADMILL
20 Incline Levels
The 20 level automatic-incline levels will help you create fitness goals by setting your workout difficulty and allow you to burn up to four times more fat calories while walking. For convenient access, adjust the incline levels of the handrail with the incline level buttons on the railing.
16-Point Cushion System / Running Deck
The cushioned running deck provides you with more comfort and fewer joint strain by optimizing your position. The cushioning system absorbs the shock of your activity, making the running deck safer to exercise on, allowing you to train harder and longer.
Speed Range
From 0.3km/h – 18km/h / 0.18 mph – 11.2 mph the JLL T350 comes with impressive speed ranges
Handrails with Sensors Installed
The JLL T350 Treadmill features handrails with speed and incline buttons built-in, as well as heart rate monitoring plates.
Flex-Fold / Soft Drop Technology + Transport Wheels
It's straightforward to fold and unpack with the hydraulic arm that secures the treadmill in place. With built-in wheels, it's easy to transport.
Maximum User Weight For The JLL T350 Treadmill
Due to the excellent build quality of the JLL T350 treadmill, the maximum user weight for a single person using this fitness equipment is 120 kg (18.8 St / 264 lb).
Entertainment / High Powered Speakers
With the integrated speakers and headphones, you won't miss a beat while jogging or working out. The jack also doubles as a 3.5mm audio input for your iPhone, iPod, or MP3 player or you may listen to your favourite music using the Bluetooth wireless connectivity.
Phone Charging USB Port
To charge your phone while you exercise, connect it to the USB interface port on this machine.
Pause Function
The STOP button may be used to stop your workout at any time. When you are ready, press the same button again and resume where you left off.
PLEASE NOTE: When you set up your treadmill for the first time, be sure to inspect your running belt before using it!
This is possible by removing the 2 caps at the end of the running machine ( 4 Screws ) setting the speed to 3 kph and making sure the belt doesn't slip left or right. Extremely important for a smooth running experience.
This is a regular procedure that your machine requires to be carried out. The directions for doing this will be in your program booklet/manual, which you'll receive when you're treadmill is delivered.
---
PROGRAMS
With 20 running programs, the JLL T350 Digital Folding Treadmill helps you get the most out of your fitness training. You can also change the speed on the first three programs.
20 Running Programs
With the T350 treadmill, you can really challenge yourself with 20 running programs.
3 Custom Programs
Alter the speed on the first three routines to get the most out of your workout, monitor those calories burned and achieve that weight loss.
Heart Rate Program
The motorized treadmill will keep your desired heart rate by automatically changing the running speed automatically as needed.
>>Check out our "Best Amazon Running Machine roundup" here<<
---
WARRANTY
This treadmill will need maintenance to keep it running smoothly, and factors like where the device is kept and how often it's used will impact when the equipment requires service. It is encouraged to have this work done every six weeks.
The necessary instructions for performing this task may be obtained on the JLL support center or in the instruction book that is included when you purchase your item.
Treadmill Frame: Lifetime Warranty
Motor: 5 Years Warranty
Parts and Labour: 2 Years Warranty
PLEASE NOTE: When you first set up your treadmill, double-check the running belt to be sure it's in good shape!
This is a part of your machine's upkeep and it may be found in your handbook.
*Warranty may be subject to change without notice and may differ between retailers – please check carefully before making a purchase.
---
---
Overall Verdict For the JLL T350 Folding Treadmill
The JLL T350 Digital Folding Treadmill is the perfect running companion for the whole family no matter what your standard of running.
I have been using this for quite some time now and it can handle even my rigorous workouts. What I like about this machine is that there are 20 programs to suit every type of runner, all of which are easily navigated through the sleek console. There are also built-in speakers with incredible sound which allow you to run music directly from your mobile device with ease.
It's easy to assemble with clear directions in the instruction manual, but be sure to read carefully before assembling!
It has a large console with buttons just how any runner likes them – gigantic and easy to use and although this isn't the most inexpensive machine, it's well worth the investment as it has a fantastic and very quiet engine.
The JLL T350 is a great mid-range treadmill with a lot of premium features, an easy programming interface, and excellent build quality so more than happy to recommend it
>>Want to know the best treadmills on Amazon? Click here!<<
---
---
---
Affiliate Disclosure
In compliance with the FTC guidelines, please assume the following about all links, posts, photos and other material on this website:
Any/all of the links on this website are affiliate links of which GymFreakz receives a small commission from sales of certain items, but the price is the same for you.
www.gymfreakz.com is a participant in the Amazon Services LLC Associates Program, an affiliate advertising program designed to provide a means for sites to earn advertising fees by advertising and linking to Amazon.com & Amazon.co.uk. Pages on this site may include links to Amazon and its affiliate sites on which the owner of this website will make a referral commission.