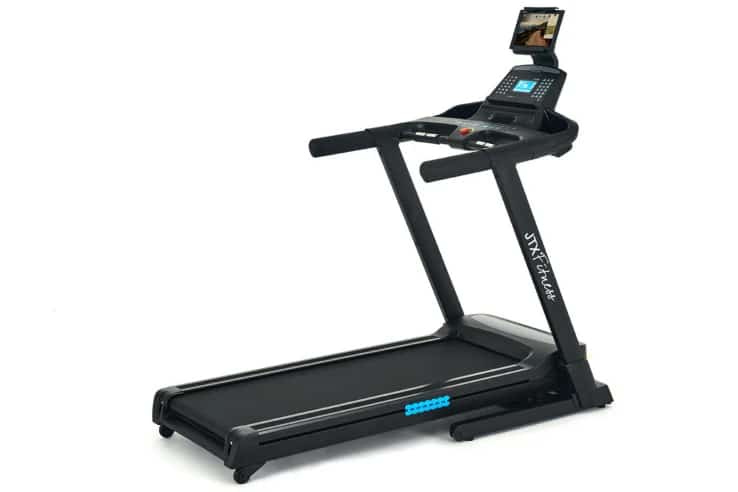 ---
---
Introduction to the JTX Sprint-5 Home Treadmill
Selecting a home treadmill is a confusing task; there are numerous options in the market that have different specifications and prices. Therefore, it can be perplexing for a trainer to identify the best machine for themselves.
Hence, they either end up making the wrong decision or not making a decision at all.
Here at Gymfreakz, we don't want your workout journey to end in regrets; and so, in this review, we shall talk about an effective home treadmill that can help you achieve your goals from the comfort of your home.
The JTX Sprint 5 is a recent launch by JTX fitness and is an upgraded model of the JTX sprint 3.
This residential treadmill is designed to cater to the needs of home gyms; the compact folding design supported by a hydraulic safety system makes the machine perfect for narrow spaces, so you won't have to compromise on your valuable floor space.
It also comes with a powerful treadmill motor that is suited for all types of workouts and can easily help you achieve your fitness goals.
In the next sections of our blog, we shall discuss JTX Sprint 5 in complete detail, including its pros & cons, the features, and who should buy it.
Let's go!
Disclaimer – This website contains affiliate links. If you find the information useful and click on a product link and make a purchase, a small commission will be earned by GymFreakz and we appreciate your support.
---
Specifications
Roller Size: Front Roller: 2.2" / Rear Roller: 2.4″
Running Area: 140cm x 48cm
Cushionstep™ Deck
Maximum speed: 18kph
Incline: 10%
Suspension8 Point shock system
Computer Console: Displays time, pulse, speed, incline, distance and calories burnt
Workout Programs: 43 Programs
Heart Rate Training: Via hand pulse sensors or Polar chest strap (sold separately)
Power: 2.5 Horsepower DC Motor
Folded Dimensions: 82(w)x 114(l)x 157(h)cm
Dimensions: 82(w)x 174(l)x 157(h)cm
Floor to Deck Height: 19 cm (7.5″) (Flat deck)
Boxed Dimensions: 197 x 86 x 33cm
Safety Features: Safety key for emergency stop
Speakers: Yes
Transport Wheels: Yes
Maximum User Weight: 120kg (18.9 stone) (265lbs)
Machine Weight: 78kg
Boxed Weight: 87kg
Polar compatible: Built-in Polar receiver
Free Accessories: Free Tablet Holder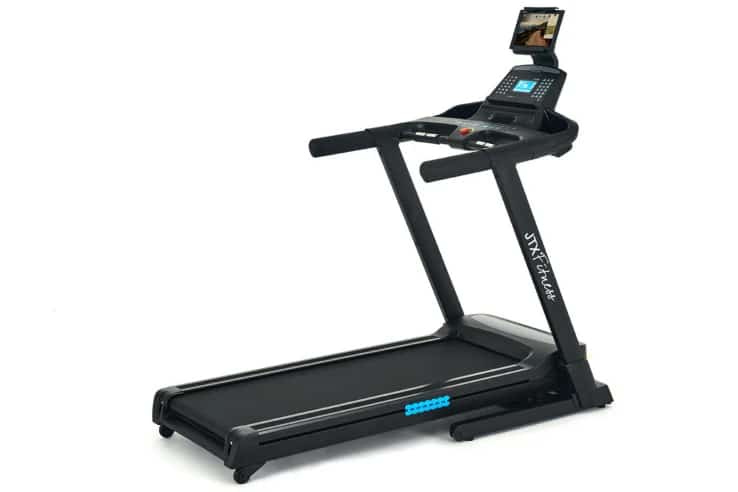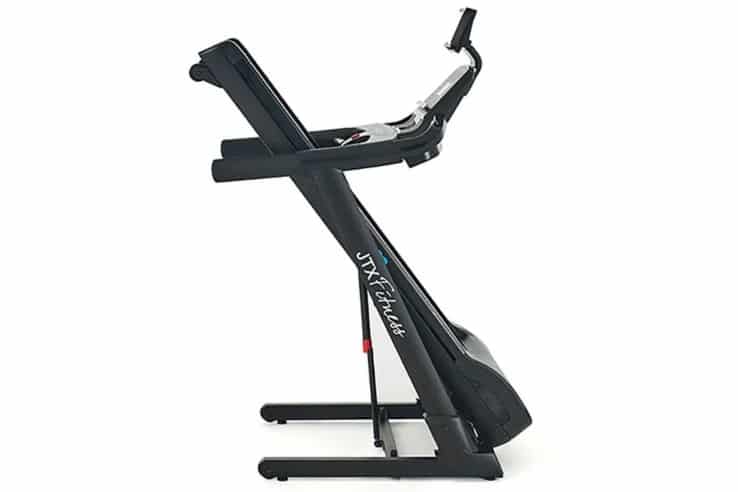 ---
Features
Large Cushionstep running deck
A common problem that most beginners face with track running is knee and joint pains. It occurs due to the stiff surface of the track; as many are made of cement, therefore the cushioning is poor; Hence, the impact of runners' foot strikes is transmitted back to their feet, which results in joint pains and other associated problems.
It also leads to rapid fatigue and shorter workout sessions. On the other hand, treadmill running belts are made of polythene and rubber, which provides good cushioning. Once a trainer strikes the belt, most of the pressure is absorbed, and only a tiny proportion is transmitted back to the trainer.
For this reason alone, treadmills turn out to be a better choice for maintaining your cardio fitness. In the case of JTX sprint 5, the treadmill contains a CushionStep running deck, which includes an elastomer. Thus, the footstrike of the trainer is absorbed majorly by the belt. The elastomer allows the trainer to maintain a proper running posture, which means every other step requires lesser effort. Cushioning of the treadmill also protects the treadmill from rattling noises during high-intensity sessions.
To make your workout experience even better, JTX sprint 5 comes with an 8point suspension system. This is a trademark for high-end treadmills by JTX; the suspension system increases the machine's stability, which protects it from rattling noises and increases frame life.
It also protects your treadmill from instability during high intensity and allows you to maintain a proper posture,
Bluetooth integration: Kinomap
It can often get difficult to get motivated and then squeeze regular fitness workouts into your daily routine if your body doesn't enjoy them so JTX fitness reviews the best fitness products that can be integrated into their treadmills for the best results. Most of these apps are usually free and can be useful in analyzing your performance throughout the workouts. Kinomap is an effective integration to maintain your interest in working out.
The kinomap is connected to the treadmill through Bluetooth, and it operates based on google-maps technology. The app's goal is to take you to different beautiful sceneries around the world. so you can choose any place from the selection range, and the application will adjust the incline according to it; using this, you can enjoy a different workout each day.
The treadmill can also be connected to different applications that will provide valuable insights into your body's reception of the workout.
Some applications also provide timely notifications and pop-ups to keep you motivated for the exercise and stop you from quitting the routine. You can also connect your fitness watches to the treadmill applications for more accurate data.
Made to last long
The last thing that any runner would want is their treadmill needing repairs frequently. A treadmill is a hefty purchase, and its repairs are not cheap either. Hence, when these consistent problems arise in the machine repeatedly, a trainer would face significant obstacles in their serious workouts.
The JTX Sprint 5 is made to last for a long time; it contains high-quality components that speak for its durability. The treadmill has a heavy gauge steel frame with an 8 point suspension system that increases the treadmill's life considerably.
The Treadmill motor is an essential part of a treadmill. The treadmill won't produce an enjoyable workout if the motor isn't in its best state. It is also costly to bear frequent motor repairs. Hence, it is vital to choose a treadmill that comes with a durable motor.
JTX Sprint 5 contains a 2.5 hp motor that is a good fit for all workouts. It is excellent for athletic-style training or long hours of all family use. Similarly, the treadmill motor also comes with a ten-year warranty, which depicts its strength and reliability.
Overall, we can trust JTX fitness with the reliability of the treadmill; most of their products have created a reputable name for their performance and longevity. The treadmills also come with comprehensive warranties that speak for the quality of the machine. In the case of JTX sprint 5, it comes with a lifetime frame warranty, ten-year motor warranty and 2-year in-home motor warranty.
Advanced Functions
Our homes are equipped with the latest technologies, and it wouldn't feel right if the treadmill looked like it was a century earlier. If you like to enjoy your workout with complete information, JTX Sprint 5 is a great choice. It comes with numerous advanced features and monitors to ensure the enjoyment of all exercises. The treadmill has a giant computer console placed right at the centre of the deck; this provides valuable information about calories burned, heart rate, etc.
The treadmill also contains more than 43 workout modes that trainers can use to achieve their fitness motives. The workout programmes vary from medium, high and low intensity to suffice the needs of all the family; A trainer can also set up three custom modes. The goal of the workout modes is to allow the trainer to have complete focus on their workout without getting distracted by changing speed and incline.
While we mention speed, JTX sprint 5 has a top speed of 18 mph, which is comparatively higher than most residential treadmills. It also comes with a digital incline system that can be varied from the computer console. The buttons for speed and incline are positioned with precision to let the trainer change the settings without getting distracted.
Overall, the machine is loaded with all features required to perform an exciting workout.
Folding home treadmill
The most crucial problem for most home gym owners is the lack of floor space; most homes aren't designed to accommodate a gym. Thus, when we set out to arrange the fitness equipment, it can be a challenge to find the right place. If you are suffering from the same problem, JTX Sprint 5 can be a great solution. It comes with a folding track and in-built wheels that make it appropriate for narrow spaces. The hydraulic safety system lowers the track at a modest pace; thus, the frame (or you for that matter) isn't harmed during the process.
Most new buyers are often tense when buying a folding home treadmill; usually, it is perceived that a folding mechanism results in instability of a treadmill, and rightly so. However, JTX fitness has taken great care of this concern, and as such, the treadmill comes with impeccable stability.
The hydraulic assist lift provides the necessary safety while unfolding the treadmill; Similarly, the 8-point suspension system also comes in handy in giving stability to the treadmill.
Therefore, you can buy this treadmill without worrying about its strength or sturdiness.
---
---
Warranty
2-year in-home repair warranty, including labour and parts
10-year motor warranty
Lifetime frame warranty
28-money back guarantee
Warranties are registered automatically as the treadmill is purchased. Hence, in the unlikely event of a breakdown, you can get the necessary services without any additional charges.
*Warranty may be subject to change without notice and may differ between retailers – please check carefully before making a purchase.
---
---
Overall Verdict:
We have talked a fair deal about the JTX sprint 5, and I am pretty sure by now you will have decided if the treadmill suffices your need or not. I personally would recommend this treadmill to all users trying to set up a home gym for high-intensity sessions.
The treadmill is made to accompany high-intensity trainers; it comes with a powerful 2.5 hp motor that can produce up to 18 mph at a 10% incline level. The cushioning of the belt also allows you to practice longer workouts without getting tired; it also protects your joints from irregular pains or injuries.
Nevertheless, if you are just starting on your fitness journey and don't plan to switch to high intensity anytime sooner, then you have cheaper options available to suit your fitness goals. Similarly, if you are looking at the treadmill for your commercial gym, it might not be the ideal choice either. Having said that, the treadmill is a perfect residential treadmill that is reliable and efficient for weight loss.
Weight loss results are slow to materialize, and it might take a little longer for you to see significant changes in your body.
However, the slow results shouldn't serve as a demotivation for you. Commitment and determination are essential to succeed in your life.
---
---
---
What I Liked About This Treadmill / Things That Could Have Been Better
I have been using the treadmill for several months now and it was, as mentioned, an upgrade from the JTX sprint 3. This treadmill has been great for my purpose, and I have never regretted my decision. Nonetheless, the treadmill has some problems that must be addressed to ensure better performance.
The best thing about the treadmill is its large running deck. The previous treadmill had a pretty narrow track, making it inappropriate for lateral walking, ladder workout and other workout modes.
In JTX sprint 5, you get a wide running belt that is suitable for all types of workouts. It allows you to maintain a good posture and stay focused throughout your Hiit workouts. Unlike similar running machines, the treadmill has also impressed me with its stability.
Most residential treadmills don't perform well at their top speed, and you note unusual heating of the belt after some minutes at high intensity. However, in JTX sprint 5, I have practised intense workouts, and the treadmill showed no abnormal signs of strain. Another notable feature of the treadmill is 43 workout modes; it has a wide range of workouts suitable for every user of the family; the high maximum user weight is also impressive in the segment.
However, the main problem with the workout modes was the lack of instructions. The treadmill doesn't come with a book that describes the workout; instead, the user has to email JTX to get the necessary instructions. Alternatively, I have often relied on workout videos to solve my confusion, not a great problem but one that could be easily prevented.
Moreover, I have noticed a considerable lag in the treadmill while shifting to higher speeds. It takes a fair amount of time to reach about 10 mph from 0, slightly higher than other models. The treadmill doesn't have an easy speed input for speeds higher than 9 mph either so you have to use the preset speeds and then change to reach your preferred pace.
---
FAQ's
Do electric fitness machines come with a warranty?
Most of them come with a warranty depending on the manufacturer and its price. In the case of JTX sprint 5, you get a lifetime frame warranty and a 10-year motor warranty.
Are treadmills better than exercise bikes?
Both the fitness machines are helpful for different goals, and it is hard to compare them against each other. However, if you aim to lose weight rapidly, a running machine will be a better choice than an exercise bike.
---
Some Additional Points
Obesity is on the rise, and it has impacted our lifestyle. According to a report by WHO, more than 39% of the world population is suffering from obesity, which includes more than 3.3 billion people. Obese people are at an increased risk of all diseases, including high blood pressure, type II diabetes, and types of cancer. To live a long and healthy life, we must start taking care of our bodies before it is too late.
With increased knowledge, most people have adapted to better-eating patterns in the modern world. The awareness about fizzing drinks and high-fat foods has restricted their consumption, and inappropriate consumption is no longer the primary cause of obesity. However, there is yet another problem – technological development means we have a more accessible alternative for all our mechanical tasks.
Everyday tasks that required physical effort in previous decades can now be completed through sophisticated machines; hence, an individual's effort is restricted to the press of a button.
The lack of activity means that lesser calories are burned, and the body suffers an adverse impact. Regular fitness workouts are vital to curb obesity. Nonetheless, training regularly isn't as simple as it sounds.
Most trainers are motivated to change their lifestyle and get in better physical shape. However, they are confused about where to start. The gyms usually come with a hefty membership fee and a lack of flexible hours.
Similarly, the travelling time further makes things complicated; thus, it gets impossible to sort free time in the busy life schedule.
The solution to the problem is the treadmill.
It is a fantastic piece of fitness equipment that can help you achieve your fitness goals. A treadmill can help you lose weight rapidly without working 24/7. Similarly, endurance workouts and half marathon training can be useful in preparing your body for bigger challenges. Unlike common perception, a treadmill is also effective in building your body muscles and improving the strength of your body parts.
Summarily, a treadmill can be a one-stop solution to your workout needs.
---
Affiliate Disclosure
In compliance with the FTC guidelines, please assume the following about all links, posts, photos and other material on this website:
Any/all of the links on this website are affiliate links of which GymFreakz receives a small commission from sales of certain items, but the price is the same for you.
www.gymfreakz.com is a participant in the Amazon Services LLC Associates Program, an affiliate advertising program designed to provide a means for sites to earn advertising fees by advertising and linking to Amazon.com & Amazon.co.uk. Pages on this site may include links to Amazon and its affiliate sites on which the owner of this website will make a referral commission.