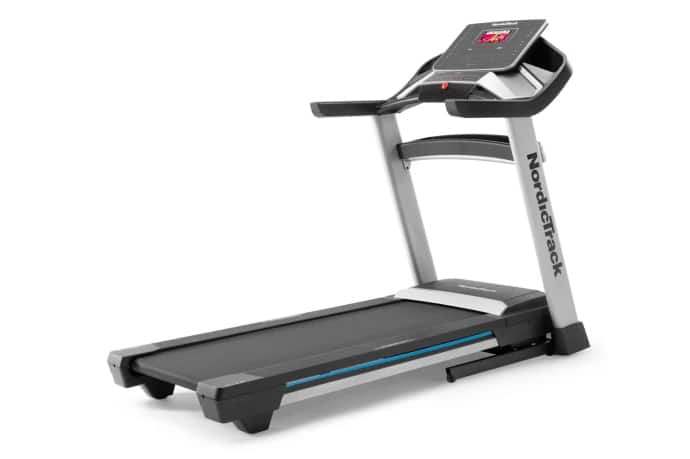 Introduction to the Nordictrack EXP7i Treadmill
Nordictrack treadmills are exceptionally well known for their extremely high-quality treadmills and with the Nordictrack EXP 7i treadmill you will not only get to experience a once-in-a-lifetime treadmill experience but you'll also get to experience a different level of interactive personal training too.
The NordicTrack EXP7i is iFit enabled and with this treadmill, you'll achieve your weight loss goals in no time!
So whether you're looking to lose weight or gain muscle this machine is the answer to all your questions!
Nordictrack EXP7i has some great features and specifications! With automatic trainer control and a smart response drive system, this machine will make sure that you achieve all your fitness with unrivalled efficiency!
This iFit enabled treadmill is perfect for walkers and joggers alike and a great way to challenge yourself to achieve your goals. Let's take a closer look…
Disclaimer – This website contains affiliate links. If you find the information useful and click on a product link and make a purchase, a small commission will be earned by GymFreakz and we appreciate your support.
---
Specifications
7 inch HD Smart touchscreen
Bluetooth Audio capabilities
Two 2 inch digitally amplified speakers
Automatic trainer control
Flexselect cushioning
20-inch x 60-inch commercial tread belt
Autobreeze workout fan
integrated tray
3.0 CHP commercial plus motor1
0-12 % incline training
0-12 MPH speed
One-touch controls
Smart response drive system
1.9-inch precision and balanced non-flex rollers
300 pounds user weight limit
Run with elite personal trainers
Live and on-demand workouts
Expert trainers
Daily recommended workouts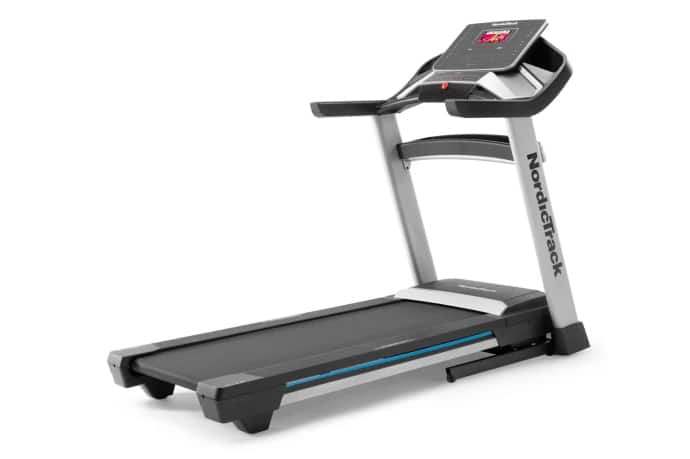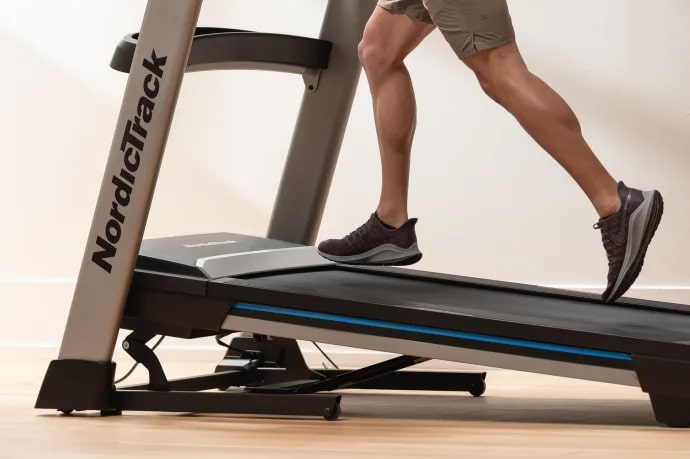 ---
---
---
Key Features
Incline Range
The Nordictrack EXP 7i treadmill has a great incline range.
This incline range is from 0 to 12 percent and it's at the top end where you will really work those lower body muscles by putting more pressure on them.
Although when compared to others within the Nordictrack treadmill range the incline of this machine is not the most impressive however it is good if you're just starting walking or running on an incline range and are looking for more options than you currently have.
However, even though slightly limited perhaps, since the incline range still forces you to run uphill regardless, it still makes it far more challenging than your standard treadmill, hence you'll therefore you'll still see results more quickly from working out on this treadmill.
Motor
The 3.0 CHP self-cooling motor is durable and will keep you moving on to everyday workouts before you know it.
The motor is built in a solid way and also self-cools itself if it becomes too hot. This machine runs quietly and is sturdy.
For the price range that this treadmill offers this motor is pretty impressive plus the SMART drive response system, which allows for reduced vibration and self-cooling as well gives it an added bonus.
Treadbelt
The treadbelt is quite a big area and is certainly bigger than your standard size! It can easily fit a tall person who can exercise freely allowing plenty of space to move around.
Rest assured, Nordictrack EXP 7i makes a comfortable treadmill for tall users and those with long runner strides.
The deck is also supported with Flexselect cushioning which reduces the chances of injury and helps you get a smooth workout in!
This ensure that the flexselect cushioning softens the impact on joints by engaging dampeners.
All in all, a very exciting prospect of actually experiencing a true road running experience from the very moment you start!
Speed Settings
The speed settings of this treadmill are 0 to 22 km per hour. With this speed option you can always ensure that you're really working hard against those muscles to feel the burn.
Plus if you choose to use the speed with incline options together then it will be even better still since you will be able to tone those muscles in an even shorter amount of time!
The mechanical power of this treadmill is strong and this is what makes this treadmill a perfect machine for ordinary household use. Whether you're a beginner or a pro at running this machine is your answer to all your questions.
…and with the affordable price, Nordictrack offers you can rest assured that you might not ever have to go to commercial gyms for studio sessions ever again!
Plus with the live incline control, it also makes it easier for the person working out to forget about worrying to change the incline and to solely focus on their workout instead!
Touchscreen
This treadmill has a 7 inch touchscreen. Although this might not be a big screen in comparison to other treadmills in the treadmill industry, if you are looking for a way to change your routine and add some music or different variety of workout through world class iFit trainers then this screen should still be sufficient for you!
From the very beginning, you'll enjoy your workouts through the process of getting that 'new body' while using the iFit program and iFit workouts that you can access through the screen.
You can also see your workout stats being shown on the very same screen, giving you a phenomenal all-round workout experience for sure!
Whether you want to do strength training or try some of the high energy workouts, this treadmill has it all through trainer controls and first-class personal trainers.
They'll make sure that they give you workouts according to your strength and how much you can do instead of forcing you to do workouts that are either too entry-level or too advanced.
And always there to support, they'll motivate you ensuring your workouts just fly by, day after day!
Bluetooth
With this treadmill, you also get Bluetooth audio capabilities.
With the new Bluetooth headphone connectivity you can now train without worrying about the wires of the headphone getting you tangled, allowing you to just focus on your workout in hand.
iFit Membership
Nordictrack EXP 7i comes with a free 30-day iFit membership. You will be trained through first-class personal trainers where you will have access to and also enjoy all iFit classes available.
iFit trainers will make sure that you get that total body burn you're after and you'll also get to enjoy global workouts if that's something you'd like to try too!
Your inspirational trainer will motivate you to get the most out of your workout and with the family membership your entire family can enjoy working out on this treadmill with just a touch of the smart hd touchscreen to get you all started.
You can focus on different parts of your body every week if that suits, so if the mood takes you maybe try one week when you do an abs week, the next a hamstrings week and so on and so forth.
They have some amazing guided mindfulness sessions in the iFit membership too so you can also de-stress alongside your more physical workouts.
---
Warranty 
Let's take a look at the Nordictrack EXP 7i warranty below!
Lifetime frame warranty
10-year motor warranty
2-year parts warranty
Labour upon warranty registration within 28 days of purchase.
*Warranty may be subject to change without notice and may differ between retailers – please check carefully before making a purchase.
---
Like every machine, this treadmill also has some pros and cons. Let's take a look at some of the pros first!
---
Overall Verdict:
Overall this treadmill is a great value for money!
At well under £2000 pounds you are getting lots of features and more importantly the variety to help you achieve the body and workout goals you want. (Compare that to gym membership over 5 years and you have made a huge saving).
The 7 inches touch HD screen, 12 percent incline range, iFit personal trainers that give you a world-class experience from the confront of your home and the smart drive response system all make this treadmill a great one, to say the least!
From on-demand workouts to LIVE sessions with elite trainers, you will always have workouts that will push you harder and harder to achieve your fitness goals. This is an unparalleled workout variety where you will never get bored with global workouts.
To finish with…you won't just train your body but you'll also train your mind through guided mindfulness sessions that provide vital mental health exercises too, so stay well and train hard with the Nordictrack EXP 7i
---
What I Like About This Treadmill?
There are so many things a person would love about this treadmill it's going to be difficult to list them all!
But let's take a look at some of the main things I love about it below!
Incline Range
As someone who is not as physically active as others, the incline range of this machine really helped me to start building more stamina for working out longer and harder!
Since Covid, there have been so many restrictions placed on people that many have seen their fitness levels reduce as a result of not being able to attend team events or even visit the gym through certain periods.
So if you're looking to get back on track or even if you're a complete beginner and want to build your stamina for walking, running or jogging then this machine might be the one for you!
This treadmill ensures that you don't just get fit physically but also gives some vital mental health exercises that will help you get a good night's sleep too, keeping you fresh and active throughout the day!
Motor and Smart Response Drive System
This treadmill has a quiet yet powerful treadmill motor!
Nordictrack treadmills are famous for having great motors and these are really put through their paces through thorough testing prior to sending out into the market!
The continuous horsepower allows you to use the treadmill vigorously without having to worry, plus with reflex cushioning you can rest assured that this treadmill will be highly unlikely to ever give you an injury so even if you're just starting out, this machine is a great option for beginners!
Automatic trainer control of Nordictrack EXP 7i
The option for the automatic trainer control of the Nordictrack EXP 7i is an amazing option for people.
Through this option, you don't have to worry about changing the incline of your treadmill but rather just focus on your workout while the trainers ensure to change it according to the path or route you have chosen!
The trainers also let you know before changing the incline so you are prepared for a change in incline and won't just suddenly change it abruptly!
iFit Trainer
With an iFit membership free for the first 30 days you get to experience once in a lifetime workouts!
These are provided by elite personal trainers who will guide you on completing your workouts from the comfort of your own home!
You don't even have to step out of the house to have the elite trainers guide you through your workouts.
They are specially trained in motivating you for each and every session guaranteeing you won't get bored!
This is the reason why iFit trainers are so popular since they help you get your workout in while ensuring that you don't get injured either and giving importance to your physical performance and strength.
Whether you want to do strength training or extreme workouts the trainers will be there to guide you every step of the way!
…and through the innovative google maps, iFit makes sure that you enjoy your workouts by keeping the routes and scenery fresh and new too.
There is also an option for family membership auto-renews allowing you to create multiple profiles. This all comes with a free info kit.
With all these features and extras, when you get this treadmill you can be confident in knowing that you made the right choice!
What I Didn't Like About This Treadmill
Screen
When you compare Nordictrack EXP 7i treadmills screens to other treadmills of the Nordictrack range then you may be right in thinking that the screen of this treadmill is pretty small!
This could hinder a great workout experience for some and although it didn't particularly bother me, I thought I'd add it regardless as I was struggling to find faults with this product and needed to put something down!
Difficult to Assemble
If you want to get your first workout in on this treadmill without actually doing a workout then assembling this treadmill should be enough lol!
This treadmill is not that easy to assemble and if you live alone you will need to invite a couple of helping hands to assist you in assembling it!
Customer Service
If you find any problem in your Nordictrack EXP 7i treadmill and you complain accordingly you might have to wait some days before they get back to you! Nordictrack is a large company and as such, I would expect queries to be dealt with quicker.
It may be that I just got unlucky at the times I tried of course.
---
---
FAQ's
What is meant by 'workout redefine fitness'?
The Nordictrack EXP 7i redefines fitness because it offers a variety of workout programs that can be tailored to your own personal needs.
You won't get bored with the same treadmill routine because there are so many different workouts to choose from!
What is the average iFit workout rating?
There is no average rating as the iFit workouts vary in difficulty and intensity.
However, you can be sure that every Nordictrack EXP 7i workout is of high quality!
---
Affiliate Disclosure
In compliance with the FTC guidelines, please assume the following about all links, posts, photos and other material on this website:
Any/all of the links on this website are affiliate links of which GymFreakz receives a small commission from sales of certain items, but the price is the same for you.
www.gymfreakz.com is a participant in the Amazon Services LLC Associates Program, an affiliate advertising program designed to provide a means for sites to earn advertising fees by advertising and linking to Amazon.com & Amazon.co.uk. Pages on this site may include links to Amazon and its affiliate sites on which the owner of this website will make a referral commission.