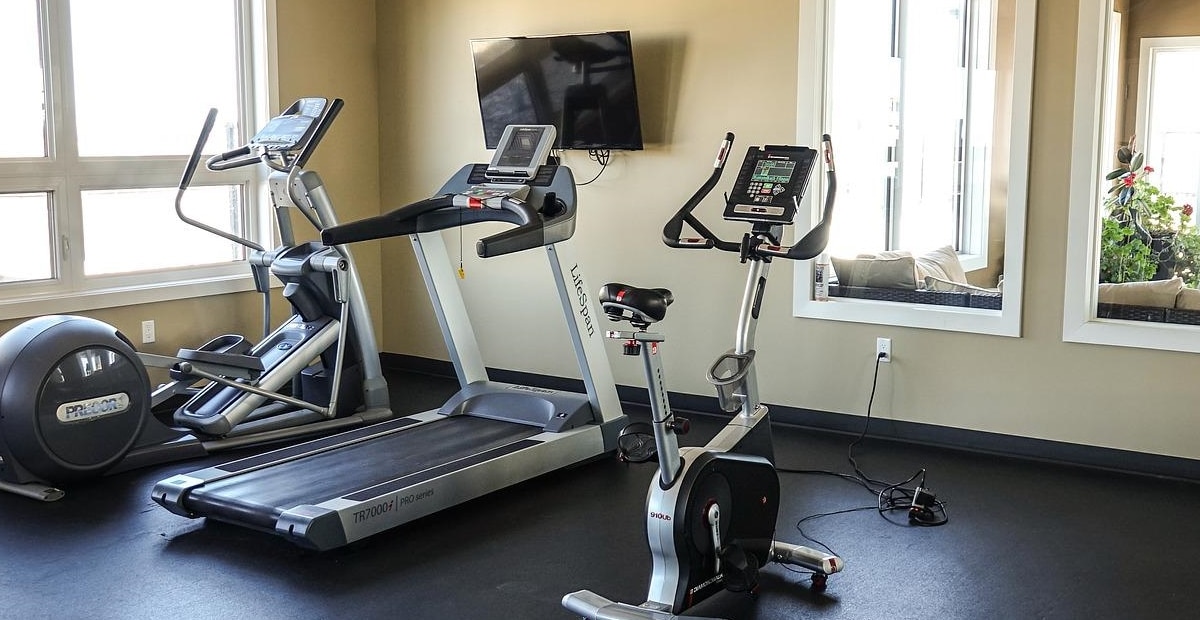 ---
---
Small spaces demand extra attention. Space-saving can be a nightmare, so let's make that process easier.
You may think of the obvious – folding treadmills are what will save my life here. But in reality, while they're a definite go-to, you don't have to sacrifice sturdier builds and extra features – a compact treadmill with non-folding designs can be just as worthwhile.
That said, compact treadmills, foldable treadmills and portable treadmill brands have been going pretty much since their advent. So it's no surprise that there's been more room for their growth and development as time's progressed.
Many foldable treadmills now have incredible frames, materials and features, all of which hold up to the big dogs (check out horizon fitness machines) meaning you now have plenty more choice when it comes to folding treadmill worth.
Having a compact folding treadmill is yet another obvious step forward. But what about the treadmill's weight capacity? Would it harm your floor space? does it fold completely flat?
Let's answer some of these yearning questions so you get the most out of your space, your money and your fitness lifestyle.
Disclaimer – This website contains affiliate links. If you find the information useful and click on a product link and make a purchase, a small commission will be earned by GymFreakz and we appreciate your support.
In A Rush?
See Best Featured Brands Below:
| | JTX Treadmill: | Nordic- track: | Reebok: | Sole: | Dripex: |
| --- | --- | --- | --- | --- | --- |
| Brand | JTX | Nordictrack | Reebok | Sole | Dripex |
| Model | Sprint-5 | C 700 | i-Run 3 | F85 | 2 in 1 |
| Photo | | | | | |
| Max. Speed | 18 kph | 20 kph | 13 kph | 20 kph | 12 kph |
| Max. Weight | 120 kg | 125 kg | 100 kg | 150 kg | 120 kg |
| Running Area | 140 cm x 48 cm | 51 cm x 140 cm | 120 cm x 41 cm | 56 cm x 152.4 cm | 40″ x 16″ |
| PRICE* | £779.00 | £999.00 | £632.33 | £1,999.00 | £399.00 |
| | | | | | |
| Check Prices | | | | | |
*Prices correct at the time of writing
---
JTX Treadmill For Small Spaces:
JTX Sprint-5 Foldable Home Treadmill (£779.00)
Key features
Roller Size: Front Roller: 2.2" / Rear Roller: 2.4″
Running Area: 140cm x 48cm
Cushionstep™ Deck
Maximum speed: 18kph
Suspension8 Point shock system
Computer Console: Displays time, pulse, speed, incline, distance and calories burnt
Power: 2.5 Horsepower DC Motor
Folded Dimensions: 82(w)x 114(l)x 157(h)cm
Dimensions: 82(w)x 174(l)x 157(h)cm
Floor to Deck Height: 19 cm (7.5″) (Flat deck)
Boxed Dimensions: 197 x 86 x 33cm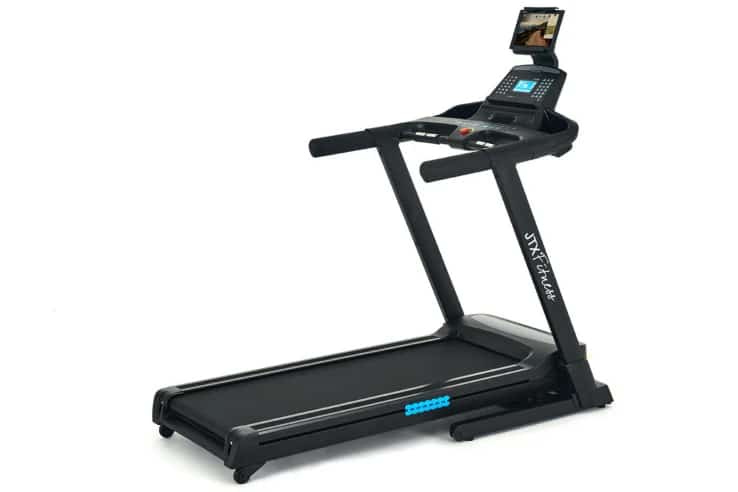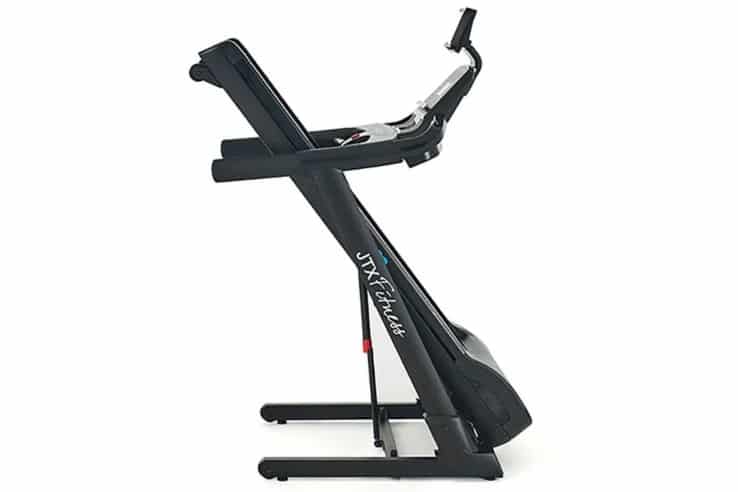 ---
Overview
We have talked a fair deal about the JTX sprint 5 in the past so if you've read about it before, I am pretty sure by now you will have decided if the treadmill suffices your needs or not. I personally would recommend this treadmill to all users trying to set up a home gym for high-intensity sessions.
Because this machine is great for high-intensity sessions, technically, you're getting the most out of your money and your space, if you push yourself that is. So how does it accommodate high-intensity workouts?
Well, the speed settings are great, the automatic incline is built for ease, the built-in workout programs are challenging, and the treadmill belt is sturdy and strong.
It's no surprise that the treadmill is made to accompany high-intensity trainers; it comes with a powerful enough 2.5 hp motor that can produce up to 18 mph at a 10% incline level. The cushioning of the belt also allows you to practice longer workouts without getting tired; it also protects your joints from irregular pains or injuries.
This treadmill is at the top of the list for a reason, but not all of us are looking for the best treadmills to perform a solid workout on every time, and so you may find a less powerful machine, good for walking workouts and an easy fold away is what you're looking for…
Want to know more? Read our full review of the JTX Sprint-5 Home Treadmill here.
Let's see what else we have on this list…
---
Best Nordictrack Treadmill For Small Spaces:
Nordictrack C 700 Treadmill (foldable) (£999.00)
Key Features
Multi-window LED display
30-day iFit membership included
EKG handgrips
Smart Bluetooth Chestbelt compatible
Dual 2-inch speakers
Flexselect cushioning
51 x 140 cm Treadbelt
Autobreeze workout fans
2.75 CHP motor
1.9-inch rollers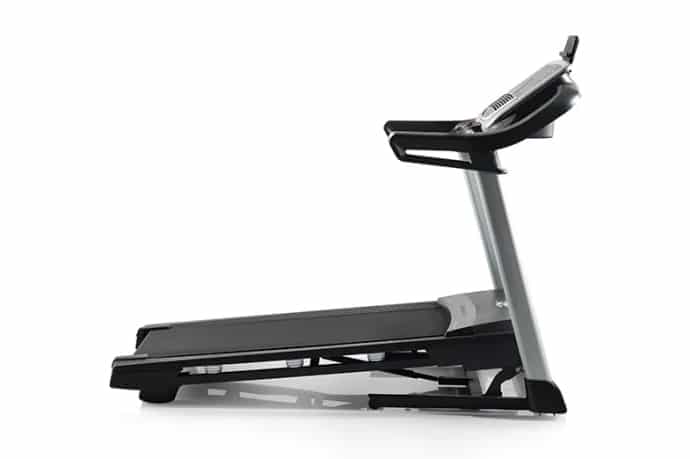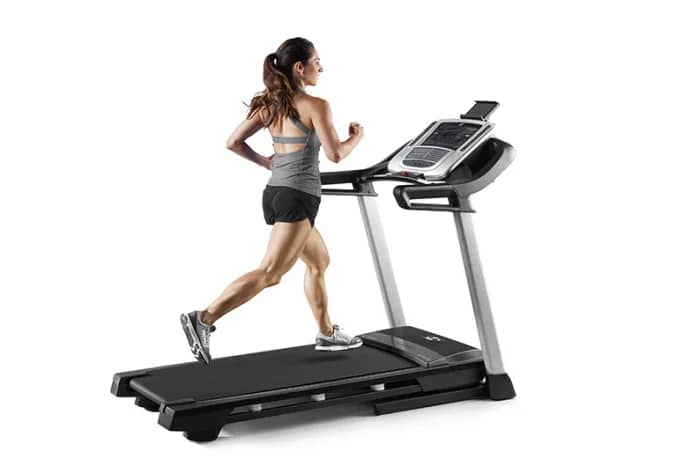 ---
Overview
The Nordictrack C700 treadmill is an affordable treadmill that will best suit you if you are a beginner walker or a jogger. Factors like max and shock absorption aside for a mo, this machine is a great all-rounder but it doesn't always think about the user end of the process.
What do I mean?
Well, it's got a short warranty on certain components and it's quite hard to put together if you're new or on your own.
All of that said, sturdy enough small treadmills that accommodate for easy storage, on-demand workouts, incline capabilities (0-10%), and safety features are why we're here, and you guessed it – this machine has all the features you need.
On top of this, there are plenty of programs that will ensure you never get bored and with an iFit subscription, you will never run out of ideas for your workouts and can push your exercise routine to new levels every time.
Although this treadmill is low priced and has many good features, this might not be suitable for people who are looking for that slightly higher performance treadmill with a greater top speed and larger running belt, in which case there are plenty of options still available through the site.
Want to know more? Read our full review of the Nordictrack C 700 Treadmill here.
---
Best Reebok Treadmill For Small Spaces:
Reebok i-Run 3 Treadmill (£632.33)
Key Features
Motor: 1.5 HP
Max speed: 13 KPH
Adjustable screen angle
3 window LED display
Built-in transport wheels
Integrated hand pulse sensors
12 pre-workouts + body fat
2 manual incline levels
Auto-stop safety key
Ultra-compact folding design
Arrives fully assembled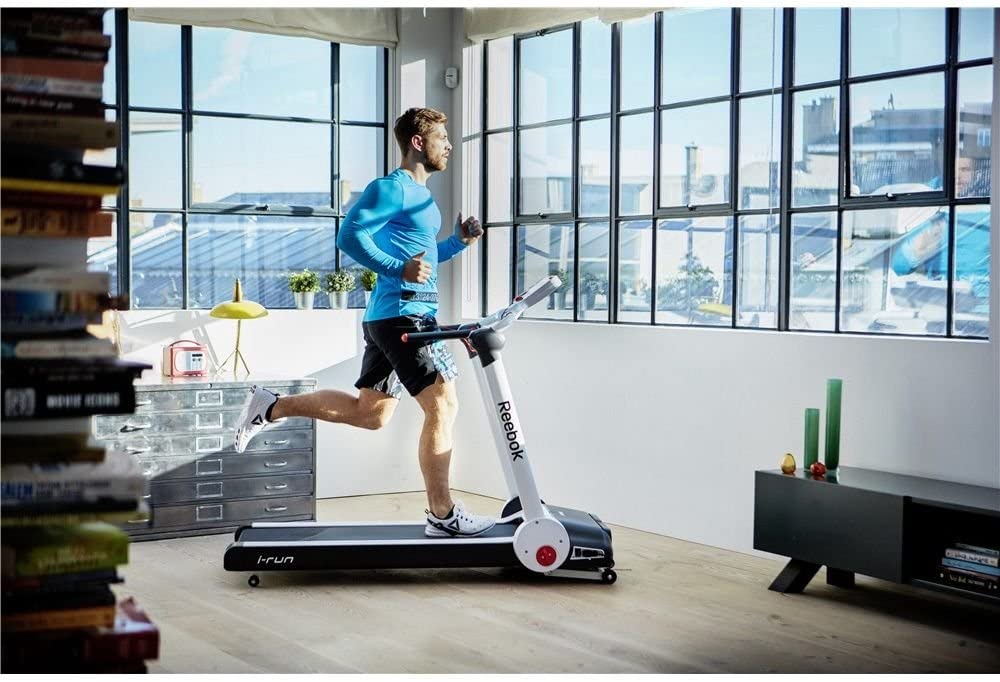 ---
Overview
Trusted brands go a long way in this world. It doesn't matter whether you can flout a great compact treadmill, awesome adjustable incline settings, or the best-built treadmill belts on the planet… if you can't prove that your quality assurance will follow through.
Reebok. We've all heard of this brand, so it's no surprise that a quality treadmill would make its way here. The i-Run 3 is my favourite space-efficient foldable treadmill. It also happens to be a top contender for the best compact treadmill on the market too.
Despite its simple design and minimal input, this machine has a decent incline range, LED display (not an lcd screen), sturdy (yet small) running surface, and other features that make this the serious runner's save space machine.
Many treadmills boast a compact design but the i-Run 3 can firmly state it with no doubts whatsoever. Its ultra-compact design, reasonable price tag, and trusted brand make this machine a no-brainer.
Want to know more? Read our full review of the Reebok i-Run 3 Treadmill here.
---
Best Sole Treadmill For Small Space:
Sole F85 Folding Treadmill (£1999.00)
Key Features
Folding
Console 10.1″ TFT LCD Graphic Display
4.0 HP Motor
Speed 0.5- 12mph (1-20km/h)
Incline 0-15 levels
Sole Bluetooth Compatible with Kinomap
Cushioned Flex Whisper Deck
Incline and Speed Quick Keys on console and handlebars
Hand Grip Pulse
Sound System
Bluetooth Speaker Compatible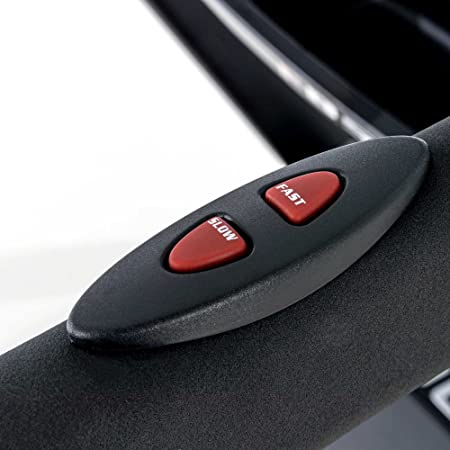 ---
Overview
The Sole F85 Folding treadmill is a pro machine without a doubt. But it's not just the build quality, the fact that it folds flat and has a cushioned deck system that makes it so great; this machine has a silicon valley grade focus on tech incorporation.
The LCD display is something to be marvelled at (even sunny health fitness machines would be nervous) so besides the fact that it's saving you space, let's see how it saves you from boredom and keeps you running for longer.
The console is user-friendly with a vibrant 10.1″ TFT LCD display that includes a message board for clear instruction and feedback data. It also displays a 1/4 mile track and a Peak and Valley graph for different programs. The console also has built-in speakers that allow you to hook up any MP3 player (iPod, etc.) for easy listening.
The tablet holder is a great feature too, and with the ability to hook up devices via an incredibly useful USB port this machine becomes a home system in itself, which of course makes it great for the whole family.
So, it can easily fold, it's more tech-focused than other treadmills and we think it can change a runner's world.
Find out for yourself!
---
Best Dripex Treadmill For Small Space:
Dripex 2 in 1 Folding Treadmill, 2.25HP Under-Desk Motorized Treadmill (£399.99)
Key Features
Folding mode: 1-4km/h
Unfolding mode: 1-12km/h
Running surface: 40 x 16 inch
Folded dimension: 52 L x 27 W x 5 H
Assembled dimension: 49 L x 27 W x 42 H
Assembled weight: 74lbs
Maximum user weight: 120kgs
Maximum speed for under desk walking pad: 4km/h
Stylish appearance
Remote control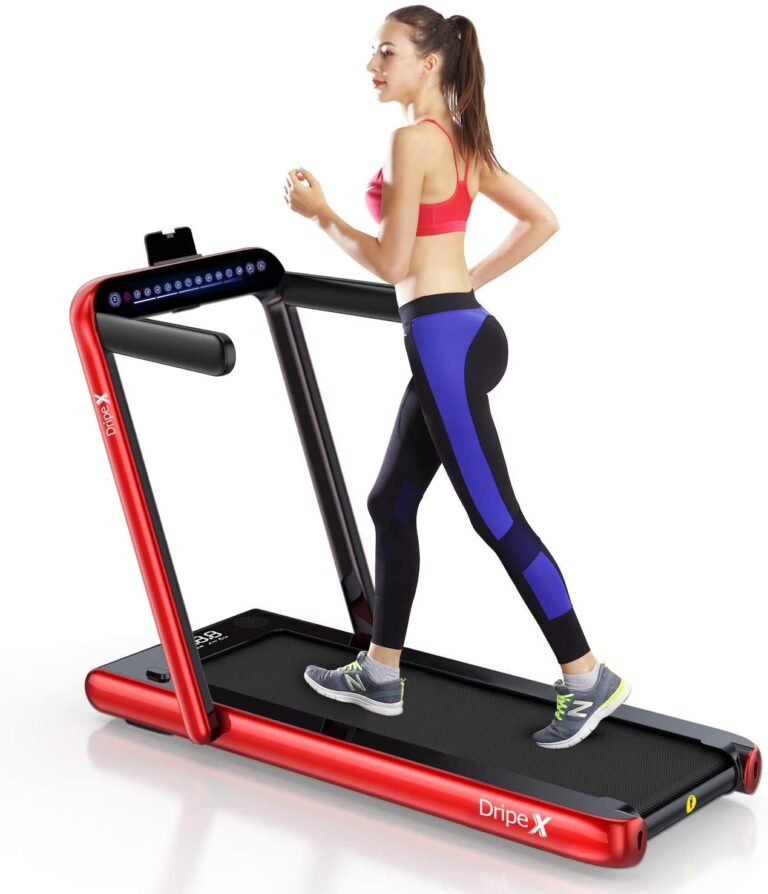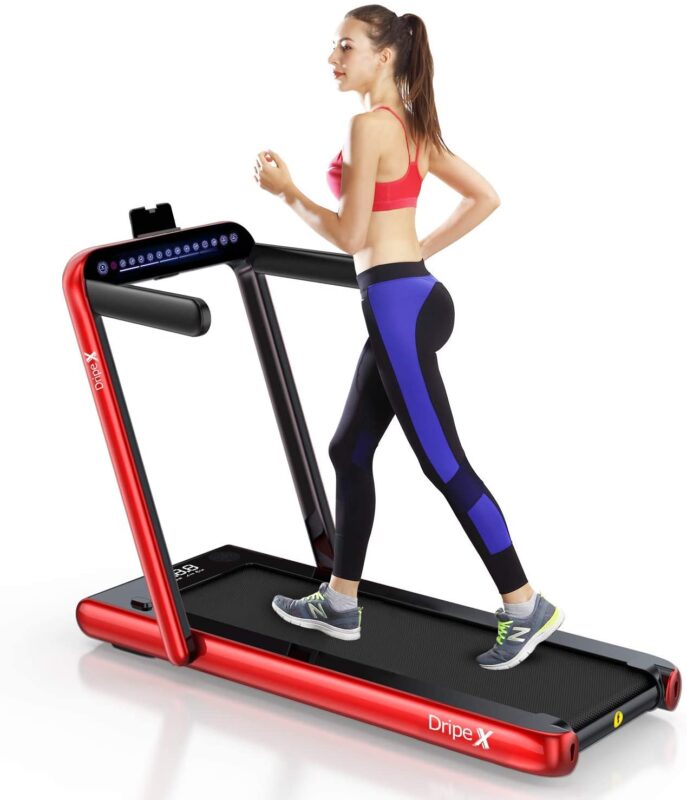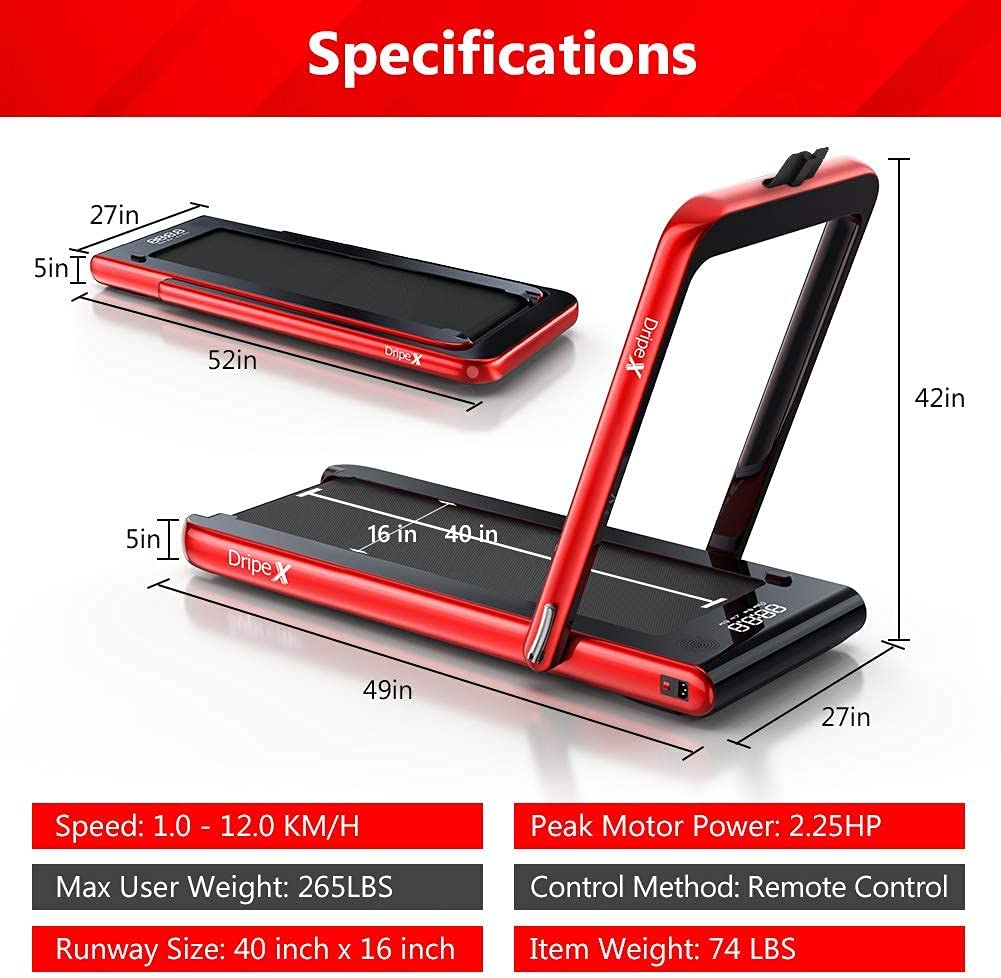 ---
Overview
If you are looking for a treadmill that gives true value to your money then the Dripex 2-in-1 folding treadmill is what you should look for! After all, we're talking about small spaces here. With small spaces come considerations that treadmills don't always need. Yes, it's slower than most treadmills but the space-saving design and under-desk capability make this a great contender on this list.
You read that right – it comes with a 2-in-1 functionality; a running treadmill and an under-desk walking pad, but it's the stylish appearance and compact design that make this treadmill unique from others.
This treadmill has a great appearance, a slick design and a minimal aesthetic. This makes it great for a limited space with lots of visual clutter, a good compact size for lots of other items in the room, and easy to lift and move around if needed (unlike the larger treadmills you may be tempted to go for)
Saving space is unquestionable here, and we're here to unquestionably save space (I know) so this machine is a definite for those who want the bare bones, and a little extra.
Want to know more? Read our full review of the Dripex 2 in 1 Folding Treadmill here.
---
Conclusion
I don't think we need to go to our top-end treadmills for the chosen machines today. I believe we've found some great treadmills, from the more lavish home systems to the classic folding treadmill, treadmills with standing desk capabilities to the best folding treadmills with extras, we've found a space-saving machine for you, your family, and your favourite room.
>> Read More Treadmill Guides Here<<
---
FAQ'S
What separates the best folding treadmills from the worst folding treadmills?
Most obviously, the frame and sturdiness are things to look for, let alone the folding mechanism itself. Frames are technically weaker for folding treadmills due to the design but that doesn't make them weak per se – unless they're the worst treadmills… for example, then I'd encourage you to perhaps double check first.
---
Affiliate Disclosure
In compliance with the FTC guidelines, please assume the following about all links, posts, photos and other material on this website:
Any/all of the links on this website are affiliate links of which GymFreakz receives a small commission from sales of certain items, but the price is the same for you.
www.gymfreakz.com is a participant in the Amazon Services LLC Associates Program, an affiliate advertising program designed to provide a means for sites to earn advertising fees by advertising and linking to Amazon.com & Amazon.co.uk. Pages on this site may include links to Amazon and its affiliate sites on which the owner of this website will make a referral commission.