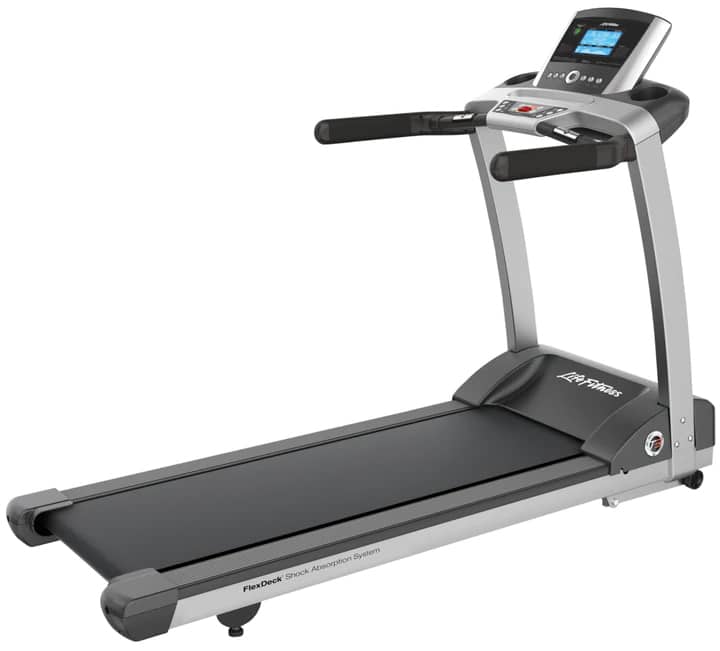 ---
---
Introduction to the Life Fitness T3 Treadmill with Track Connect Console
Workouts at home feel incomplete or ineffective without workout equipment. To enhance the effectiveness and experience of gym-like training, the addition of gym equipment to your home setting is a must. Life Fitness treadmills are a top choice of many discerning exercisers and Life Fitness are at the top of their game, committed to providing fitness solutions for people of all ages, weights, and health conditions.
The Life Fitness T3 treadmill with track connect console is a convenient workout setup with an upgraded track connect console. It has a sleek design and the aesthetically pleasing curves complement the home setting perfectly. The treadmill apart from its sleek aesthetic curves has unique functional properties and provides multiple workout programs for healthy living. These workouts and connect track are specially designed for creating fitness solutions and creating an engaging workout experience.
The T3 treadmill with track connect console offers 14 different programs ranging in intensity. Moreover, it allows you to connect to partner apps where you can customize your workouts. The Life Fitness T3 treadmill with track connect console is premium workout equipment with high-quality electrical and mechanical parts designed to support multiple user usage and a greater user weight.
If you are looking for reasonable yet very effective gym equipment for regular use, go for the Life Fitness T3 treadmill with track connect console. It is a treadmill with advanced workout features and a captivating design. Moreover, it has high-quality built-up.
If you are still wondering about its specifications and key features, we have summarized it all for you below.
Disclaimer – This website contains affiliate links. If you find the information useful and click on a product link and make a purchase, a small commission will be earned by GymFreakz and we appreciate your support.
---
Specifications
Brand: Life Fitness
Color: Silver, Grey
Material: Alloy Steel
Dimensions: 194 x 82 x 141 cm (lxwxh)
Folding: No
Minimum Speed: 0.5 mph
Maximum Speed: 12 mph
Ergobar: Yes
Incline Range: 0 – 15%
Incline Increment: 0.5 %
Integrated Accessory Tray: Yes
Maximum User Weight: 350 lb
Motor: 3.0 Horsepower
Flex deck shock absorption: Yes
Walk, Jog, Run: Yes
Inbuilt Reading Rack: Yes
Weight: 243 lb
Workout Fan: No
LFconnect App Compatibility: Jawbone, FitBit, and RunSocial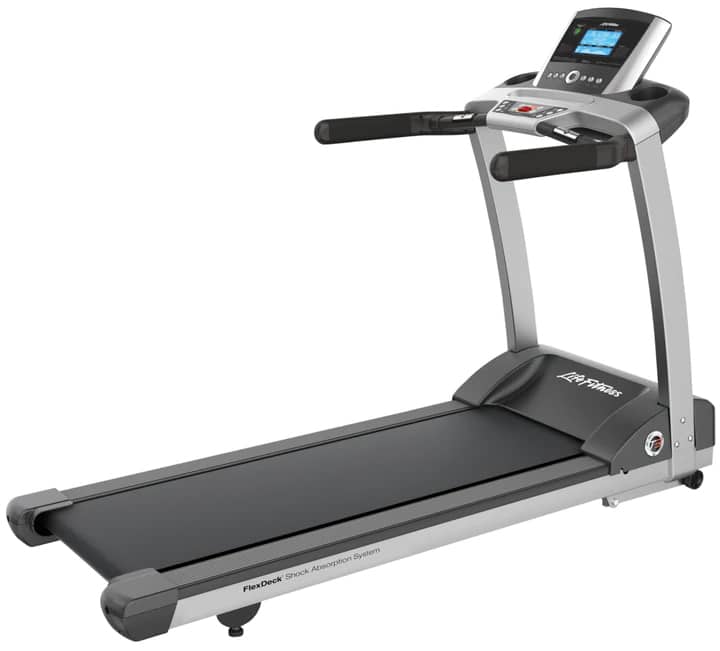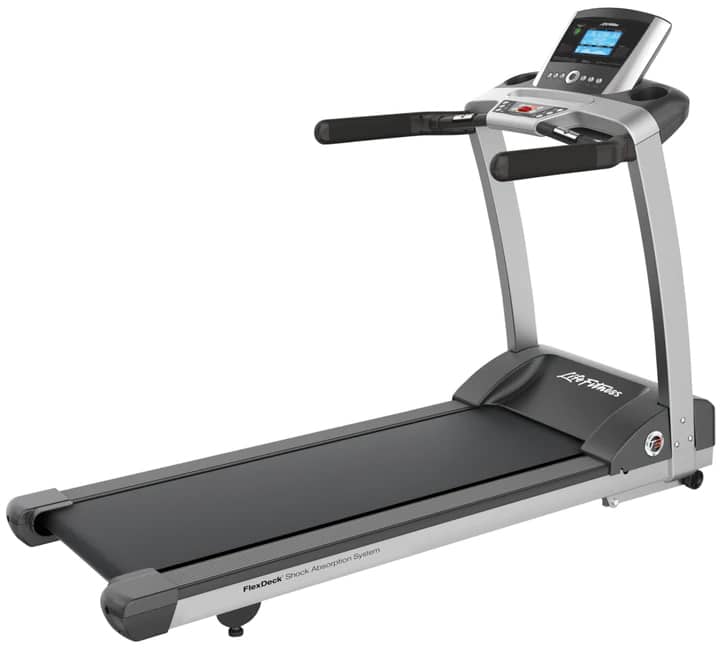 ---
Key Features:
High-Quality Life Fitness Equipment
The Life Fitness T3 treadmill with track connect console has a high-quality build. It has premium quality electrical and mechanical parts that impart durability and strength. The treadmill is heavy-duty equipment that can be used for sport training and high-intensity workouts. Also, it can bear a maximum user weight of 350lb which is almost 159kg.
The mechanical parts have the strength and are robust. Whereas, electrical parts are highly integrated and advanced to meet the needs of high-intensity workouts.
Heart Monitors
The Life Fitness T3 treadmill with track connect console monitors heart rate closely. The T3 treadmill supports wireless heart monitoring and contact hand sensors to monitor heart rate. Heart health is important and crucial to monitor and Life Fitness products help maintain good health and body. Exercisers must work out in an optimal heart rate range to avoid health risks related to the heart.
The wireless chest strap uses telemetry whereas contact hand sensors are built-in on handles.
Track Connect Console
The track connect console of the Life Fitness T3 treadmill is an advanced feature. It allows you multiple device connectivity. Popular fitness apps like Apple Health, Jawbone, FitBit, and RunSocial can be synced with the track connect console. The apps help you design custom workouts and also let you use the built-in workout options. These workout apps are highly effective as they monitor your progress and record it. They are extremely feasible to use.
Multiple Workout Programmes
The Life Fitness T3 treadmill with track connect console has also has 14 inbuilt workout programs (and the option to download even more from the Virtual Trainer Website). These programs differ in intensity. Also, you can create your own bespoke workout regime. The custom workouts give complete autonomy to the user. Moreover, the treadmill has three different incline positions, various speeds, and Go console options. The manual incline ranges from 0-15% where with each push you can increase the incline by 0.5% depending on the nature of your workout. The inclines are important as more incline means higher intensity and rapid weight loss. Also, inclines help tone muscles, especially around glutes and calves.
Also, the treadmill has various speed options ranging from 0.5mph -to 12mph. The speed can be increased according to your preferred workout. There are different speed settings for walk, jog, and run. Also, you can change the speed manually. It also remembers your preferred walk incline and speed for the next use. Fat burn, Cardio, Manual, Random, Hill, and EZ resistance are some key workout options.
Flexdeck Shock Absorption System
The flexdeck shock absorption system is a premium cushioning system included in Life Fitness Treadmills. This reduces joint stress up to 30%. Ordinary treadmills can be tiring and can cause joint damage with each step. Also, they can induce spine stress. The flexdeck shock absorption system reduces that risk and increases the comfort of the exerciser.
Exercisers who prefer high-intensity workouts are at higher risk of developing knee or spine problems. Flex deck cushioning is a top choice for such discerning users. It is safe to say that all Life Fitness Equipments are effective, and safe in terms of usage.
---
Warranty
The Life Fitness T3 treadmill with track connect console comes with a lifetime warranty on the welded steel frame. The flexdeck system also has a warranty of 10 years whereas, the motor is subjected to a 5 year warranty period. The track connect console has a 3-year warranty.
The terms and conditions of these warranties may vary from country to country. Above mentioned terms are limited to residents of the UK. Moreover, the longer warranty periods of different parts of the treadmill determine the manufacturers' confidence in the T3 treadmill with track connect console.
*Warranty may be subject to change without notice and may differ between retailers – please check carefully before making a purchase.
---
Pros And Cons
Pros:
Energy Saving Mode
The Life Fitness T3 treadmill with track connect console comes with a 3 horsepower dc motor. This MagnaDrive is a smart motor that has all different major voltage configurations. These help it to undergo an energy saver mode. The motor calculates the user's weight and withdraws power accordingly. That means the heavier the exerciser, the more energy is used.
Also, when you are not working out, the energy consumption is zero. It means you do not have to pay for the energy you did not utilize. This is an effort by Life Fitness to help reduce energy consumption and wastage. Moreover, this not only reduces energy consumption but also reduces electricity bills.
Life Fitness Virtual Trainer
The virtual trainer app can be connected to the connect console. This helps you create workout plans and execute them effortlessly. The virtual trainer website allows you to download unlimited workouts simultaneously enabling proximity login. 4 different user profiles can be created on the Life Fitness trainer app. The track console allows the connectivity to this app and data can be synced, recorded, and reviewed with great ease.
The trainer app is beneficial for those who find it difficult to maintain a workout diary. It helps you stay updated and connected with your workout routine and body changes throughout the sessions.
The Panels and Rack
The Life Fitness T3 treadmill with track connect console provides a gym-like experience with optimum tracking, multiple entertainment features, connectivity to interactive apps, and health monitoring. This can be very effective for an at-home exerciser. It has a compression rack, front-mounted accessory tray, sharp LCD display with blue background in the center, built-in reading rack, and much more. The compression rack securely holds oversized cup holders.
The lower control pad features capacitive touch keys of the most used workout opinions and settings. The LCD displays several readings, including heart rate, speed, incline, calories reduced, time, distance, miles, target heart rate, device connected, and all the synced data.
Entertainment Features
Entertainment is one of the patented features of the Life Fitness T3 treadmill with track connect console. Apart from track console and connectivity features, the treadmill allows you to connect to mobile devices. You can play music or watch movies as the rack holds mobile devices securely at eye level. The mobile device can be placed in the center throughout the workout, and the regime can be enjoyed.
Why get bored while working out? The T3 treadmill provides a complete range of entertainment to make the experience pleasing and effective. You can be more productive if you enjoy and vibe to your favorite music during workouts.
---
Cons:
Takes up too much storage space
Whereas, the Life Fitness T3 treadmill with track connect console is a great addition to the workout zone it can be difficult to store and manage. It is huge and does not fold. It can take up too much space and space can be a major concern for many. If you are living in small apartments and your space is already congested, the addition of this treadmill might worsen the space situation.
---
Overall Verdict:
The Life Fitness T3 treadmill with track connect console is one of the best home fitness equipment. It might be a streamlined choice of many discerning users because of its effective workout options, dual-panel design, energy-saving abilities, strength, and ability to withstand plenty of miles. Moreover, this Life Fitness Treadmill is preferred because of the connect console that allows multiple user logins and device connectivity. You can buy this home equipment without worrying about quality and safety.
---
---
FAQ's
Does the Life Fitness T3 treadmill with track connect console come with a workout fan?
No, the Life Fitness T3 treadmill does not come with a workout fan.
Is assembly included in the purchase?
No, assembly is not included.
Can the T3 treadmill be folded?
The Life Fitness T3 treadmill with track connect console can not be folded.
How can the T3 treadmill save energy?
The Life Fitness T3 treadmill with track connect console saves energy by monitoring body weight and withdrawing power accordingly. Moreover, it does not use energy while it is not being used.
Which apps can be connected to the T3 treadmill?
The T3 treadmill with track connect console can be connected to Apple Health, Jawbone, FitBit, and RunSocial.
How does the T3 treadmill monitor heart rate?
The two different sensors are used to monitor heart rate. The telemetry method is used by a wireless chest strap. You can wear the chest strap and it will detect signals and transmit them to the screen. Moreover, hand contact sensors are installed on the handles.
---
Affiliate Disclosure
In compliance with the FTC guidelines, please assume the following about all links, posts, photos and other material on this website:
Any/all of the links on this website are affiliate links of which GymFreakz receives a small commission from sales of certain items, but the price is the same for you.
www.gymfreakz.com is a participant in the Amazon Services LLC Associates Program, an affiliate advertising program designed to provide a means for sites to earn advertising fees by advertising and linking to Amazon.com & Amazon.co.uk. Pages on this site may include links to Amazon and its affiliate sites on which the owner of this website will make a referral commission.