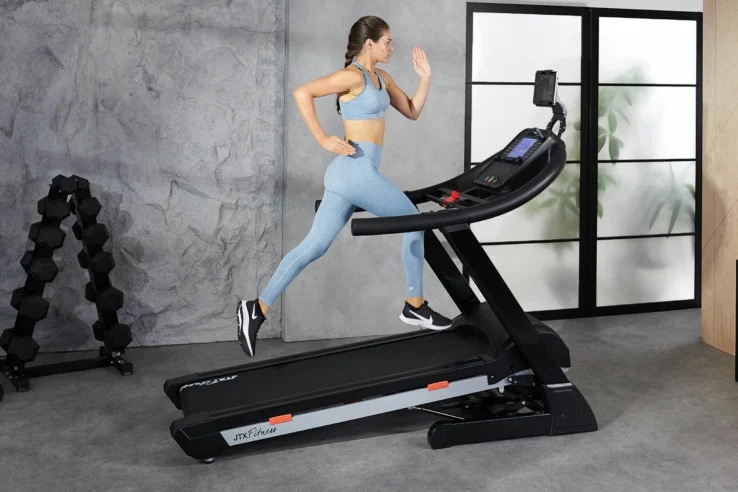 ---
---
Introduction to the JTX Sprint-9 Folding Gym Treadmill
You're in luck; as in this review, we will talk about a perfect treadmill for your usage –
The JTX Sprint 9.
This is an advanced treadmill that comes with a foldable structure which allows it to be perfect for tight spaces. Nevertheless, its powerful body accompanied by a strengthened motor allows it to be equally suitable for HIIT trainers.
In the later sections, we shall talk about its general specifications, popular features, user experience, and the final verdict.
So, if you're interested in finding out more about the treadmill, we've got all you need.
Disclaimer – This website contains affiliate links. If you find the information useful and click on a product link and make a purchase, a small commission will be earned by GymFreakz and we appreciate your support.
---
Specifications
Running Area: 153 x 52cm
Cushionstep™ Pro deck
Maximum speed: 20kph
Incline: 12% or 12 levels
Suspension: 8 Point commercial shock system
Computer Console: Displays time, pulse, speed, incline, distance, and calories burnt
Workout Programs: 24 Advanced training programs + 3 custom
Heart Rate Training: Via hand pulse sensors or heart rate chest strap (sold separately)
Commercial quality user detection
Power: 3 Horsepower DC Motor
Roller Size: Front Roller: 2.4″ / Rear Roller: 2.8″
Folded Dimensions: 92(w) x 116(l) x 180(h) cm
Dimensions: 92(w) x 205(l) x 147(h) cm
Floor to Deck Height 22 cm (8.7″) (Flat deck) – 30 cm (11.8″) (Inclined deck)
Boxed Dimensions: 99(w) x 223(l) x 43.5(h) cm
Safety Features: Safety key for emergency stop
Speakers: Yes
Transport Wheels: Yes
Maximum User Weight: 130kg (20.5 stone) (287 lbs)
Machine Weight: 131.6kg
Boxed Weight:145kg
Polar compatible: Built-in Polar receiver
Free Accessories: Free Tablet Holder
Assembly time: 20 mins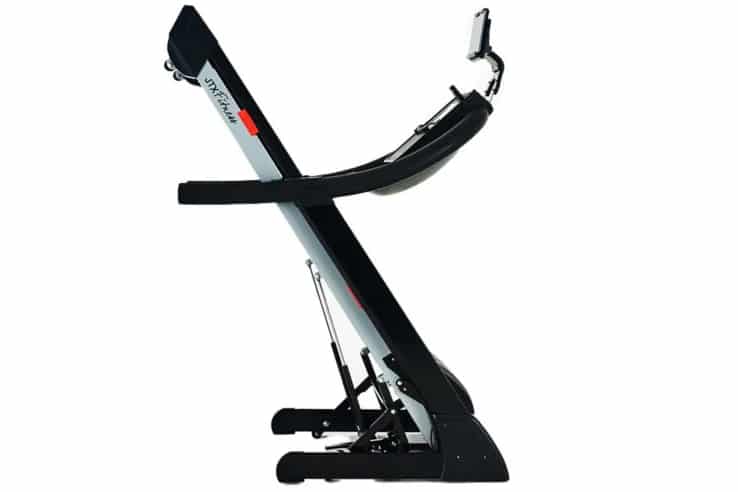 ---
Features
Extra-large running deck
If you are selecting a treadmill for your home, it is often difficult to reach a decision, as most home treadmills generally have a narrow belt which doesn't allow for a comfortable stride length or enough room to exercise freely.
If you choose a commercial treadmill, it will occupy your valuable floor space, which often isn't a user's wish either. JTX Sprint 9 is a solution for such owners; it comes with an extra-large running deck that contains a dual hydraulic folding system, which allows it to be suitable for most uses.
Similarly, the running deck isn't only great for its size, but it is also remarked for its Cushionstep cushioning that makes it a good choice for hard-core runners. For new users, it is hard to understand the importance of cushioning, so let me describe what it is.
Cushioning determines the ability of your belt to absorb and transmit impact. A concrete running track is stiff(no cushioning); thus, it transmits the full impact of a footstrike.
On the other hand, a treadmill belt is usually made of rubber and polytene, which absorbs the impact of a footstrike; hence, the user feels less impact. Cushioning is essential to ensure your ankles, joints, and knees don't have pain after high-intensity sessions.
JTX Sprint 9 treadmill comes with a remarkable BlackDiamond running belt cushioned by Cushionstep. The BlackDiamondTM running belt is a premium quality belt from JTX that lasts 50% longer than other treadmills.
High-grade suspension system
While discussing impact during running sessions, it is crucial to understand another factor closely related to impact. A poor suspension of a treadmill can cause a lack of stability in a treadmill that will lead to rattling and an inappropriate posture. Similarly, it will also mean that the life of your frame's structure is shortened, and you won't enjoy your sessions.
JTX Sprint 9 is a different running machine, and it is made to cater to the needs of its users. The JTX shock absorbers added to the machine allow it to absorb the impact of your foot strikes without transmitting them.
Similarly, the variable-durometer elastomer is another perk of the running belt that ensures the least impact is transferred and you don't feel fatigued after a few workout sessions. The treadmill structure ensures that your body posture is ready for the next stride and that you're on the right track for your fitness goals.
Advanced Computer
In the world of technology, a treadmill without a computer would feel obsolete, and it won't be able to cater to the needs of the user. Trainers are now looking for treadmills that can provide them with real-time statistics about their bodies, so they are well informed about their workout progress.
JTX Sprint 9 is a good choice if you are looking for a treadmill with an advanced computer. Alongside the general features, it comes with a massive 10 inch LCD positioned precisely to ensure that the trainer isn't distracted by its usage.
It contains all the necessary information about the workout, including a heart rate monitor, pulse sensors, calories count, and speed levels. The screen allows you to switch between different workout programs and make the most of your workout routine. The incline and speed buttons are located at proper positions to ensure they are easily accessible, and trainers don't have to break their concentration to change the intensity of their workout.
Free treadmill apps and technology
We can never get enough of technology, and in the changing world, the right training apps can take your workout to a whole new level. JTX Sprint 9 comes with a guide about fitness training apps that can be integrated into the machine.
The machines can be connected to a heart rate monitor and calorie counter to ensure your progress is maintained in the apps. JTX reviews include details about how these apps are to be used and whether they are beneficial or not.
The running apps can come in handy for improving your workout routine. A popular app amongst trainers using JTX sprint 9 is kinomap. Kinomap can be connected to the advanced Bluetooth console of the treadmill through your mobile.
The app's purpose is to take your thought to stunning landscapes from around the world during your running. It uses google maps technology to ensure excellent connectivity and efficiency.
24 workout programs
If you are switching from a commercial gym, where there's a trainer on hand who guides you, to a home gym, you might be thinking of an alternative for your fitness coach. However, with JTX sprint 9, you won't need to worry about getting a trainer for your workouts, as the treadmill has the perfect workouts to get you in the right shape.
It comes with 24 workout modes that are a mix of low, moderate, and high intensity. The composition of the workouts is done under the scrutiny of coaches to ensure that side effects can be prevented. However, if you feel that the intensity isn't right for you, you can still change it during the workout.
If you have been following an effective workout routine before switching to JTX sprint 9, you can integrate the pattern into the workout mode. The treadmill allows you to insert three custom modes that let the user add three exercise patterns that they like.
The workout program also contains several HIIT workouts that can help young trainers increase their weight loss and shift gears in their weight loss journey.
Made to endure High Intensity
If you are looking to burn calories rapidly and get rid of your weight, just walking alone won't bring good results quickly; you will need to perhaps consider high-intensity workouts into your training routine to achieve your results.
However, not all treadmills are made to bear high intensity. Some come with a small motor that lacks the power, while others have low-quality components that aren't made to function at high intensity.
JTX Sprint 9 isn't one of them. It is made with high-quality components that make it ideal for your high-paced jogs. The powerful motor accompanied by a heavy gauge steel frame allows it to be smooth during your running sessions.
With a maximum speed of 20 km/h and 12% incline, it can help you make the most of your workouts. The high-quality components accompanied by high-intensity performance make it ideal for HIIT workouts.
Similarly, the positioning of speed incline buttons makes it easy for trainers to change their exercise intensity without getting distracted or risking an injury. A maximum user weight of 130 kilograms is another added feature that makes it applicable for a wide range of users.
>>Check out our roundup of the best running machines on Amazon<<
---
---
Warranty
Lifetime frame warranty
Three year home warranty including all parts and labor
10-year motor warranty
1-year commercial warranty
28-day money-back warranty
*Warranty may be subject to change without notice and may differ between retailers – please check carefully before making a purchase.
---
---
Overall Verdict:
If you have been reading till here, I assume you are considering the purchase decision but aren't sure if JTX Sprint 9 will be the perfect match?
I would suggest the treadmill for most treadmill users who have the required budget and are looking for an appropriate running machine.
The machine has the necessary features to last as long as you want. JTX's production has a list of treadmills that are popular in the market; so we are pretty sure about the reliability and after-sales service from the company
The high-end specifications of the treadmill also make it suitable for high-intensity trainers. The integrations with other applications mean that the trainers can always have a good understanding of their progress. The treadmill has everything you need to achieve your fitness goals and attain better physical health.
However, a treadmill can only help support you achieve your goal, but it can never achieve the goal for you on its own.
You will need to make the right use of the treadmill to get good results and consistency is the key to achieving success in your goals. The fitness results are slow initially, but you will certaianly reach your dream body with determination.
---
---
---
What I Liked About This Treadmill / Things That Could Have Been Better
Overall, JTX sprint 9 is a complete package. It has everything that you would like in a treadmill. I have been using it for more than ten months, and I have never been disappointed by my decision.
The best thing about the treadmill is its Black diamond rubber belt that comes with proper cushioning. I have been running on treadmills all my life, and I understand the difference between cushioning as soon as I complete my first session.
The elastomer belt keeps you moving; the elasticity creates the second step on its own, and it requires a lot less effort. Since I have started using JTX sprint 9, I have felt a new spark in my body, and the regular fatigue is gone.
The heavy metal gauge frame is another plus point; the treadmill is placed at my gym, so it is generally under use at all times. I was looking for a treadmill with a solid build quality, so I don't have to constantly call out for repairs.
The lifetime frame warranty motivated me to select JTX Sprint 9 because if a brand provides a lifetime warranty, the product is solid and should therefore last for a long time and as I've mentioned, I am pretty impressed with its build quality since I started using it. The treadmill has shown no signs of rattling or irregular vibrations.
However, there were a few things that I wanted for the treadmill. First, unlike other treadmills of JTX, it doesn't come with free assembly, so you will have to assemble it yourself. The process is simple, and it takes about 20 mins to get it ready for use.
I also believe that the 10-inch screen could be made to fit multiple uses rather than just the heart rate and calorie monitor. JTX should have added the similar LCD that comes with JTX club max as it contains several more options that enrich the trainer's experience.
>>Take a look at our list of the Best Treadmills On Amazon here<<
---
FAQ's
Is JTX sprint 9 prone to home repairs?
It is a pretty common question, and the answer is simple. The treadmill is made of high-quality components, which speaks for its reliability and strength. The treadmill also comes with a 3-year warranty, so if you face any problem within the time, you will have free parts and repair services.
Is it good for a home gym?
Usually, home gym owners have to compromise between a smaller running deck or valuable floor space. However, JTX sprint 9 comes with a dual hydraulic folding system, which means the belt can be folded once it's not in use.
Some Additional Points
Obesity is at its highest, and our health is deteriorating like never before. The problem doesn't lie in our calorie consumption but the lack of exercise. A survey showed that 66% of people couldn't figure out the time to work out twice a week. Be it our family commitments or the complexities of our job, we have to give up on our health to enjoy the colors of life. The further we go from a healthy lifestyle, the shorter our life will be.
The recent reports by an independent hospital have shown a rise in heart attacks due to rising cholesterol levels. Previously, these diseases were mainly found in aged people due to their reduced immunity.
However, the problem has now seeped into young individuals. 2021 recorded the highest number of heart attacks among people aged between 21-40. No one of us would like to leave our loved ones, nor would we want to sadden them with our poor health. Hence, it is essential that we start taking care of our health.
If you are worried about your health but can't figure out the time to go to a gym, getting a treadmill is the best decision. Reports suggest that treadmills can burn up to 1000 calories within one hour.
The introduction of HIIT workouts means that a wide range of exercises is available. The broad diversity in workouts can cater to changing needs of individuals and thus, give everyone a chance to improve their health without compromising on their choices.
However, the dilemma doesn't end here. Although a treadmill is a fantastic choice for fitness equipment, treadmill selection isn't as simple as you think. There are more than five different types of treadmills that are fit for other uses. Similarly, every kind of treadmill contains hundreds of treadmills from multiple manufacturers that have different specifications and prices.
For a beginner, it can be perplexing to decide which treadmill is the best for them. They can't differentiate between the importance of different specifications, and everything looks the same.
Also, the hefty price tag of a treadmill isn't easy to let go for most individuals, and no one would want their decision to go wrong. If you were in a similar dilemma I hope this article has helped.
---
Affiliate Disclosure
In compliance with the FTC guidelines, please assume the following about all links, posts, photos and other material on this website:
Any/all of the links on this website are affiliate links of which GymFreakz receives a small commission from sales of certain items, but the price is the same for you.
www.gymfreakz.com is a participant in the Amazon Services LLC Associates Program, an affiliate advertising program designed to provide a means for sites to earn advertising fees by advertising and linking to Amazon.com & Amazon.co.uk. Pages on this site may include links to Amazon and its affiliate sites on which the owner of this website will make a referral commission.