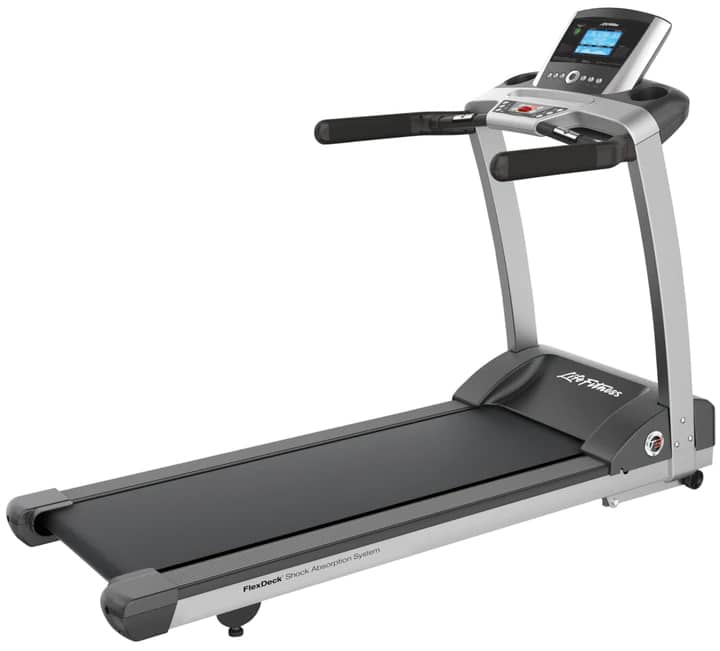 ---
---
Introduction to the Life Fitness T3 Treadmill, Go Console
If you are a serious runner or someone who is really upset about not being able to follow a fitness regime, home fitness products are the solution to your problems. With so much gym equipment on the market, it is hard to decide what you really want for yourself. Treadmills are basic yet the most effective gym equipment for your home setting. Treadmills burn calories faster and help you stay in shape.
Life Fitness is a fitness brand that has served as one of the best fitness solution providers, for years. The company is dedicated to creating fitness solutions for people of all shapes and ages. The level of comfort is not compromised with advanced functionality, but both compliments each other to increase the effectiveness of the Life Fitness treadmills and the T3 treadmill with Go Console is one of their finest products.
What do you expect when you think of a premium quality treadmill? Sleek aesthetic curves, and patented features? Well, Life Fitness T3 Treadmill is a deadly combination of both. The aesthetically pleasing curves complement the home setting and give it a modern touch. Its advanced features and well-integrated console features make it a great choice for your home.
The Life Fitness T3 treadmill with Go Console has all modern-day features that promote healthy and active lives. It comes with wireless heart rate monitoring, multiple workout programs, internet connectivity, a virtual trainer, a Go Console, custom workouts, and multiple settings for speed and incline. If you are looking for premium quality gym equipment, the T3 treadmill should be at the top of your list.
Disclaimer – This website contains affiliate links. If you find the information useful and click on a product link and make a purchase, a small commission will be earned by GymFreakz and we appreciate your support.
---
Specifications
Brand: Life Fitness
Model: T3 with Go Console
Minimum Speed: 0.5 mph
Maximum Speed: 12 mph
Dimensions: 79.5 in x 34.5 in x 57.5 in (lxwxh)
Running Surface Size: 60 in x 20 in
Incline Range: 0 – 15%
Incline Increment: 0.5 %
Equipment Weight: 243 lb
Ergobar: Yes
Walk, Jog, Run: Yes
Wireless Heart Rate Monitor: Yes
Integrated Accessory Tray: Yes
Integrated Reading Rack: Yes
Maximum User Weight: 350 lb
Wireless Chest Strap: Yes
Power Requirements: All major voltage settings
Shock Absorption: FlexDeck Shock Absorption System
Motor System: 3.0 HP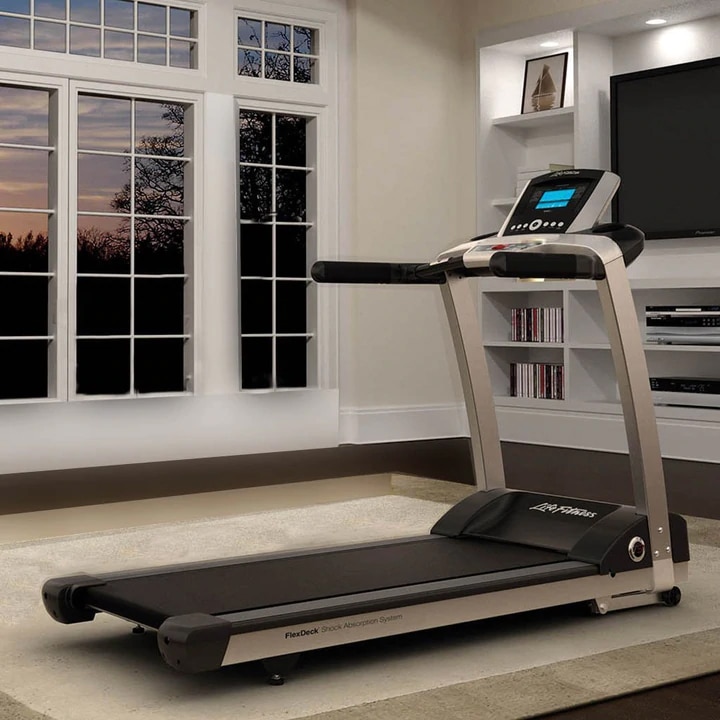 ---
Key Features:
Durability and Strength:
The Life Fitness T3 treadmill excels over other ordinary treadmills when it comes to durability and strength. T3 treadmill is a heavy-duty construction with quality electrical and mechanical parts. The equipment can bear a maximum user weight of 350 lb, which is almost 70% more than the equipment itself weighs. The commercial-grade rollers and design make it stronger and more durable and due to its 'concrete strength' has made it last longer. Moreover, the material used in its welded frames and sparkly texture is also of high quality.
Heart Rate Monitoring:
The Life Fitness T3 treadmill suggests a suitable heart range for workouts with wireless heart rate monitor and contact sensors. The wireless heart rate monitoring is aided by a chest strap, that comes free with each purchase. The chest strap is wireless and transmits heart signals to the LCD screen, where you can monitor optimum heart range. Apart from telemetry heart monitoring, contact sensors are installed on the handles for the same purpose. The purpose of heart rate monitoring is to prevent the trainee from any heart damage during workouts.
User-Friendly Go Console:
The Life Fitness T3 treadmill comes with an advanced Go Console and track console. The Go Console offers immediate settings and easy presets for speed, incline, and workout type. The dual-zone of the Go Console is a ravishing feature introduced. The upper console features the entertainment zone.
The convenient lower control pad has all the programming related workout settings and presets. The capacitive touch keys illuminate when in use and include the keys for inclines, speed, workout programs, user profiles, connectivity, and much more. Moreover, the tracking console allows you to connect to popular fitness apps like Apple Health, MyFitness App, and more.
Unlimited Workouts and Four User Profiles:
The Life Fitness T3 treadmill features 16 built-in workout programmes. Moreover, it also allows you to create your own fitness programme by using its custom workouts. Two different profiles can be created on the console. These profiles are well separated and for each profile, the preferred walk and run speeds and inclines are remembered by the treadmill. The preferred walking and running speeds are recorded and saved for the next use.
Now you can create unlimited workouts and get your fitness programme started. These programs include sport training, hill climb, cardio, regular walk, fat burn, pace workout programmes and hill as well as manual and random programs.
Flexdeck Shock Absorption System:
This premium quality home gym equipment has flexdeck shock absorption system that reduces joint stress and provides comfort to the knees. Now you can lead active lives without compromising your bone health. Usually, during extensive workouts, the stress on the spinal cord and knee joints can be injurious. This can cause sore joints and painful experiences. With Flex Deck shock absorption, the stress is reduced by 30%.
---
Warranty
Life Fitness treadmills have longer warranty periods because of high-quality components that are used in their making. This Life Fitness treadmill comes with a lifetime guarantee on the steel frame and a 10 years warranty on the motor. Also, Life Fitness provides 5 years, 3 years, and a one-year warranty on parts, console, and labour respectively. Also, it is important to note that the terms and conditions and warranty periods might differ outside the US.
*Warranty may be subject to change without notice and may differ between retailers – please check carefully before making a purchase.
---
Pros And Cons
Pros:
Quick Start:
Quick Start is the key feature of Go System. The Go Console is designed to facilitate the trainee and reduce adjustment issues. The Life Fitness T3 Treadmill with Go Console provides a quick start menu and easy to adjust settings with presets. The speed and incline presets enables quick adjustments for effective workouts. There are three inclines and three-speed presets on the Go Console. Moreover, with the quick-start button, you can start your regular workout routine within seconds.
The easy to read interface of the go system makes it user-friendly and feasible to use. Many people may struggle with adjusting their workout programme prior to each workout. This problem has been solved with the help of a modern and efficient quick start menu.
Connected Experience:
Life Fitness T3 provides connected experience and more personalised training. The treadmill with Go Console helps you create new fitness aims and achieve them. The T3 treadmill has three different incline positions and an option to adjust these inclines by a 0.5% inline increment. Also, the speed can be altered between 0.5 mph-12 mph. Also, you can enjoy the race mode, or light walking by adjusting to the required speed setting. Apart from these exclusive features, it has a built-in reading rack, front-mounted accessory tray, and oversized dual cup holders for added convenience.
Moreover, the T3 treadmill with Go Console has app connectivity options that enable you to connect with different fitness apps. The virtual trainer by Life Fitness can help you achieve your fitness goals in no time.
LCD and Workout Feedback:
The Life Fitness T3 treadmill with Go Console has a sharp LCD display in the centre of the console. It has easy to read graphics and blue background. It displays feedback from workouts like your heart rate, calories burnt, miles travelled, speed, incline, workout mode, time, and devices connected.
Energy Saving Mode:
The smart motor of the Life Fitness T3 treadmill with Go Console reduces energy consumption with its energy-saving mode. This amazing feature is a step toward going green campaign. The aim is to reduce energy losses. The energy consumption is reduced by using energy only when the treadmill is in use. On standby, the treadmill does not consume energy. Moreover, the smart motor detects the weight of the trainee and draws power accordingly. The lighter the trainee, the less the energy is drawn. This is a great and appreciable initiative by Life Fitness.
---
Cons:
Does Not Fold:
The Life Fitness T3 Treadmill is not a folding treadmill. This gym equipment is a huge addition to your home. Although it has a sleek design and aesthetic touch it still requires a generous area for storage and functionality. Its dimensions are 79.5 in x 34.5 in x 57.5 in (lxwxh) with a running surface of 60 in x 20 in.
If you are looking for workout equipment for small houses or apartments, you might try searching for a foldable treadmill for convenience.
---
Overall Verdict:
This Life Fitness equipment is one of the best treadmills in the fitness industry. The high-quality features provide trainees with a personalized and connected experience. If you are looking for home fitness equipment that is professional and also goes perfectly with your anterior, then keep your eyes on the Life Fitness T3 treadmill – we have nothing but praise for this Life Fitness equipment.
Moreover, over the last few decades, the needs of the trainees have changed massively. They demand modern technology, sturdy and heavy-duty construction, and most importantly express delivery of results.
Well, the T3 treadmill checks all these boxes so don't postpone any longer – buy the Life Fitness T3 treadmill for the ultimate training experience.
---
---
FAQ's
Is a wireless chest strap included in the package, if we buy a T3 treadmill?
The chest strap is free with the T3 treamill.
How can I claim a warranty on the Life Fitness T3 treadmill?
The warranty terms and conditions vary from country to country. But you can claim your warranty within the period by contacting your service provider and providing him with the proof of purchase and delivery date.
Does the T3 treadmill only come with a Go Console?
No, the T3 treadmill comes with both a Go Console and a Track Console.
How can I get express delivery and free installation when I buy a T3 treadmill?
The express delivery will cost you some extra charges, and the free installation varies from country to country. If you are living in the US, you can avail this option by contacting your services providers soon after the equipment has been delivered. Do not wait for months.
---
Affiliate Disclosure
In compliance with the FTC guidelines, please assume the following about all links, posts, photos and other material on this website:
Any/all of the links on this website are affiliate links of which GymFreakz receives a small commission from sales of certain items, but the price is the same for you.
www.gymfreakz.com is a participant in the Amazon Services LLC Associates Program, an affiliate advertising program designed to provide a means for sites to earn advertising fees by advertising and linking to Amazon.com & Amazon.co.uk. Pages on this site may include links to Amazon and its affiliate sites on which the owner of this website will make a referral commission.