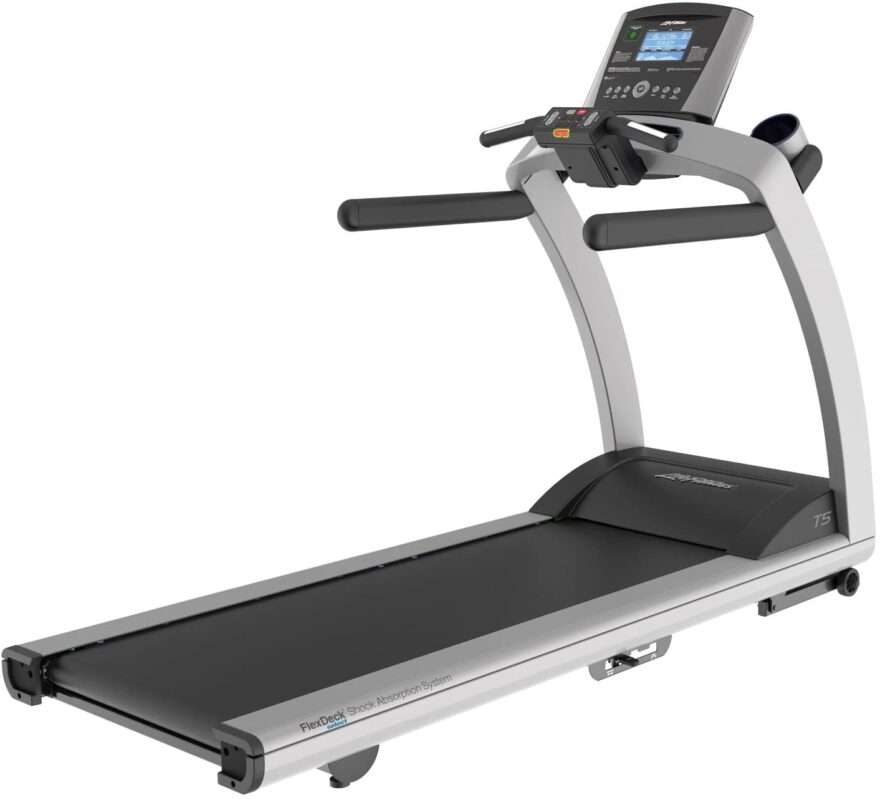 ---
---
Introduction to the Life Fitness T5 Treadmill with Go Console
Without proper fitness equipment, the workouts may seem to yield zero results. Life Fitness T5 Treadmill with Go Console is a heavy-duty treadmill for a home setting. The treadmill offers a gym-like experience and effective workout programs that help you stay in shape.
If you are tired of using different fitness products, you must try treadmills by Life Fitness. The brand aims to provide the best fitness solutions for a healthy lifestyle. It has developed treadmills that are unique in appearance and function. The sleek design and easy to read interface make it premium quality gym equipment.
T5 is a trademark gym equipment by Life Fitness, with more than one amazing feature. Apart from its stylish outlook, it has wireless heart monitoring, more than 16 built-in programs, a custom workout menu, easy connectivity to popular apps, generous track width and length, greater durability and strength, and energy-saving qualities.
Life Fitness T5 is a popular choice due to its heavy-duty construction, commercial-grade rollers, and high-quality electrical and mechanical parts. This life fitness model offers unlimited workouts and great efficiency. Many athletes and runners prefer T5 treadmill due to its durability and efficiency. The treadmill keeps both your physiological and physical health at its best with heart rate monitoring and a select shock absorption system.
Disclaimer – This website contains affiliate links. If you find the information useful and click on a product link and make a purchase, a small commission will be earned by GymFreakz and we appreciate your support.
---
Specifications
Brand: Life Fitness
Model: T5 with go console
Color: Platinum
Min Speed: 0.5 mph
Max Speed: 12 mph
Walk, Jog, Run: Yes
Incline: 0 – 15%
Incline Increment: 0.5 %
Built-in Programmes: 16
Integrated Accessory Tray: Yes
Ergobar: Yes
Workout Fan: No
Equipment Weight: 155 kg
Maximum User Weight: 182 kg
Running Surface Size: 153 cm x 56 cm
Intuitive Treadmill Recalls: Yes
Integrated Reading Rack: Yes
Motor System: 3.0 HP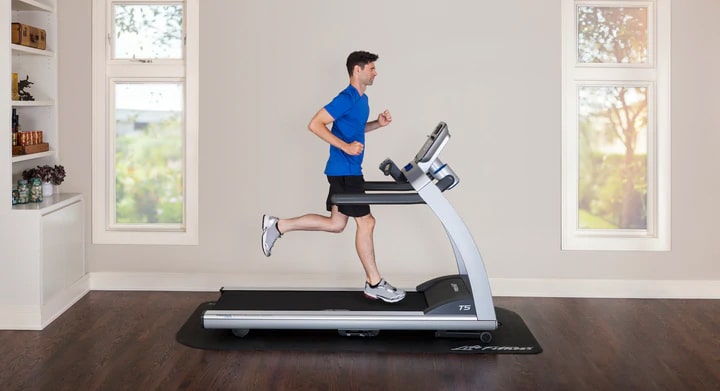 ---
Key Features:
Flexdeck shock absorption system
The flexdeck shock absorption system provides extra safety and reduces body shock by up to 30%. This feature is a prime quality of heavy-duty gym equipment. Life Fitness T5 treadmill with go console comes with the highest quality shock absorption system that not only reduces joint stress but also makes it easier to work out for people with backbone issues.
A treadmill without a shock absorption system can cause severe stress on your knee and spinal joints that can result in life-threatening health conditions. Life Fitness ensures the safety of users such that their health is not compromised during workouts.
Go Console
The Life Fitness T5 treadmill features an exclusive Go Console. The console has upper and lower pads. The upper pad has connectivity options that are offered by the track connect console. The track console allows you to connect to popular fitness apps and enjoy unlimited custom workouts.
The lower control pad has several easy-to-use pushbuttons for quick start, three-speed presets, three inclines presets, a telemetry heart monitoring system and for added convenience, it has cup holders. The Go Console with track console helps you perform different physical activities without changing the settings before each use. The smart system remembers your preferred walk and speed settings for convenience.
Heart Rate Monitoring
The Life Fitness T5 treadmill with go console comes with a dual heart monitoring system. Telemetry heart rate monitoring uses a wireless chest strap to detect the heart rate and predict safety limits. Also, the treadmill has contact handlebar sensors. The contact sensors use the skin to determine heart rate.
The heart rate monitors are designed to warn about extreme heart rate conditions during workouts. Life Fitness T5 treadmill with go console suggests a safe heart rate range for daily workouts. Heart rate monitoring prevents health or heart damage during extreme workouts.
Programs, Inclines, and Speeds
The Life Fitness T5 treadmill with go console offers 16 built-in workout programmes. Moreover, it allows you to create customised workouts as per your convenience and preference. The pace workout programmes include manual, random, hill, resistance training, sport training, fat burn, cardio, heart rate hill, jog, run, walk, and many more. You can get your fitness programme started with a click with the help of a new well-integrated Go Console.
The go console offers three customizable speed presets and three incline positions. Also, the smart system remembers your preferred walk, speed, and incline settings. The preferred speeds and walk options allow you to quickly start working out without the worry of changing settings each time you step up on the treadmill.
Commercial Quality Life Fitness Treadmill
The Life Fitness T5 treadmill with go console can beat any other treadmill in the competition due to its commercial quality buildup and durability. The T5 treadmill is a heavy duty construction with commercial grade rollers and a select shock absorption system. The generous running area of the T5 treadmill track is what makes it best suited for athletes and runners. Moreover, you can change the surface firmness with running surface firmness settings. The adjustable running terrains give the treadmill a more commercial feel.
---
Warranty
Longer warranty periods indicate the manufacturers' confidence in their products. Life Fitness offers a lifetime warranty on the frame and the lifespring shock absorbers. Moreover, there are different warrant periods for different parts of the treadmill. The manufacturers offer a 10-year warranty on the motor, a 7 years warranty on electrical and mechanical parts, and a 3-year warranty on the go console. These terms and conditions of the warranty are valid for the residents of the US. Outside the US, the warranties may vary.
*Warranty may be subject to change without notice and may differ between retailers – please check carefully before making a purchase.
---
Pros And Cons
Pros:
Energy Efficient
The Life Fitness T5 with go console is highly energy efficient as it has a well-integrated smart motor system. The smart motor reduces the power draw as per the body weight. It measures the weight of the person, and then accordingly draws power. The heavier the person, the greater power is used to run the treadmill. The energy saving mode uses zero power when the treadmill is not in use. It means you only have to pay for the energy you used. The energy consumption is reduced, and so are electricity bills. The Life Fitness treadmills are dedicated to reducing energy losses and saving energy.
Personalised Training
The Life Fitness Treadmills offer complete personalized training settings and experience. Life Fitness T5 treadmill has a connect console for more personalised training. You can connect multiple fitness apps and custom workouts. The go system, on the other hand, provides feasibility and easy to read settings. All the programming of the go and track connect console is integrated to help the trainee work efficiently.
Custom workouts can be created on fitness apps. This gym equipment supports famous apps like Apple Health, FitBit, JawBone, and Life Fitness Virtual Trainer. The virtual trainer keeps a complete track of your performance and workout sessions. Moreover, the treadmill allows you to create two user profiles so multiple people can save their workout plan and benefit from it.
Entertainment Features
The welded steel frame holds in the center, a console and has a clear LCD Display. The LCD shows all the selected settings, heart rate, speed, incline, time, calories, miles, and most importantly all the connected devices. The T5 track connect console allows you to connect to multiple fitness apps.
It also has an integrated reading rack that can also hold your cell phone. You can enjoy your favorite music, listen to a book, or just surf through your social handles while you work out. The side rails accessories include cup holders, phone docks, and an accessor tray apart from the reading rack.
---
Cons:
Requires Space and Difficult Configuration
The Life Fitness T5 treadmill requires space as it has a standard length but appreciable width of the running track. It is not best suited for smaller homes or apartment settings. It requires a considerable amount of space and does not fold. At this point, one appreciates the benefits of a folding treadmill. If you have plenty of space for the installation of the T5 , it is one of the best treadmills on the market.
Though Go Consoles are easy to read and understand; some people may find the T5 console difficult to configure. It requires initial settings that some people may not be able to understand. Moreover, professional installation can help you save time and hassle of initial configuration.
---
Overall Verdict:
If you are looking for high-quality yet reasonable gym equipment for your home, the T5 treadmill by Life Fitness is your best option. It has a heavy-duty build that is compatible with people of all ages and shapes. Moreover, it offers a wide range of workouts and connectivity options.
The personalized training and easy-to-use Go console make it a wise choice for homes. T5 treadmill is best among other similar gym equipment available on the market as it is lighter on the pockets but highly efficient. If you have made up your mind about buying this treadmill, do not think twice as it is a one-time investment to a healthy future.
---
---
FAQ's
What apps are compatible with T5 treadmill with go console?
Life Fitness T5 is compatible with Apple Health, FitBit, JawBone, and the Life Fitness Virtual Trainer. You can connect these through the track connect console.
Is the wireless chest strap included in the package when you buy Life Fitness treadmill?
Yes, the wireless chest strap comes in as a free gift on each purchase.
Is the track connect console supported by the T5 Treadmill?
The T5 Treadmill comes with both a go console and a track connect console.
How can I pay for the T3 treadmill?
The payment method for the T3 treadmill is very convenient. You can pay by card or cash on the delivery date.
---
Affiliate Disclosure
In compliance with the FTC guidelines, please assume the following about all links, posts, photos and other material on this website:
Any/all of the links on this website are affiliate links of which GymFreakz receives a small commission from sales of certain items, but the price is the same for you.
www.gymfreakz.com is a participant in the Amazon Services LLC Associates Program, an affiliate advertising program designed to provide a means for sites to earn advertising fees by advertising and linking to Amazon.com & Amazon.co.uk. Pages on this site may include links to Amazon and its affiliate sites on which the owner of this website will make a referral commission.