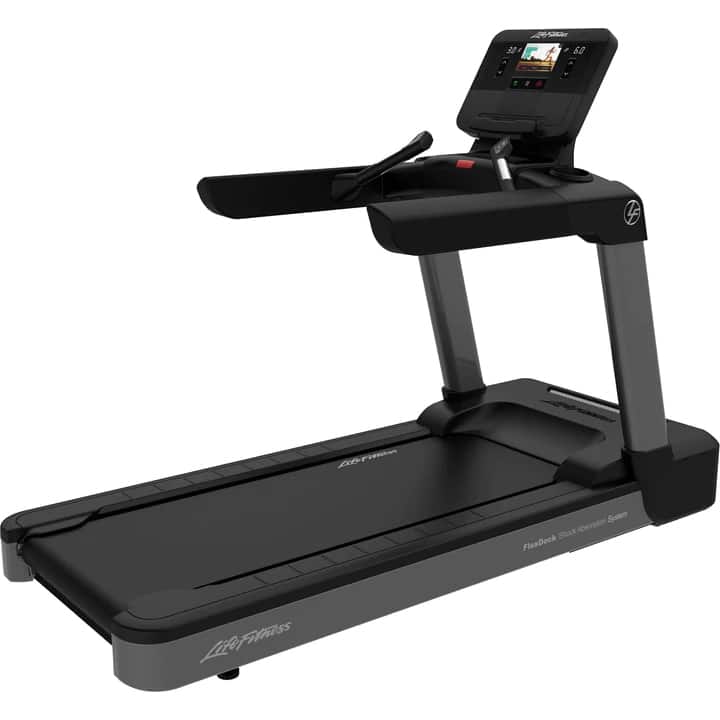 ---
---
Introduction to the Life Fitness Club Series+ Treadmill
Life Fitness presents its Club Series treadmill whose advanced exercise technology provides a premium running experience.
If you want a health club-quality treadmill with easy-to-use technology and sophisticated functions, the Life Fitness Club Series Treadmill is an excellent place to start.
Based on 20 years of dependability and cardio excellence, this high-end club-quality treadmill has made it a favourite among health clubs all over the world.
The Life Fitness Club Series Plus treadmill provides auto refreshed trending workouts, sleek design, and the same world-class facilities you'd expect, making it highly competitive with all other gym-quality treadmills. Its advanced technology is not just limited to an intuitive touchscreen console, internet connectivity, and custom workouts.
The Life Fitness Club Series is a trainer designed to create a connected running experience with immediate workout feedback and results. This Life Fitness equipment is a workhorse treadmill that promises strength, durability, and a concrete sturdy look.
If you are deeply into fitness and want professional gym equipment, Fitness Club Series is the latest gym-quality treadmill that is considered the best for your home fitness routine.
Disclaimer – This website contains affiliate links. If you find the information useful and click on a product link and make a purchase, a small commission will be earned by GymFreakz and we appreciate your support.
---
Specifications
Brand: Life Fitness
Model: Life Fitness Club Series Plus
Material: Steel
Maximum Speed: 12 mph
Minimum Speed: 0.5 mph
Incline: 0-15%
Incline Increment: 0.5%
Dimensions: 82in x 36in x 56in (lxwxh)
Running Surface: 22in x 60in
Equipment Weight: 197kg
Max User Weight: 182kg
Connectivity: Yes
Intuitive Touchscreen Console: Yes
FlexDeck Shock Absorption: Yes
Telemetry Heart Rate Monitoring: Yes
Contact Heart Rate Sensors: Yes
Motor System: 4 HP AC Peak Performance Motor
Folding Treadmill: No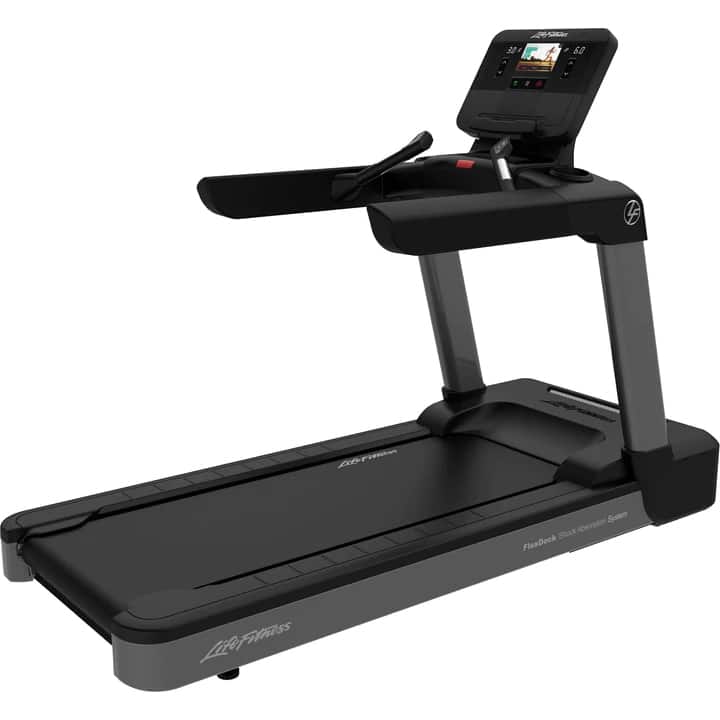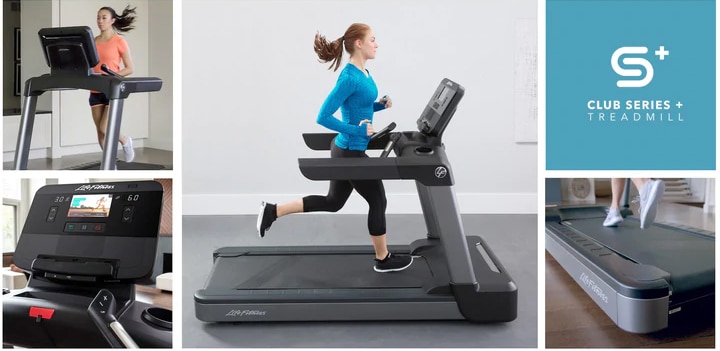 ---
Key Features:
Multiple Consoles:
This Fitness Club Series Treadmill features multiple consoles. You can select from three exclusive options that include, SE3 HD Console, ST Console, and SL Console. The intuitive touchscreen console creates a personalized experience as your last workout data is saved and your preferred settings are restored.
Advanced Technology:
The advanced technology of the Life Fitness Club Series saves workout performance history for added convenience. Moreover, the intuitive touchscreen console creates backup data for your previous workout and your workout performance history for effective workouts. You can also adjust incline positions with almost feasibility with remote speed and incline control built into the handlebars.
Connectivity:
The Life Fitness Club Series also connects you to health clubs worldwide. You can connect to your favourite apps and upload, receive and send workout data all across with Bluetooth or NFC connection. Moreover, the consoles are compatible with RunSocial, Life Fitness Connect App, RideSocial, and all other popular fitness apps.
Durability and Strength:
The Fitness Club Series Plus treadmill fits your requirements of strength and durability. It is a workhorse treadmill with a modern design, aluminium kick resistant endcaps, welded steel frame, commercial-grade rollers, and high-quality front roller lift wheels.
The heavy-duty treadmill can bear a maximum user weight of 182kgs. Its reinforced upright design ensures strength and longer warranty periods determine its greater durability.
Modern Design:
The Life Fitness Club Series has a reinforced upright design and a sleek finishing that goes with your home perfectly. Not only does its exterior complement the setting of your house but it has been designed with the exerciser's insight.
This gym equipment offers well-integrated handlebars with remote speed controls and incline control built within them. The consoles are given luxurious yet very functional touch.
Room to Run:
This Life Fitness home gym equipment is wide enough to facilitate the arm movement of the exerciser with this series treadmill giving more room for easy arm movement. More room is created by the generous width of the running surface and the positioning of the console is set at the eye level of the user.
Optimum Shock Absorption:
The Flex Deck Shock Absorption system is integrated into the Fitness Club Series Treadmill. This deck system reduces body shocks by up to 30%. It provides comfort for the knee joints.
---
Warranty
The Fitness Club Series Treadmill covers a Life Fitness Warranty of a lifetime on the frame and a ten years warranty on the electrical and mechanical parts.
*Warranty may be subject to change without notice and may differ between retailers – please check carefully before making a purchase.
---
Pros And Cons
Pros:
Connected Running Experience:
The Life Fitness with its Fitness Club Series Treadmill provides a connected running experience with its advanced features. With Club Series Treadmill you can connect to different health clubs worldwide and stay in touch with trending workouts.
Moreover, this gym equipment allows you to connect to different devices during workouts with NFC Connection or via Bluetooth. Also, the Club Series Treadmill provides a more personalized experience.
Home and Light Commercial Use:
Life Fitness has always created the best fitness solutions for home or gym workouts. This Life Fitness Club Series Plus Treadmill is gym equipment that is best suited for home and light commercial use.
LCD and Workout Data:
Life Fitness Club Series features a sharp LCD and workout replay options. The workout data is automatically saved with each use. The Series Treadmill can also auto-refresh trending workouts, and recall automatically saved data with one click.
The touch screen LCD and workout manual include manual workout, hill, rolling hills, speed interval training, incline interval, calories, distance, time goal, and 10 most effective workout programs including cardio. Overall 22 programs are inbuilt for the exerciser with the option to create custom workout programs.
---
Cons:
Difficult to Configure:
Though the Life Fitness Club Series has a slightly complicated interface. Some people might find it difficult to create profiles or recall saved data from the last workout.
---
Overall Verdict:
The Life Fitness Club Series is designed with exerciser insight. Thus, this Club Series treadmill is one of its kind. With a unique physical look to modern advanced features, this is a complete package for home and light commercial use. If you are looking for a quality fitness solution for regular use, Life Fitness Club Series Plus is the treadmill for you.
---
---
FAQ's
Does the Fitness Club Series treadmill come with an SL console?
Yes, the treadmill features an SL console. Also, the Club Series Treadmill comes with three different console options to choose from. These consoles include SE3 HD Console, ST Console, and SL Console.
Are auto refreshed trending workouts supported by Life Fitness Club Series?
Auto-refresh workouts are a key feature of the Fitness Club Series Treadmill.
Is there a free installation with each purchase of the Fitness Club Series Treadmill?
The free installation depends on the country where you are buying Fitness Club Series Treadmill. If you are buying the Club Series Treadmill in the US, the services providers may offer free professional installation.
What is meant by push workout data?
The Club Series Treadmill gives you the option to push your workout data to different devices. This is done with Bluetooth or NFC connection.
---
Affiliate Disclosure
In compliance with the FTC guidelines, please assume the following about all links, posts, photos and other material on this website:
Any/all of the links on this website are affiliate links of which GymFreakz receives a small commission from sales of certain items, but the price is the same for you.
www.gymfreakz.com is a participant in the Amazon Services LLC Associates Program, an affiliate advertising program designed to provide a means for sites to earn advertising fees by advertising and linking to Amazon.com & Amazon.co.uk. Pages on this site may include links to Amazon and its affiliate sites on which the owner of this website will make a referral commission.