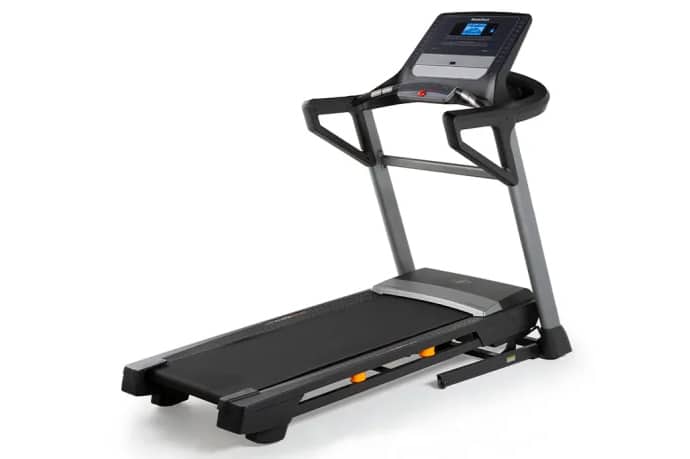 Introduction to the Nordictrack Elite 7.0 Treadmill
The Elite 7.0 Treadmill is one of the latest additions to the T Series of NordicTrack Treadmills. With a blend of new features, the Elite 7.0 promises to be one of the most attractive products in the treadmill market today.
One of the main features of The Elite 7.0 Treadmill is that it focuses on adding value to the product through the latest technology, increasing convenience for its users. The treadmill also possesses a 5-inch iFit LED screen and carries the facility of a personal home trainer.
At the price range, this treadmill is offering you lots of exciting features when compared to similar products on the market, especially when you consider, the Nordictrack Elite 7.0 treadmill comes with a 10 per cent incline and you get to experience in-home personal training!
This treadmill will not only help you to lose weight but will also give limitless options so you don't ever get bored while working out!
Disclaimer – This website contains affiliate links. If you find the information useful and click on a product link and make a purchase, a small commission will be earned by GymFreakz and we appreciate your support.
---
Specifications
5 inch iFit LCD
30-Day iFit Family Membership Included
EKG Handgrips
Dual 2-Inch Speakers
Flex Select Cushioning
51 x 140 cm Tread Belt
2.75 CHP Motor
0 – 10% Incline
0 – 20 km/h Speed
1.9″ Rollers
125kg Max User Weight
SpaceSaver Design
Easy Lift Assist
Product Weight 111kg
Boxed Weight 116kg
Assembled Dimensions – 201L x 91W x 151H cm
Boxed Dimensions – 213L x 83W x 41H cm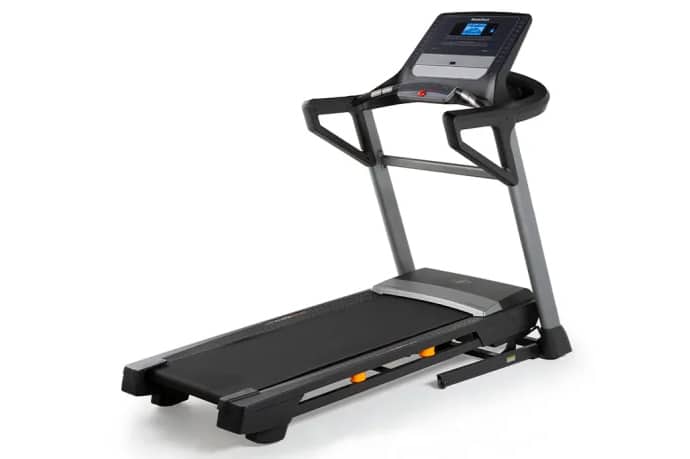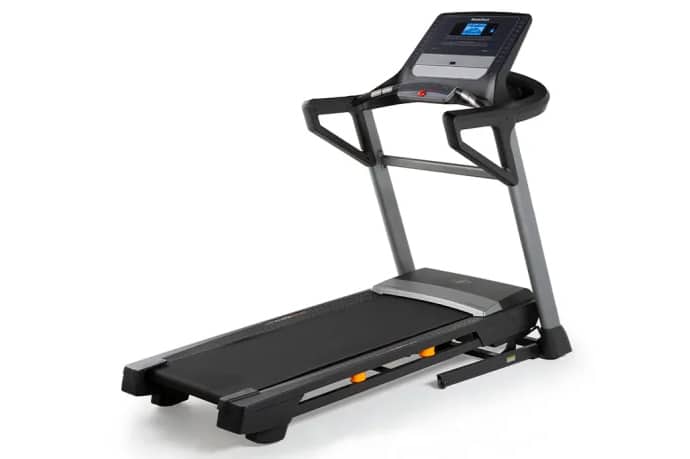 ---
---
---
Key Features
Motor
While many motors will claim to be of identical horsepower, it is pertinent to note that every motor is not built the same.
When it comes down to the nuts and bolts of the matter, treadmill motors are not wholly difficult to understand. The Elite 7.0 Treadmill consists of a high-power CHP Motor which enables it to give consistent, fruitful results.
Incline
The 10% incline enables users to reach their fitness goals in quick time. It's no secret that walking uphill leaves you out of breath and by adding incline training to walking or running workouts also gives your muscles a challenge, increases your heart rate, and boosts calorie burning. Thus, the facility of a 10% incline on the treadmill is ultimately an opportunity for the users to push up their fitness goals in order to reach the desired results with regard to where their fitness and good health are concerned.
5 inch LCD Screen
The iFit 5-inch LCD screen facilitates users to take personal training sessions at their convenience. Furthermore, the iFit screen enables users to take advanced training sessions under the expert guidance of professional trainers setting the bar very high for consumers as far as the quality of training is concerned.
The console also has a 6-inch window that you can look at from any angle of the treadmill and the racetrack graphic also helps you to better visualize your progress during walks and runs.
Plus there are 24 workouts that are included!
All of them have preset speeds, time limits, and distance goals that are carefully made by a certified personal trainer. You can also choose from weight loss programs that focus on incline training. The digital quick speed control also allows you greater freedom during your workouts and gives a more advanced user interactivity.
This exercise equipment is definitely one of a kind that will not only help you to lose weight but also make your muscles stronger and more defined!
iFit Live
With this iFit Live treadmill, console you can download personalized videos and work out with famous trainers including Jillian Michaels.
You can also race against your Facebook friends and when connected to Google Maps you can select real-life routes where the treadmill will change the topographical itself inclining it up to 15 per cent and declining it up to 3 per cent as required!
Audio
This exercise equipment comes at a reasonable price and had iPod-compatible audio. This home fitness equipment is one of a kind that lets you enjoy your favourite music while you work out!
Track
The NordicTrack T7.0 treadmill has a track of 2o inches by 58 inches. This is considered a long track that is convenient for most users to use!
So if you're a tall person who loves to use treadmills then this one might be a good option for you!
Heart Rate Monitor
If you're looking for a treadmill that also monitors your heart rate then the NordicTrack T7.0 might be the one for you!
The treadmill comes with sensors that are built into the handlebars of the treadmill. Additionally, the machine is also compatible with wireless chest straps which are sold separately.
Weight Capacity
The NordicTrack T7.0 has a weight capacity of 125 kilograms. This max user weight capacity is great since even people who are overweight can easily use this treadmill without any problems!
Trainers
If you decide to buy this treadmill, you're safe in the knowledge that you'll get world-class trainers! The elite personal trainers motivate and support you through captivating workouts across the globe!
Plus there are as many as 12000 on-demand workouts that you can stream video workouts at home any time of the day or night!
The trainers automatically adjusts the incline and decline range and will add workout versatility. Whether you want to do cardio training or slow walk you will get everything in one treadmill and all within your home environment!
Google Map Technology
With Google Map technology you can run anywhere and work out all across the globe! With any workout, you can rest assured that you don't have to worry about the incline and decline ranges and have the confidence knowing that your trainers will take care of the incline and decline according to the areas you choose!
---
Warranty
Let us take a look at the warranty of Nordictrack T7.0:
Lifetime Frame Warranty
10-year motor warranty
2-year parts
Labour upon warranty registration within 28 days of purchase.
*Warranty may be subject to change without notice and may differ between retailers – please check carefully before making a purchase.
---
Every machine has its own pros and cons and the same goes for Nordictrack T7.0. Let's take a look at some of the pros first!
---
Overall Verdict:
The Nordictrack T7.0 is a great treadmill for its price and offers many features that you might not find in other treadmills at the same price.
The motor is not the most powerful but it is still decent enough, the incline range is also pretty good and offers a challenge even to athletes. Moreover, the space-saver design makes this machine ideal for small apartments or places where space is an issue. The built-in transportation wheels and Easy Lift assist feature help with enabling convenient repositioning of this treadmill which definitely makes it stand out.
This fitness equipment comes with a certified personal trainer and also has many other integrated features. With a balanced non-flex roller you can now get a great workout in without worrying about injuries.
The main con (if you see it as a negative that is) of this machine is the hidden costs associated with the monthly fee for iFit which is required if you want to use all the features of this machine to its full capacity.
Apart from that, this is more than just a pretty good treadmill and I would recommend it to anyone who is looking for a good quality machine without spending too much money.
>>Take a look at our roundup of the best treadmills in the UK here<<
---
What I Like About This Treadmill
There were many things one can like about this treadmill. Let us take a look at all the things I liked about it below!
Motor
One thing that I like about this treadmill is its motor. Although the motor is not a very powerful one, however, for the price range that we are getting this treadmill the motor is still a lot better when we compare it to other treadmills of the same range.
The smart response drive system helps you to move through the toughest, fastest exercise so you never miss a beat! It has a self-cooling feature that enables you to work out without the fear that the motor of your treadmill might get too hot too.
Plus it also comes with reduced vibration and this also helps in controlling the noise of the machine.
Incline
Another thing that impressed me about this treadmill was its incline and decline ranges, providing decent ranges when compared to other treadmills of the same price. This machine offers good value and also has a large walking belt with a firm surface which makes the machine ideal even for tough workouts.
This treadmill is a great option for your home gym since it meets the fitness levels of almost everyone whether you're an athlete or just a regular person who likes to exercise during the day.
Space Saver Design
If you live in a small apartment or a place where you are short of space then this treadmill can be a great option for you due to its space saver design and easy-lift assist feature.
---
---
FAQ's
Can You Lose Weight With This Treadmill/exercise equipment?
Yes, you can lose weight easily with this treadmill if you work out properly!
Does It Have Digital Quick Speed Control?
Yes, the NordicTrack T7.0 treadmill comes with digital quick speed control.
Is This Treadmill iFit Enabled?
Yes, this treadmill does come with an iFit enabled console which includes a 30-day iFit Family Membership Free trial.
What is the custom weight loss center?
The custom weight loss center is a feature of the NordicTrack T7.0 treadmill that allows you to get professional advice and training from famous personal trainers like Jillian Michaels, in order to help you achieve your fitness goals. It also offers access to live workouts, audio compatibility and more. You can use it for a wide range of workouts and training sessions, and it will help you monitor your progress so you can see how well you're doing.
Is iFit good for keeping your exercise varied?
iFit is a great way to keep your exercise varied and interesting. It gives you access to live workouts, audio compatibility and more. You can use it for a wide range of workouts and training sessions, and it will help you monitor your progress so you can see how well you're doing.
---
Affiliate Disclosure
In compliance with the FTC guidelines, please assume the following about all links, posts, photos and other material on this website:
Any/all of the links on this website are affiliate links of which GymFreakz receives a small commission from sales of certain items, but the price is the same for you.
www.gymfreakz.com is a participant in the Amazon Services LLC Associates Program, an affiliate advertising program designed to provide a means for sites to earn advertising fees by advertising and linking to Amazon.com & Amazon.co.uk. Pages on this site may include links to Amazon and its affiliate sites on which the owner of this website will make a referral commission.