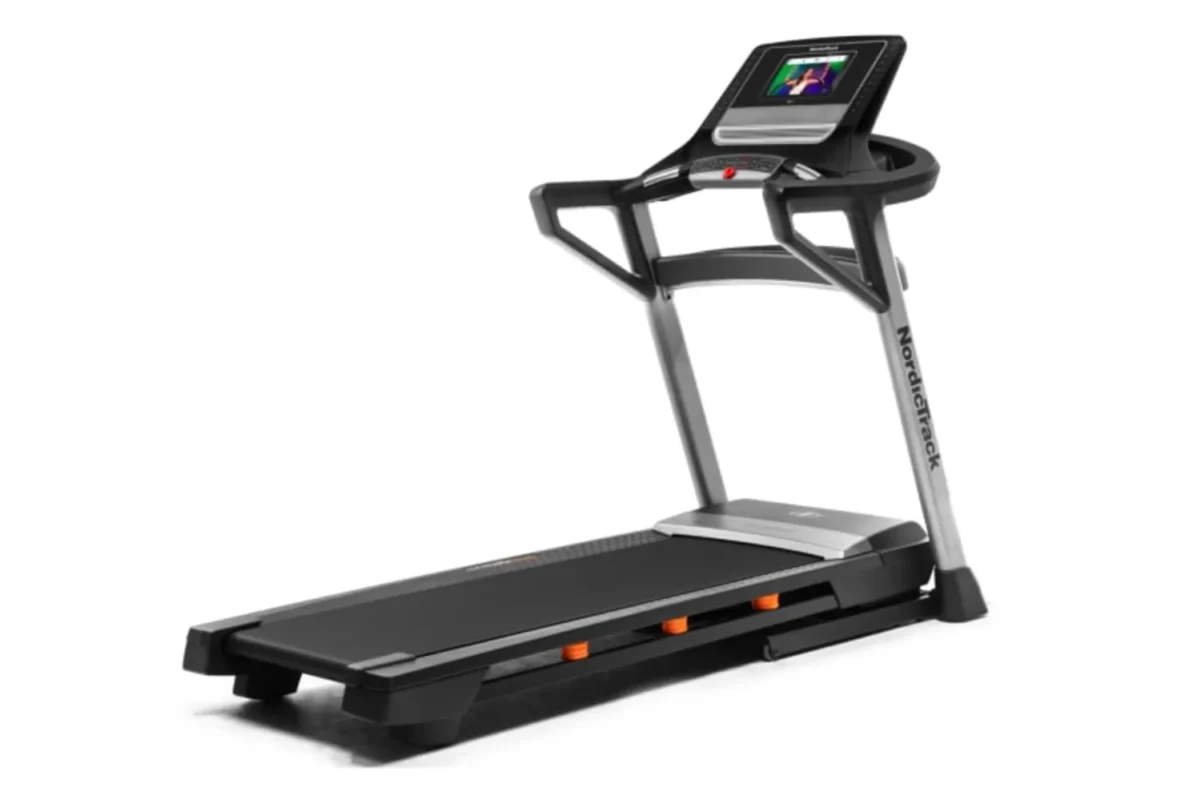 ---
Introduction
Treadmills can be an ideal alternative for beginners or fitness enthusiasts who want to avoid expensive gym membership. There are plenty of options available and in this article, I will review in detail the NordicTrack t 8.5s treadmill.
In NordicTrack's T-Series, it is the middle treadmill, designed to cater for a wide range of preferences and fitness levels. The iFit integration in T 8.5 s treadmill is one of its highlighted features that allows the user to enjoy personal training at home. It allows the user to browse their favourite routines with world-class trainers.
Moreover, if you are a fitness enthusiast woman you can browse a women's health trainer with the 10" HD touchscreen. The treadmill review NordicTrack shows the best functionality when it comes to construction as it offers a sturdy lifetime frame. It also features stunning google maps to cover short distances.
There are a lot of interesting features this running machine has to offer to you. So let's uncover this machine and see if it is worth buying!
---
Nordictrack T 8.5s treadmill key specification
3.5 CHP Motor
1.9" accuracy and balanced Non-flex rollers
300lbs maximum weight capacity
0 – 22 km/h Speed
10″ HD Touch Screen Display
0% – 12% Digital Incline
OneTouch controls
FlexSelect cushioning
AutoBreeze workout fan
SpaceSaver Design with easy lift
1-year NordicTrack iFit subscription
Entertainment: Bluetooth audible potential, digitally amplified speakers, 50 pre-programmed workouts
Warranty: 10 years on the frame, 1 year on the labour and 2 years on parts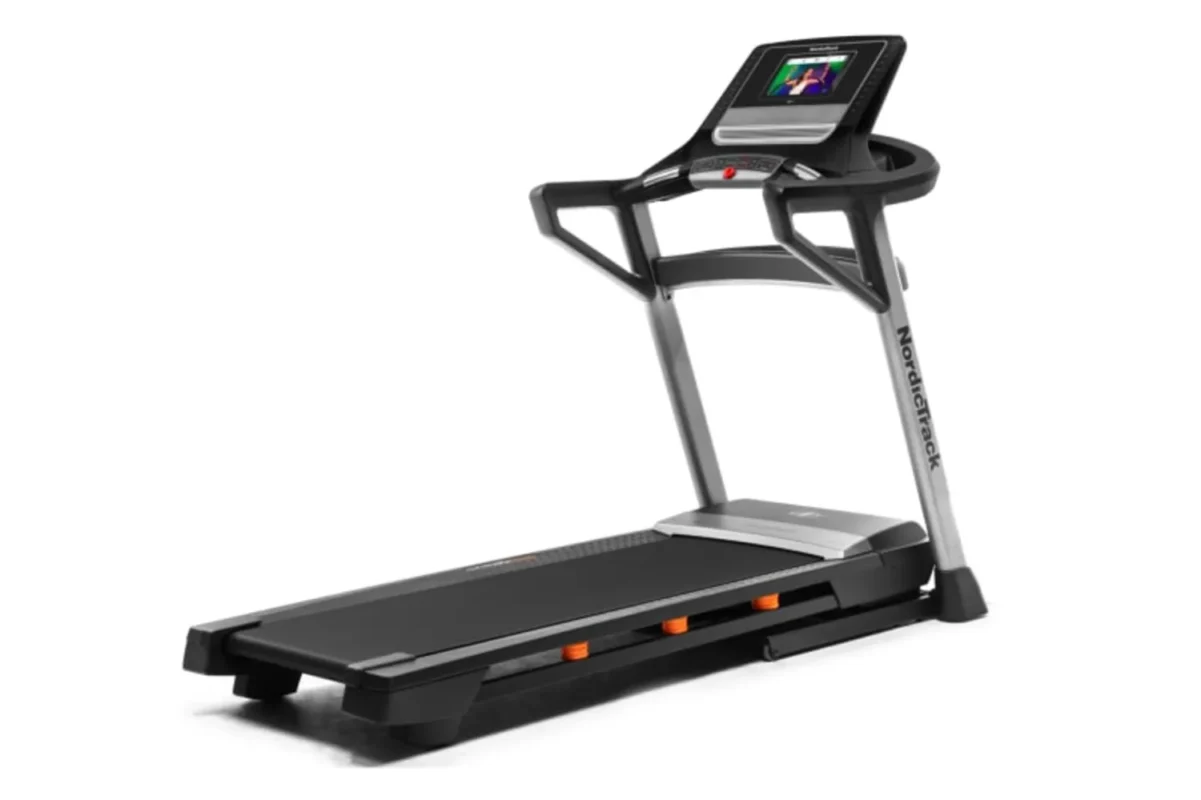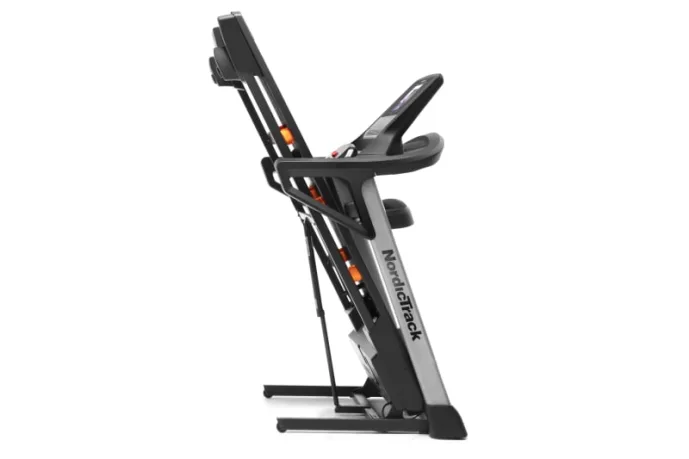 ---
Features
Step up height
The NordicTrack T 8.5 S treadmill offers a self-powered incline range which means it can be adjusted accordingly. The other functions in the memory of the console will be adjusted according to the use of the incline. The incline system of the NordicTrack T has two levers placed under the front deck. It works according to the adjustment of the incline.
In addition to this, NordicTrack T 8.5S has 12 levels of incline with a range of 0% and 12%. However, the incline adjustment enlargement is 1% and its quick selection keys make it easy to control. It also has gradual incline adjustment at the lower keypad.
This feature is helpful for the user to make their workout productive by burning more calories and enhancing their strength. It will also help in boosting the cardiovascular whilst still protecting the joints no matter what the incline due to the cushioned deck.
Power Motor
The power motor of the NordicTrack T 8.5 S treadmill consists of a DurX commercial plus motor; the same as the NordicTrack C1650. Its powerful motor is designed in such a way that it can easily withstand prolonged workout sessions without overheating.
It is efficient enough to work on its own without losing performance as it has a built-in cooling system. The motor has a design of a 3.5 CHP motor along with a small flywheel which helps in minimizing vibration.
In addition, the NordicTrack T has improved stability with a low level of noise. It has a speed range of 0.5-12 MPH for better and quick incline training. The lower keypad of the treadmill is combined with gradual speed controls on the right side of the console. It also has bifunctional arrow controls for gradual speed adjustment.
Frame
The frame of the NordicTrack T 8.5s treadmill is constructed with durable steel and has a maximum weight capacity of 300lbs. The steel bars of this treadmill features a durable powder coating finish which helps in the resistance of corrosion and abrasion.
The treadmill uses a grey colour for the verticle side supports of the machine and black for the base. Although it comes as a heavy-duty machine it is still more portable than other treadmills thanks to its transport wheels which makes it easy to relocate for just one or two people depending on their ability. (It weighs about 200lbs after it is assembled completely).
Deck
One of the highlighted aspects of the NordicTrack T 8.5 is that it is a folding treadmill. The deck features a folding mechanism that includes a hydraulic cylinder and the best part of this mechanism is that you don't have to hold it when lowering whilst it unfolds. That's because the folding mechanism slowly lowers on its own with little assistance.
However, when the treadmill is folded up its length is reduced to 106 cm which can help to save little space but maybe not as much as you'd like. So maybe the NordicTrack T 8.5s is not the best option for small apartments or rooms as it is quite large whichever position it's in.
Other features include a FlexSelect cushioning system that helps provide a comfortable workout and supports the joint.
Using the best-cushioned running surface it includes six elements altogether, three on each side. This aspect is useful in absorbing up to 40% of the shock of the foot strike during the workout. Each of the cushions is adjustable to increase or decrease the flexibility with the help of simple rotation.
In addition, the NordicTrack T also features a long-lasting multi-ply running belt that comes with a layer of rubber on top. It features a quality running surface along with heavy-duty sealed ball bearings which give smooth belt motion.
You'll find that in relation to the belt the NordicTrack T offers better quality than with other models and is large enough to help with traction.
One-Touch Controls
The NordicTrack T 8.5s treadmill offers one of the most appealing full-colour touchscreens of their T series treadmills. It is not only more functional than others but it comes with one-touch controls which makes adjustment easier.
It is easy to use and gives the treadmill the finest look along with bright graphics and high resolution. The 8.5 s touchscreen is very engaging and makes the workout session even more interesting. In addition to this, the quick control buttons make the screen highly visible and easy to reach.
Performance
Following my testing of this treadmill I can safely say, the NordicTrack T has performed effectively under multiple speed and incline tests. Its powerful motor is very responsive when it comes to incline settings and speed which keeps the deck steady. The Flexselect deck cushioning gives a smooth feel underfoot and makes the workout comfortable.
Pre Programmed Workouts
One of the cool features of the NordicTrack T 8.5s treadmill is its 50 pre-programmed workouts. It helps the user in several ways like calorie burn, intervals etc without any hassle. The display shows the graph of the user's routine that comes built into the treadmill. All you need to do is select the program that is available on the manual lap screen instead of the iFit application.
This feature also helps in keeping the statistics of your routine with the help of manual mode.
It allows the user to monitor the progress all over the white track. The stats bar keeps the progress of the user at the top of the screen so that you can achieve your goals.
There is no audio music in the programmed workouts but nothing that can't be sorted by adding your own.
---
Warranty:
Treadmill frame: 10 years warranty
Parts: 2 years warranty
Labour: 1-year warranty
*Warranty may be subject to change without notice and may differ between retailers – please check carefully before making a purchase.
---
---
Overall Verdict
If you are looking for a treadmill that supports multiple users workout programs then the NordicTrack T is a perfect choice! Its 50 pre-programmed workouts allow the user a variety of workouts and can be a great option for home gyms.
A powerful 3.5 HP motor that is highly responsive along with an auto breeze fan that lowers the noise. The 12% incline adjustments with 12MPH speed are very beneficial when it comes to full-body training. It offers a good incline and the support to achieve fitness goals. This treadmill is a great machine as it offers four different user profiles to begin the workout programs.
The most effective part of the treadmill is that it has reduced the call for both personal training and joint impact. Moreover, the treadmill also offers expensive iFit programs free for the first year. This is a great opportunity for fitness enthusiasts as they can select their workout sessions with the iFit trainers. This will help the user to burn more calories with the help of an empowering atmosphere.
However, like every other product, it too has its advantages and disadvantages. Based on user reviews and my own analysis, I have listed below what I liked the most about this treadmill and what could be better about it.
---
What I Like About The NordicTrack t 8.5
The motor of the NordicTrack t 8.5 comes with a 3.5CHP commercial motor that supports most of the workouts. This feature is ideal for those who love light running, jogging as it is powerful enough. The DurX commercial motor plus is designed to withstand most of your toughest workout programs. It also includes an auto breeze workout fan, unlike other T series treadmills.
The NordicTrack t 8.5 has 0-12% incline adjustments which help the user in many ways. The best part about the incline is you can burn more calories than running outdoors.
This will help multiple users in getting most of their daily workout and stay low impact, increase strength, boost cardiovascular, etc. Incline training is the best way to increase the heart rate which helps the user for intense cardio training.
12 MPH is a great top speed and the NordicTrack t 8.5 provides you with the required ability to help you adjust the speed accordingly. It is also one of the aspects that makes it a fantastic indoor treadmill and helps in achieving your fitness goals.
The NordicTrack t 8.5 is a folding treadmill so that you can save space when not in use. It comes with a SpaceSaver folding mechanism that is secured by a storage lock along with transport wheels.
FlexSelect Cushioning System
The deck of the NordicTrack T 8.5 is designed to have a solid foot strike and gives the user comfort. It not only helps in healthy foot stikes but supports joints from its impact.
Enjoy the trainer-led workouts on the 10" HD touchscreen and browse a variety of studio classes of world-class personal trainers. Each of the workouts is led by well informed iFit trainers who help in creating motivation to get the most out of your workout programs. And the best part? A year of free iFit account is included in the NordicTrack T 8.5
Things That Could Have Been Better:
The size of the deck could be bigger like other NordicTrack treadmills in the market. It could be a hassle for people of taller heights as it may feel slightly restricting for them.
Additional Cost For The iFit Coach
Although it is a very beneficial feature this treadmill offers but it's only for one year. To clarify, if someone is intending to use it for the long term then they must pay the additional cost. So before buying, the user must plan ahead for the trainer guided workouts or get a personal trainer.
---
---
FAQs
Is it possible to use the NordicTrack T 8.5s treadmill without the iFit subscription?
Yes, you can use the treadmill without the iFit subscription as it has a cool feature of 50 built-in workout programs. This will help multiple users to get the most of their workout and fulfil their fitness requirements. AS mentioned, the NordicTrack T 8.5 comes with a free iFit coach for just one year.
Is Nordictrack T 8.5 worth buying?
With such amazing features, this treadmill is definitely worth the money! It gives full-body training as it is designed for high powered training. You can enjoy the workouts led by iFit trainers and bring the live interactive training to your home.
In short, it can be the best equipment when it comes to a home gym and good incline training. An ideal choice for beginners who are willing to attack their fitness goals and increase their strength.
Can I keep NordicTrack T 8.5 s in an apartment? Is it quiet enough?
Noise travelling to your neighbours can be a concern when you are living in an apartment. But with the 8.5 s treadmill, you don't have to worry as it comes with a commercial plus motor. Its 3.5CHP motor is powerful yet smooth enough to prevent noise. However, if you are still worried then you can get an absorption mat and place it under the treadmill.
Is the maintenance required for the 8.5 s treadmill?
Yes, everything needs maintenance if you are willing to use it for a longer duration without unnecessary hassle. According to the manufacturer's site, the belt of the treadmill needs to be lubricated after every 12-15 hours of use. Use the recommended lubricant to avoid any uncertainty and wipe the treadmill deck with a dry cloth.
Is it necessary to lubricate the NordicTrack treadmills?
Yes, it is as it will help the treadmill to run smoothly and give a comfortable workout. Most importantly this will help the treadmill in protecting the running mat and motor from early wear and tear. However, I suggest you lubricate the treadmill every 3 months or after running 130 miles.
Should I unplug the treadmill after every use?
It is better to always turn off your treadmill after every use as it could result in a power surge protector to trip.
Which NordicTrack treadmill is the best?
All the NordicTrack treadmills are worth using but the T series certainly provide you with some of the best commercial series treadmills. As with all reviews, most of your options will depend on your budget and requirements.
Affiliate Disclosure
In compliance with the FTC guidelines, please assume the following about all links, posts, photos and other material on this website:
Any/all of the links on this website are affiliate links of which GymFreakz receives a small commission from sales of certain items, but the price is the same for you.
www.gymfreakz.com is a participant in the Amazon Services LLC Associates Program, an affiliate advertising program designed to provide a means for sites to earn advertising fees by advertising and linking to Amazon.com & Amazon.co.uk. Pages on this site may include links to Amazon and its affiliate sites on which the owner of this website will make a referral commission.