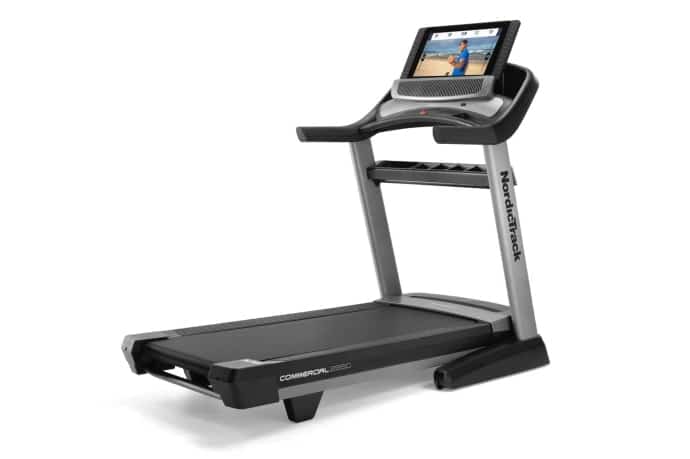 Introduction to the Nordictrack Commercial 2950 Treadmill
The Nordictrack Commercial 2950 treadmill is the dream treadmill for all you runners out there!
It is a foldable treadmill with a powerful motor, innovative incline and decline controls and that's not all! It also has a wide belt and reflex cushioning that allows you to switch between comfort and road settings giving you a user experience like no other.
The 22 inches upgraded smart HD screen allows you to enjoy your workouts without getting bored as it comes with a variety of iFit workouts that includes hikes and runs that are filmed around the world so you can enjoy different locations from the comfort of your own home.
Plus you won't have to worry about changing the incline and decline of the treadmill while working out because the trainers do it for you, giving you the complete feeling of training outside and not indoors.
Disclaimer – This website contains affiliate links. If you find the information useful and click on a product link and make a purchase, a small commission will be earned by GymFreakz and we appreciate your support.
---
Specifications
Partial assembly required
Built-in speakers with Bluetooth connectivity
Adjustable console position
Height 165 x width 100 x depth 200 cm
Dimensions when folded height 189 x width 100 x depth 100 cm
Foldable? Yes
Heart rate monitor via hand grips
Heart rate monitor via hand sensors
Incline 15 percent
Decline -3 percent
Maximum user weight 136 kg
Number of programs: 35
Polar compatible? Yes
Power supply? Mains
Running surface: Length 153 cm x Width 55 cm
Colored screen
LED screen type
Speed 0-22 kph
Transport wheels? Yes
Weight 126 kilograms
Workout fans? Yes
Easylift shock assist
iFit trainer
Quiet drive incline tech
Built-in handlebar sensors
Bluetooth headphones
Solid deck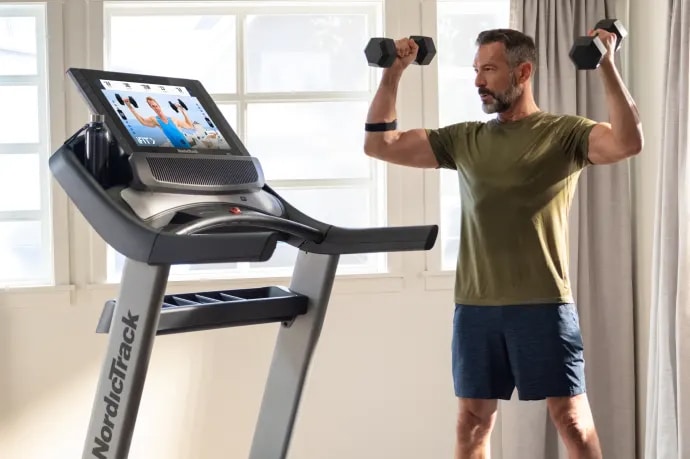 ---
---
---
Key Features
Touchscreen
The 22-inch touchscreen of this treadmill is what makes this treadmill stand out. The high definition display is great for all the iFit workouts.
The capacitive display allows all the workout stats and now it's easier than ever before to watch what you are doing on the screen mid-session with over 40 programs bringing you variety in your workouts.
With the recent upgrades and latest graphic processing, the display is now more crisp and refined than ever before.
On the screen, you can stream a variety of workouts including running and hikes that are filmed throughout the world in different locations.
From the mountains of Utah to the streets of Paris – wherever you want you can choose. You will also see the key workout stats on the screen of the NordicTrack Commercial 2950.
This surely is a runner's dream training machine with so many different options to choose from.
In the treadmill industry, the NordicTrack Commercial 2950 treadmill is fast becoming a stand out model. One that allows you to run anywhere in the world, whilst you check your progress mid-session with the screen displaying accurate stats throughout your run in progress.
Incline and Decline
There are manual incline and decline controls on the left side of the treadmill which goes from -3 to 15 percent and the manual speed controls as well from 1-12 mph are on the right side.
Below the screen you will also see a control panel for start, stop, incline, speed, fan and volume buttons.
Incline treadmills boost your calories burned and really forces you to get an amazing workout in! It recruits your muscles in different ways for better definition. Incline and decline ranges are especially fun to use because of the iFit workouts that come with them making your workouts even more enjoyable!
Through these incline and decline ranges you can do strength training as well, increasing the calorie burn for an enhanced workout experience!
Combined with the iFit and Google maps this makes it even easier to stay motivated when working out on this machine!
iFit Workouts and World-Class Trainers
With an iFit membership, working out on this treadmill has never been this fun before. You can make sure that during your workouts you never get bored. The new NordicTrack 2950 treadmill is well known for its iFit workout programs and immersive views.
Another great feature is the iFit coach will automatically adjust the incline and decline range according to the views you choose from. You will need an iFit account if you want to get those workouts but the iFit experience is simply one of a kind and a must-have!
You can use google maps to select different cities and locations. You will also get subscription offers when you choose iFit trainers for your workout and as part of this will be the option of an iFit family membership if that suits your situation better.
There are lots of options to choose from and from those you will get lots of different scenic views from Google maps and a wide collection of HD video workouts that will guarantee you get a virtual experience of exercising with your own personal trainer from the comfort of your own home!
You get to choose programs that can range from purely cardio to programs that have the option for strength training too.
Motor
The Nordictrack Commercial 2950 treadmill has a powerful motor of 4.25 CHP. The top speed is 12 mph can easily support long runs and interval training.
The calorie burn can also be increased with such a powerful motor as the operational horsepower is great for revolutionary runners.
Plus the mechanical power is also great whether you want to use it in the gym or for ordinary household use this machine has it all!
The top speed of 12mph for this machine is also something amazing and is another example of what makes it stand out from the rest of the treadmills in this range.
WhisperQuiet Deck
The smart response drive system is an amazing feature of this treadmill which allows the machine to absorb the sound of your footfall.
This is what makes this machine so quiet and added to this is the quiet drive incline tech ensuring that you get an amazing workout experience without having to worry about your machine making too much noise!
The Commercial 2950 treadmill allows the user to use the machine and choose optimum impact reduction to reduce the chances of injury.
Non-Flex Rollers
The 2.5-inch precision rollers on both sides of the treadmill reduce the chances for wear and tear. The size and the quality of the rollers are great and the balanced non-flex rollers make this machine easy to use and move around.
The Commercial 2950 treadmill has a convenient space saver design with easylift assist included.
The NordicTrack fitness company seem to cover all requirements when it comes to their treadmills!
Tread Belt
This is a high-end treadmill with a spacious 22-inch by 60-inch workout space. The belt is long enough for most running strides and also has enough space to allow you to move your arms around with extra space below the elbow room.
The tread belt is known for its durability and 2 ply.
Heart Rate Monitoring and Cushioning
The advanced cushioning formula allows you to get a great workout in without worrying about injuries. Plus this treadmill comes with a heart rate monitoring system that will allow you to keep an eye on your heart rate while working out.
There is an upgraded chest strap included with this treadmill which helps you exercise efficiently and effectively without worrying about checking your heart rate through another device again and again!
This newly upgraded Bluetooth wireless chest strap gives you a continuous reading of your heart rate and also works with iFit wearable devices to give pulse readings too.
---
Warranty
The warrant for Nordictrack Commercial 2950 treadmill is as follows:
Frame: Lifetime
Motor: 10 years
Parts and Labour: 2 years
*Warranty may be subject to change without notice and may differ between retailers – please check carefully before making a purchase.
---
Every machine you use will have some pros and cons and the same goes for the NordicTrack Commercial 2950 treadmill. Let's take a look at some of the pros first!
---
Overall Verdict:
This Nordictrack stands out when compared to other machines for certain!
The iFit addition to this treadmill will incline and decline according to the trainer you have chosen ensuring you get a thorough workout in from the comfort of your own home!
And, unlike most treadmills on the market, you can choose either comfort or road settings.
As you've seen, the Nordictrack Commercial 2950 treadmill is loaded with great specs for performance and entertainment.
The space-saver design with easy lift assist makes it easy to use this machine whenever and wherever!
So after you get to know about all the features this machine offers it becomes very hard to resist from buying it but I can assure you, once you do it's something you simply won't regret.
This features on our "Best Treadmills UK" roundup here.
---
What I Like About This Treadmill
There were many things I loved about this treadmill. Let's discuss some of those below!
Motor
This treadmill has an extremely powerful motor. It allows you to get an amazing workout in and whether you're a runner or just want to walk, this treadmill will give you the experience of a lifetime!
Screen
The 22-inch touchscreen is good for watching whatever you choose while working out. This will make your workout experience even better and will never let you get bored.
You can check your progress mid-session and if you want to get in a good sweaty workout, then this treadmill will make sure that you get exactly that!
iFit Trainers
If you are looking for ways to get the most out of your workouts then you should get iFit trainers to help and guide you throughout! They will not only motivate you but will also cover additional workouts such as strength training or HIIT workouts too.
Whichever scenery you choose you will then get to 'visit' that on the screen and with the world-class trainers adjusting your speed, incline and decline according to the scenic view you have chosen this will make for an unbeatable virtual experience.
What I Didn't Like About This Treadmill
There were some things that I didn't like about this treadmill. Let's take a look at them below!
Assembly process
If you want to get a workout in before your actual workout then this treadmill will give you just that when you assemble it!
It is not that easy to assemble this machine and takes lots of time and energy. It is a heavy treadmill and requires at least 2 people for safe assembly.
But with that said, once built it is extremely sound and robust so perhaps worth it in the long run.
Customer Service
Although the sales team of NordicTrack is very responsive the customer service hasn't been as good!
If you need help with anything you may have to wait for some time before they get back to you! Or it might be that I was just unlucky…
---
---
FAQ's
Do you get help from your iFit trainer with your workout?
Yes, with this machine if you have iFit membership then you will get the chance to work out with iFit coaches and iFit trainers.
Does this treadmill have workout fans?
This high-grade machine comes with 2 inbuilt workout fans.
Does it have a convenient space saver design?
The space-saver design of this treadmill allows you to keep the footprint small when not in use.
---
Affiliate Disclosure
In compliance with the FTC guidelines, please assume the following about all links, posts, photos and other material on this website:
Any/all of the links on this website are affiliate links of which GymFreakz receives a small commission from sales of certain items, but the price is the same for you.
www.gymfreakz.com is a participant in the Amazon Services LLC Associates Program, an affiliate advertising program designed to provide a means for sites to earn advertising fees by advertising and linking to Amazon.com & Amazon.co.uk. Pages on this site may include links to Amazon and its affiliate sites on which the owner of this website will make a referral commission.