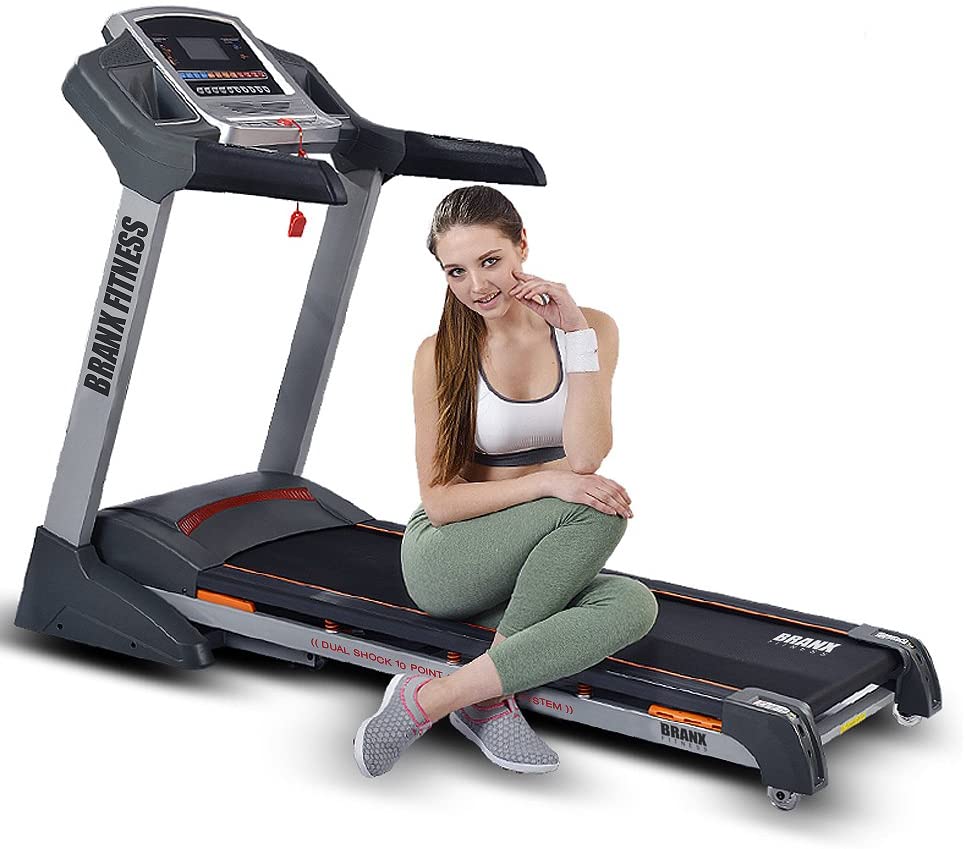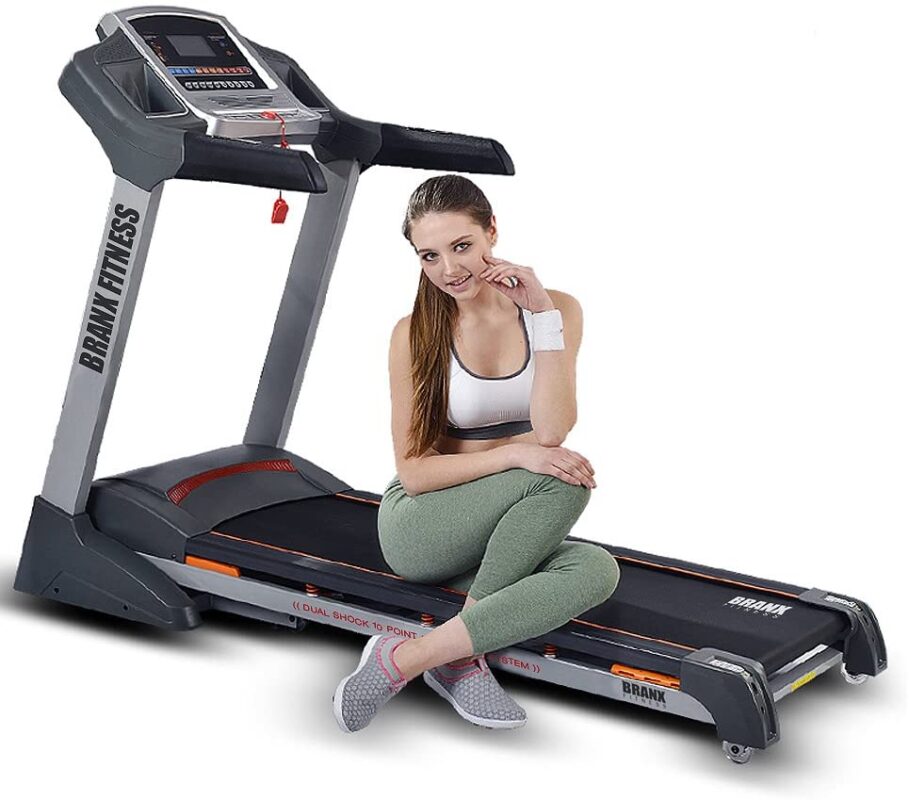 Introduction:
When you talk about the best in the hyper-competitive world of running machines, Branx Fitness tops the list. Branx offers a wide range of options in the treadmill to cater to all sorts of users from elite athletes to novice ones. We have reviewed some of their other models before as well, however, in this article, we will be reviewing their top of the line treadmill the Elite Runner Pro.
Branx Fitness Elite Runner Pro treadmill is designed especially to fit in your home gym without taking over too much floor space. With a maximum speed of 21km/h and a large running area, tall runners can have a real running experience instead of just brisk walking.
Besides, if you are dealing with any sports-related injury, you can be fully confident while running on the Branx Elite Runner Pro. It features dual shock absorption technology that reduces stress on your knees and joints.
Moreover, with a 6 inch, large LCD and built-in speakers, you can keep yourself entertained while training. There are plenty of more exciting features too, so perhaps, you might not be able to resist buying this amazing treadmill after revealing more. Keep on reading with me as I break down this technology outright.
---
Branx Fitness Elite Runner Pro Treadmill Key Specifications:
Motor: 3.5CHP (6.5HP) fan cooled
Speed Range: 0-21km/h = 0-13mph
Running Area: 140cm (Length) x 48cm (Width)
Maximum User Weight: 160KG
1.9mm running belt thickness
19mm running deck thickness
22 Level Auto Incline
24 Built-in Programs
Slow Drop System – for safety when unfolding
Heart Rate Measurement – Hand Pulse
4 Transports Wheel – for easy movement
Entertainment: 6 inches LCD Display, Built-in speaker, BlueTooth Wireless Technology
Warranty: 2 years on parts and labour and 5 years on motor and frame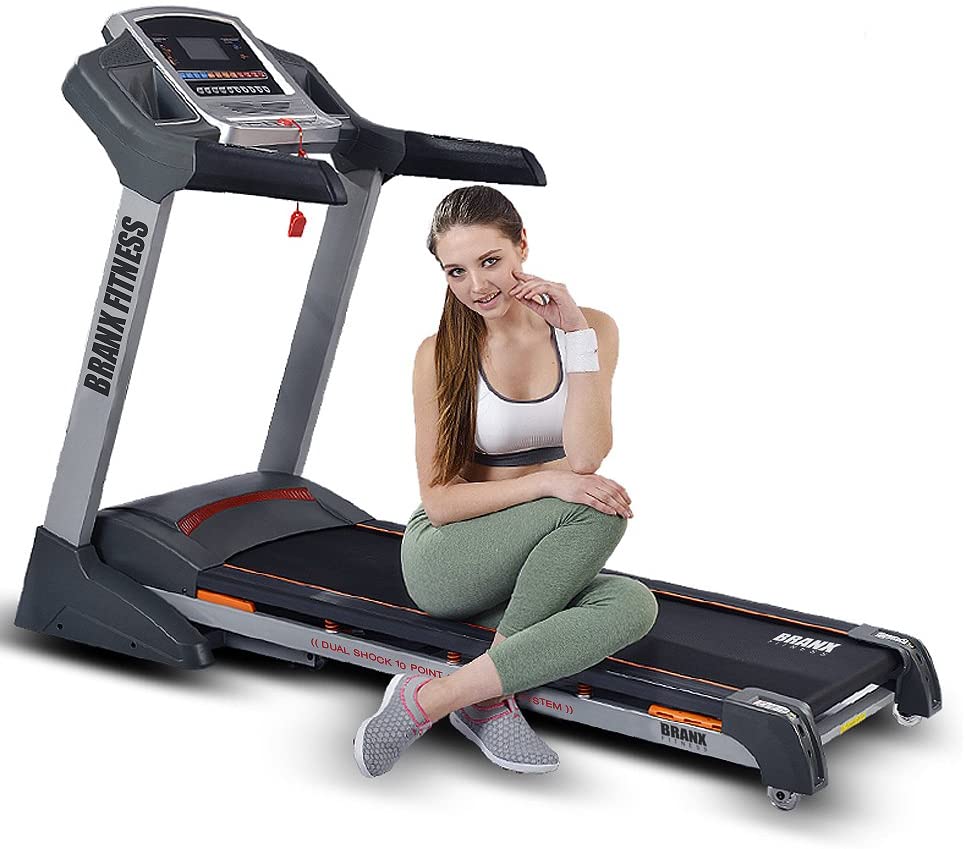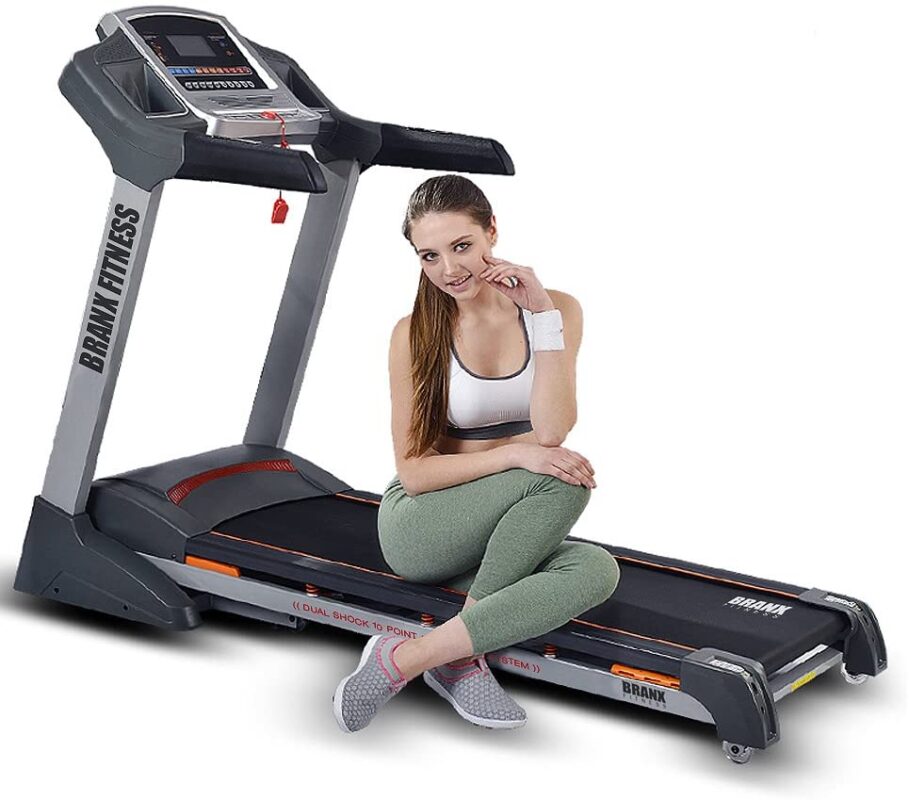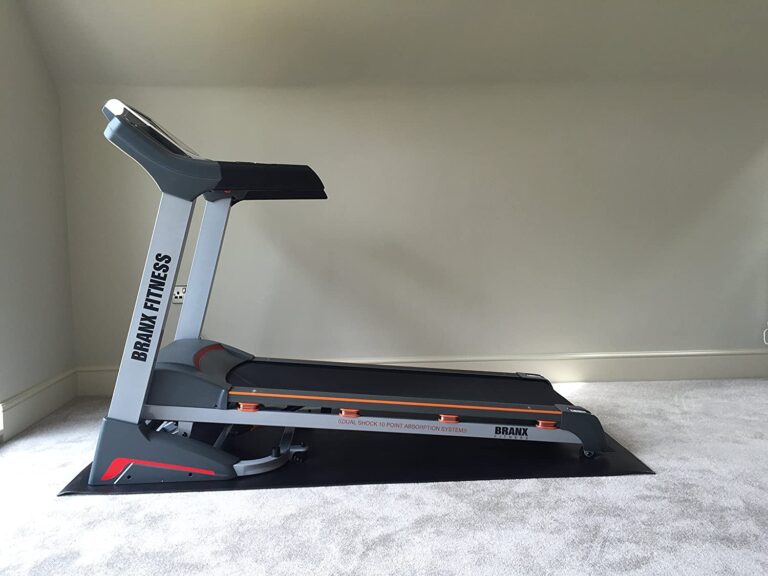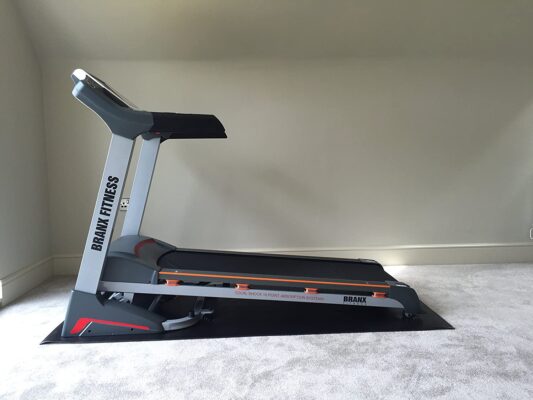 ---
FEATURES
Size and Design:
Since the Elite Runner Pro is a premium Branx Fitness treadmill, it has better overall dimensions compared to other models. You get a bigger running area which is a great advantage if you are over 6ft. Not to mention, the running machine is foldable and features a transport wheel which makes it very easy to store and move around. Here are the dimensions of this treadmill in various positions:
Assembled Dimensions: (L x W x H) 1900 x 800 x 1320mm
Folded Dimensions: (L x W x H) 820 x 800 x 1500mm
Boxed Dimensions: (L x W x H) 1850 x 820 x 380m
Besides, this is the best running machine for larger users, as it has a maximum weight capacity of 160 kg. This is a significant factor and when compared to its competitors, Branx Fitness excels in every way.
Speed and Auto Incline Level:
The Elite Runner Pro is a commercial treadmill with a 21 km/h max speed and 22 levels automatic incline. These features make it versatile and it allows users with different preferences and fitness levels to crush their goals.
Talking about speed, we cannot ignore its powerful and robust motor. It offers this treadmill the ability to allow users serious sprinting.
However, my personal favourite is the 22 levels max incline. Whether you want to do interval training or a routine workout, set the intensity with incline buttons and the machine will assist you effectively.
Built-in Programs:
This Branx treadmill has 24 built-in programs. Unfortunately, not many people know how to make the most of these programs. However, these programs can bring innovation to your workout if you use them properly.
Essentially, these programs give you a versatile adaption to your needs by mixing a variety of incline levels. You can make your workouts more fun with this feature.
LCD Display and Monitoring Options:
The Elite Runner Pro features a 6 inch, large LCD display. It is easy to navigate and you can easily track your progress with it. It displays speed, time, distance, calories burned and heart rate. To ensure you are exercising according to your needs and fitness level, keep an on the heart rate.
Want to hear the best part? With the help of the "Mode" key, you can set a specific distance, calorie or time target to achieve your fitness goals. Yet, you have full control over the speed and incline for increased safety.
Running Deck and Dual Shock Absorption:
Nobody likes noisy fitness equipment and this is where the Elite Runner Pro stands out. Low noise is courtesy of the Dual Shock 10-Point Absorption System with German-made springs. The only sound you will hear is that of your footsteps, and no screeching or squeaking will disturb you. Hence, you can listen to your favourite music or watch a movie.
However, this absorption mechanism is not only viable for reducing sound, it has a greater advantage as well. It reduces the stress on joints and offers optimal cushioning to your feet while you run to reduce the risk of any injury.
Also, talking about the running deck, I cannot forget to mention how big it is. For a tall runner like me, it often gets difficult to find a running machine that accommodates my long strides. But the Branx Fitness Elite Runner Pro actually amazes me. Without compromising on comfort, the larger users can run on this treadmill freely.
Soft Drop System:
All Branx Fitness treadmills come with a soft drop system which offers added convenience. When unfolding the machine, it ensures that the machine drops slowly and makes lifting easy as well. For a home treadmill, this is an excellent feature along with transporting wheels.
---
Warranty:
Parts and Labour: 2 years warranty
Treadmill Frame and Motor: 5 years warranty
Branx Fitness offer similar warranties for all their treadmills. However, compared to other treadmills in the same price range, Elite Runner Pro really distinguishes itself.
*Warranty may be subject to change without notice and may differ between retailers – please check carefully before making a purchase.
---
---
Overall Verdict
As mentioned earlier, the Branx Fitness Foldable Elite Runner Pro is the top of the line model, it is the most expensive one as well. However, like many commercial treadmills, it has a pretty fair price tag.
Branx Fitness offers you many extra features that may not find in other models like Pause Button, Gym Fit App integration and many more. Like many treadmills, this running machine also has its advantages and disadvantages.
Below, I have enlisted the things I like about the Elite Runner Pro treadmill and things that could have been better from my experience. This will give you a final insight into what you can expect from this fitness equipment. Let's get started!
What I liked about the Elite Runner Pro:
Assembly, Delivery and Customer Support:
One of the biggest advantages of buying Elite Runner Pro is that it is delivered mostly pre-assembled. This saves you from the hassle of assembling it yourself, considering its huge weight. You only have to screw in the main component before use which is a hassle-free task.
Not just that, there is no match for Branx Fitness when you talk about after-sales service. It is one of the reasons why Branx Fitness is a widely preferred brand in the UK. This means that you will not be left alone in case you face any issues.
Although I did not have first-hand experience with customer support, I barely find any disappointed users based on reviews on Amazon and Trust Pilot. This suggests that the customer service is phenomenal.
The Branx Fitness Elite Runner Pro is a very robust and well-made treadmill. Often at-home treadmills are not enough durable, especially the cheaper models. However, the Elite Runner Pro can be used as a gym treadmill as well because it is made to last. If you ensure optimal maintenance, the machine will grow with you and offer maximum value to your money. Plus, you can save money on an expensive gym membership too.
The powerful motor allows you to increase up to 21km/h, which is an excellent speed limit for most users. You might save some money on cheaper models, but you cannot have real run experience on them as they barely go over 10 to 12 km/h.
You can choose from the selection of 24 built-in programs to personalize your workout. Besides, using the quick keys for incline and speed, you can easily transition from a low-intensity to a high-intensity workout.
Moreover, the Elite Runner Pro feature a pause button as well. This means you can resume your program from where you left, instead of quitting it.
This Branx treadmill features a very user-friendly running deck including a dual-shock absorption system with a German-made spring. The cushioning dampens the impact preventing any injury by reducing the stress on joints and knees. So you can always choose to run on the treadmill at home instead of concrete surfaces outdoors unless it's very pleasant weather outside!
Easy Storage and Movement:
The Branx Elite Runner Pro actually folds up to be very compact. I have to say this because many treadmills despite being in a foldable position still have a huge size. You can easily store this treadmill and as well as it is super easy to move around with the help of four wheels. You won't be facing any portability issues with this at-home treadmill.
>>Elite Runner Pro treadmill is featured on our Best Amazon Running Machine roundup<<
---
Things That Could Have Been Better:
Fans and Speaker Could Be Better:
Unfortunately, the plasma cooling fan does not seem to be as effective as I'd like when you get into your running. Moreover, the speakers are basic and the output is not quite good enough. Many treadmills struggle to do well on this part and the Elite Runner Pro needs improvement as well.
Program Changes Are Not Saved:
This could be really annoying at times because your presets are reset every time you start your workout. It's not a deal-breaker, but I find it slightly annoyning to not be able to start my program from where I left.
So should you really consider buying the Branx Fitness Elite Runner Pro? The answer is YES! The Elite Runner Pro does justice to its price and offers you many features that its competitors seem to be lacking.
The machine follows the theme of versatility and integrates features to accommodate users with different preferences and fitness levels. Both novice and elite runners can train on this treadmill and explore the boundaries of their fitness.
If Branx Fitness can eliminate the minor drawbacks that I mentioned, the Elite Runner Pro has the potential to be the best in this category.
---
---
FAQs
Who should buy the Branx Elite Runner Pro?
Often treadmills lack power and adequate running area to cater to large users' needs, but the Elite Runner Pro can be an ideal option in this case. It has a powerful motor and a large running area that can easily cater to larger tall runners' needs without forcing them to shorten their stride.
Anyone looking for a good at-home treadmill:
Not everyone likes to run outdoors, some prefer to keep in shape at home. In fact, it is safer than outdoor runs as well. The cushioning system offers excellent protection to your joints by reducing the impact. Besides, for anyone dealing with a sports-related injury, the Elite Runner Pro can be a good solution for them to stay fit.
If you do not have enough space to store fitness equipment, then you should consider buying this foldable treadmill. It is an ideal solution to your space problem due to its foldable design. Besides, you won't have any issue moving it around since it has four transportation wheels.
How can I keep my fitness equipment in ideal condition?
Fitness equipment is a long term investment and therefore you want it to last as long as possible. In terms of treadmills, you need to ensure that they are cleaned and lubricated properly to keep them in ideal condition. Lubrication is an important factor if you want your treadmill to work properly and quietly. Here's the timeline you can follow to ensure consistent lubrication of your treadmill depending on your usage.
For less than 3 hours a week – every 8 months
For 3 – 5 hours a week – every 4 months
For heavier usage – every 2 months
For more guidance, you can always follow the manufacturer's instructions.
Does this Branx Fitness treadmill include oil when you buy it?
Yes, all Branx Fitness machines include oil and are often pre-lubricated when delivered to you. You can order more by contacting Branx. Also, it will be confirmed as well if your machine is pre-lubricated or not.
Does this Branx Fitness treadmill show speed in km/h or mp/h?
Most home-use treadmills in the UK shows the speed in km/h.
Why should I buy the Elite Runner Pro Treadmill over other treadmills?
One of the main reasons for buying the Elite Runner Pro treadmill is its versatility. It may not include fancy frills like smart features, but the build quality and user comfort is second to none. It is suitable for people of all fitness levels. For beginners, it includes a variety of programs to keep them motivated while for intermediate and advanced runners, it has 21 km/ max speed and 22 levels auto incline. Lastly, the warranties you get with this treadmill are amazing. There is no comparison to Branx Fitness product quality and performance. 
Can I connect this treadmill with apps?
No, you cannot link this treadmill with the app since it is not WiFi enabled. Though you can use Bluetooth connectivity to play music.
---
Affiliate Disclosure
In compliance with the FTC guidelines, please assume the following about all links, posts, photos and other material on this website:
Any/all of the links on this website are affiliate links of which GymFreakz receives a small commission from sales of certain items, but the price is the same for you.
www.gymfreakz.com is a participant in the Amazon Services LLC Associates Program, an affiliate advertising program designed to provide a means for sites to earn advertising fees by advertising and linking to Amazon.com & Amazon.co.uk. Pages on this site may include links to Amazon and its affiliate sites on which the owner of this website will make a referral commission.