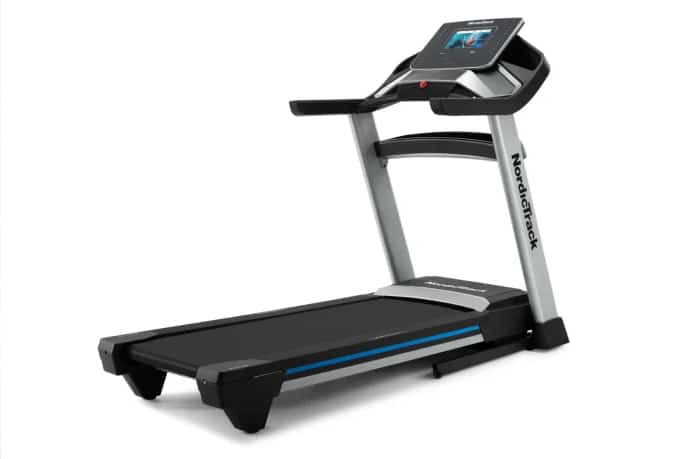 Introduction to the Nordictrack EXP10i Treadmill
The Nordictrack EXP 10i treadmill is a high-quality machine that is perfect for both home and commercial use. It has a heavy-duty frame that can support users up to 136 kg, and it comes with a variety of features that make it one of the most advanced treadmills available today.
The Nordictrack EXP 10i can be considered a replacement for the T 9.5S treadmill which is, at present, in the process of being discontinued. Both the treadmills are very similar to each other with only a slight difference in the price gap between the two; the EXP 10i currently stands at around £100 cheaper than the previous version.
As you probably already know, Nordictrack does not let its customers down when it comes to their treadmills so when they began to discontinue certain models from their T series treadmills everyone knew that something good was on its way to replace them and the Nordictrack EXP 10i certainly does not disappoint!
One of the main features of the EXP10i is its Flex Deck Technology. This technology allows the deck to flex and cushion your stride, which reduces stress on your joints and makes running or walking on the treadmill much more comfortable. Additionally, the EXP10i comes with a built-in fan to keep you cool, as well as an iPod dock and speakers so you can listen to your favourite music while you work out.
…and if you need interactive personal training sessions at home or live studio workouts then this treadmill should certainly be on your list for sure!
So, if you're looking for a high-quality treadmill that offers a variety of features and comfort, the Nordictrack EXP10i is definitely worth considering.
Disclaimer – This website contains affiliate links. If you find the information useful and click on a product link and make a purchase, a small commission will be earned by GymFreakz and we appreciate your support.
Continue to read on to find out more…
---
Specifications
10 inch smart HD touchscreen
30-day iFit family membership included
Bluetooth audio capabilities
Two 2 inch digitally amplified speakers
Automatic trainer control
FlexSelect cushioning
51 cm x 152 cm commercial tread belt
Autobreeze workout fan
Integrated tray
3.5 CHP plus motor
-3% Decline
12% incline controls
0-22 km/h speed
Onetouch controls
Smart response drive system
1.9-inch precision and balanced non-flex rollers
Max user weight 136 kg
SpaceSaver Design with EasyLift Assist
Box Product Weight 101 KG
Assembled Dimensions: 180L x 99W x151H cm
Boxed Dimensions: 215L x 82W x 37H cm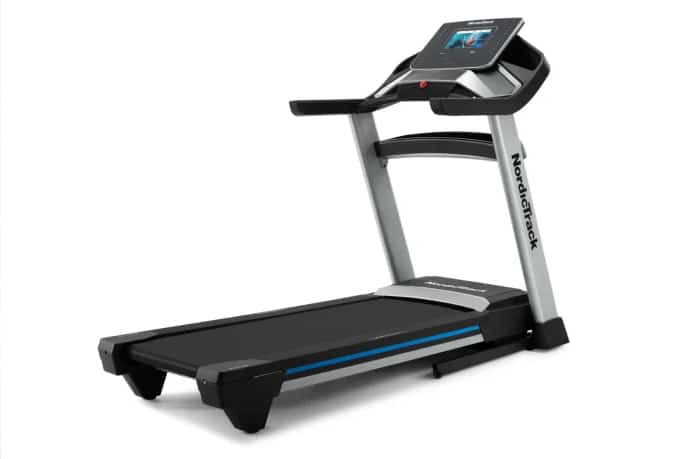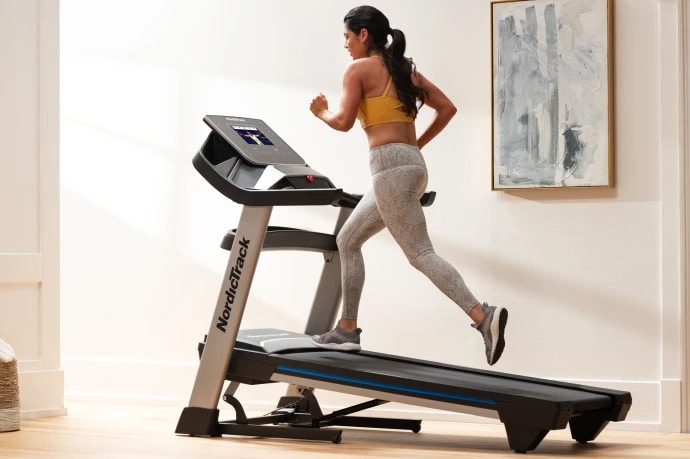 ---
---
---
Key Features
Screen
The 10-inch smart touch screen makes your live studio workouts even more fun! Get high-energy studio classes that will always fit into your routine and what's more, you can do it all from the comfort of your own home!
The toughest interactive training sessions will make you lose that stubborn weight and watching them on the touchscreen makes them even more enjoyable! The interactive outdoor fitness feature will also make it possible for you to run anywhere in the world with its iFit workout programs.
You'll be able to feel and experience the terrain as if you were actually running on the path you choose since the coaches use interactive training techniques which automatically adjust your speed and incline!
There are also cross-training options that allow you to switch your routine according to your own fitness goals and levels, giving you access to experience a new workout challenge every day!
…and you can also track your stats ranging from heart rate to elevation and then you can use those insights and information to help you reach your fitness goals over the weeks and months ahead!
Motor
The quiet yet powerful treadmill delivers exactly what Nordictrack treadmills are famous for with the smart responsive drive system built to move you throughout even the toughest interactive training sessions!
The main advantage of the smart responsive drive system is that it not only reduces vibration making it a quiet motor but the motor also has the ability to cool itself!
So even if you're working on the treadmill for a long period of time your treadmill will never get too hot. Even if it is getting a thorough workout for hours on end it simply won't overheat because the self-cooling method will just take over and cool it as required!
The new smart response drive system is also able to change speed quickly to reach the highest limit of 12 km per hour.
Together these features make this smart response motor ideal if you want to run for a long period of time whilst seamlessly benefiting from its highly responsive speed adjustment!
iFit World Class Personal Trainers
Like all other treadmills from Nordictrack that has iFit training programs and world-class iFit trainers, the NordicTrack EXP 10i treadmill is no exception!
And on signing up, you'll be sure to get an iFit trainer who'll motivate and help you reach your goals ensuring you keep on track each and every day!
With over 17000 workout programs to choose from and the incredible on-demand workouts that feature real-time trainer controls where the iFit trainers also control the speed of your treadmill live you'll never go short on training sessions to work to!
As mentioned, the trainers also control the incline and decline range with the automatic trainer control feature. This means you won't have to worry about changing your speed, incline or decline allowing you to be fully focused on just your running!
There are lots of options to choose from including strength training, plus you can run across all 7 continents through the option of Google Maps!
These unrivalled trainers are renowned for their ability to keep you moving and motivated towards your goals. With lots of new daily challenges where a wide variety of cross-training options include everything from yoga to strength training to recovery and stretching, you're guaranteed to never get bored!
Incline and Decline Controls
The Exp 10i treadmill is one of the few treadmills that has the incline option (not to mention the decline option as well).
…and it's the steeper incline where the higher burn of calories really kicks in. By utilising these settings you can begin to step up your training levels so that you consistently get a great workout in!
With the incline and decline controls (which will be controlled by iFit trainers), you really get the chance to have a real road running experience that you might not get to appreciate from any other ordinary household treadmill.
As mentioned, the iFit trainers use speed and incline controls to adjust the machine's incline, decline, and speed in real-time. The incline and decline range from -3 per cent to 12 per cent and from 0-22 km per hour.
The one-touch control also makes it easier for you to change the setting or speed anytime you want to!
Audio
With the new Bluetooth headphones connectivity you can easily sync your favourite headphones to your treadmill and listen to your trainers or iFit music workout without being distracted.
You'll get wireless connectivity giving you clear trainer instructions which will reduce your chances of being distracted and leaving your workout halfway through!
This connectivity to the iFit coach will definitely help you achieve your goals and with the improved dual-band wifi, you can rest assured that your audio experience with this treadmill will be 'next level'!
FlexSelect Cushioning
The FlexSelect cushioning allows you to soften the impact on your joints by engaging dampeners whilst creating a real road running experience.
This also helps to reduce the amount of stress on your body, which is ideal if you are looking to improve your health and fitness.
iFit Membership
With the iFit membership that comes with your treadmill, you'll get access to exclusive content that will guide you towards a new level of health and fitness.
You can also create up to 4 profiles per iFit membership that will cover all workouts on any of your compatible fitness equipment.
You can also work out anywhere you want to with Google Maps workout technology that allows you to enjoy different areas around the world while training from the comfort of your own home!
---
Warranty
Let's take a look at the warranty of the NordicTrack EXP 10i treadmill below:
Lifetime Frame warranty
10-year motor warranty
2-year parts warranty
Labour warranty upon registration within 28 days of purchase
*Warranty may be subject to change without notice and may differ between retailers – please check carefully before making a purchase.
---
Every treadmill has some pros and cons! Let's take a look at some of them for the Noridctrack EXP 10i treadmill below!
---
Overall Verdict:
The Nordictrack EXP10i treadmill is a great machine that offers a lot of features for its price. It has a powerful, yet quiet motor and an easy-to-use console. Additionally, it is built well and is very stable.
The only downside to this treadmill is as highlighted, the missing heart rate handrails sensors and the slight limitation for the incline settings. However, for most people, the Nordictrack EXP10i is a great choice for a budget-friendly treadmill.
The incline/decline features along with the iFit option are always going to be a great inclusion and give its users fantastic variations and workout regimes to stick to. There are always going to be cheaper treadmills on the market, but with a price tag like this, you can be sure that it will have all the bells and whistles that many people look for when purchasing one of these machines (any Nordictrack treadmill reviews will confirm this)
All in all, I can thoroughly recommend the EXP10i treadmill for its quality, features, and price so if the spec and budget are in keeping with what you're after, make that decision and get one ordered today (and be sure to find a suitable payment method that suits as there are instalment options available too)
It'll be the best choice you'll ever make.
---
What I Like About This Treadmill
Motor
The quiet motor of the NordicTrack EXP 10i treadmill is exceptional and due to it being as quiet as it was while working out I couldn't even tell if the machine was on or not!
This feature is definitely one of my favourites since you're far less distracted (or annoyed by any clunking or whirring) while working out, allowing you to focus on your training sessions whilst being fully relaxed instead.
Most NordicTrack treadmills have this feature where the motor is quiet yet the operational horsepower is high and this is what makes NordicTrack's treadmills stand out. The smart response drive system also cools the motor itself if it gets too hot and it also has reduced vibration.
Screen
Another thing I loved about this treadmill was the screen! The stunning google maps locations could be easily enjoyed due to the size of this and the new graphics processing lets you enjoy the live interactive studio sessions seamlessly!
With this machine (and screen) you get all your high-energy classes in one place where you don't have to worry about the cost of a gym membership at all, easily allowing you to get amazing workouts done from the comfort of your own home!
Balanced Non-Flex Rollers
The 1.9-inch precision and balanced non-flex rollers make this a smooth experience for runners and walkers alike to easily enjoy their treadmill experience without worrying about getting injured.
The FlexSelect Cushioning softens the impact on your joints by engaging dampeners to give you a real road experience, simply fantastic to run on.
What I Didn't Like About This Treadmill
No Heart Rate Monitor
One thing that isn't great is that there is no heart rate monitor built into the handrails with this treadmill. Not having a heart rate monitor is not the end of the world but it's always good to be able to monitor this on your screen when possible.
Since this feature is present on most other NordicTrack treadmills I did automatically expect it from this model as well however as I've said, certainly not a deal-breaker but just one of the things that I could find to put against liking this treadmill! I guess most people have such apps as standard now on their watches and would link via Bluetooth accordingly but for beginners without such gadgets, it might have been a nice inclusion.
Incline
The maximum incline for most machines is 15 per cent however with this treadmill NordicTrack has only given an incline of 12 per cent which is relatively low when compared to other treadmills of the same company.
Not a deal-breaker yet again but if you relish the challenge of the steepest runs available perhaps a different model is for you.
---
---
FAQ's
How Much Does The Nordictrack EXP 10i Weigh?
The in box product weight of the Nordictrack EXP 10i is around 101 kg.
Is Nordictrack A Good Treadmill brand?
Yes, NordicTrack has been making treadmills for a very long time and is known for their good quality of treadmills! They have a fabulous NordicTrack lineup and periodically check the horsepower of each treadmill by keeping the motor running for long periods of time.
Which Nordictrack Treadmill Is Best for Home?
If you're a beginner and are looking for a treadmill that is suitable for your home then the EXP 10i treadmill is a great option! Since you have full control over the incline or decline this treadmill can be set to be either easy or tough on the muscles allowing you to enjoy some great workouts at your own level.
---
Affiliate Disclosure
In compliance with the FTC guidelines, please assume the following about all links, posts, photos and other material on this website:
Any/all of the links on this website are affiliate links of which GymFreakz receives a small commission from sales of certain items, but the price is the same for you.
www.gymfreakz.com is a participant in the Amazon Services LLC Associates Program, an affiliate advertising program designed to provide a means for sites to earn advertising fees by advertising and linking to Amazon.com & Amazon.co.uk. Pages on this site may include links to Amazon and its affiliate sites on which the owner of this website will make a referral commission.