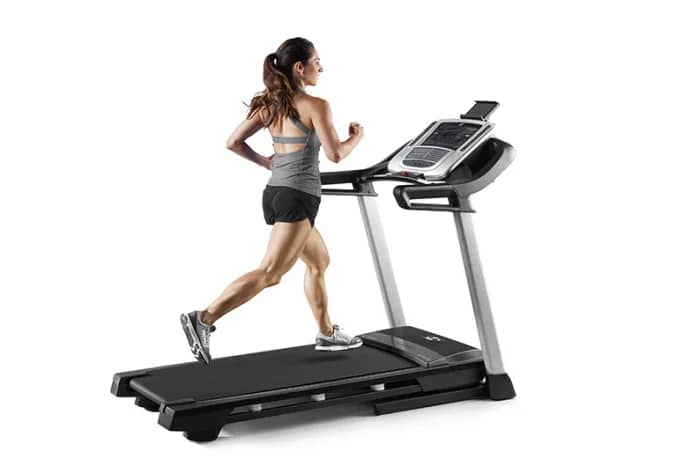 Introduction to the Nordictrack C 700 Treadmill
The Nordictrack treadmill brand is not new to the market and therefore everyone knows just how good their treadmills are already (unless of course, you've been living under a rock)!
…and just like all the other NordicTrack treadmills, the C 700 treadmill is not going to fall short of this reputation! With a great power incline, multi-window led display, and iFit coach experience this treadmill is here to stay and I can assure you that you won't be disappointed!
You can now experience iFit on your device and with total body fitness workouts that range from low to high energy studio sessions. These workouts will train your entire body, targeting each and every muscle!
The Nordictrack C700 treadmill flaunts OneTouch controls, SpaceSaver design, and self-cooling technology. This model surely ticks all the boxes when it comes to a treadmill within your budget while giving you all the features of an expensive treadmill.
So if you're someone who does not want to spend too much on their treadmill but still needs to get a good workout in, then this treadmill should well be your priority!
Disclaimer – This website contains affiliate links. If you find the information useful and click on a product link and make a purchase, a small commission will be earned by GymFreakz and we appreciate your support.
---
Specifications
Multi-window LED display
30-day iFit membership included
EKG handgrips
Smart Bluetooth Chestbelt compatible
Dual 2-inch speakers
Flexselect cushioning
51 x 140 cm Treadbelt
Autobreeze workout fans
2.75 CHP motor
0-10% incline
0-20 km/h speed
Onetouch controls
1.9-inch rollers
125 kg max user weight
SpaceSaver Design with EasyLift assist design
Assembled dimensions: 185L x 85W x 161H cm
Folded Dimensions: 93L x 91W x 172H cm
Boxed Dimensions: 198L x 91W x 30H cm
Product weight: 93 kg
Boxed weight: 101 kg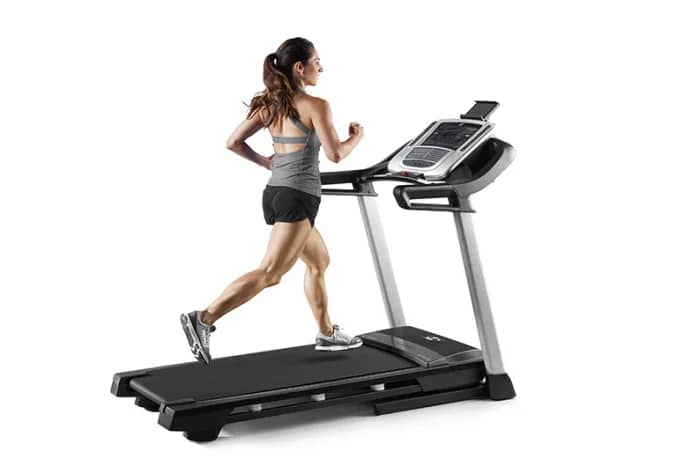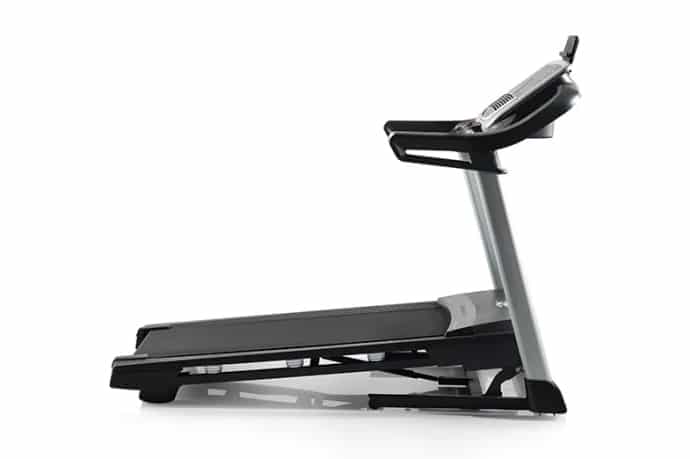 ---
---
---
Key Features
Power Incline
The incline range for this treadmill is reasonable when compared to other treadmills of the Nordictrack series. It has an incline from 0-10 percent. The motorized incline tilts up to 10 percent and you can control it with the buttons on the console.
There are lots of benefits you can get with incline training since it burns more calories than your regular workouts. This type of workout targets your muscles from every angle and gives you a calorie burn that you won't get with other workouts.
Since this treadmill is short when compared to other treadmills, this incline range makes it extremely beneficial for you to burn more calories in a short amount of time without even stepping out of your house!
Plus you won't have to worry about changing your incline mid-workout since your trainers will do that for you!
Motor
The 2.75 MPH motor is designed to support long walks and jogs and this fitness equipment has a smart responsive drive system too with one-touch controls with the option of self-cooling as well.
If you use this treadmill for a long period of time then there's no need to worry about your treadmill getting too worked up since the self-cooling options, constantly keeps cooling down your motor accordingly, avoiding any overheating-related damage!
The smart response drive system supports long power walks and while the running machine is made to be a solid one you can rest assured that it won't get hot enough to damage the motor of your treadmill.
iFit workouts
With iFit workouts, you get lots of options for your workouts that are all created through certified personal trainers. The video workouts have lots of variety and you're able to select the appropriate workout intensity according to the person who is doing them.
With options ranging from interval training to strength training, you will get high definition video workouts on this treadmill where you will not only lose weight but also gain muscle.
Plus with the iFit options, you don't need to worry about adjusting your incline since your trainers will automatically adjust the incline and speed for you!
With 16,000 plus on-demand workout options, you can stream videos workouts to your home any time of the day whether it's day or night. With access to world-class trainers, these elite personal trainers will motivate and support you through their captivating workout options right in your home!
Now you can achieve optimal results and gain confidence knowing that your trainers are controlling your speed and incline to help you get through your workouts easily.
The on-demand workouts have LIVE interactive tech where the elite trainers will digitally adjust the speed and incline of your treadmill. While most treadmills do not offer this feature Nordictrack C700 treadmill does, helping you meet your fitness goals by giving you the best quality in terms of preset programs where you won't have to worry or plan your workouts in any great depth!
Cushioning
Like all other Nordictracks treadmills, this treadmill has the option of Flexselect cushioning where you can keep it on if you have knees that are prone to soreness or injury. This will ensure that the impact on your joints gets reduced to avoid any further injuries in the long term.
The adjustable flexselect cushioning will definitely make your workouts even more easy to do especially if you have a problem as mentioned of weak joints and knees.
Also, this feature of the treadmill is optional for you to use and if you don't want the cushioning you can easily turn it off for the experience of running on the road if you desire!
Audio Entertainment
The Nordictrack C700 treadmill comes with 2 built-in speakers and it also comes with an aux music port which allows you to plug your smartphone into it so you can enjoy your favourite music while working out!
AutoBreeze Workout Fan
The Autobreeze workout fan of this treadmill is quiet unique! As you increase the speed of your treadmill so too does the speed of the fan as well. This small feature makes a big impact to your workouts and you'll find you can work out far more easily with fans built into the treadmill to cool you down during intense workout sessions!
Multi-Window LED Display
The multi-window LED display allows you to workout virtually literally anywhere in the world! Now you can go wherever you want with Google maps and enjoy different places while working out from the comfort of your home!
Real-time performance stat tracking is perfect to keep you engaged and your calories burned! The LED display will show the track length as well as the top speed. You can also use the screen to watch the standard workout downloads and with lots of new workouts to use you can try something new everyday!
---
Warranty
Let's take a look at the warranty of the Nordictrack C700 treadmill:
Lifetime frame warranty
10 year motor warranty
2 year parts
Labour warranty upon registration within 28 days of purchase.
*Warranty may be subject to change without notice and may differ between retailers – please check carefully before making a purchase.
---
Lets take a look at some of the pros and cons of this treadmill below!
---
Overall Verdict:
The Nordictrck C700 treadmill is an affordable treadmill that will best suit you if you are a beginner walker or a jogger. It has many good features to make this treadmill a good option for your home workouts and if you're interested in an incline that is not the steepest not necessarily a bad thing) and some pre-loaded workout programming then this treadmill should be on your list for sure!
There are plenty of programs that will ensure you never get bored and with iFit subscription you will never run out of ideas for your workouts!
Although this treadmill is low priced and has many good features, this might not be suitable for people who are looking for that slightly higher performance treadmill with a greater top speed and larger running belt, in which case there are plenty of options still available through the site.
It's just a matter of finding the right fit for you.
---
What I Like About This Treadmill
Affordability
One thing I loved about this treadmill is the affordability! It is one of the most affordable treadmills on the market compared to other treadmills of the same range and the same amount of features it offers!
When we look for treadmills like this in the market the prices are almost the double to this one but please take note, Nordictrack makes sure to not compromise on the quality of their treadmill when achieving this.
It comes with a top-notch motor, good enough incline, lots of workouts pre loaded in the treadmill and iFit subscription that comes free for the first 3o days!
Workout Programming
This treadmill comes with 20 pre-programmed workouts that are designed by elite personal trainers. These workouts also adjust according to your workouts and the trainers will let you know in advance as they are about to change the incline of your treadmill.
These workouts ensure that you get a good caloric burn and targets all your lower body muscles to make sure that all parts of your body are being targetted without even stepping out of the house!
iFit Account
Another thing I loved about this treadmill is the iFit account. The membership is free for the first 30 days and after that you can decide if you want to keep it or not.
This home treadmill gives you the experience of working out professionally with lots of personal trainers to guide you every step of the way and keep you motivated to power through and to finish each and every one of your workouts!
What I Didn't Like About This Treadmill
Short Track
When we compare the track of Nordictrack C700 treadmills track to other treadmills of the same company we found the track of this treadmill to be a little shorter. This might create problems for taller people to work out as easily on this treadmill.
If you are a tall person or will be sharing this treadmill with other people then this treadmill might not be the best option for you and you might want to look at others in the range.
Incline Not The Steepest
Although a not-so-steep incline might be a good option for some people, when you compare this treadmill to other treadmills we will see that the treadmill's incline is perhaps not that great!
Some may have been expecting a better incline range from this treadmill?
Difficult to Put Together
It might be a little difficult to put this treadmill together as many some people seem to have faced this problem! (I personally didn't have any issues with my training partner).
It might just be that you need a spare pair of hands when constructing this treadmill together so if you live alone then perhaps make sure that you have help around when doing so!
---
---
FAQ's
Is the Nordictrack C700 treadmill worth it?
The Nordictrack C700 treadmill is a fun machine and if you're not looking for a machine for hard core workouts then this treadmill should be on your list!
Can you run on Nordictrack C700?
Yes! You definitely can run on your Nordictrack C700 without too many problems!
Are Nordictrack Treadmills Worth The Money?
Nordictrack treadmills are known for their durability.
They have powerful treadmills that are famous throughout the world for their great performance treadmills which people have experienced so yes Nordictrack treadmills are worth the money if you are willing to invest in a good treadmill!
What are virtual treadmill races?
Virtual treadmill races are competitions held entirely online, in which participants use a treadmill to complete a set distance within a set time period.
Racers can compete against each other, or against the clock.
These races can be an excellent way to challenge yourself and stay motivated to keep running.
---
Affiliate Disclosure
In compliance with the FTC guidelines, please assume the following about all links, posts, photos and other material on this website:
Any/all of the links on this website are affiliate links of which GymFreakz receives a small commission from sales of certain items, but the price is the same for you.
www.gymfreakz.com is a participant in the Amazon Services LLC Associates Program, an affiliate advertising program designed to provide a means for sites to earn advertising fees by advertising and linking to Amazon.com & Amazon.co.uk. Pages on this site may include links to Amazon and its affiliate sites on which the owner of this website will make a referral commission.