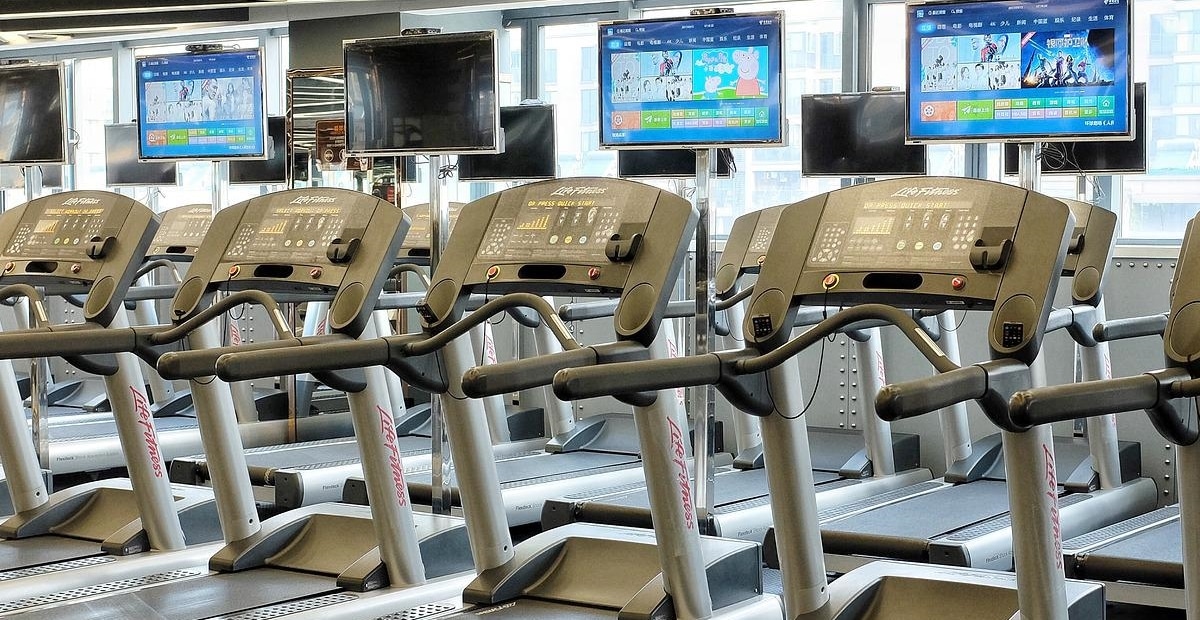 ---
---
TV screen, workout videos, workout stats and more, finding the best treadmill with a tv doesn't need to be hard
Sometimes, it's more than just running for half an hour. Data tracking, incline range, workout programs – finding the best treadmills with screens to help you become your own Personal Trainer doesn't need to be hard.
In fact, if you really think about it, treadmills with screens and multi-function capabilities are saving you a tonne of money in the long run; with preset workout programs and data tracking you're adding on the value of what is essentially a coach, so remember that as we're reading through this list together.
As always, I never want to dismiss the important stuff. Yes, we're focussing on screens and how they can change your workout routine, but we still need to look for components like the running deck, speed and incline, tablet holder, and so on. Why? because the best value treadmill takes all-round consideration.
Lastly, try to remember the benefits of interactive workouts too. The more you're thinking about your workout routine, the more your training session becomes a part of your thought, and we're all here to make fitness our life… if we haven't done so already.
Without further wait, let's break down the best treadmills with screens!
Disclaimer – This website contains affiliate links. If you find the information useful and click on a product link and make a purchase, a small commission will be earned by GymFreakz and we appreciate your support.
In A Rush?
| | My Top Pick: | Best Top End: | Best All-rounder: | Best Large Screen: | Best For Under 1.5K: |
| --- | --- | --- | --- | --- | --- |
| Brand | ProForm | Life Fitness | Nordictrack | Nordictrack | Proform |
| Model | Pro 9000 | Platinum Club Series | EXP10i | Commercial 2950 | Carbon T10 |
| Photo | | | | | |
| Max. Speed | 22 kph | 12 mph | 22 kph | 22 kph | 16 kph |
| Max. Weight | 136 kg | 181 kg | 136 kg | 136 kg | 135 kg |
| Running Area | 51 cm x 152 cm | 56 cm x 152 cm | 51 cm x 152 cm | 56 cm x 152 cm | 51 cm x 140 cm |
| PRICE* | £1,999.00 | £12,045.00 | £1,899.00 | £2,699.00 | £1,399.00 |
| | | | | | |
| Check Prices | | | | | |
*Prices correct at the time of writing
---
My Top Pick:
ProForm Pro 9000 Folding Treadmill (£1999.00)
Key Features
Motor Size: 3.25 CHP
Dimensions: H151 x W89 x D196cm
Folded dimensions: H176 x W89 x D114cm
Running Deck: 51 x 152cm
Incline Range: -3% to 12%
Max Speed: 0-22 KM/H
Max weight capacity: 136kg
Built-in programs: 62
Targeted Muscle Area: Total body
Display Type: LCD
Entertainment: 22" Smart HD Touchscreen, built-in speakers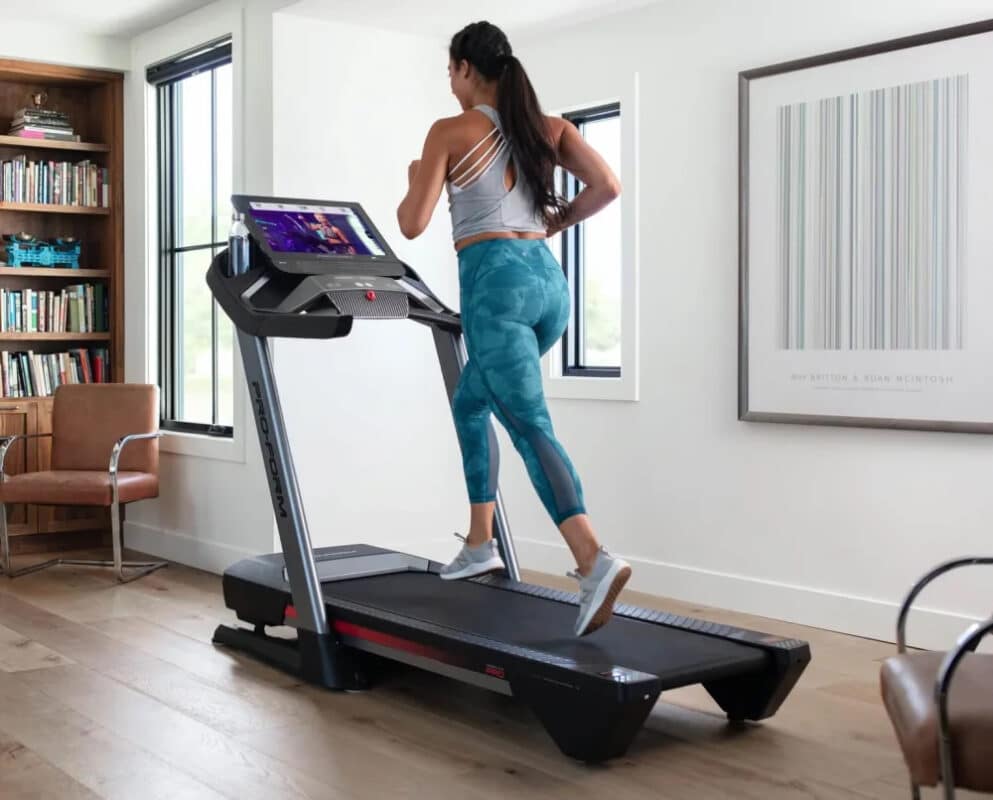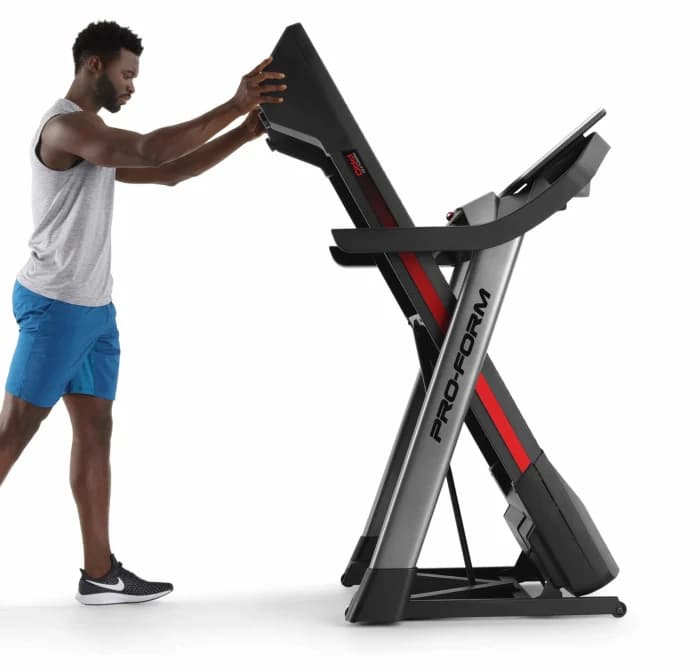 ---
Overview
The price range of the ProForm Pro 9000 treadmill assures the level of quality that is not often found in high-priced machines.
The folding feature of the product allows the user to conveniently fold the treadmill and create space when the product is not in use. There are 62 pre-programmed workout programs present in the Pro 9000 treadmill which allows you to enjoy a complete home gym. With beginner, intermediate and advanced levels there are several fitness tips that the user can follow according to their needs.
And while a high price denotes a sturdy build, with features like strong motor power, good top speed, running surface etc, we're to focus on the screen.
So let's see what we're working with here.
The HD 22" touchscreen present right in front of you acts as a connected fitness tracking check which displays your calorie burn, time, distance, treadmill's speed, and incline/decline range. This way you can adjust the intensity instantly within just one tap. Not only this but once connected to the Wi-Fi, you can follow iFit trainers guidance shown to you without any hindrance and continue a healthy workout. On top of that, the iFit trainers automatically adjust the treadmill to tone your muscle strength effectively.
To turn your toughest workouts into entertainment sessions, there are 2-inch dual speakers present at the bottom of the ProForm Pro 9000 console. These speakers deliver a super crisp sound and cover a good sound range so the users can hear the classes perfectly.
Want to know more? Read our full review of the ProForm Pro 9000 Folding Treadmill here.
---
Best Top End:
Life Fitness Platinum Club Series Treadmill with Discover SE3HD Console (fixed) (£12,045.00)
Key Features
Console: Discover SE3HD Console
Heart Rate Monitoring: Yes
Dimensions: 203 x 94 x 163 cm (lxwxh)
Running Area: 56 x 152 cm
Integrated TV: Yes
Internet Connectivity: Yes
Adaptive Audio Coaching: Yes
Device Compatibility: Android TM, iPhone, iPad, iPod
Interactive Courses: Yes
Bluetooth: Yes
Internet Connectivity: Yes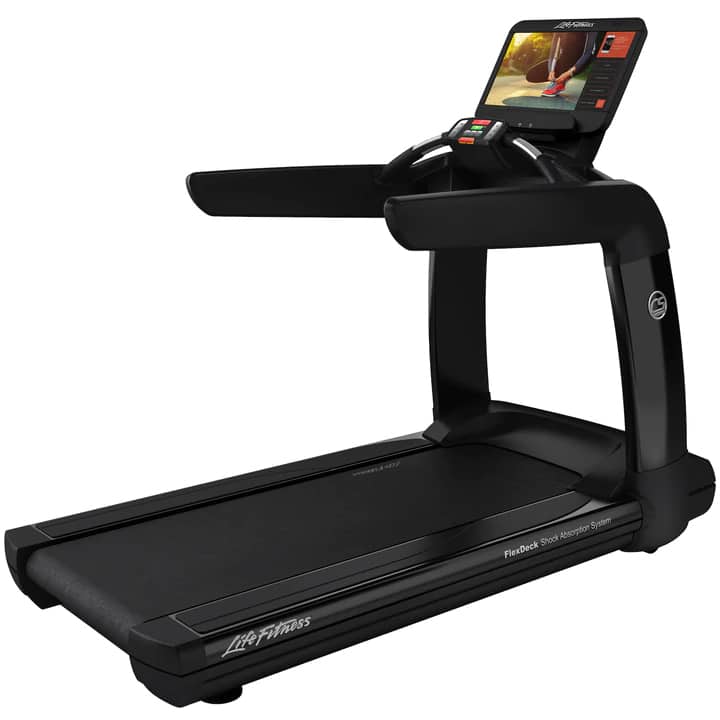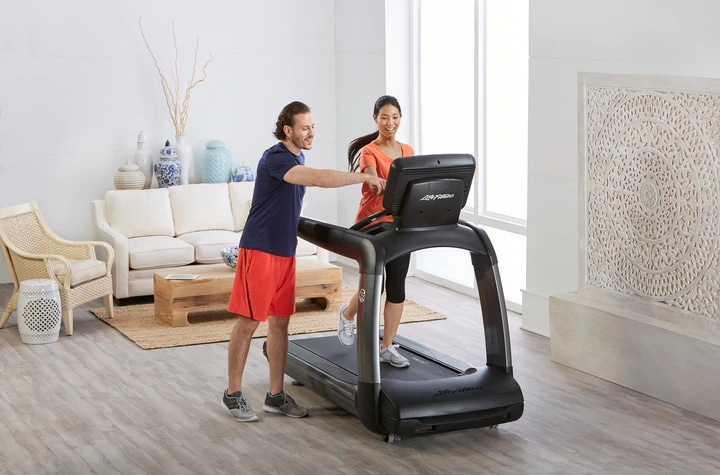 ---
Overview
This Life Fitness Platinum Club Series Treadmill with Discover SE3HD Console is a wise investment for light commercial and home gyms. For entertainment and technology integration it's up there with the best machines on a global scale. All your workouts can be integrated with this treadmill; the built-in tv screen with built-in workout programs allows you to maximise the efficiency of your exercise equipment – all in a way that only certain treadmill brands can offer.
To reiterate, its modern design and interactive features with experience and advanced training options, make this Life Fitness Treadmill premium quality workout equipment. With a range of connectivity and entertainment options, it makes working out at home a pleasant experience.
But what about its build? And other components? Well, the Life Fitness Platinum Club Series Treadmill has a great maximum user weight for those needing to burn calories fast, a strong treadmill deck for long-lasting use, and a great max speed to accompany that.
All in all, this machine is a solid treadmill with a focus on connecting the user (you) in as many ways as possible.
Want to know more? Read our full review of the Life Fitness Platinum Club Series Treadmill here.
---
Best All-rounder (great screen + incline treadmill):
Nordictrack EXP10i Treadmill (£1899.00)
Key Features
10 inch smart HD touchscreen
30-day iFit family membership included
Bluetooth audio capabilities
Two 2 inch digitally amplified speakers
Automatic trainer control
51 cm x 152 cm commercial tread belt
Autobreeze workout fan
3.5 CHP plus motor
12% incline controls
Onetouch controls
Smart response drive system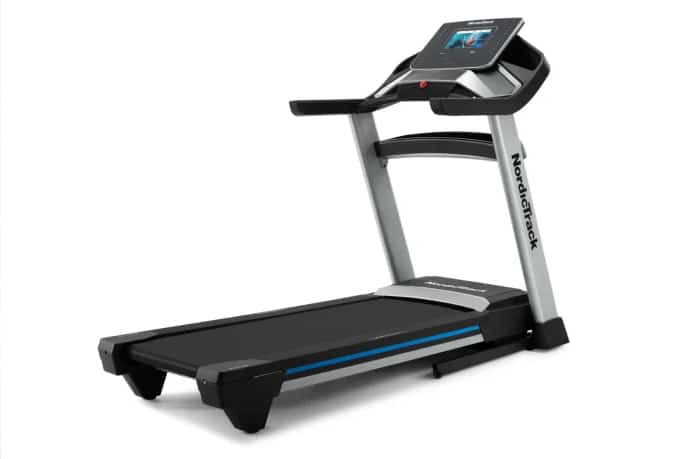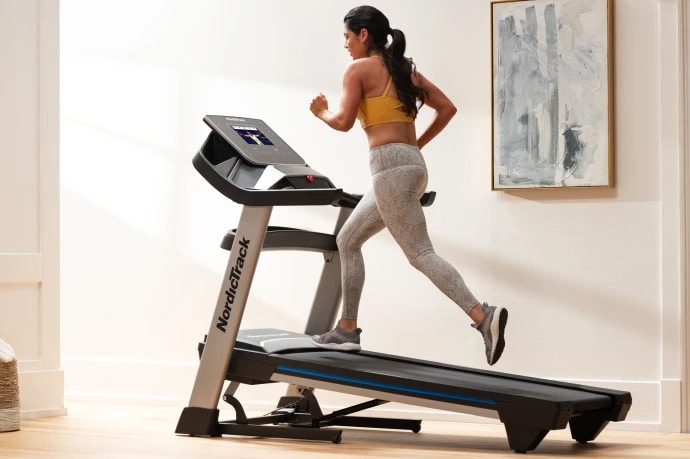 ---
Overview
The Nordictrack EXP10i treadmill is a great machine that offers a lot of features for its price. It has a powerful, yet quiet motor and an easy-to-use console. Additionally, it is built well and is very stable.
But let's focus on the easy-to-use console for a moment.
The 10-inch touchscreen makes it very easy to operate while both running or cooling down. It's important to have great usability with technology integration as intense workouts can make it hard to utilise these features efficiently otherwise.
It also boasts expanded Bluetooth capabilities, which increase the personal feel of your treadmill, making workout sessions more and more about you and your style – whether it's interval training or light calories burned, having these options is always a plus.
The only downside to this treadmill is as highlighted, the missing heart rate handrails sensors and the slight limitation for the incline settings. However, for most people, the Nordictrack EXP10i is a great choice for a budget-friendly treadmill.
All in all, I can thoroughly recommend the EXP10i treadmill for its quality, features, and price so if the spec and budget are in keeping with what you're after, make that decision and get one ordered today (and be sure to find a suitable payment method that suits as there are instalment options available too)
Want to know more? Read our full review of the Nordictrack EXP10i Treadmill here.
---
Best Large Screen:
Nordictrack Commercial 2950 Treadmill (£2699.00)
Key Features
Partial assembly required
Built-in speakers with Bluetooth connectivity
Adjustable console position
Height 165 x width 100 x depth 200 cm
Dimensions when folded height 189 x width 100 x depth 100 cm
Foldable? Yes
Heart rate monitor via hand grips
Heart rate monitor via hand sensors
Incline 15 percent
Decline -3 percent
Number of programs: 35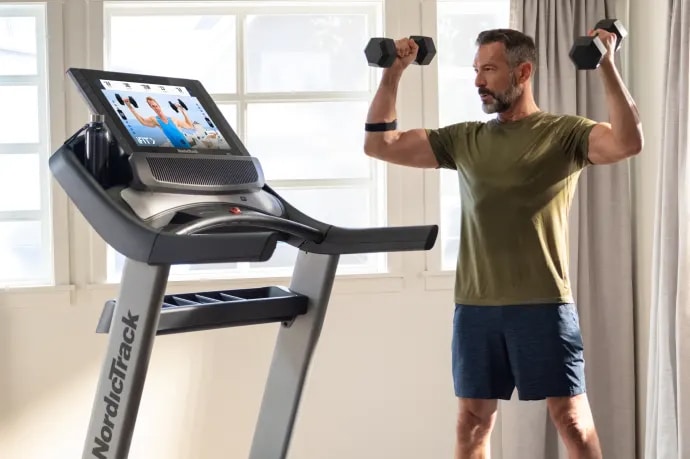 ---
Overview
The iFit addition to this Nordictrack Commercial treadmill will incline and decline according to the trainer you have chosen ensuring you get a thorough workout in from the comfort of your own home, with options available that you'd find on top-end pro machines.
And, unlike most treadmills on the market, you can choose either comfort or road settings. Which is a great extra option for those wanting to vary up their routines and get the most out of a functional treadmill.
All of that aside, as you've seen, the Nordictrack Commercial 2950 treadmill is loaded with great specs for performance and entertainment. The large screen being the focus here. Treadmill screens aren't always easy to use, making them a less than functional treadmill. Here, you don't have to worry about that. Home treadmills like this are a dime a dozen and with the large display you can run at maximum speed and still comfortably use the data tracking and options with ease.
This machine is a no brainer when it comes to ease of use, technology and all of the other features that make a great treadmill with screen focuses.
Want to know more? Read our full review of the Nordictrack Commercial 2950 Treadmill here.
---
Best For Under 1.5K:
Proform Carbon T10 Folding Treadmill (£1399.00)
Key Features
10-inch full-colour touchscreen display
iFit enabled
30-day iFit membership included
2.75 CHP motor
Tread belt, 51 x 140 cm
0-16 kph Digital Quickspeed control
Incline, 0-12 per cent
ISO flex cushioning
1.9-inch Precision balanced rollers
CoolAire Fan
Dual 2-inch speakers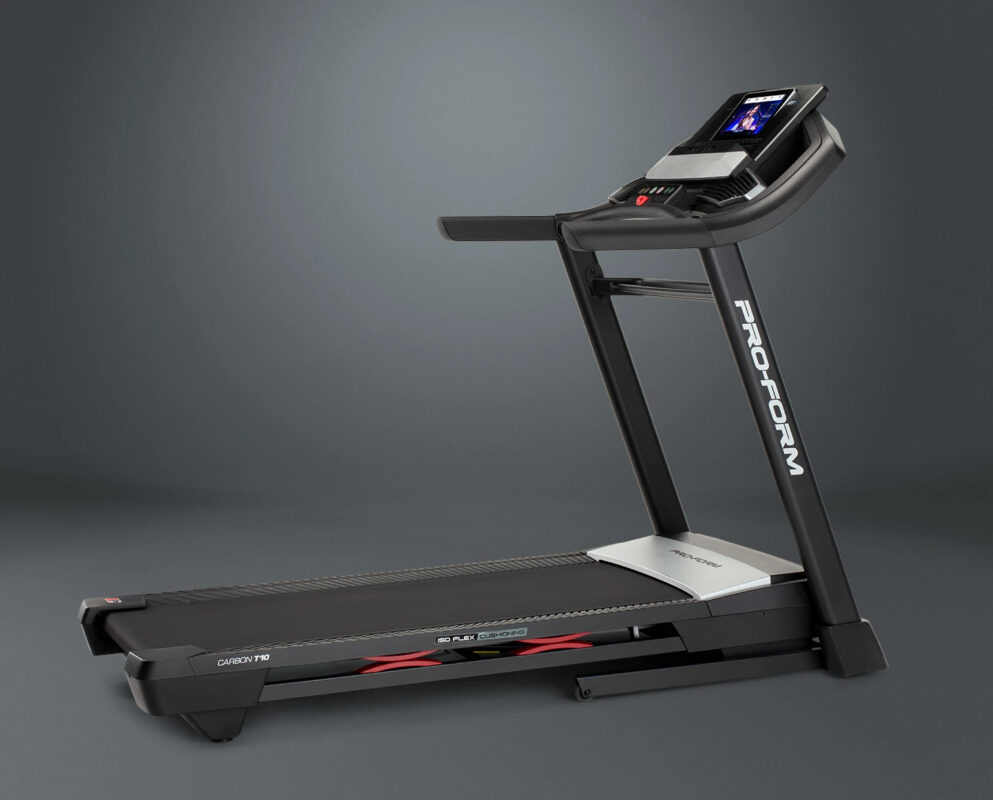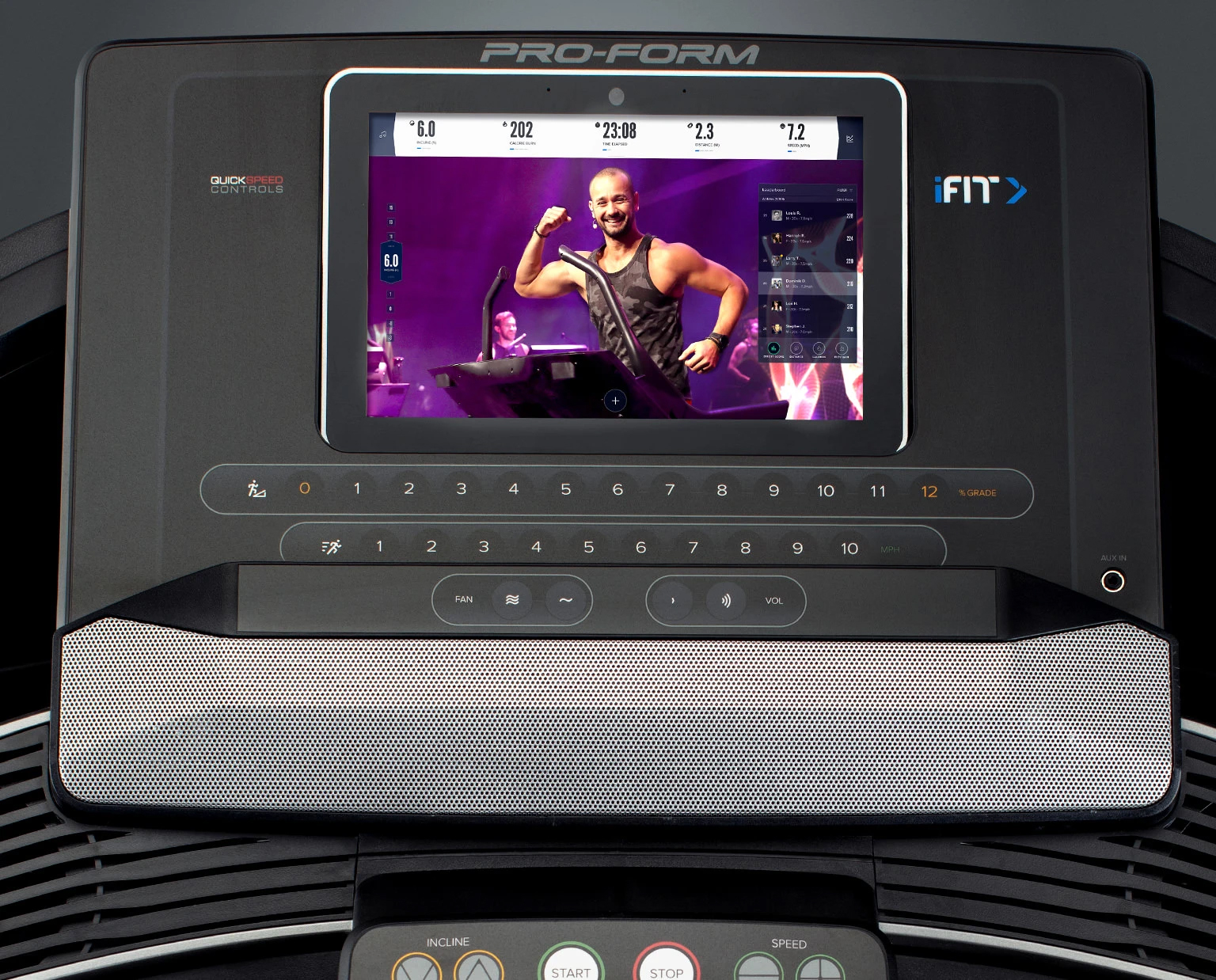 ---
Overview
If you read the title and thought; 'screen components… probably expensive' then most of the time you'd be right (check out NordicTrack treadmills if you want expensive). Not here, however. I couldn't make this list without including the reasonably priced Proform Carbon T10 Folding Treadmill.
The Proform Carbon T10 is a good treadmill for beginners or people who are looking for an upgrade from a basic model. It offers some great features such as iFit, a large tread belt and a powerful motor. But more specifically, the tv screen and its features will help those who are starting out to get a grip of data tracking and other options, all the while sitting firmly in the budget treadmills category.
Unlike other treadmills with tv screen features, this machine is folding. A great way to save space would be to choose this treadmill. Whether you have carpet or hardwood floor, this machine will fit comfortably in most spaces.
Interactive training can come with difficulties. But a big screen to watch tv (and a screen in general) will help you to lose weight no matter your fitness level.
Workout fans love this treadmill and, if you're after basic functionality with a sturdy build and enough options to keep you running, then this is the treadmill for you!
Want to know more? Read our full review of the Proform Carbon T10 Folding Treadmill here.
---
Conclusion
To round this list up, we've done it again – you and I have found a great list of treadmills with tv screens and extra functionality to change your workout routines for good.
While we focussed less on things like maximum weight capacity and quality of treadmill belt, rest assured, if they're on this list then they're built to last.
While your workout intensity is down to you, don't forget how highly valued these machines are in the fitness industry.
Tv treadmill, budget treadmill, functional treadmill – the best treadmill for you is out there, and the more we read together the closer you'll be to finding it…
If you haven't already, that is.
>> Why not take a look at more of our treadmill buying guides here. <<
---
FAQ'S
What if workout programs aren't included, do I need them?
Workout programs are great for guidance with your workout routine (check out NordicTrack), and if you're a beginner then I'd definitely recommend them (in-person trainer-led workouts can be daunting).
You do have to watch for the sturdiness of things like you're treadmill mat, as these programs can push your machines to the limit.
But if you're after a treadmill with tv functionality then they usually come with them.
Does the Nordictrack t 9.5 also have a good screen?
Yes and may have made the list but is currently unavailable:
Nordictrack t 9.5 – Check Stock
---
Affiliate Disclosure
In compliance with the FTC guidelines, please assume the following about all links, posts, photos and other material on this website:
Any/all of the links on this website are affiliate links of which GymFreakz receives a small commission from sales of certain items, but the price is the same for you.
www.gymfreakz.com is a participant in the Amazon Services LLC Associates Program, an affiliate advertising program designed to provide a means for sites to earn advertising fees by advertising and linking to Amazon.com & Amazon.co.uk. Pages on this site may include links to Amazon and its affiliate sites on which the owner of this website will make a referral commission.