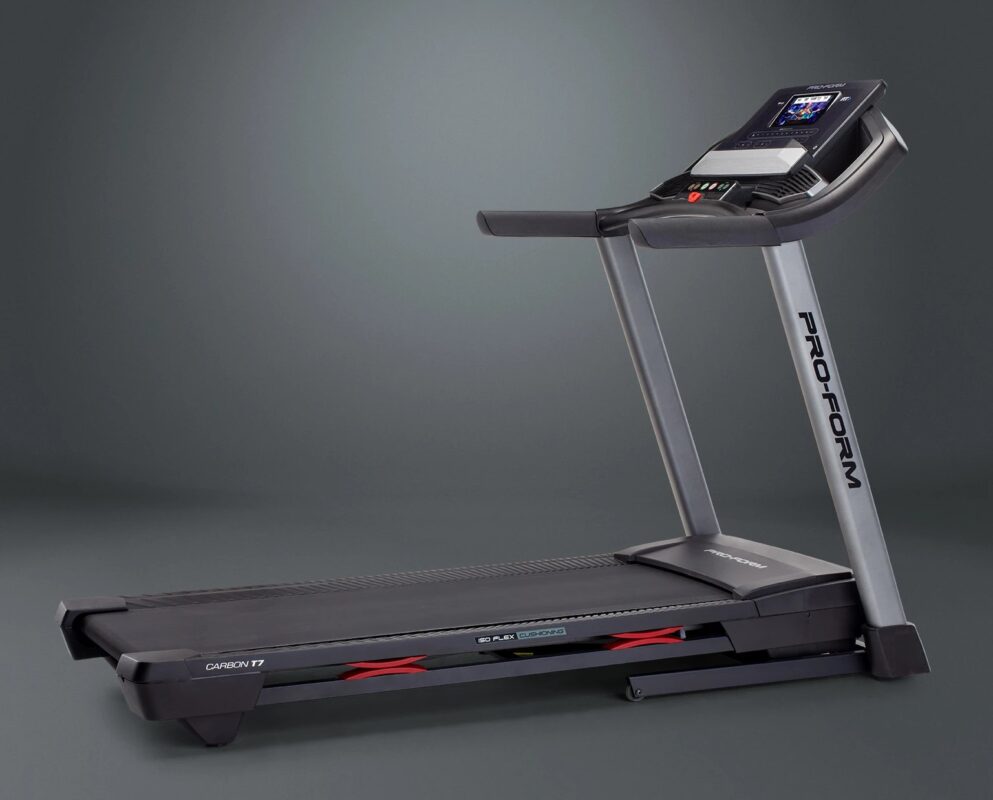 ---
---
Introduction to the ProForm Carbon T7 Folding Treadmill
The Proform Carbon T7 folding treadmill offers great value to treadmill users who are looking for a treadmill that is under £1500. It is great for power walkers, hikers, and joggers and has a decent deck that you can fold easily.
If you are looking for a treadmill to bring the full training experience right into your home then this treadmill will be a great option as iFit trainers automatically adjust the treadmill for you changing the speed and incline as you workout!
You'll get motivation, education and entertainment with countless studio classes and outdoor workouts led by professional trainers plus it also includes 30 days of iFit membership in full for 3o days, allowing you to stream live and on-demand fitness at the push of a button/swipe of the screen.
This treadmill would be a great option for those people who want to work out for less than 30 minutes a day and who like the idea of having bonus features included with their purchase.
Disclaimer – This website contains affiliate links. If you find the information useful and click on a product link and make a purchase, a small commission will be earned by GymFreakz and we appreciate your support.
---
---
Specifications
iFit enabled 30 day iFit Family membership included
7-inch full-colour HD touchscreen display
2.75 CHP motor
Treadbelt 51 x 140 cm
Speed 0-16 kph
Digital QuickSpeed Control
0-10 per cent incline training
Digital quick incline control
ISO flex cushioning
Rollers 1.9-inch precision balanced
SpaceSaver Design
EasyLift Assist
CoolAire Fan
Dual 2-inch audio speakers
Maximum user weight 135 kg
Product Dimensions: 187 x 89 x 146 cm
Boxed-Product Weight: 97 kg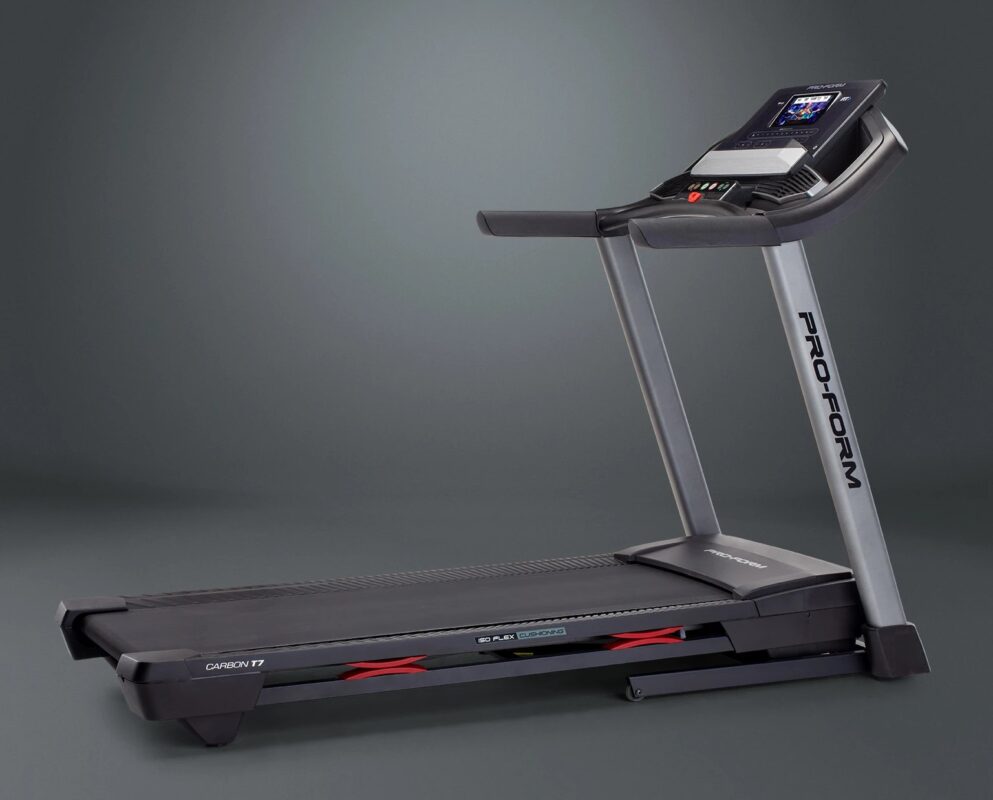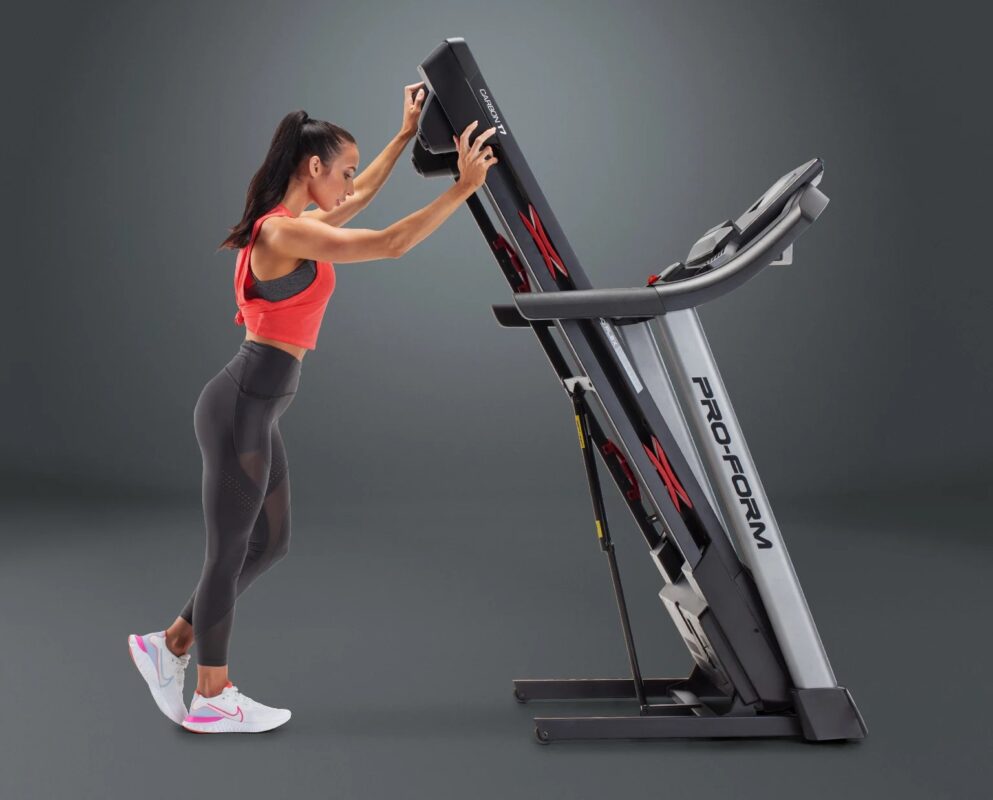 ---
KEY FEATURES
Incline
The 0-10 per cent power incline is great for fat burning and the Proform Carbon T7 treadmill helps you achieve just that!
Through the incline, you will get some of the most challenging workouts which will help you in losing weight and allow you to get a great training session all from the comfort of your own home!
The incline of this treadmill is not excessive however which makes it great even for beginners.
So if you are looking for a treadmill that is not too steep but also gives you a good calorie burn to help you in fat loss then this treadmill might be a good option for you.
iFit Trainers
If you want to take your workout to a whole new level then this treadmill will do just that for you!
Enhance your training with an iFit membership and stream workouts with your own personal trainers in studio class workouts where your trainers will take you all around the world!
The trainers will automatically adjust and control your workout speed and incline settings to give you a unique and hands-free session whilst the interactive training studio classes themselves will help you with your overall transformation.
You can also see the world while you run through cities and trails or if you prefer, get pushed into a studio class, all while being led by your own personal trainer. With connected fitness tracking, you can check your progress as every training session is automatically recorded and even used to influence future fitness plans.
Flex Cushioning
The roomy 20 x 55-inch deck is built to help you with your workouts. Since a landing space should be of good size to help you workout for a longer time, the ISO flex cushioning is designed with this specifically in mind to give your legs a landing surface with more space so you can exercise with comfort.
In a nutshell, the cushioning is designed to reduce the impact on your joints so you can run for longer and get the most out of this treadmill.
Workout Fans
Since this treadmill is built to make you sweat a lot – the Proform Carbon T7 treadmill comes with a built-in fan so you don't get uncomfortable while working out. The fan gives you two levels of breeze to keep you cool and to help you feel good throughout your most challenging sessions.
Motor
The 2.75 MPH motor is a good-sized motor although it is not as large as others, however, if you only want to use it for general use and nothing overly extreme as most runners do, it works just fine!
However, with that said this treadmill therefore might not be a good option if you have multiple users or you want to use it for heavy training.
Even though this treadmill is not the most powerful it is certainly quiet and provides a smooth speed and incline transitions.
Tread Belt
The tread belt of this treadmill is of good size and can easily accommodate larger people. However, if you're 6 feet or taller then we would recommend you to go for a tread belt that is 60 inches instead of the 55 inches.
A 55-inch tread belt is sufficient for most people so if you're an average-sized person or below, then this tread belt would be ideal for you!
Touchscreen
The 7 inch, full-colour touchscreen is one of the things that makes a big difference on this treadmill! If you want to experience a whole new world of workouts through your treadmill but don't need it super-sized, then this screen is a great choice for you!
The trainers can control your speed and incline, giving you some great interactive personal training which won't allow you to get bored! While working out on the treadmill you get to travel across the entire globe from the comfort of your own home.
So whether it's cities or trails you prefer, you can walk or jog anywhere in the world!
Folding Treadmill
The Proform Carbon T7 treadmill is a folding treadmill which you can keep anywhere around the house. If you are short of space then this treadmill is a great option as now you can conveniently fold the treadmill and put it away when not in use!
If it's one good thing the company made sure they did it was to make this treadmill easy to fold and manoeuvre making it the perfect buy for those who live in small apartments or flats.
---
Warranty
2 years parts
2 years labour
5-year motor
Lifetime frame guarantee
*Warranty may be subject to change without notice and may differ between retailers – please check carefully before making a purchase.
---
Pros and Cons
Every treadmill has its own pros and cons. Let's take a look at some of the pros first.
---
Overall Verdict:
The Proform Carbon T7 treadmill is a great value for money treadmill. It comes with lots of different features which includes being able to switch it to manual mode as well.
The incline that it provides is not over the top which makes this treadmill great for beginners as well as experts. So if you feel that you need a treadmill to get you started in your fitness routine and fancy adding in some hill work as part of this, then this treadmill is a great option.
Plus it comes with a SpaceSaver design which makes it even more convenient to store it if you are living in a small space. Once you are done with your workout simply fold it down and store this treadmill away out of sight.
As an addition, you'll also get lots of fitness tips with an iFit membership which brings knowledge that will help you develop great fitness habits.
This treadmill is a great all-rounder and the smart hd touchscreen gives you amazing indoor workouts without having to even step foot out of the house!
The immersive interactive training sessions are going to be a game-changer for your training session so make that choice today and get one ordered to get your training 'up and running', quite literally!
---
---
What I Like About This Treadmill
As everyone knows Proform is a name known to many people in the treadmill industry. Let's take a look at all the things I liked!
iFit Membership and Interactive Personal Training
The first thing that I loved about this treadmill was the 30-day free iFit membership that comes with the treadmill when you buy it. This gives the users a chance to fully enjoy the benefits of iFit before deciding if they want to sign up for a full membership or not.
The personal trainer-led workouts help you to get through your sessions through interactive training studio classes where you'll never get bored. These studio class workouts make your workout comfortable and even more enjoyable, helping you maintain your training day after day, week after week.
Add to that the fact that the Carbon T7 will help you burn the fat and lose weight all at the same time and I'll think you'll agree you have a match made in heaven.
The streamed personal trainers lead the workouts ensuring you get your workouts done – this is a bonus that will definitely help you with your fitness goals. You don't have to worry about changing the incline range or the speed either during your sessions since your trainers will do that for you.
Fan
During the workout, you are going to sweat without a doubt! For this reason, the Carbon T7 has a fan installed in its treadmill that ensures you never feel too hot while going through your paces.
As the fans keep cooling you down while you work out, this helps you to stay comfortable during your workouts and assists in helping you get through your workouts more easily.
The fan also has two levels of breeze and depending on how you're feeling you can select accordingly for your workout.
Flex Cushioning
Another great thing about this workout is the flex cushioning. The cushioning gives the joints a very smooth workout experience without making it too harsh on the knees or your joints.
This flex cushioning makes sure that you land softly on the treadmill so that you can work out longer and also more comfortably.
What I Didn't Like About This Treadmill
Compact Treadmill
Although this treadmill ticks many other advantages, one thing that I struggled with was that it was maybe too compact for some? Although for me who is only relatively small this treadmill was great I still felt that if a bigger person intended to regularly use it then it might be difficult for them to fully enjoy the experience.
---
FAQ's
Can I Use Proform Carbon T7 Without iFit?
Yes the Proform Carbon T7 treadmill can work without iFit as you can use it in manual mode.
Will You Get Personal Trainer With iFit?
Yes if you choose iFit then you will get personal training experience.
Does It Have Interactive Training Studio Classes?
Yes the Carbon T7 treadmill has many interactive training studio classes which will make sure that you meet your fitness goals!
Screen Size
Other treadmills from Proform do have bigger screens however for the price this is well worth the trade-off.
**This features as the best home treadmill for under £1000 on our Treadmill Buying Guide for 2022 here.
---
Affiliate Disclosure
In compliance with the FTC guidelines, please assume the following about all links, posts, photos and other material on this website:
Any/all of the links on this website are affiliate links of which GymFreakz receives a small commission from sales of certain items, but the price is the same for you.
www.gymfreakz.com is a participant in the Amazon Services LLC Associates Program, an affiliate advertising program designed to provide a means for sites to earn advertising fees by advertising and linking to Amazon.com & Amazon.co.uk. Pages on this site may include links to Amazon and its affiliate sites on which the owner of this website will make a referral commission.