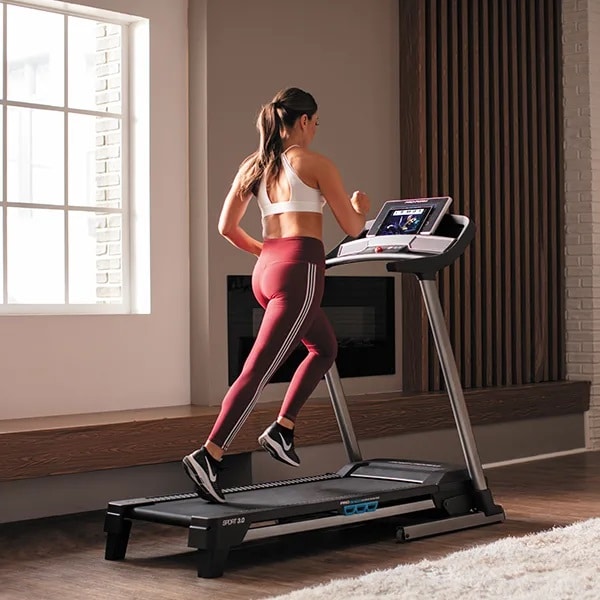 ---
---
Introduction to the ProForm Sport 3.0 Folding Treadmill
ProForm treadmill is a product of ICON Health and Fitness, a gym equipment manufacturing company located in Utah (U.S). When comparing ProForm treadmills, it's tough to overlook the significant pricing, performance, and durability disparities. All ProForm treadmills are feature-rich if compared to most competitors in their class. ProForm treadmills provide a variety of features, including HD displays and Bluetooth speakers, as well as iFit trainer coaches that train you through programs and other amenities to help keep you motivated.
Begin your home exercise adventure with the ProForm Sport 3.0 Folding Treadmill now. You can stay motivated while working out with unlimited fitness tips. You may also personalize your in-home workouts using plans created by expert personal trainers. Its ever-growing workout library includes routines that take you from newbie user to everyday devotee. A spacious deck to free your legs and provide a comfortable elbow room for your upper body. With Ifit trainer auto adjust, users may exercise at various challenging and imitate outside walking or running circumstances with a 0 to 10% inclination range. Walking on a treadmill at a steady speed is excellent for people with lower blood pressure since it relieves tension and keeps your mind clear and pleasant.
Disclaimer – This website contains affiliate links. If you find the information useful and click on a product link and make a purchase, a small commission will be earned by GymFreakz and we appreciate your support.
---
---
Specifications
iFit enabled
30 days iFit family membership
iPod audio enabled
5″ High Contrast LED
2.0 CHP Motor
Innovative Space Saver design
Easy Lift assistance
Quick incline from 0 – 10%
BLE Chest Belt Compatible
The maximum user weight capacity is 135 kg.
Product dimensions are 164 x 75 x 140 cm
173 x 77 x 28 cm boxed dimension
95 x 75 x 148 cm when folded
Quick Incline
Powerful workouts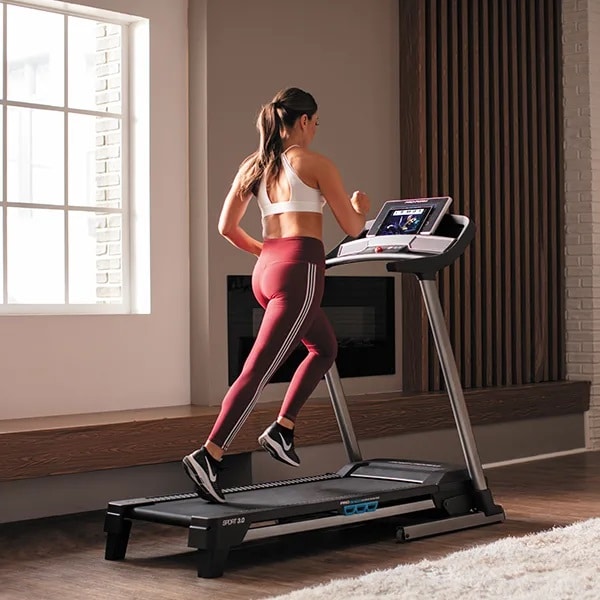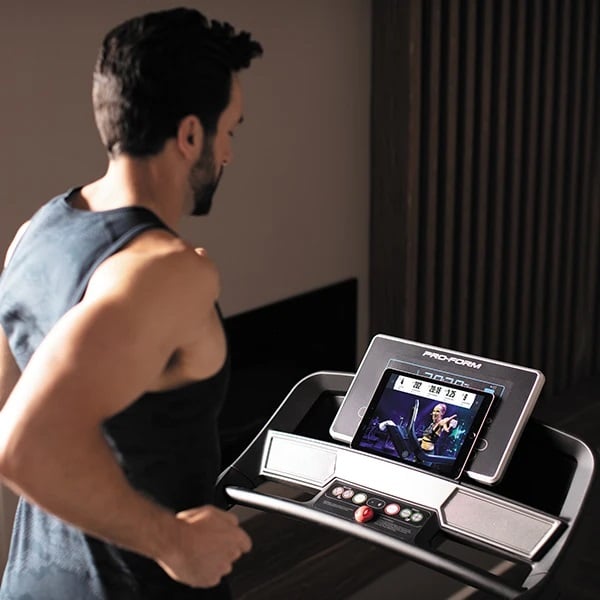 ---
KEY FEATURES
iFit Trainer Coaches
Explore a completely immersive experience with the Ifit-enabled Proform Sport 3.0 Treadmill powered by Google Maps. From the comfort of your own home, you may visit your favorite spot, explore the Alps, and jog along the seaside. You will also get instant access to immersive training workouts overseen by certified personal trainers through interactive training and a vast library of workouts to choose from. You may also keep track of your diet and exercise habits with virtual classmates. Whether your coach is pushing you hard or if you feel like sprinting with Proform treadmills you will never feel confined!
30 days iFit Personal Training
If you buy a Proform 3.0 Treadmill, Ifit will give you a full membership of 30 days for the entire family. After a month, you may subscribe to any affordable package as membership sold separately. Your family will get instant access to an extensive range of worldwide workouts and an ever-expanding fitness library. Expert personal trainers can help you stay motivated. The iFit trainer coaches will help you achieve your fitness goals through ifit personal training. The ifit trainer auto adjusts the incline without you having to worry about it! This virtual journey of exercise where your traininers keep automatically adjusting the incline is one of a kind!
iPod audio enabled
According to specialists, we modify our speed dramatically to match the beat of our music. Furthermore, music reduces perceived exertion. A good sound system is usually beneficial. Using the built-in audio iPod connection, you may boost the volume of your music or videos. Connect with the most powerful audio system to enjoy your favorite playlist.
5″ High Contrast LED
A 5″ high-contrast display is more than enough to measure your fitness progress. You may not only get instant access to professional training programs while on board, but you may also monitor your exercise stats. This LCD shows training progress information such as time, distance, calories, speed, and inclination.
2.0 CHP Motor
You can feel like running a race on the Proform sport 3.0 treadmill. The powerful and long-lasting 2.0 CHP motor keeps you cool even during the most strenuous home exercises, creates a lot of spin for a smooth sensation, and offers a quiet in-home experience. This motor is constructed of high-quality components and is suitable for heavy use.
Innovative Space Saver design
Some of your family members may not like your treadmill in the precious living space. That is why Proform created a fold-up treadmill that is easy to store. You no longer need to give up your living space to accomplish your health goals. Even though it has disrupted the fitness sector, your comfort is our first focus. The design allows upper body comfortable elbowroom and also gives legs plenty of area to workout easily.
Easy Lift assistance
Proform also incorporated a powerful shock that allows you to raise the deck with a simple push. Press the running deck vertically against the console to free up floor space. You may now spend quality time with your family in your living room. You can easily adjust the
Incline
Incline training is the treadmill's game-changer since it allows you to prepare your body for any slope or valley. The Sport 3.0 includes motorized and automatically adjusting inclination ranging from 0 to 10%. When you exercise on an incline treadmill, your legs get the best in-home workout experience possible.
The ifit trainer auto adjusts the incline for a perfect cardio solution. ifit enables its users to have virtual journey where its customers get the best experience for their fitness goals from their vast library. You can choose your own intensity through quick incline options have full control of your workouts.
Quick speed technology
The Sport 3.0 has a top speed of 16 KM/H. The easy-push Quick Speed buttons allow you to change your speed intensity instantly. Whether your instructor pushes you too hard or you want to sprint, you have complete control over your training. Change your speed or incline quickly without disrupting your stride or your attention.
BLE Chest Belt Compatible and Treadmill Deck
Heart rate monitoring helps you to monitor your fitness progress. You can easily connect your BLE chest belt to your Proform sports treadmill to monitor your heart rate while working out. ProForm created a spacious deck to make your in-home training experience convenient so that you don't feel limited whether you walk, jog, or run.
The 127 cm long tread belt allows you to take a longer stride. The 41 cm running surface width provides more elbow room for your upper body. Proform test each tread belt for one million cycles, double the user's weight, before releasing it to ensure the highest quality of treadmills.
Maximum user weight
The Sport 3.0 treadmill has a weight capacity of 135 kg. This weight capacity of a treadmill deck is designed with the entire family in mind. Proform tests treadmills for a million cycles at more than the user's weight before releasing them to ensure they are of the best quality.
---
Warranty
The Proform Sport 3.0 Treadmill comes with:
2-year parts and labor warranty
a 5-year motor component warranty
and a lifetime frame warranty.
*Warranty may be subject to change without notice and may differ between retailers – please check carefully before making a purchase.
---
Pros and Cons
---
Overall Verdict:
ProForm offers a diverse selection of treadmills to fit every budget and style of exerciser. Indeed, the brand's popularity is such that many of its earlier models, while discontinued, are still available online and at other stores due to high demand. Their wide range of costs makes them accessible to almost everyone, and the quality rises sharply as the price rises. This demonstrates a brand that knows its various consumers' wants and tailors its offerings accordingly. You can rely on ProForm to give top-notch craftsmanship and a smooth ride at all pricing points. Many people have already gotten great fitness goals using ProForm treadmills. The ProForm Sport 3.0 Treadmill is an excellent choice. This treadmill offers several features, including multi-color displays, an audio iPod attachment, a maximum speed setting, space and cost savings, and automatic inclination and decline adjustment. The two-year labor warranty and the long-term components warranty are intriguing. Most trainees should be satisfied with the power, programming, and cushioning.
The good news is the availability of financing options. You may buy a treadmill with monthly interest-free payments however a credit card required! Make three payments without incurring any further costs. What more could someone ask? Place your purchase for a Proform Sport 3.0 treadmill today to take advantage of this deal.
---
---
What I Liked About This Treadmill
Every consumer has a distinct pricing point. Thus having equipment for all budgets is essential. In this aspect, ProForm does not disappoint any customer. iFit membership service connects the machine to virtual outdoor training through Google Maps and HD exercises led by celebrity personal trainers in fitness studio classes worldwide. The ProForm 3.0 treadmill folds up and can be stored aside, when not in use. This treadmill has a great audio system with an iPod connector.
What I Didn't Like About This Treadmill
As it needs assembling, it may be complex and time-consuming at times. Using a treadmill for daily physical activity is not a good idea because it does not give any upper body training.
At this price, don't expect a full-color touch screen display on a treadmill, but the LCD screen appears to be enough.
The cooling fan is a must-have component that even the most basic treadmills will have. Because this console space is rather spacious, ProForm may have included a small built-in cooling fan.
---
FAQ's
Do iFit Trainer Auto Adjusts Incline?
Yes! iFit trainers auto adjust incline!
Is the quality of the Proform 3.0 Treadmill good?
Yes, ProForm treadmills are of the highest quality. ICON Health & Exercise, the world's top manufacturer of fitness equipment, produces ProForm treadmills.
How do I turn on my ProForm Sport 3.0 treadmill?
The Proform has added a new stage in which you must activate the machine. Hold the blue Bluetooth button for a few seconds your treadmill will be ready to go.
Can I assemble the treadmill on my own?
No! Some of its parts are heavy. Assembly will require two individuals.
---
Affiliate Disclosure
In compliance with the FTC guidelines, please assume the following about all links, posts, photos and other material on this website:
Any/all of the links on this website are affiliate links of which GymFreakz receives a small commission from sales of certain items, but the price is the same for you.
www.gymfreakz.com is a participant in the Amazon Services LLC Associates Program, an affiliate advertising program designed to provide a means for sites to earn advertising fees by advertising and linking to Amazon.com & Amazon.co.uk. Pages on this site may include links to Amazon and its affiliate sites on which the owner of this website will make a referral commission.