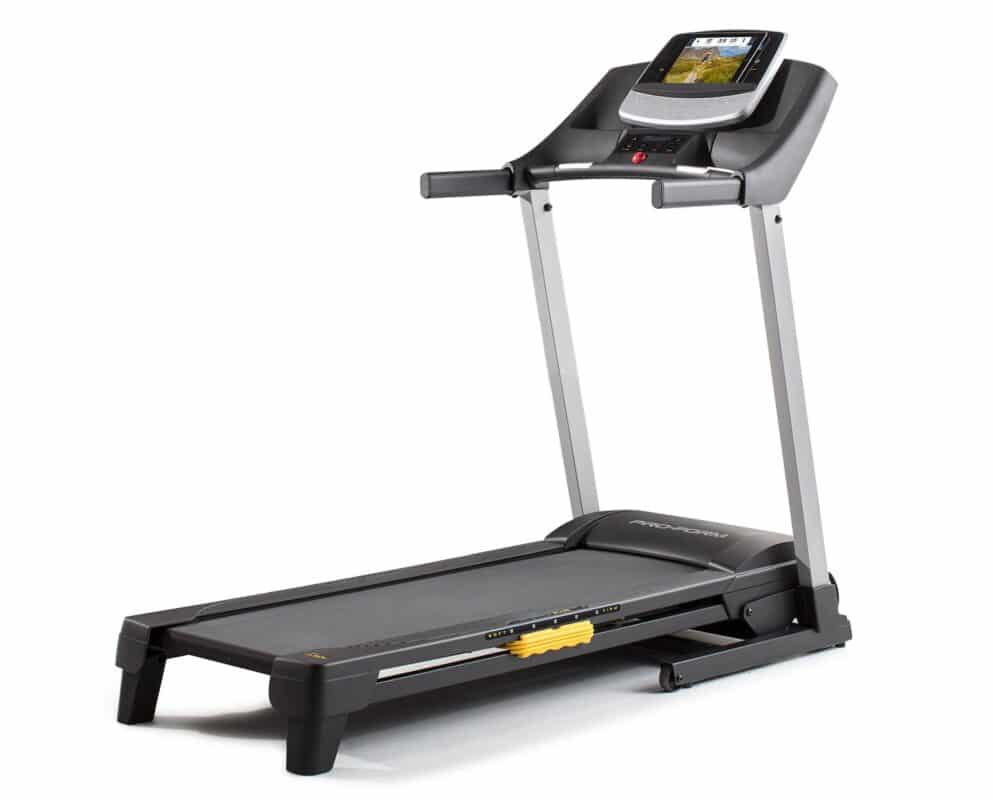 ---
---
Introduction to the ProForm Trainer 430i Folding Treadmill
If you've been looking for a smart treadmill for a long, you've come across ProForm, a manufacturer recognized for its vast collection of fitness equipment. ProForm's specialty has always been treadmills, with a large selection of machines available at various price ranges for domestic and commercial use. The ProForm series is a sleek exercise machine and is a smart treadmill it has been introduced as a low-cost range of foldable treadmills.
The iFIT-enabled ProForm Trainer 430i Treadmill will keep you engaged and inspired during your fitness journey. You can feel the pleasure of traveling the world while completing hundreds of adventurous exercises in the comfort of your home gym with this sleek exercise machine built with care. The ProForm Trainer 430i is a piece of stylish training equipment designed just for you. The 430i supports iFit, allowing you to take charge of your workout by instantly accessing hundreds of engaging Global Workouts. Each workout is conducted by a personal iFit trainer who genuinely cares about your success. Connect your tablet or phone to your Proform treadmill by Bluetooth smart connection for customized health and nutrition guidance, individualized training ideas, and long-term data tracking.
With Digital Quick Incline Controls, you can easily change the incline of your workout to target and tone different muscle areas. The 430i's folding smart treadmill helps you regain valuable space in your house. When not in use, fold the treadmill deck up and out of the way. With the ProForm Trainer 430i, you can step into your fitness quest.
Disclaimer – This website contains affiliate links. If you find the information useful and click on a product link and make a purchase, a small commission will be earned by GymFreakz and we appreciate your support.
---
---
Specifications
iFIT Bluetooth enabled
30-Day iFIT individual membership included
16 workout routines
Audio compatible with iPod
LCD Display
2.0 CHP motor
Quick Inclination from 0% to 10%
Treadmill Belt is 41 x 127cm
Compatible with BLE Chest Belt
EasyLift assistance
Space saver design.
The maximum user weight is 135 kg
The dimensions of the product are 165 x 74 x 144 cm
Product measurements when folded are 84 x 74 x 178 cm.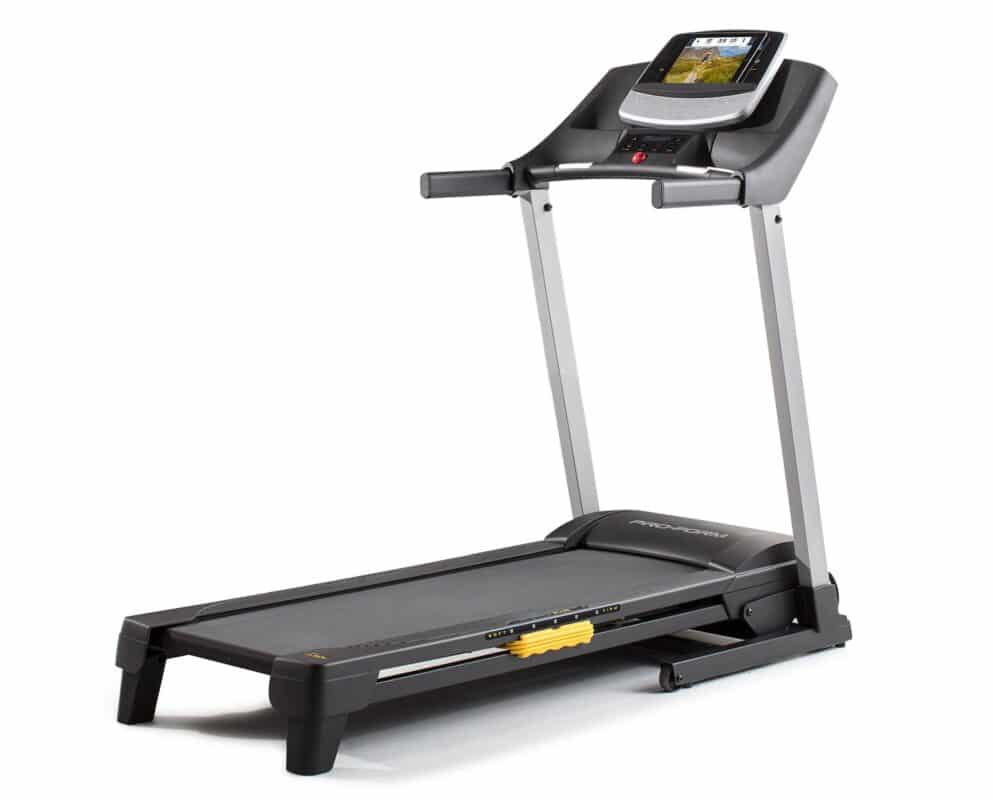 ---
KEY FEATURES
iFit Bluetooth access
If you've been looking for ways to spend time on a treadmill, your search is over! iFit is an exercise software that provides immersive training with several entertaining features. As if the app's hundreds of fitness videos weren't enough, it also includes live personal trainers to help you along the way and virtual jogging locations to visit.
You may also run marathons, take on new challenges, and track your activity, food, and sleep patterns. Install the app on your mobile and connect it to the Proform treadmill through Bluetooth.
30-Day iFIT membership
You do not have to pay for iFit membership for the first month, as you do with most ProForm and NordicTrack treadmills, but you may be required to submit your credit card information to gain access.
16 Workout Routines
After years of hard work and creativity, we discovered how to make your training experience comfortable and convenient. When you step onto the deck of a ProForm treadmill, you immediately have access to professional training programmes that are pre-loaded and ready to use. You may now go through a challenging workout that is customized to your goals.
Aside from iFit, the Proform treadmill features 16 pre-loaded workouts for added variety.
Audio compatible with iPod
According to experts, we modify our speed to match the beat of our music. Music has also been demonstrated to lessen exercise intensity.
You may now listen to your music or movies more clearly and loudly by connecting to a suitable sound system that supports iPods. It enhances the pleasure of using the ProForm Trainer 430i Treadmill. Thanks to the built-in audio connection.
LCD Display
The large LCD on the Proform Trainer 430i Treadmill will no longer bore you. While on board, you may not only choose and watch videos of the 16 preprogrammed workouts but also monitor your workout stats. This LCD shows training progress data such as time, distance, calories, speed, and inclination.
2.0 CP Motor
The 2.0 CP motor will carry you on the long road. Smooth, sturdy, long-lasting, and dependable. keeps you cool during the most rigorous activities, produces a lot of spin for a smooth, strong sensation, and ensures a quiet in-home experience. This motor is built with high-quality components and designed for heavy use.
Quick Inclination from 0% to 10%
When you're on the Proform treadmill, incline training is a huge help. It allows you to train your body for those strenuous mountain treks. Quick Incline Control allows motorised and controlled inclination changes of up to 10%. When you exercise on an inclined treadmill, you know you're getting the finest workout for your legs.
Treadmill Deck
The ProForm Trainer 430i tread belt size should be sufficient for all sorts of users to comfortably jog. Our team members with the longest legs had no difficulty with the belt length.
Because your at-home training should be fun, ProForm designed a roomy deck so you don't feel constricted whether you walk, jog, or run. The 127 cm length enables you to expand your stride. The 41 cm width allows for additional elbow room for your upper body.
Space saver design
Keeping in mind a clutter-free ambiance in your house, we created a treadmill that folds up and out of the way when you're through exercising. It disrupted the fitness industry, but we're glad you no longer have to sacrifice your living space for your workout habit.
EasyLift assistance
If you get irritated having bulky machines in your way, the ProForm Trainer 430i Treadmill's clever folding option will appeal to you. We have introduced a massive shock that helps you lift the deck with a single push. Simply push the running deck vertically against the console to free up floor space.
The maximum user weight is 135 kg
The Proform Trainer 430i treadmill has been created with the entire family kept in mind, with a weight capacity of up to 135 kg.
We test each Proform treadmill at more than the user's weight before releasing it to ensure it is of the best quality.
Dimensions
We understand the necessities of a home gym. As a result, we created it with dimensions of 165 x 74 x 144 cm. The folded dimensions are 84 x 74 x 178 cm.
---
Warranty
For 12 months from the date of purchase, ICON Health & Fitness Inc. warranties its goods to be free of defects in workmanship and materials under normal use and service circumstances.
Warranty upgrades are available on some ProForm products, but you must register your warranty within 28 days of purchase by filling out and returning the warranty card which is included in the box.
For Proform Trainer 430i Treadmill, 2-year parts and labor warranty, a 5-year motor parts warranty, and a lifetime warranty for the frame.
*Warranty may be subject to change without notice and may differ between retailers – please check carefully before making a purchase.
---
Pros and Cons
---
Overall Verdict:
The Proform Trainer 430i Folding Treadmill is a fantastic option. The variety of programs, as well as the unique benefits, really set it apart.
Only a few components require the aid of two people during installation. Apart from that, the size is perfect. It performs admirably when used virtually every day for an hour or more.
Furthermore, the highest speed and steepest incline allow you to push yourself to your limits. You may be a beginner right now, but this treadmill will rapidly turn you into an expert.
The ProForm treadmill is a long-lasting, low-maintenance brand that provides a variety of functions without breaking the bank.
The greatest thing is that if you order it now, you will receive a discount. Furthermore, financial solutions are accessible. You may buy your treadmill in 18-month interest-free payments.
Pay three payments with no additional fees if you use a credit card. What else could a person desire! Order your Proform Trainer 430i Treadmill immediately to take advantage of this offer.
---
---
What I Liked About This Product
Budget-friendly
This treadmill is ideal for individuals on a low budget. There is currently a discount available.
Foldable
It folds up and out of the way when not in use.
Audio system
Simply connect your iPod to a powerful music system using the audio auxiliary port. You can then listen to your favorite playlists instantly.
What I Didn't Like About This Product
Huge Body
Due to its SpaceSaver design, this treadmill folds up when not in use. However, when unfolded, it is rather huge and may not fit in every living room. Especially if you have a small living area.
Difficult to Put Together
Proform treadmill is tough to put together on your own, particularly if you live alone. You might want to think about paying more to have it installed at your home by professionals.
---
FAQ's
Q: Should I lube my ProForm treadmill?
A: As a treadmill has many moving parts, it must be kept greased. Otherwise, parts may need to be changed early or get damaged. At the same time, you must avoid over-lubricating your treadmill, since this might cause harm to the equipment.
Q: Is it just available with an iFIT membership?
A: No!
Learn how to manually turn on your treadmill. Hold the iFit, Bluetooth button for 30 seconds until the display begins to flicker or flash; your console is now unlocked and your treadmill is operational. There is no need for an internet connection, a smartphone, or a tablet.
Q: How do you examine a ProForm treadmill?
A: According to the handbook, one of the first steps in troubleshooting ProForm treadmill display difficulties is to remove the key and unplug the power supply cable. Then, connect the power cable, insert the key, and carefully walk for a few minutes on the treadmill.
Q: Why do I need to enter my credit card number before using IFIT, even though it was included in my machine purchase?
A: Don't worry, you will not be charged at this time. We simply require your credit card information to renew your membership, so that when it comes up for renewal, we have a payment method on file. Because your ProForm purchase is distinct from your iFIT subscription renewal, your iFIT payment information will not be used.
---
Delivery Specifics
During the checkout process, all products purchased at continental UK locations qualify for free delivery.
• If you select standard delivery, your items will be brought by a two-man delivery crew into a ground floor room of your choice, with clear, unrestricted access.
• Our delivery partners will contact you through text message, or email with a reservation link allowing you to schedule your delivery or phone call.
• You should expect to get your items within 5-10 working days of completing your order.
---
Affiliate Disclosure
In compliance with the FTC guidelines, please assume the following about all links, posts, photos and other material on this website:
Any/all of the links on this website are affiliate links of which GymFreakz receives a small commission from sales of certain items, but the price is the same for you.
www.gymfreakz.com is a participant in the Amazon Services LLC Associates Program, an affiliate advertising program designed to provide a means for sites to earn advertising fees by advertising and linking to Amazon.com & Amazon.co.uk. Pages on this site may include links to Amazon and its affiliate sites on which the owner of this website will make a referral commission.