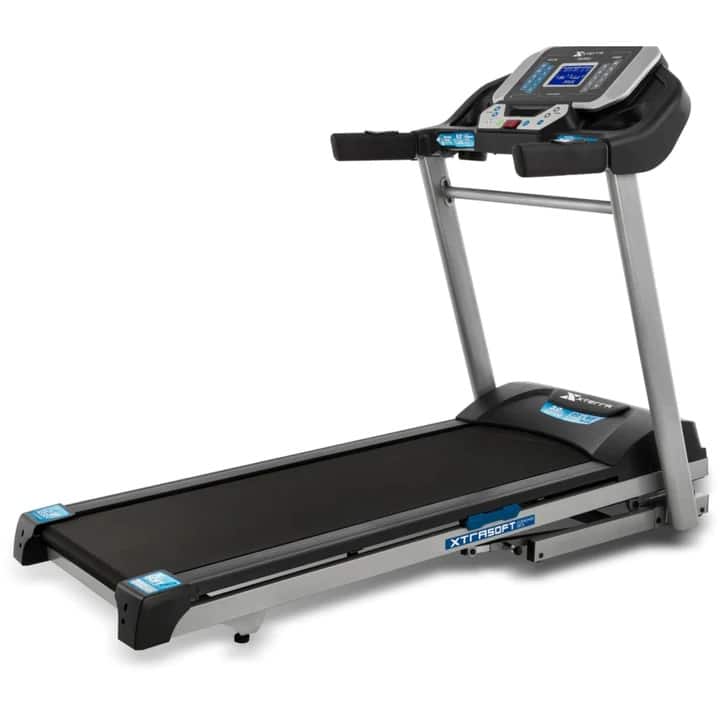 ---
---
Introduction to the Xterra TRX 3500 Folding Treadmill
Less workout space hinders freedom to choose from the best treadmills, but what if you have a high-quality professional treadmill that will easily fit any storage space? The TRX 3500 is a folding treadmill with premium features. Its smooth burnished frame and modern technology features could well be the best fit for your needs if you are a serious runner.
The xtrasoft deck cushioning technology, and high-end console display features of the TRX3500 Folding Treadmill make it one of the best treadmills I've come in this range. If you are determined to lose a few pounds, the TRX3500 Treadmill is surely a good asset to have to hand.
Its premium features include a console, various direct access speed and incline buttons, handlebar controls, a large 6.5 blue backlit LCD display, Bluetooth, and an audio jack connection. Moreover, it has other convenient features like comfortable handlebars, safety runs, and more…
You can maximize your home workouts with this easy-to-store and fold treadmill. The machine easily folds and unlike several treadmills that have compromised quality due to easily folding, this home treadmill is definitely high-quality equipment. Xterra Fitness does not compromise the quality of any of its products, especially when it comes to treadmills.
Xterra Fitness is committed to providing fitness solutions to people of all shapes and weights. The TRX3500 is one of the premium treadmills by Xterra Fitness with the xtrasoft deck cushioning technology it makes this treadmill suitable for people of all ages. You can install this home treadmill in any convenient setting at your house. It's user-friendly and can be used by multiple people.
Let's dig a little deeper to find out more…
Disclaimer – This website contains affiliate links. If you find the information useful and click on a product link and make a purchase, a small commission will be earned by GymFreakz and we appreciate your support.
---
Specifications
Brand: Xterra
Model: TRX3500 Treadmill
Cushioning System: Xtrasoft Deck Cushioning
Speed Range: 0 – 12 mph
Maximum Speed: 12 mph
Minimum Speed: 0 mph
Incline: 1-12%
Motor: 3.0 HP Motor
Folding: Yes
Preset Speed: Yes
Added Safety: Yes
Transport Wheels: Yes
Equipment Weight: 97kg
Maximum User Weight: 150kg
Dimensions: 196cm x 90cm x 142.5cm (lxwxh)
Running Surface Dimensions: 51cm x 152.4cm (wxl)
Bluetooth Connectivity: Yes
Audio Jack: Yes
Built-in Fan: Yes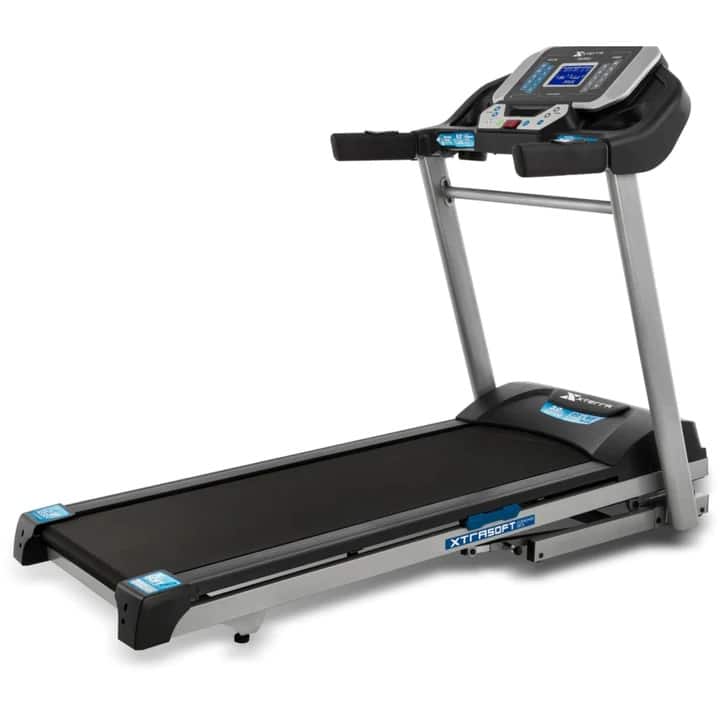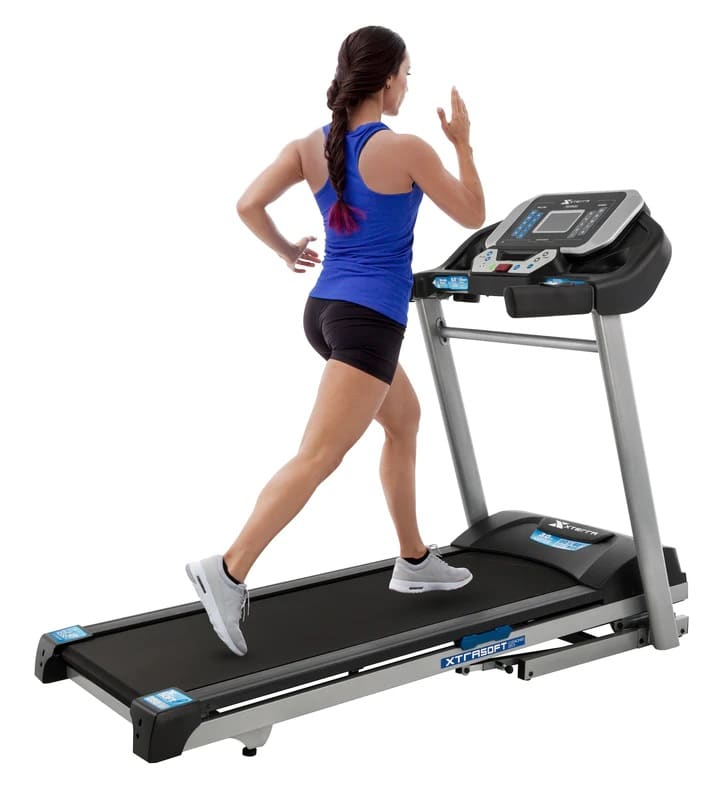 ---
KEY FEATURES
Performance:
When it comes to performance nothing can beat Xterra Treadmills. The high-end motor technology powers the treadmill. The high torque 3.0 HP Motor is designed to allow runners to choose from different speed and incline ranges. The speed range of this treadmill is from 0 mph to 12mph. Such a heart-pounding speed range influences exercisers' performance and says a lot about the performance of the treadmill.
Quality:
The TRX3500 Folding Treadmill has a quality build and is advanced with modern technology and strong electrical and mechanical components. The treadmill combines quality with innovation and style and its overall look and feel goes with any interior setting. Moreover, it has a powerful motor and its warranty extends to a longer period of life.
Console:
The console is integrated to facilitate easy access to programs and buttons. and rests in the centre of the frame with a screen in the middle. This console display features speed and incline buttons on the sides of the screen. Moreover, the screen is a large 6.5 blue backlit LCD display. It has easy to read interface with direct access speed and incline buttons.
The console has many convenient features including a speaker, direct speed buttons, direct access incline, pulse programs, and a cooling fan.
TRX3500 Folding Treadmill:
The TRX3500 treadmill is a folding treadmill. This not only saves space but also allows it to be stored in any storage area. It can easily fold with the help of its lift-assist frame design. If you have less workout space, and you are looking forward to buying a treadmill with impressive functionality and less area usage, the TRX3500 could well fit all your needs. The lift assist frame design facilitates folding and reduces the surface area of the treadmill to nearly half of the original size.
Effective Home Workouts:
The TRX3500 Folding Treadmill has built-in programs that aim to make workouts fun and efficient. Xterra is committed to raising fitness levels, thus there are 30 built-in programs in addition to two customized workout profiles. You can also create 2 profiles on the Xterra Fitness TRX3500. You can connect to the Xterra FitnessApp for more workout options and as you may or may not know, customized workouts always help you achieve fitness goals better and quicker.
Some of the prominent programs of the Xterra Fitness TRX3500 Folding equipment are cardio, fast workout, ultimate workout, hill run, calorie burn, high-intensity interval training, and pulse motivating programs.
Handlebar Controls:
Apart from console direct speed and incline controls, the additional handlebar-mounted controls are one of the many premium features of the Xterra TRX3500. This manual options handlebar has handlebar speed controls, handlebar incline controls so that you can adjust speed and incline limits without any hassle. These are integrated to ensure runners' safety and feasibility so now you can change speed and incline settings without fear of falling during a fast workout (nobody wants to fly off the back of a treadmill).
Convinient LCD Display:
The large 6.5 blue backlit LCD display sits in the centre of the console. The Xterra TRX3500 workout display includes calorie, time, pulse, speed, incline, volume, chosen program, distance, and heart rate.
---
Warranty
The Fitness TRX3500 Folding Treadmill comes with a whooping lifetime warranty on the frame and the motor. Also, Xterra Fitness has extended a two years warranty on the deck, electrical and mechanical parts. Warranty speaks louder than promotions about the products; the greater the warranty, the more the durability. This warranty is more than many of the other treadmills on the market of the same quality.
*Warranty may be subject to change without notice and may differ between retailers – please check carefully before making a purchase.
---
Pros and Cons
Xtrasoft Cushioning:
The Xterra TRX3500 has Xtrasoft deck cushioning technology that reduces the stress on joints and makes the deck smooth for running. Xtrasoft deck cushioning is spread at various points on the deck to absorb shock and reduce the impact on knee and back joints. The cushioning provides comfort and stability to the exerciser.
Safe Drop Feature:
The safe drop feature provides added safety as it slowly lowers the deck. The Xterra Fitness TRX3500 Folding equipment makes sure that you and the people around you are safe while you are working or after the equipment storage. Safety always comes first remember!
Cooling Fan:
The Fitness TRX3500 Folding Treadmill has a built-in cooling fan that keeps you fresh and increases workout performance. This helps improve workouts as it delays fatigue and simply keeps you running for longer. Moreover, the fan settings are very feasible to use. It has a turn-off and turn-on button mounted on the console. You can also change wind settings.
Heart-Pounding Speed Range and Chest Rate Monitoring:
The heart-pounding speed range of this Xterra TRX3500 ranges from 0-12%. With such speed limits, it is important to monitor heart rate. and as such, the wireless chest strap heart rate monitor is one of the premium features of this treadmill. Moreover, built-in grip pulse sensors are installed. This plastic EKG grip pulse monitor is a significant part of the side rails. It is important to monitor pulse and heart rate during extensive workout sessions as you should never compromise heart health during exercise.
Connectivity and Entertainment:
The Xterra Fitness TRX3500 folding treadmill has various entertainment and connectivity options. For starters, it features integrated audio jack and speakers; and with Bluetooth included users can connect to different fitness and music apps with ease enabling you to listen to your favourite tunes while you work out. Also, the console includes a reading rack to hold your phone, tablet, or book. This creates a personalized and entertaining experience during home workouts.
Comfort:
The Xterra TRX3500 has Xtrasoft side rails that provide added comfort. As well as this, the treadmill has a smooth running surface that is padded with high-quality cushioning to reduce the pressure on joints. Other convenient features include additional handlebar-mounted controls, 6.5 blue backlit LCD, safety drop down, cooling fan, and padded side rails and handlebars.
Expensive:
Initially, the treadmill might seem like you're spending an extravagant amount of money on some pound shredding machine. However, the TRX3500 Treadmill is a one-time investment because it can be used by multiple people in the family and it's durable. If you compare the Xterra Fitness TRX3500 folding treadmill with other treadmills on the market, you will find it economical and more functionally feasible, and hence a bargain when you work out cost-per-use.
Electricity Consumption:
People are often terrified of high energy consumption by electric treadmills. The TRX3500 folding treadmill has a powerful 3.0 HP motor that you may expect to consume a huge amount of energy, but, in reality, and when compared to gym membership it's not that serious at all.
---
Overall Verdict:
The Xterra TRX3500 treadmill combines quality, safety, and efficiency to reach a training level that provides maximum fitness. Whether you are looking to tone your body or shred some weight at home, the TRX3500 folding treadmill provides various workout options and speed limits all of which will help you achieve your goals and with its xtrasoft cushioning provides comfort and stability.
If you are looking for a treadmill that takes up less space but helps you achieve higher fitness levels at home, the TRX3500 folding treadmill could well be the best choice for you.
---
---
FAQ's
Can I connect my iPod to the Xterra TRX3500 Folding equipment?
The TRX3500 treadmill can be connected to various devices including iPod so that you can listen to your favorite tunes.
How can I buy TRX3500 Folding Treadmill?
Simply follow our on-page links to buy it from your nearest outlet.
Will I be financed when I buy Xterra Fitness TRX3500?
You can certainly apply for finance through an application form online. When you are buying the product online, choose finance as your payment option. The finance is provided to limited customers with terms and conditions applied. If you meet other criteria you can certainly be financed.
Yes, direct access speed buttons are a prominent part of the console.
Yes, direct access incline controls are present on the console.
What is the range of console direct access speed and incline?
The console direct access speed and incline range from 0-12mph and 1-12% respectively.
---
Affiliate Disclosure
In compliance with the FTC guidelines, please assume the following about all links, posts, photos and other material on this website:
Any/all of the links on this website are affiliate links of which GymFreakz receives a small commission from sales of certain items, but the price is the same for you.
www.gymfreakz.com is a participant in the Amazon Services LLC Associates Program, an affiliate advertising program designed to provide a means for sites to earn advertising fees by advertising and linking to Amazon.com & Amazon.co.uk. Pages on this site may include links to Amazon and its affiliate sites on which the owner of this website will make a referral commission.