---
---
Introducing you to a world of treadmill workouts, making your life fitness
You don't have to be a pro to be good to your body. You don't have to know all the ins and outs to know what treadmill to buy. What you do need, however, is motivating. And while this skill can be learned, there's no barrier to entry – your fitness world is a simple read away, and I can't wait for to learn more.
Treadmills have been going for a long long time, helping people to lose weight, helping with calories burned, and reducing health risks ever since. So whatever your reason for running, there can only be benefit.
We're here to breakdown treadmills though, so I want to be mega clear when that when I use certain vernacular, I want you to know it means, I want you to go away and research it yourself to inform the best buying decision possible.
We might be running through things like the difference between a compact treadmill and a manual treadmill, the benefits of cheap treadmills as compared to expensive treadmills. We'll be looking at specific features like incline range, top speed, max user weight, and be breaking down components like the running surface, running deck, console, and the rest.
There's a lot to look out for in the world of gym equipment, so let me guide you through some of the best treadmills for beginners.
Disclaimer – This website contains affiliate links. If you find the information useful and click on a product link and make a purchase, a small commission will be earned by GymFreakz and we appreciate your support.
In A Rush?
| | My Top Pick: | Best 'Top End' Of Mid-Range: | Best For Extras: | Best Buy On A Budget: | Best Value: |
| --- | --- | --- | --- | --- | --- |
| Brand | Horizon | Life Fitness | ProForm | JLL | Branx Fitness |
| Model | Paragon X | F3 | Pro 9000 | T550 Digital | Elite Runner Pro |
| Photo | | | | | |
| Max. Speed | 20 kph | 16 kph | 22 kph | 18 kph | 21 kph |
| Max. Weight | 180 kg | 159 kg | 136 kg | 150 kg | 160 kg |
| Running Area | 56 cm x 153 cm | 55″ x 20″ | 51 cm x 152 cm | 156 cm x 51 cm | 140 cm x 48 cm |
| PRICE* | £1,999.99 | £2,995.00 | £1,999.00 | £999.99 | £999.99 |
| | | | | | |
| Check Prices | | | | | |
*Prices correct at the time of writing
---
My Top Pick:
Horizon Paragon X Folding Treadmill (£1999.99)
Key features
Partial self-assembly required
It does not come with built-in speakers.
Console position is fixed.
Dimensions are height is 147 cm, width is 97cm and in diameter, it is 206 cm.
There are no downloadable contents on this treadmill.
You can monitor your heart rate via chest strap but it is not included in the treadmill.
You can also monitor your heart rate via hand sensors through handgrip pulse measurement.
Incline is 0 to 15 percent.
This treadmill is made out of steel.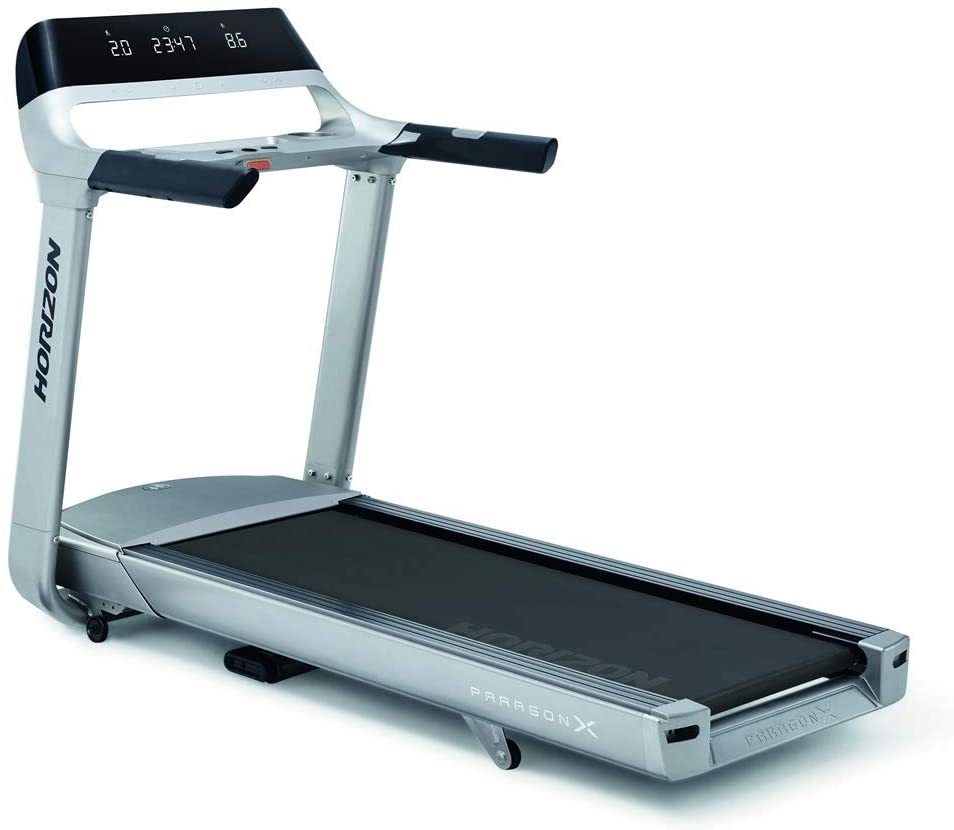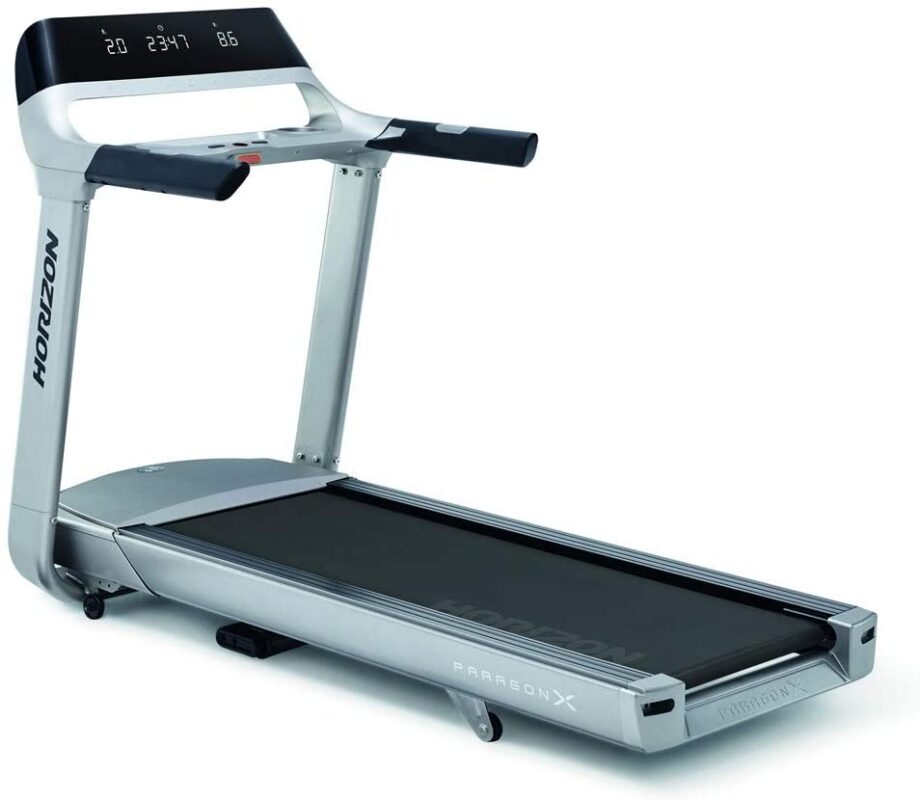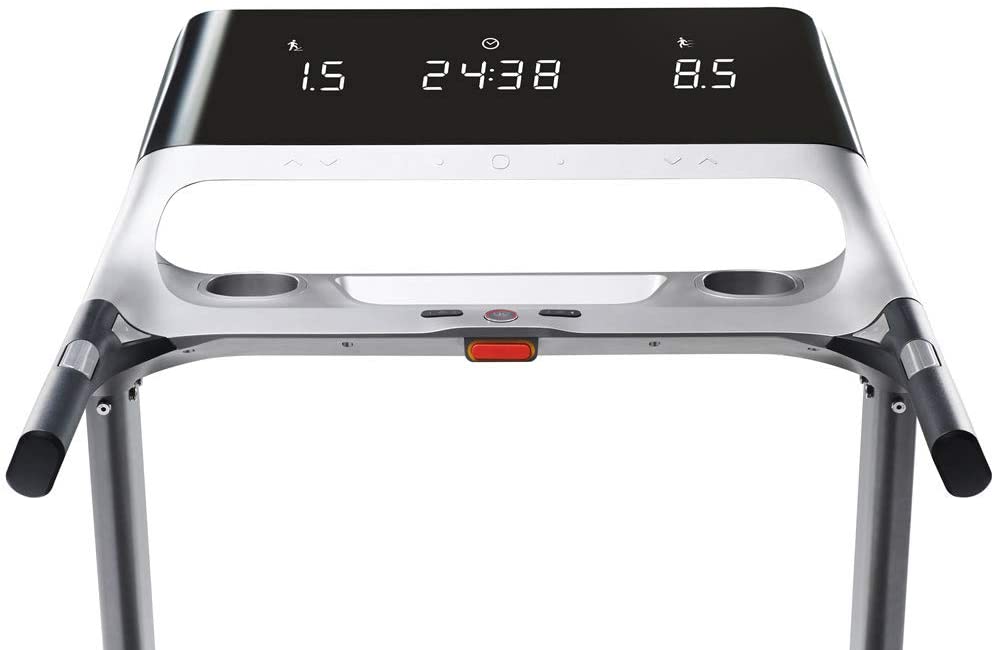 ---
Overview
Whether you're a beginner or a pro at trail running this treadmill could well be the best choice for you!
The responsive air cushioning lets you enjoy your workout and makes sure that you don't get injured while working out, a huge consideration for those concerned about safety. The air cushioning beneath the deck inflates along with pre-programmed changes in speed and incline based on demanding exercise classes and also 10 real trail running experiences – even if you're a pro looking to buy a machine for the first time then this outdoor to indoor transition could make this treadmill the best fit for you.
With this machine, you can achieve your calories target in minimum time and also get an enhanced experience synced with its advanced Bluetooth option! It also syncs workout data and the button advanced Bluetooth technology lets you connect any device which doesn't come with a traditional treadmill.
For those wondering if Bluetooth connectivity is worth it, well, it completely depends on your style. If music is key to your running experience, then forget about maximum speed, you'll want something like this.
Want to know more? Read our full review of the Horizon Paragon X Folding Treadmill here.
---
Best 'Top End' Of Mid-Range Treadmills:
Life Fitness F3 Folding Treadmill with Track Connect Console (£2995.00)
Key Features
Top Speed: 10 mph
Incline Increment: 0.5 %
Integrated Accessory Tray: Yes
Shock Absorption: FlexDeck
In built workout options: 15
Android Compatible: Yes
iPhone Compatible: Yes
Integrated Reading Rack: Yes
Maximum User Weight: 159 kg
Motor System: 3.0 HP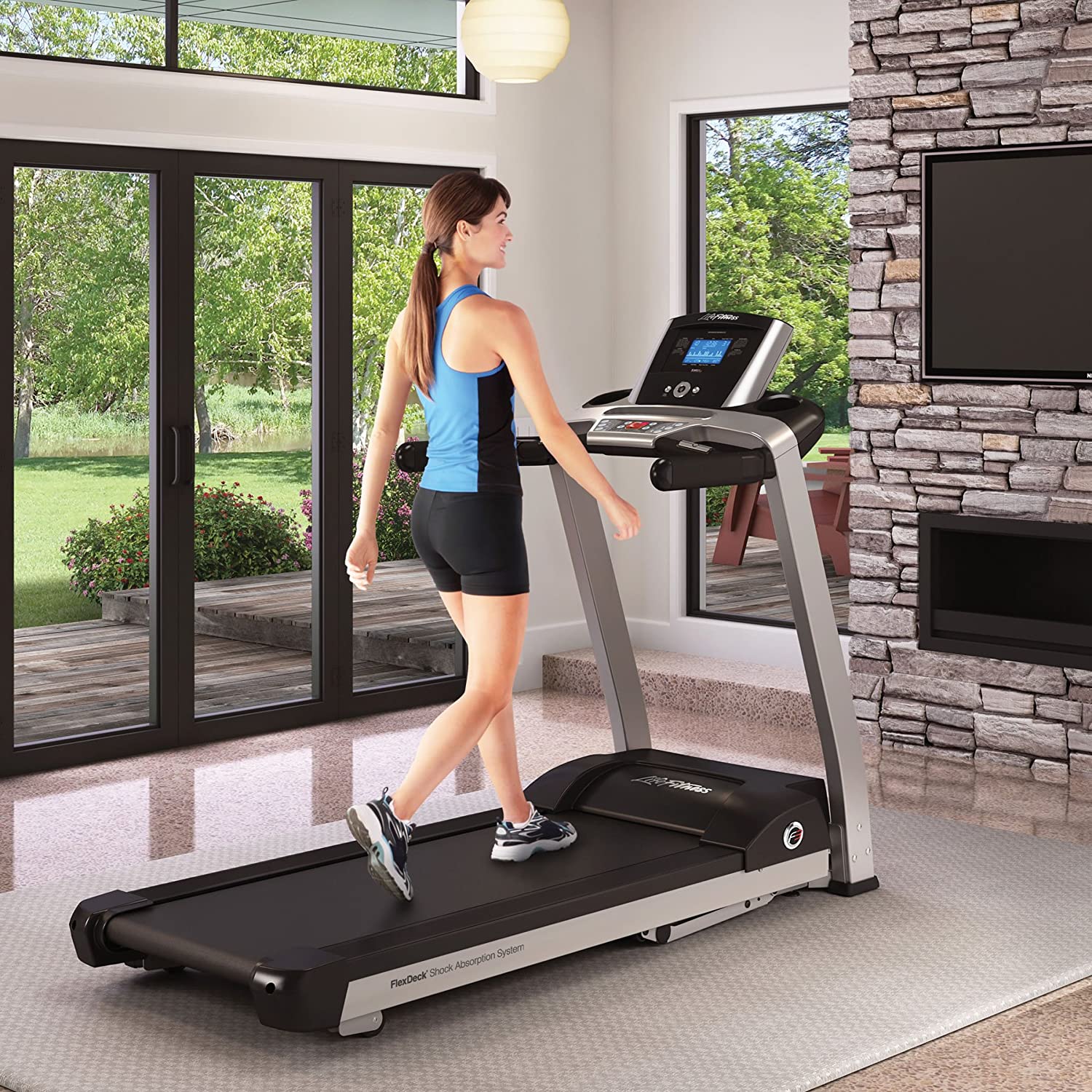 ---
Overview
The Life Fitness F3 Folding Treadmill with track connect console is one of the best home fitness equipment that takes minimal space. This is one massive factor when considering a home treadmill. Forget about top speed or incline range, if you can't even fit the machine into your office or home space, or if it doesn't look good enough for the room, then you might be put off using it for life. We don't want that. Always be on the lookout for dimensions and aesthetics!
Back to the build – the welded steel frame, heart rate monitoring, flex deck cushioning, virtual trainer, multiple inclines, various exercise options make it the best fit for discerning exercisers. Workout programs can be an incredible addition, something that overrules max speed range or max incline in my opinion.
Also, its high efficiency and use of convenient storage area makes F3 treadmill superior to other ordinary treadmills. And with great space saving designs you don't need to worry about a gym membership.
This machine is a great introduction as to what treadmills can provide beyond a running belt and a motor. At an affordable price, this one should be heavily considered.
Want to know more? Read our full review of the Life Fitness F3 Folding Treadmill here.
---
Best For Extras:
ProForm Pro 9000 Folding Treadmill (£1999.00)
Key Features
Motor Size: 3.25 CHP
Dimensions: H151 x W89 x D196cm
Folded dimensions: H176 x W89 x D114cm
Running Deck: 51 x 152cm
Incline Range: -3% to 12%
Max Speed: 0-22 KM/H
Built-in programs: 62
Display Type: LCD
Entertainment: 22" Smart HD Touchscreen, built-in speakers
Reading(s) Displayed: Calories burned, Distance, Elapsed time, Other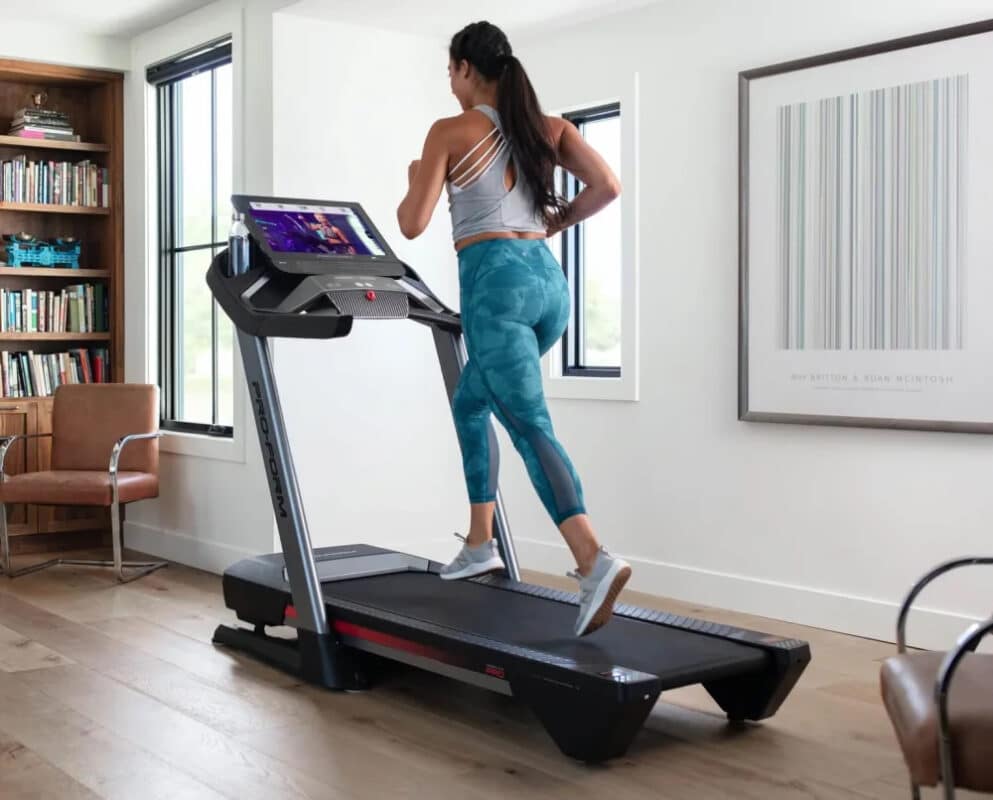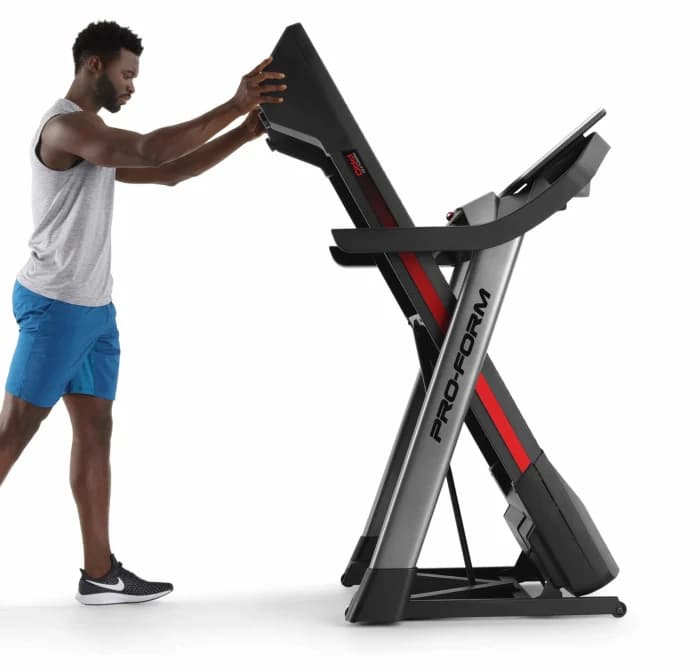 ---
Overview
Speaking of more than just the running belt or powerful motor, the ProForm Pro 9000 goes above and beyond in the world of treadmill extras. This machine is practically a workout station, helping you to modify your workout routines at the press of a button.
The HD 22" touchscreen present right in front of you acts as a connected fitness tracking check which displays your calorie burn, time, distance, treadmill's speed, and incline/decline range. This way you can adjust the intensity instantly within just one tap. Not only this but once connected to the Wi-Fi, you can follow iFit trainers guidance shown to you without any hindrance and continue a healthy workout. On top of that, the iFit trainers automatically adjust the treadmill to tone your muscle strength effectively.
The folding feature of the product allows the user to conveniently fold the treadmill and create space when the product is not in use. There are 62 pre-programmed workout programs present in the Pro 9000 treadmill which allows you to enjoy a complete home gym. With beginner, intermediate and advanced levels there are several fitness tips that the user can follow according to their needs.
In any case, features like a tablet holder, ifit workouts, easy storage and all the features you'd class as extra are seriously important when weighing up the total value of this thing. Oh, and also, not to forget the the quality of these extras needs to be considered too. So it's a good job these extras are considered more than quality, check this machine out further to see why it's on this list.
Want to know more? Read our full review of the ProForm Pro 9000 Folding Treadmill here.
---
Best Buy On A Budget:
JLL T550 Digital Folding Treadmill (£999)
Key Features
Motor: DC Continuous Power 2.5 HP (1800W), Peak Power 4.5 HP (3350W)
Speed Range: 0.3 – 18 km/h = 0.18 – 11.2 mph
Running Area: 156 cm (length) x 51 cm (width)
Running Programs: 30
20 Level Incline
Maximum User Weight: 150 kg / 23.6 St / 330 lb.
Entertainment: High Powered Speakers & Bluetooth® Connectivity.
Pulse Function: Pulse Plates and Heart Rate Band Included
App Connectivity: Kinomap, Zwift and Fitshow
Warranty: 2 years on parts/labour warranty and 5 years on the motor. Lifetime guarantee on the frame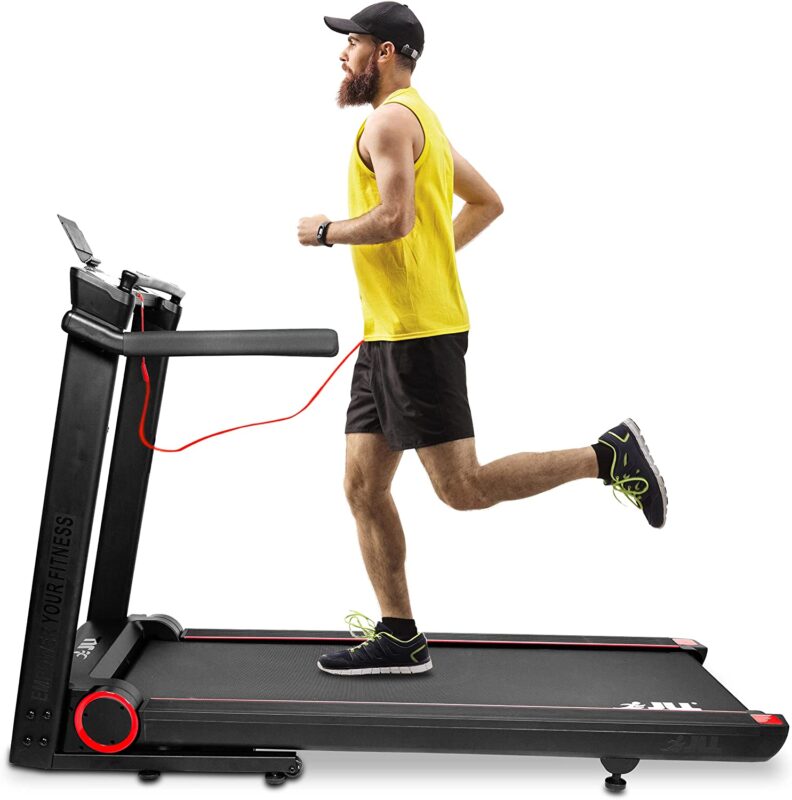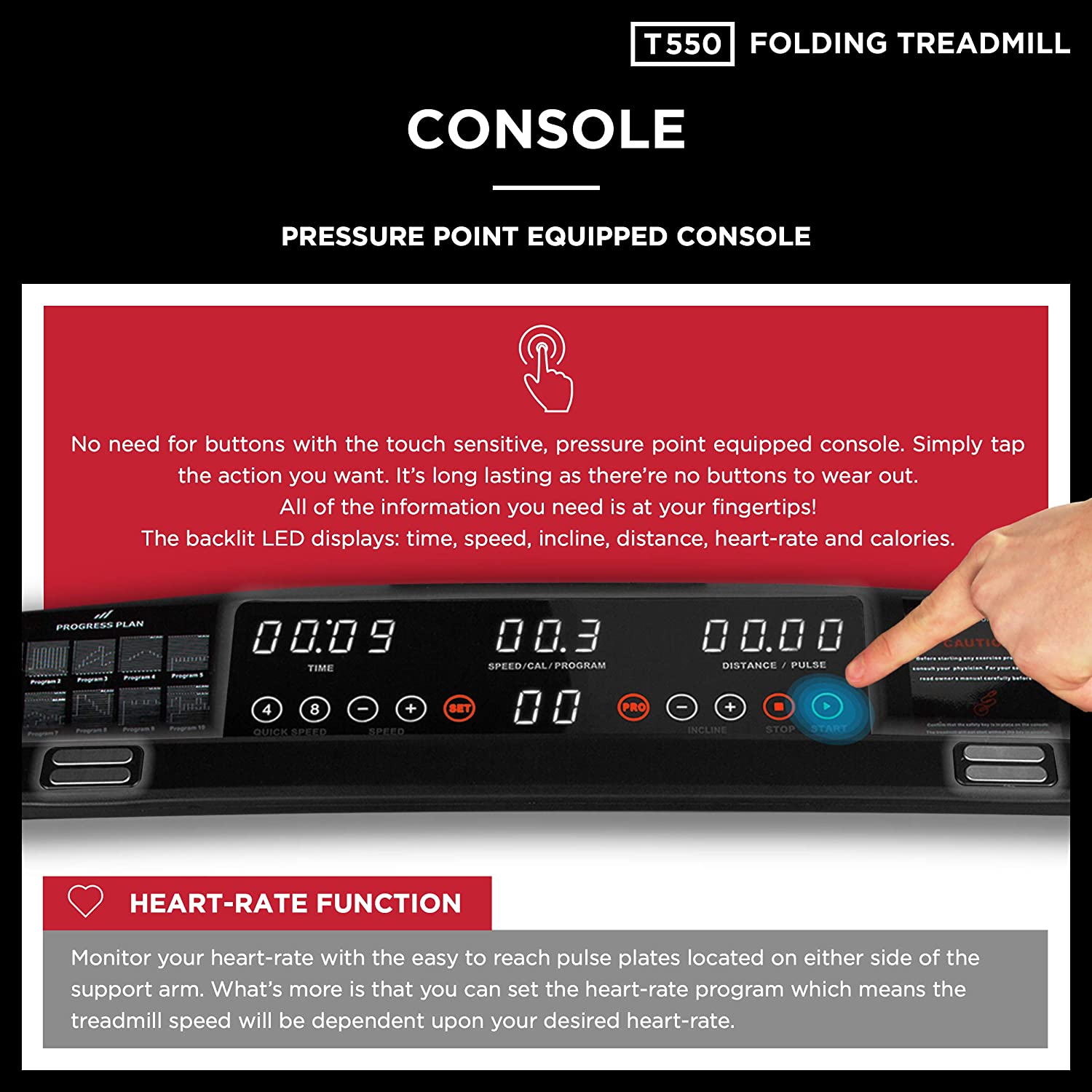 ---
Overview
The JLL T550 is one of the great folding treadmills for runners who require stability and quality, and it has an abundance of features that are sure to satisfy any runner's needs. But there's nothing more stable than a sensibly maintained bank account, and finding the budget treadmill will help fill both worlds.
Whether you are taking your first steps into running or looking to replace an old treadmill, this model is very user-friendly and can be easily adjusted to meet your needs.
Visible updates make this JLL treadmill model very attractive, and the treadmill is fairly priced for its abilities, we're not here to seek out top of line commercial treadmills that stream ifit workouts and do all the house work for you – we're here to run on a budget.
Something to watch for is that, the JLL T550 treadmill has limited transportability in comparison with other models, but it can still be moved in short distances using the built-in wheels. This makes it a suitable choice for runners who do not need to travel with their equipment often.
Want to know more? Read our full review of the JLL T550 Digital Folding Treadmill here.
---
Best Value:
Branx Fitness Foldable 'Elite Runner Pro' Soft Drop System Treadmill (£999.99)
Key Features
Motor: 3.5CHP (6.5HP) fan cooled
Speed Range: 0-21km/h = 0-13mph
Running Area: 140cm (Length) x 48cm (Width)
1.9mm running belt thickness
19mm running deck thickness
22 Level Auto Incline
24 Built-in Programs
Slow Drop System – for safety when unfolding
Heart Rate Measurement – Hand Pulse
Entertainment: 6 inches LCD Display, Built-in speaker, BlueTooth Wireless Technology
Warranty: 2 years on parts and labour and 5 years on motor and frame.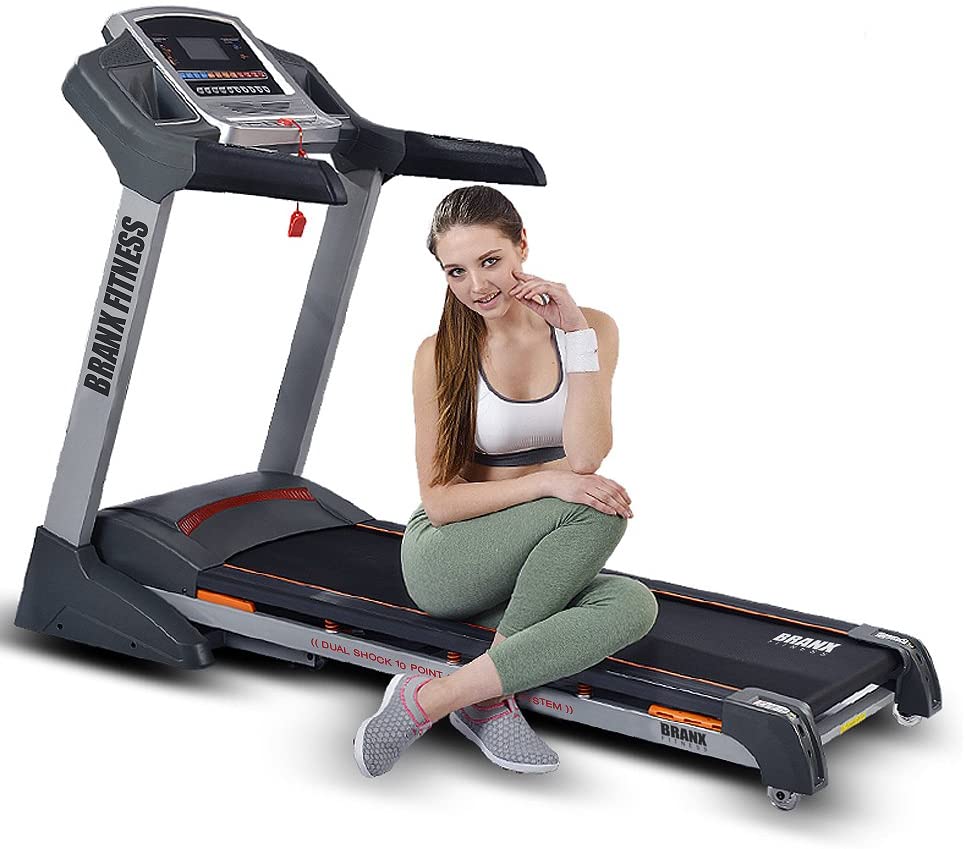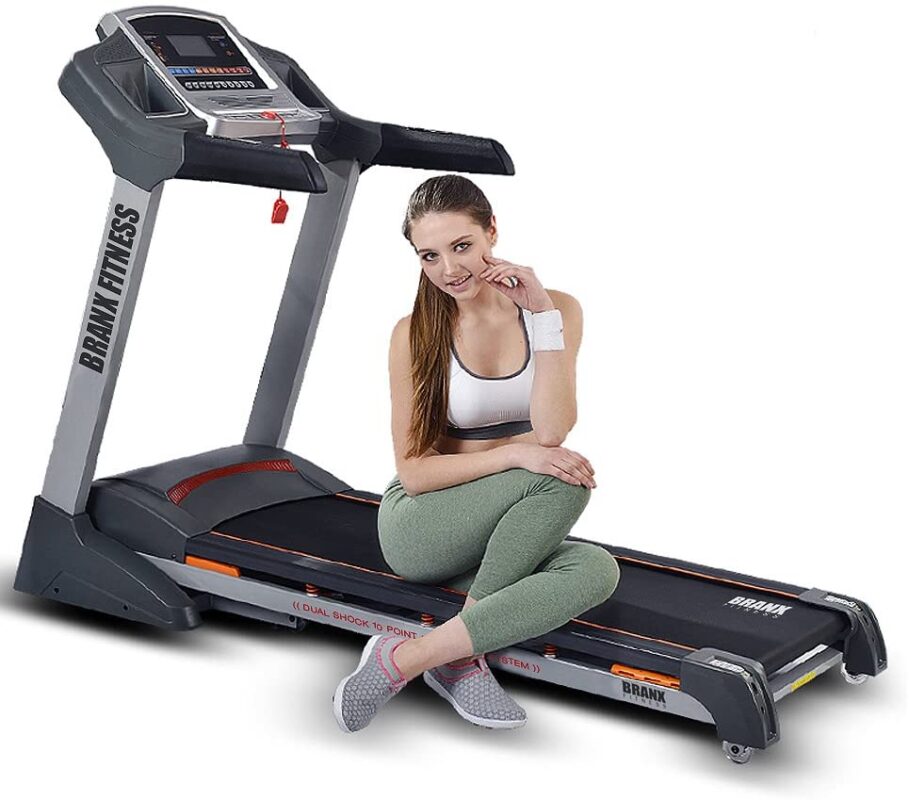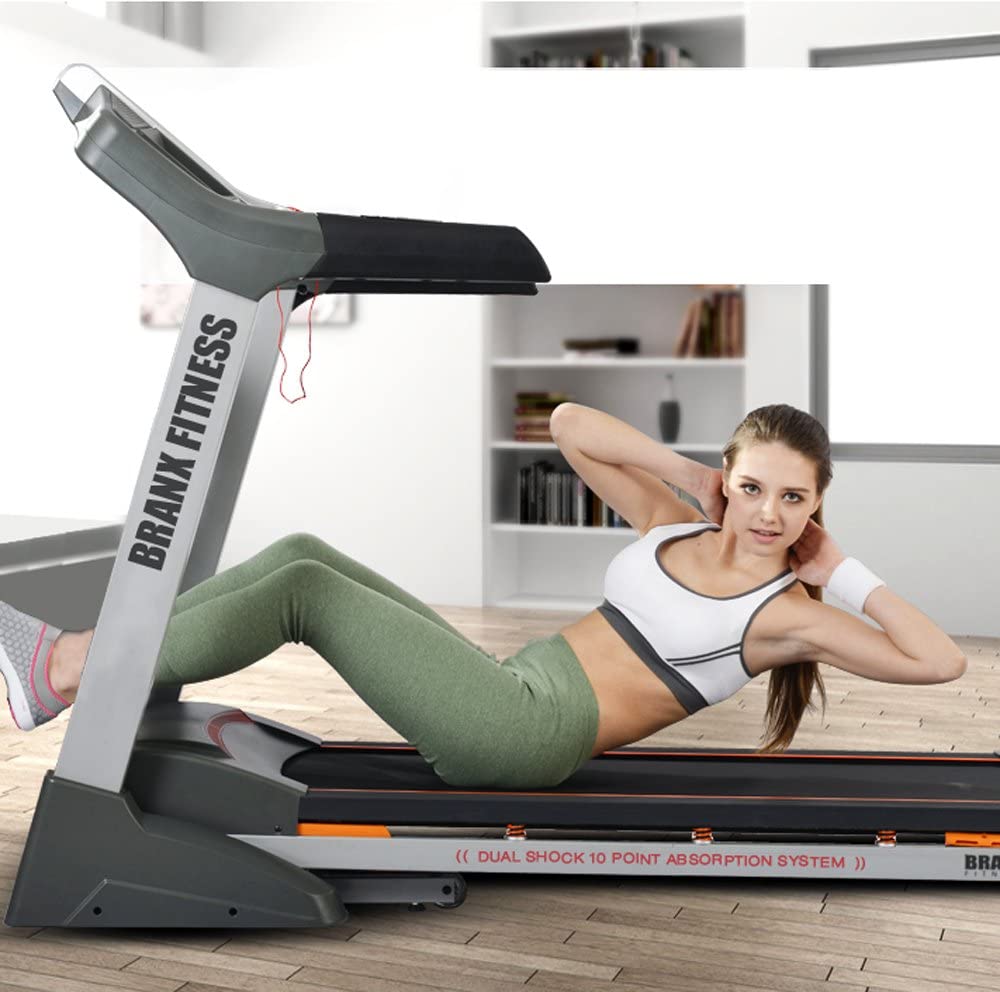 ---
Overview
As mentioned earlier, the Branx Fitness Foldable Elite Runner Pro is the top of the line model. However, like many commercial treadmills, it has a pretty fair price tag.
But going beneath the price tag, we can see all of the value crammed into this treadmill, and I have to say – I'm impressed. Let's look at the value.
So this machine features an incredible amount of customisation on the workout programs front. Just like an ifit membership, these kinds of programs allow you to vary your workout routines and get the most out of your body, your enjoyment and your fitness progression. Fitness apps are quite common but these built in workout programs are solidly researched and designed just for you.
There's a lot of value beyond the specific components however. Let's forget about third party apps, on demand workouts or pre programmed workouts for a second and focus on how much space this thing can save.
You can easily store this treadmill and as well as it is super easy to move around with the help of four wheels. You won't be facing any portability issues with this at-home treadmill. 
Want to know more? Read our full review of the Branx Fitness Elite Runner Pro Treadmill here.
---
Conclusion
You know what they say – look for value where it can be found, and for beginners this isn't always easy. I hope that this list has given you an easy to digest breakdown of workout preferences, affordable treadmill, entry level treadmill and all the other features that make these machines worth it.
Soon, you'll find that the world of treadmills isn't a mysterious one – all of the information is clearly laid out, and usually you'd have to do the research into these – thankfully, that's why I'm here with you now breaking down the best treadmills for beginners.
>>See More Helpful Treadmill Guides Here <<
---
FAQ'S
What makes a solid treadmill?
It's not just the type of treadmill or brand, like the well renowned Bowflex treadmill for example, it's about the specifics of the builds. When we solid, we usually mean that it's the best treadmill for its build quality, so look out for materials and mechanisms.
---
Affiliate Disclosure
In compliance with the FTC guidelines, please assume the following about all links, posts, photos and other material on this website:
Any/all of the links on this website are affiliate links of which GymFreakz receives a small commission from sales of certain items, but the price is the same for you.
www.gymfreakz.com is a participant in the Amazon Services LLC Associates Program, an affiliate advertising program designed to provide a means for sites to earn advertising fees by advertising and linking to Amazon.com & Amazon.co.uk. Pages on this site may include links to Amazon and its affiliate sites on which the owner of this website will make a referral commission.