---
---
The best under desk treadmills for home office use, keeping you fit and burning calories even when you're working
We can't always be running when we need to. That's just the way it is. But when we sit down for the majority of the day, working on whatever we need to, we find that problems arise, and quick.
From increased risk of heart problems and failing to meet even our daily step count, working can be laborious, on the brain and the body. That's why under desk treadmills and, similarly, a machine called a desk treadmill exist. They allow you to carry on hitting your minimum targets and reduce health risks that come with lack of exercise.
However, these treadmills aren't to be compared with your usual machines. Why? with an under desk treadmill certain aspects aren't practical for the design. While it allows you to turn your desk into a standing desk, and your machine into a walking treadmill, sometimes, the build of these machines can minimise or emit features like Bluetooth speakers, an LCD display or led display, and led touchscreen, and sometimes a tablet holder or phone holder.
That said, the convenience of this accessible and space-saving running gear does allow for easy storage in an office environment and accommodates just as well as your usual treadmill for light exercise and walking. And if you're here to find exactly those then you're in the right place.
So, without further wait, let's break down some of these easy to use and convenient weight loss machines.
Disclaimer – This website contains affiliate links. If you find the information useful and click on a product link and make a purchase, a small commission will be earned by GymFreakz and we appreciate your support.
In A Rush?
| | Dripex Under Desk Treadmill: | Urevo Under Desk Treadmill: | WalkingPad Under Desk Treadmill: | Bigzzia Under Desk Treadmill: | Citysports Under Desk Treadmill: |
| --- | --- | --- | --- | --- | --- |
| Brand | Dripex | UREVO | WalkingPad | Bigzzia | Citysports |
| Model | 2 in 1 | Folding | P1 | Motorised | Electric Folding |
| Photo | | | | | |
| Max. Speed | 12 kph | 12 kph | 6 kph | 10 kph | 6 kph |
| Max. Weight | 120 kg | 120 kg | 100 kg | 110 kg | 100 kg |
| Running Area | 40″ x 16″ | 150 cm x 51 cm | 120 cm x 41.5 cm | 15.4″ x 41″ | 1150 mm x 410 mm |
| PRICE* | £399.00 | £399.80 | £329.00 | £199.99 | £199.99 |
| | | | | | |
| Check Prices | | | | | |
*Prices correct at the time of writing
---
Dripex Under Desk Treadmill:
Dripex 2 in 1 Folding Treadmill, 2.25HP Under-Desk Motorized Treadmill (£399.00)
Key features
Folding mode: 1-4km/h
Unfolding mode: 1-12km/h
Running surface: 40 x 16 inch
Folded dimension: 52 L x 27 W x 5 H
Assembled dimension: 49 L x 27 W x 42 H
Assembled weight: 74lbs
Maximum user weight: 120kgs
Maximum speed for the running treadmill: 12km/h
Maximum speed for under desk walking pad: 4km/h
Two transportation wheels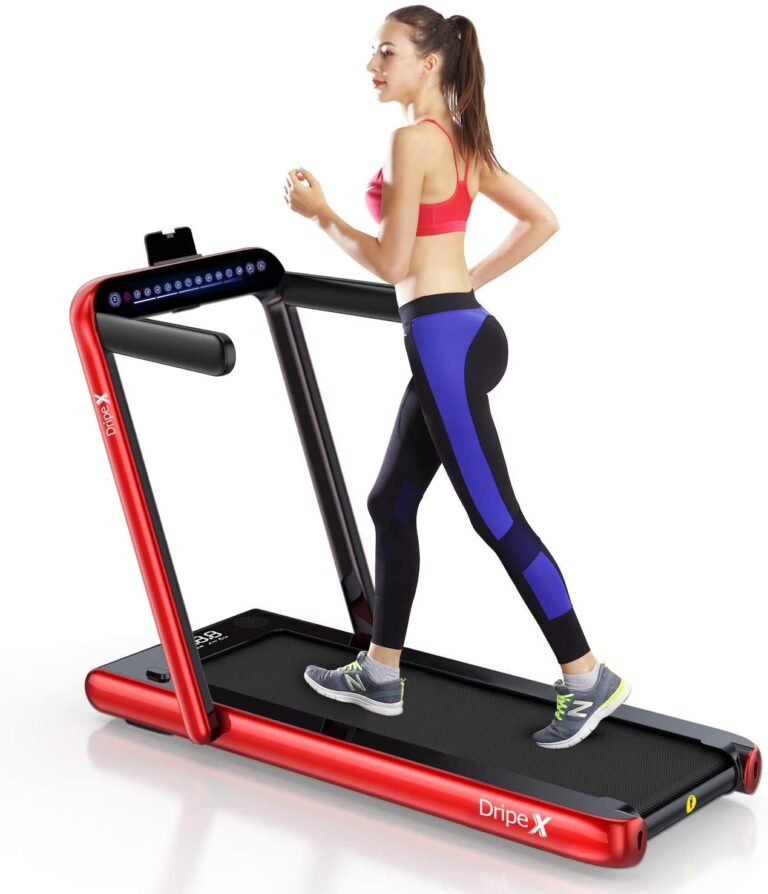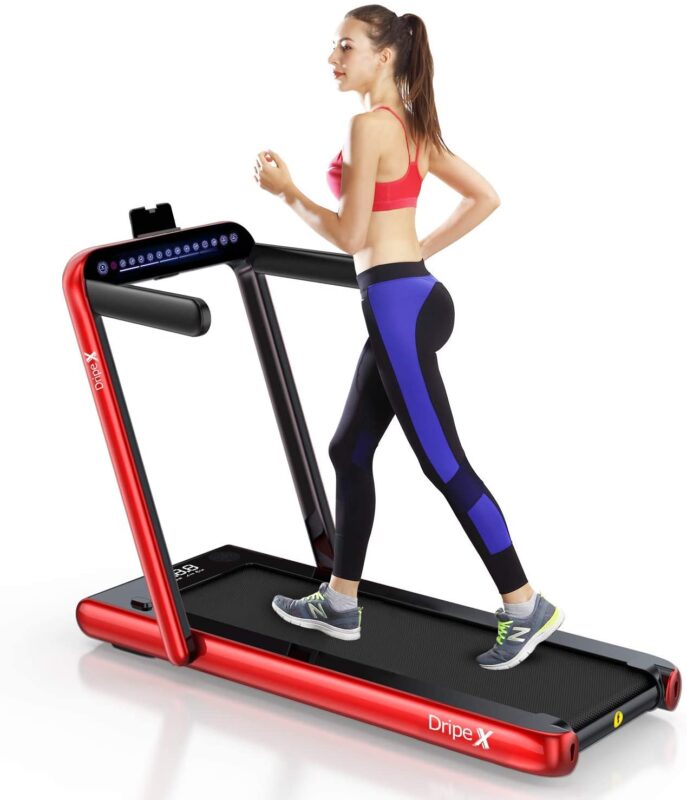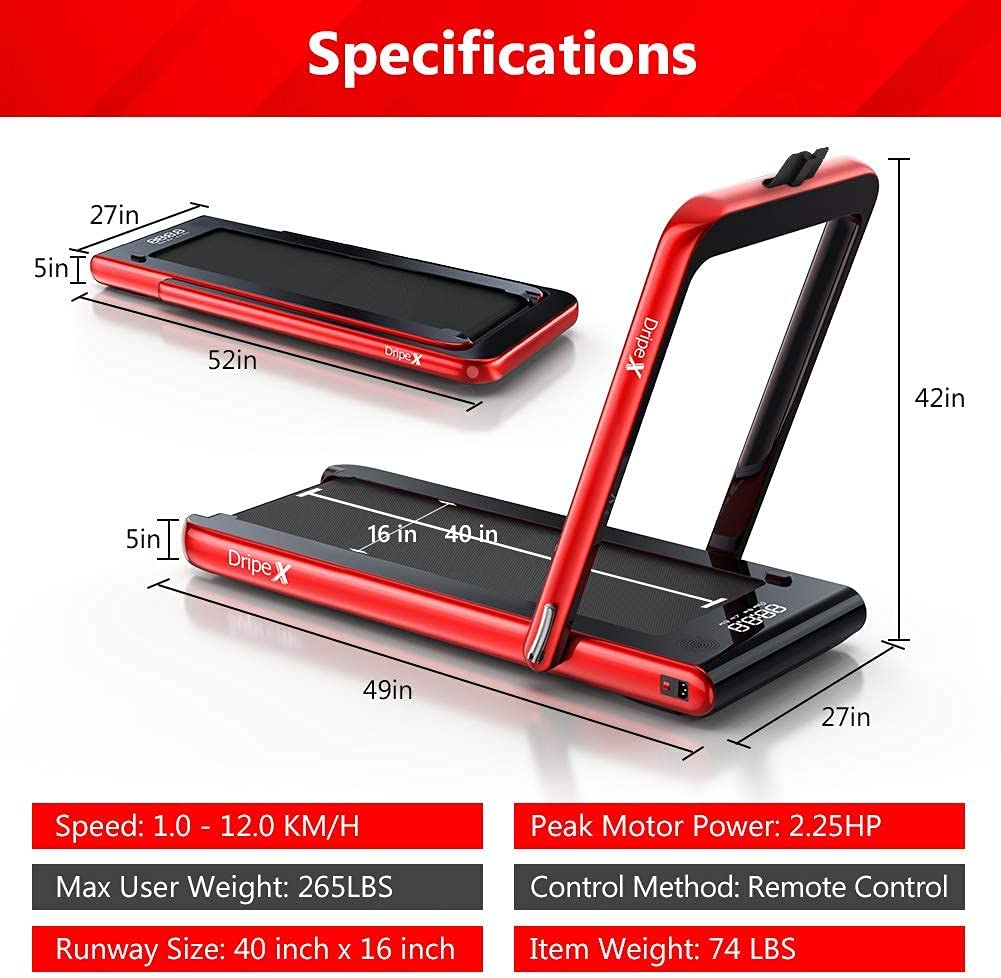 ---
Overview
If you are looking for a treadmill that gives true value to your money then the Dripex 2 in 1 folding treadmill is what you should look for! Not only is it great value but its dimensions make for a great space-saving machine while giving you room for a long stride whenever you need.
Breaking news – as this is number 1 in this list, it's one of the best treadmills here. As far as a daily routine goes, using this while you work then easily putting it away makes for a no brainer. It comes with an LED screen also so you can see every single calorie burn and speed ranging from 0.1 to the more than accommodating max speed.
It is best suited for those with limited space and looking for a compact folding design. It comes with a powerful motor powered by a 2.25HP brushless motor with low noise compatibility. The machine features a quiet motor and quiet belt so if you're in an environment that requires low noise as well as space-saving then this machine is for you.
It also includes additional features like a mobile phone holder, built-in high-powered speakers, remote control design, and more. Features you rarely get to use in the gym with a fully qualified personal trainer.
It comes with transportation wheels and folds flat to be wheeled easily from room to room. And when not in use, it can be placed under the sofa or bed for storage. The folding treadmill supports speeds up to 12km/h which is the maximum speed of this treadmill.
Overall, this treadmill is an all-rounder that assists in improving your fitness while simultaneously offering features to keep you entertained during vigorous workout sessions.
Want to know more? Read our full review of the Dripex 2 in 1 Folding Treadmill here.
---
Urevo Under Desk Treadmill:
UREVO Folding Treadmill for Home (£399.80)
Key Features
Colour Black
Size – 149.2 x 73 x 16.6 cm
LCD Display
Aluminium Frame
2.5 hp Motor
Speed Rating – 12kph
120 kg Weight Capacity
Package Dimensions 149.2 x 73 x 16.6 cm; 36
Remote Control
30 Day Right of Return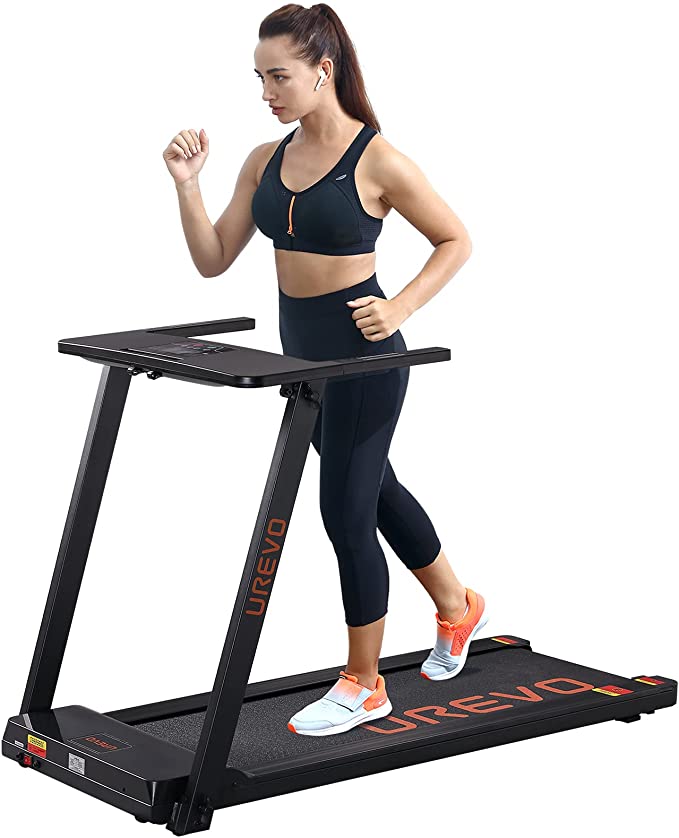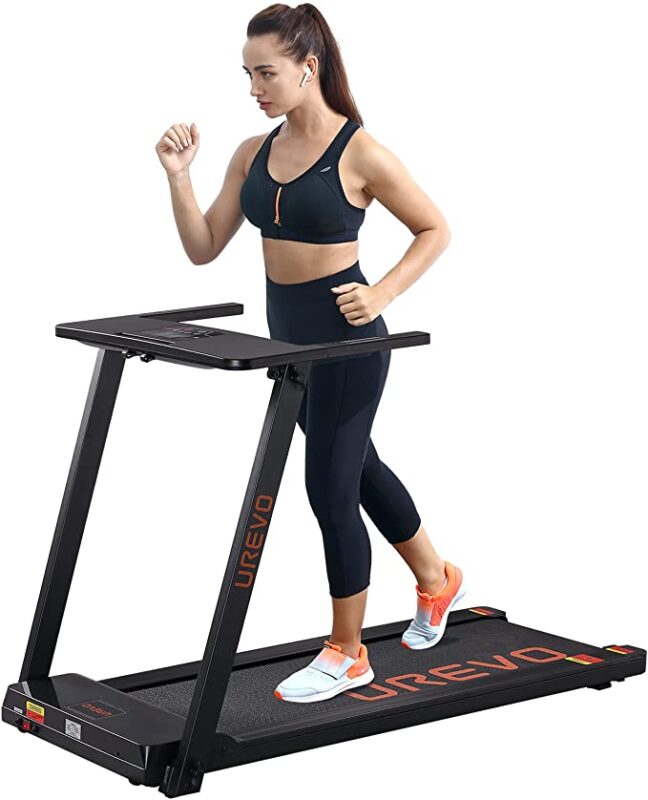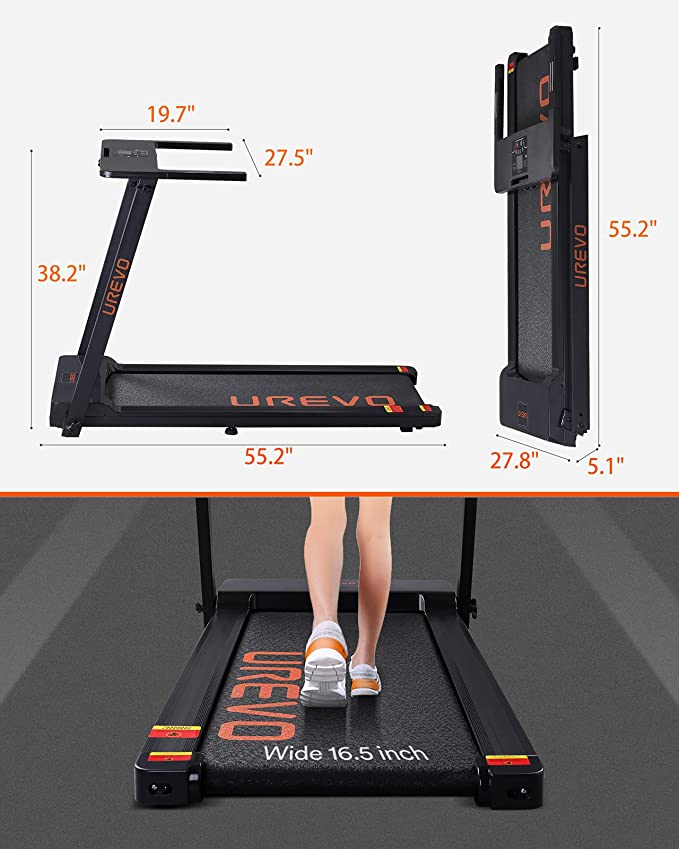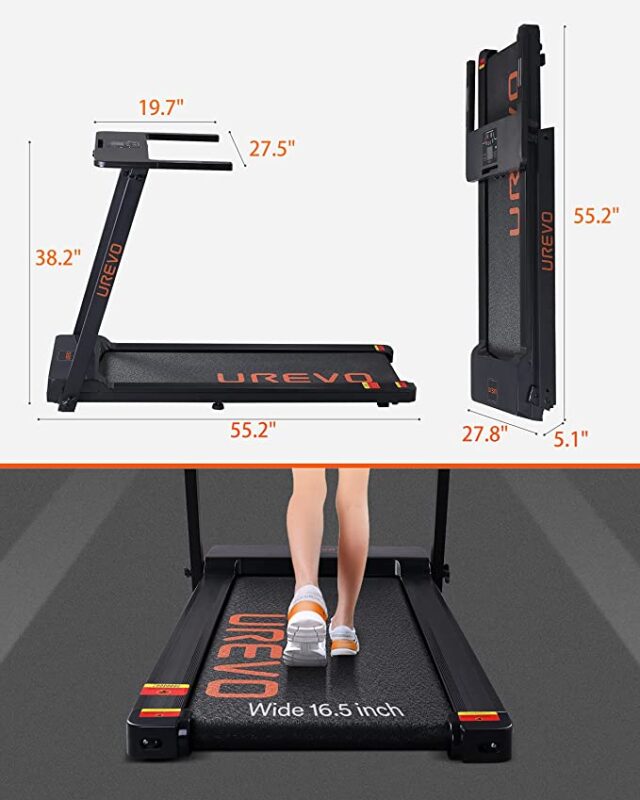 ---
Overview
The Urevo Under Desk Treadmill is a solid choice for those who want the convenience of space-saving treadmills with powerful tools to burn calories and stay in shape. Unsurprisingly, it's easy to move due to its compact design, foldable design, and has all of the features you'd expect from an under desk treadmill.
The dual LED Display is more than suitable to give you the data you'll need. And, if you're likely to be using this while working on something, you won't need to see all the data points anyway.
With a suitable size when fully assembled, the Urevo Under Desk Treadmill is perfect for a desk. It doesn't need tech tutorials or built-in workouts because with under-desk treadmills, often, the focus isn't on the treadmill itself – it's on your ability to work and workout simultaneously.
But nobody likes to work in an uncomfortable environment, and while you'll definitely be sweating, the tension on your legs from walking all day could definitely affect your work efficiency, which is exactly why the cushioning column system helps to keep you healthy through shock absorption.
This machine is one of the best on this list, no doubt in my mind. Fully equipped with great features, a sturdy build and a slick and streamlined design this treadmill is fit for any worker, no matter the task.
---
WalkingPad Under Desk Treadmill:
WalkingPad P1 Treadmill (£329.00)
Key Features
Colour – Grey
Style – Walking
Frame Material – Aluminium
Weight – 28KG
Horsepower – 1
Remote Control Included
Dimensions – 143.2 x 54.7 x 12.9 cm; 28 KG
Packed Size – 82.2(L) x 54.7(W) x 12.9(H)
Maximum Weight Capacity – 100KG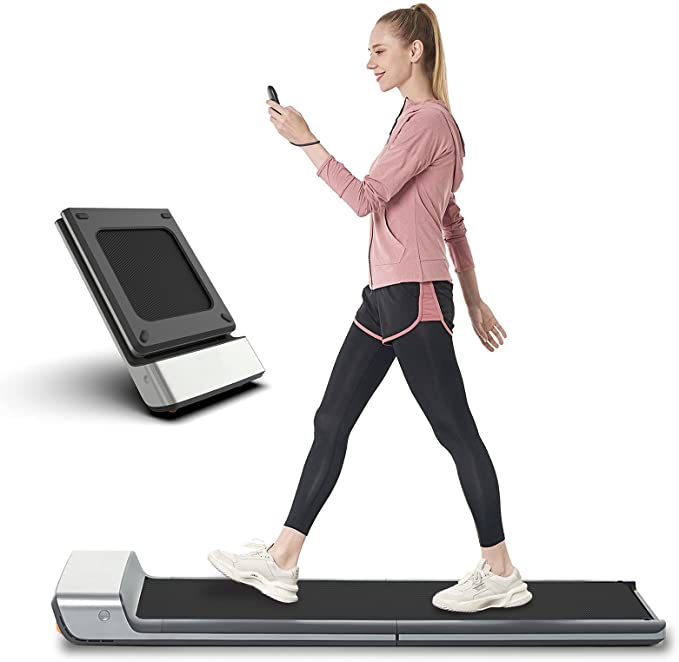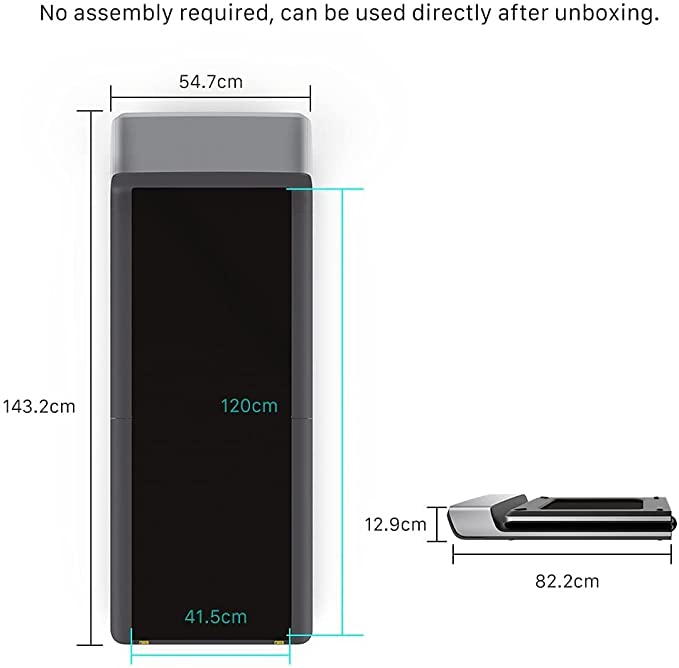 ---
Overview
The first thing that jumps out at us here is that this machine is as light as its price, in more ways than one. With the weight capacity and slow motor this machine is clearly geared for a more streamlined use style. But that shouldn't bring you to an automatic stop; we're here on this list for a reason and it's not because we want to sprint all day.
With a motor of 1hp you know what you're getting – a walking treadmill. With speeds ranging from 0.5-6km/h the term best treadmill changes meaning somewhat. Personally, I think this is the best treadmill for those wanting to walk lightly while working or to simply bump up that step count without having to leave home.
Oh, and not to mention it being one of the quietest walking treadmills going, which for many means one of the best walking treadmills going.
Yes, it has a restricted max user weight and so you'll have to bear that in mind depending on your body type, but for those wanting to go at walking pace you can certainly push that to its limit. In fact, we might be seeing other future brands copying this kind of streamlined user type as to some this machine will be ticking boxes left right and centre.
As far as a treadmill desk goes with a machine specifically geared for walking and light calorie burning then this is one to consider.
---
Bigzzia Under Desk Treadmill:
Bigzzia Motorised Treadmill, Under Desk Treadmill (£199.99)
Key Features
Colour – Iron Grey
LCD Display
Alloy Steel Frame
1.5 Hp Motor
Max User Weight – 110 KG
Package Dimensions – 130.5 x 61 x 14.5 cm
Speed Rating – 10 Kph
Assembled Dimensions – 120 cm x 50 cm x 14 cm
Machine Weight – 23.5 kg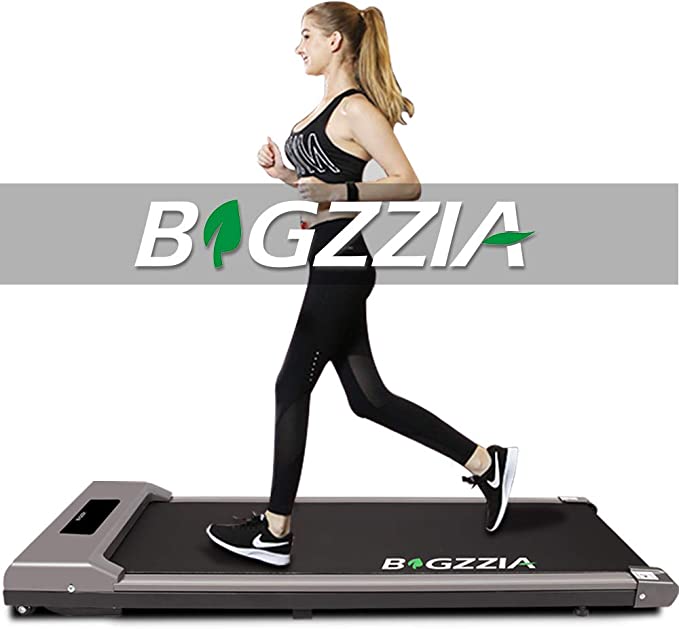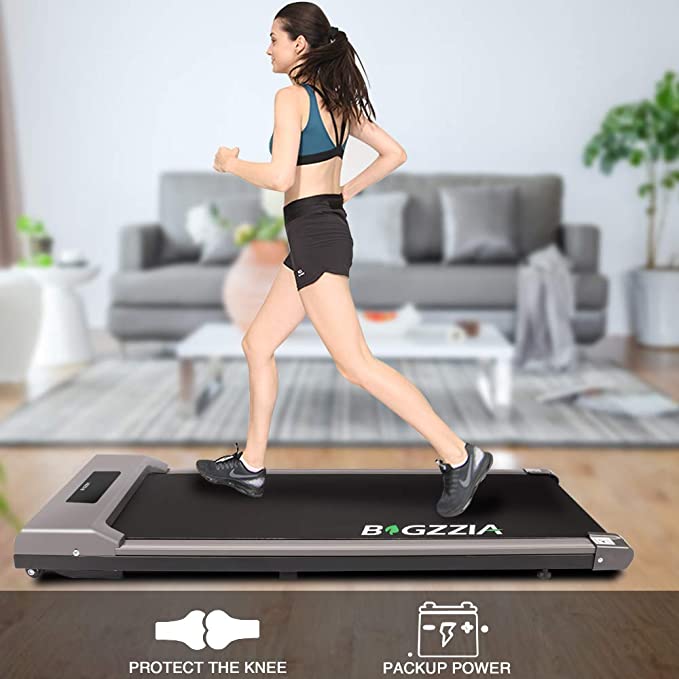 ---
Overview
The Bigzzia Under Desk Treadmill is one of the best desk treadmills going. I'd class it as a fitness walkstation slim treadmill due to its slim design and walking functionality.
It is sturdy enough for use but, according to a leading digital publisher (can't be named), they found it a little harder to use given its lightness.
The reason I love it so much is that it's cheap, its motor is good enough (1.5) and it allows you to do exactly what you came to do – stay fit and get your step count up. If you're after a walking desk treadmill that's easy to move and great for space-saving then look no further.
While it may not hold up to sunny health fitness machines, it's still on this list for a reason. Please check this one out!
---
Citysports Under Desk Treadmill:
Citysports Under Desk Electric Folding Treadmill (£199.99)
Key Features
Colour – SM-WP1-1
LCD Display
Alloy Steel
0.6 Hp Motor
Speed Rating – 6Kph
Product Dimensions 154.5 x 17 x 69 cm
Corded Electric
30 Day Return Right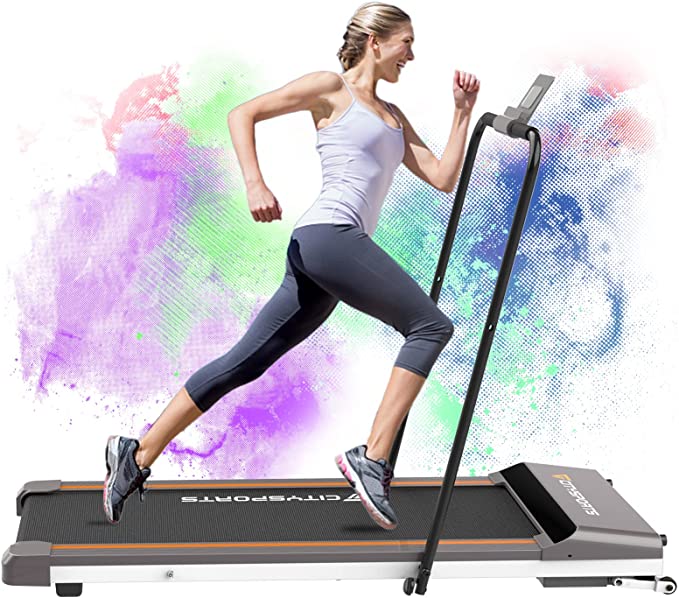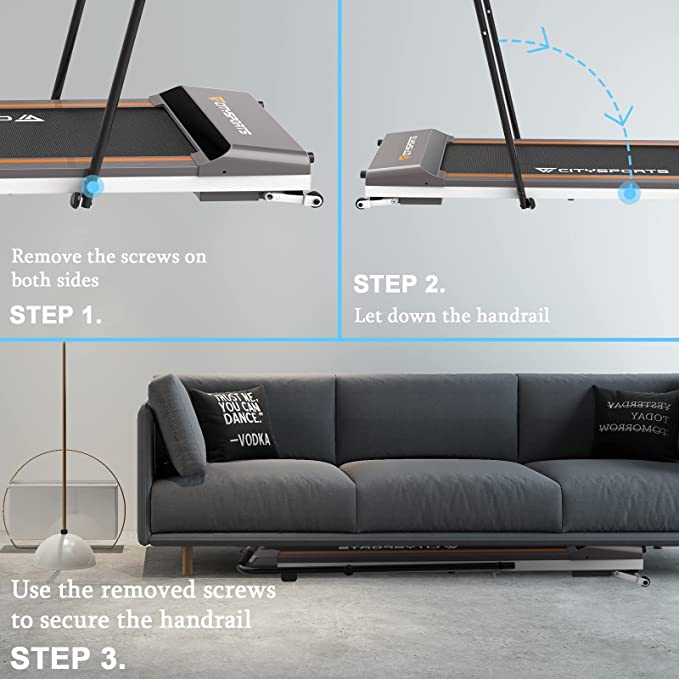 ---
Overview
This machine is the cheapest on this list. I know, that means something. But if it meant that it didn't hold up against standing desks or under-desk treadmills then it wouldn't be on this list.
The motor is very slow but hey, you're walking – it doesn't need to be fast. After reading in-depth reviews I can see that it's still popular for many reasons. 1) a slow motor means a quiet machine, and if you're working around others or don't want noise to block your brain then you're on the right path by reading about this machine.
LCD screen, speed range, weight limit – these are all in check for this machine and perfect for those who want a light exercise experience while maintaining a good work-to-life balance. It's no desk fit treadmill but it is a desk treadmill fit for most, and a brisk walk is still a brisk walk – you can burn calories just as easy.
So make an equally easy decision of adding this to your wish list!
---
Conclusion
So, here we are – we've found some awesome and some run of the mill machines here. Most machines are more about the total distance walked, rather than more vigorous workouts. Standing desk, desk treadmills, walking treadmill, under desk treadmill – all of these are kind of the same; you're here to make your day easier not harder and all of these machine types will help with exactly that.
Hopefully we've found the best desk walking treadmill here for you and also the best way to help with calories burned relative to hours worked in a single day.
>> Read More Treadmill Buying Guides Here<<
---
FAQ'S
Does a walking treadmill hold up to a normal one?
There are so many factors here, mainly, its you. If you want a light walk to accommodate for work then yes, they're just as good and given the price they're probably better. Walking treadmills are for walking and if you want to spring and lose a lot of weight then you may have to fork out for a gym standard treadmill.
Do I need an adjustable height desk?
Generally speaking, no you don't need specialist 'treadmill desks'. Most of these fold and therefore slide under your desk regardless. It's very much part of the design to make the most usable, popular, and ultimately best under desk treadmill.
The best treadmill desk is simply one that has enough room to house the dimensions of the treadmill easily.
---
Affiliate Disclosure
In compliance with the FTC guidelines, please assume the following about all links, posts, photos and other material on this website:
Any/all of the links on this website are affiliate links of which GymFreakz receives a small commission from sales of certain items, but the price is the same for you.
www.gymfreakz.com is a participant in the Amazon Services LLC Associates Program, an affiliate advertising program designed to provide a means for sites to earn advertising fees by advertising and linking to Amazon.com & Amazon.co.uk. Pages on this site may include links to Amazon and its affiliate sites on which the owner of this website will make a referral commission.