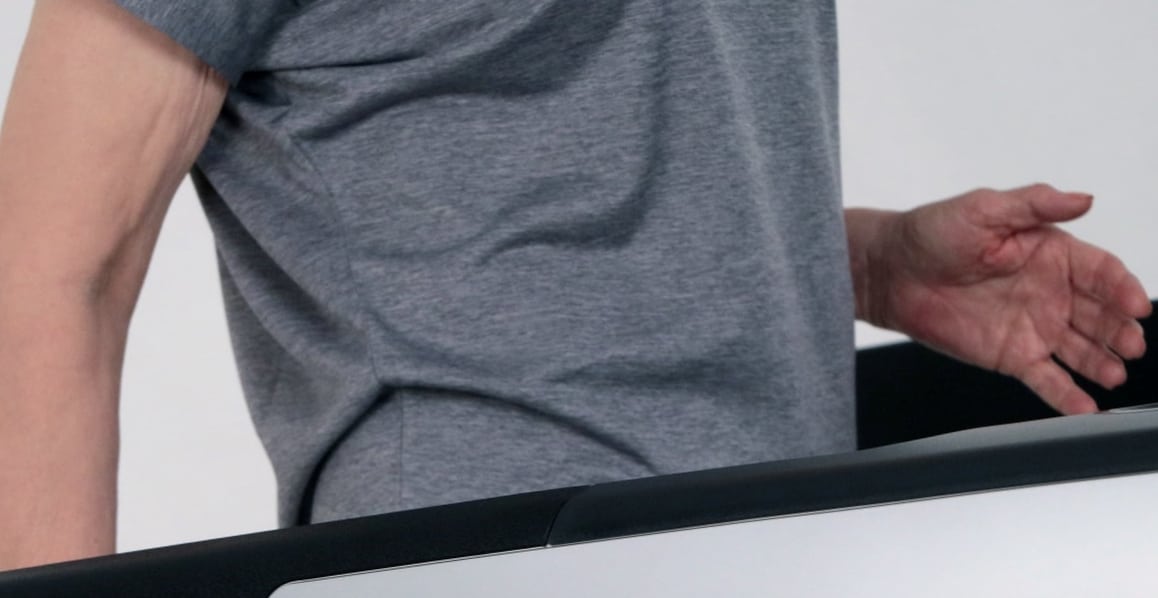 ---
---
Raising the bar by raising the incline; a list of my favourite treadmills for incline running
Running isn't always for everyone, but not always because it's too hard – some need the additional challenge of incline running. Not only does running at an incline target different muscle groups but it leaves you with no choice but to feel like you're pushing yourself; the mental game is as present as the physical when it comes to running.
A lot of treadmills could be branded as an incline treadmill but just because it might automatically adjust doesn't mean it's good for everything else, nor does it mean it's good enough to be on this list.
Over the course of this article, we're going to be running through all the bells and whistles to look for in order to find some of the best incline treadmills on offer.
Make sure to keep an eye on manual incline settings, a cushioning system for treadmills with a higher incline range, built-in workouts for high incline scenarios, and, well, all the other features we're about to break down.
Let's do it.
Disclaimer – This website contains affiliate links. If you find the information useful and click on a product link and make a purchase, a small commission will be earned by GymFreakz and we appreciate your support.
In A Rush?
| | My Top Pick: | Best of the best: | Best Mid Range Price: | Best Buy On A Budget: | Best Straight Out Of The Box: |
| --- | --- | --- | --- | --- | --- |
| Brand | Nordictrack | Life Fitness | JTX | Nordictrack | Horizon |
| Model | Commercial X32i | Platinum Club Series | Sprint-9 | Commercial X9i | Paragon X |
| Photo | | | | | |
| Max. Speed | 12 mph | 12 mph | 20 kph | 20 kph | 20 kph |
| Max. Weight | 135 kg | 181 kg | 130 kg | 135 kg | 180 kg |
| Running Area | 55 cm x 165 cm | 56 cm x 152 cm | 153 cm x 52 cm | 55 cm x 152 cm | 56 cm x 153 cm |
| PRICE* | £3,799.00 | £12,045.00 | £1,499.00 | £1,999.00 | £1,999.99 |
| | | | | | |
| Check Prices | | | | | |
*Prices correct at the time of writing
---
My Top Pick (-6 to + 40% incline – auto controlled in real time):
Nordictrack Commercial X32i Incline Trainer Treadmill (not foldable) (£3799.00)
Key features
4.25 CHP DurX Commercial plus motor
2.5 inches precision and balanced non-flex rollers.
Reinforces steel construction
22×65 inches commercial tread belt
two 3 inches amplified speakers
Dual auto breeze workout fans
0-6 inch decline
0-40 inches incline
0-12 MPH speed
Reflex cushioning
Quiet drive incline tech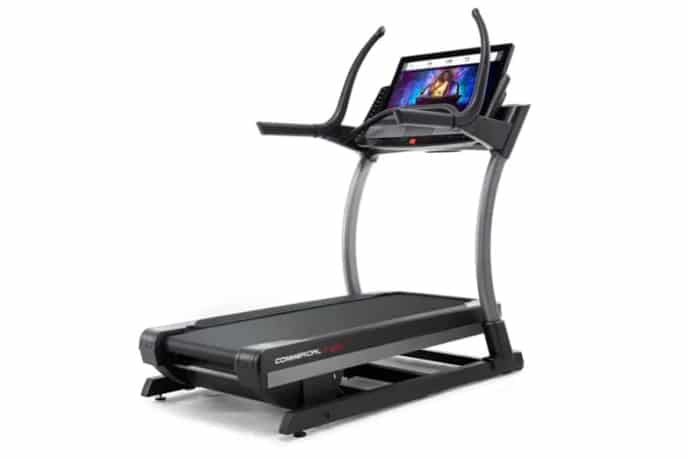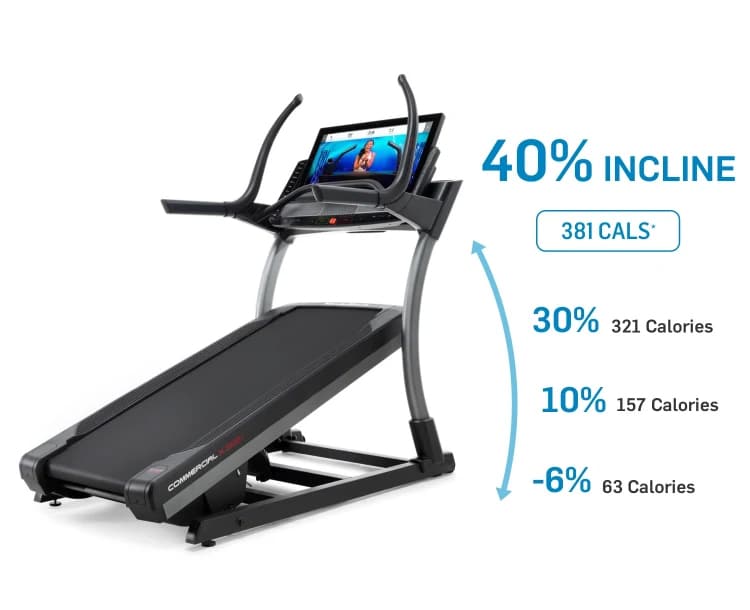 ---
Overview
There is no doubt that the NordicTrack x32i incline trainer treadmill is one of the best on the market right now. Beyond its other features fit for pro runners, this machine is an unquestionable purchase for those looking to up their game, literally.
With great incline and decline options, updated HD touchscreen, enhanced wi-fi, faster processing speed, and live trainer controls you can be sure that you can not go wrong with this treadmill. And if it's fit for a gym then it's fit for your home.
With the price vs what this NordicTrack x32i treadmill offers, you may be questioning its worth. However, if you take a look at all the features and its specifications you'll see that this machine is not your average treadmill.
You are getting lots of things that you won't get otherwise on a normal treadmill. And for those who don't want to pay too much well, we have others on this list. But for those who can afford these kinds of payments and justify these sorts of costs then this treadmill goes the distance.
Specifically, the incline settings on this machine are why we're here. And if we're here for incline settings then features like the Reflex cushioning system are worth mentioning too. This system will help anyone's stride by helping to maintain pace with a solid workout whilst reducing shock by 40%!
…and be sure to increase your calorie burn with an iFit app workout and the sled grips option.
Want to know more? Read our full review of the Nordictrack Commercial X32i Incline Trainer Treadmill here.
---
Best of the best (if you have the room + the budget: Incline = 1-15%):
Life Fitness Platinum Club Series Treadmill with Discover SE3HD Console (fixed) (£12,045.00)
Key Features
Brand: Life Fitness
Model: Life Fitness Platinum Club Series
Console: Discover SE3HD Console
Welded Steel Frame: Yes
Maximum Speed: 12mph
Minimum Speed: 0.5 mph
Incline Range: 1-15%
Dimensions: 203 x 94 x 163 cm (lxwxh)
Running Area: 56 x 152 cm
Equipment Weight: 206 kg
Maximum User Weight: 181 kg
Shock Absorption System: FlexDeck Shock Absorption System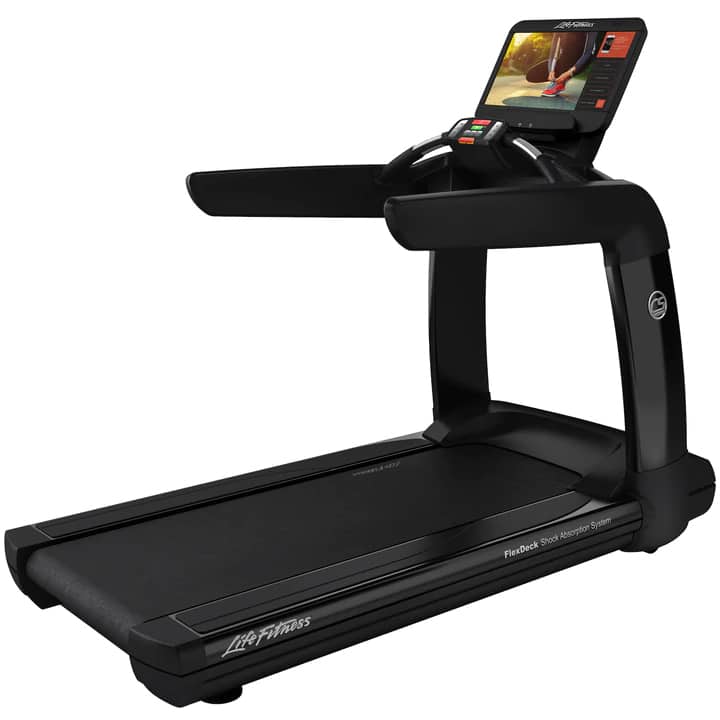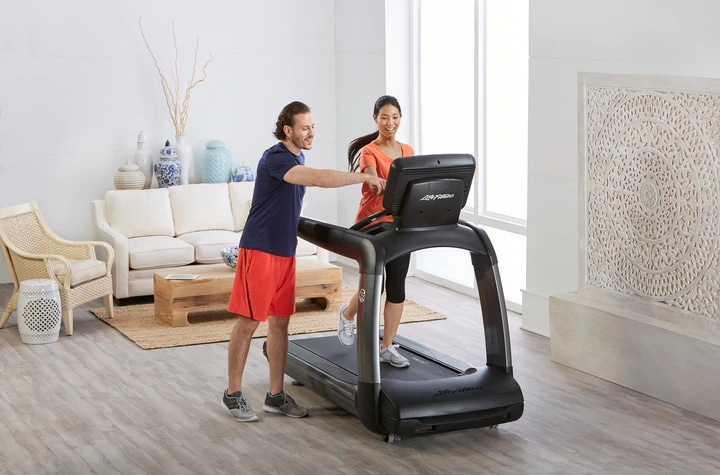 ---
Overview
Okay, I hear you. The first thing we can notice about this machine is its high price. But what's as high as the cost? the incline setting and manufacturing quality – and that's exactly why we're talking about what we are.
Never mind the price range for a second, just think about the treadmill. By any account, this is a well-made treadmill. It does take up a bit of space but as a training tool that'll keep you at the top of your game then it's not just a treadmill for a great incline, but it's a great treadmill for anything else too!
With an incline range of 1-15% and a good max speed of 12mph this machine will meet all the requirements of those runners wanting to go the extra mile. To its credit, its frame supports a good user weight, and the shock absorption system help to alleviate any possible issues with form or injury.
If you have the money to spend, the right place to store it, and don't mind paying a good bit of money for a great bit of kit then this treadmill is for you.
Want to know more? Read our full review of the Life Fitness Platinum Club Series Treadmill here.
---
Best Mid Range Price:
JTX Sprint-9 Folding Gym Treadmill (£1499.00)
Key Features
Cushionstep™ Pro deck
Maximum speed: 20kph
Incline: 12% or 12 levels
Suspension: 8 Point commercial shock system
Workout Programs: 24 Advanced training programs + 3 custom
Heart Rate Training: Via hand pulse sensors or heart rate chest strap (sold separately)
Power: 3 Horsepower DC Motor
Folded Dimensions: 92(w) x 116(l) x 180(h) cm
Transport Wheels: Yes
Machine Weight: 131.6kg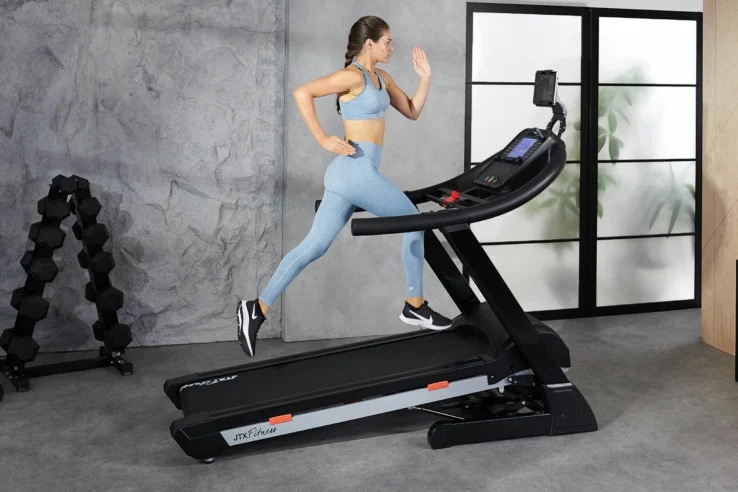 ---
Overview
If you were worried that we weren't going to look at some more affordable options then worry no further. This treadmill offers a great range of features, a decent build from a trusted brand, and all for a reasonable price range.
The JTX Sprint-9 Folding Gym Treadmill is great for walking, easy enough to store, and comes with a great folding design as an added bonus. Not all of us have the space so, if we want to capitalise on working as hard as we can through incline running, then why shouldn't we want to capitalise on space-saving too?
If you want to exercise hard but through the comforts of home training then this treadmill fit for your spare room can offers you 12 levels of incline with a 3-horsepower DC motor and 24 advanced workout programs! top stuff!
Want to know more? Read our full review of the JTX Sprint-9 Folding Gym Treadmill here.
---
Best Buy On A Budget (-6 to + 40% incline – auto controlled in real time):
Nordictrack Commercial X9i Incline Trainer Treadmill (not foldable) (£1999.00)
Key Features
This treadmill comes with a 3.6 CHP motor.
The incline is 40 percent while the decline setting is -6 percent.
The speed of this treadmill is 20 km per hour.
The display is a 7-inch smart screen HD touchscreen.
It comes with 44 preset workout applications.
Bluetooth has been included in this treadmill as well as web connectivity.
A heart rate monitor comes with this treadmill with an EKG grip pulse and a smart Bluetooth chest belt.
The dimensions of this treadmill are 177 x 100 x 181 cm.
The weight of this machine is 140 kgs.
The average user weight is 135 kgs.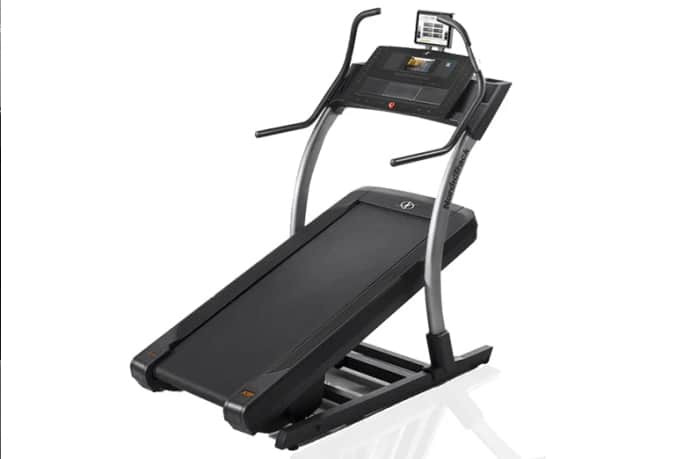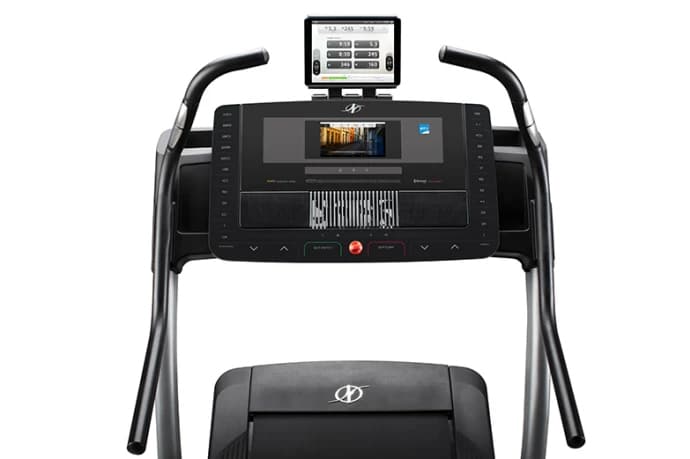 ---
Overview
Overall if you're looking for a treadmill that burns more calories in a short amount of time and will force you to workout harder then this treadmill should be your number one option! With a very good incline range (-6 to 40+!) this is one of the best options for incline running and for a good price.
Great for a home gym, I loved the touchscreen, and iFit coach plus with its strong yet quiet motor this machine is the one you're looking for! So if you're looking for a machine that burns a lot of calories plus tones and sculpts your body muscles then the Nordictrack X9i Incline Trainer is a great option for you!
It's one of the best treadmills on this list, a great all rounder, and has similar technologies to those top tier treadmills found on the market. If you're looking for price and features then this is your best bet, especially for incline running and challenging yourself further.
It's a great option not just for your home but also for a gym. So if you're expecting multiple users to use this machine then this treadmill might be the one for you.
Want to know more? Read our full review of the Nordictrack Commercial X9i Incline Trainer Treadmill here.
---
Best Straight Out Of The Box (incline = 15% + 37 programmes pre-installed:
Horizon Paragon X Folding Treadmill (£1999.99)
Key Features
Partial self-assembly required
It does not come with built-in speakers.
Console position is fixed.
Dimensions are height is 147 cm, width is 97cm and in diameter, it is 206 cm.
There are no downloadable contents on this treadmill.
You can monitor your heart rate via chest strap but it is not included in the treadmill.
You can also monitor your heart rate via hand sensors through handgrip pulse measurement.
Incline is 0 to 15 percent.
This treadmill is made out of steel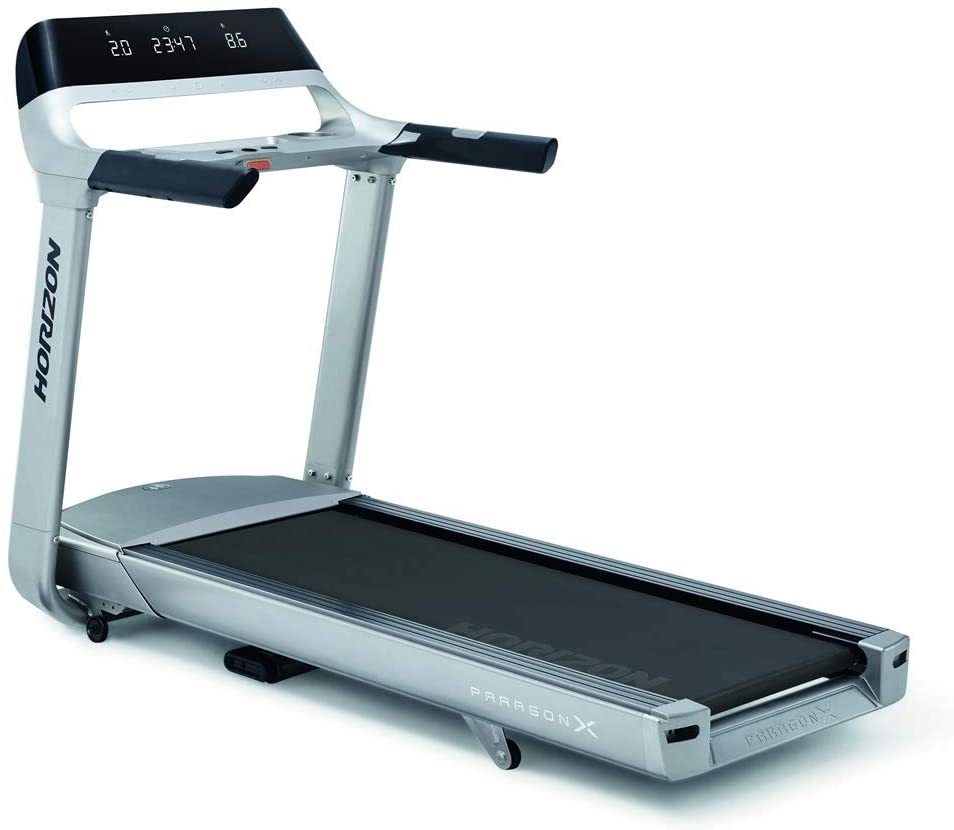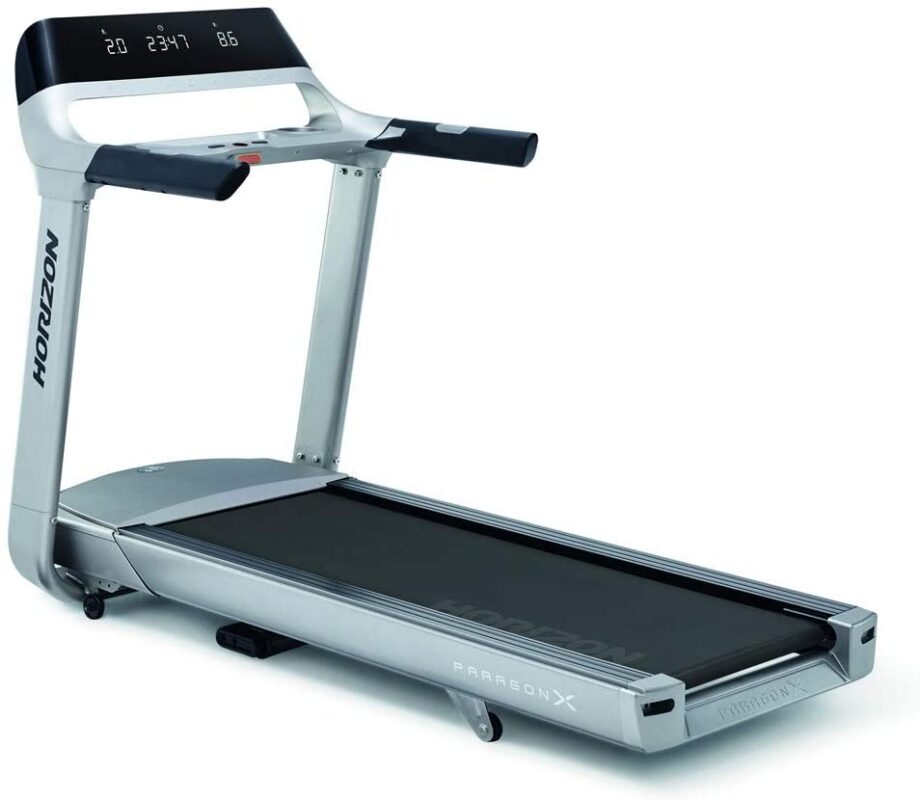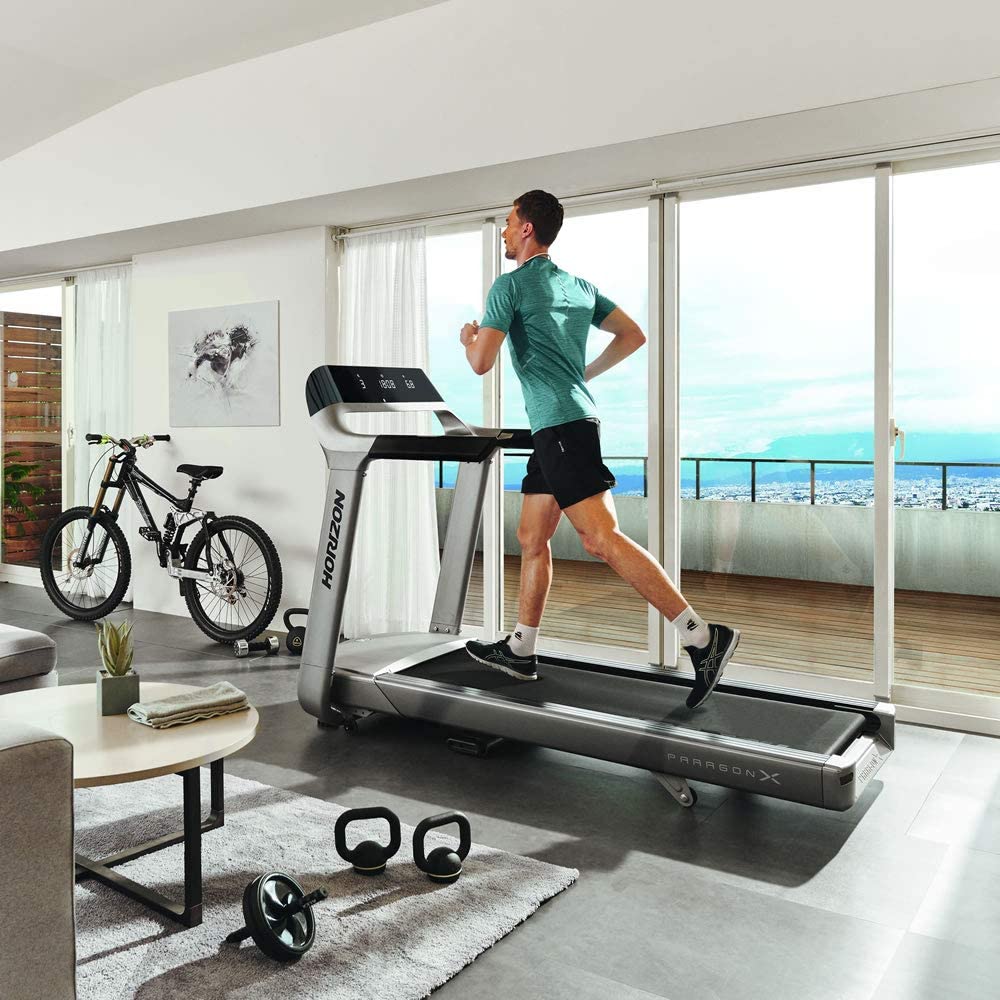 ---
Overview
This is one of the best treadmills on this list for purists, and if you're a purist then I doubt you're averse to some incline challenges. If you're like me and get bored at the shop, having to nod through somebody's pitch for all the extra features and great freebies then you're in the right place.
This treadmill doesn't come with a heart rate strap or downloadable content capabilities but it doesn't need to. The services it offers, from walking to harder fitness training, increased calories burned through focused pace and longer training sessions is exactly what this treadmill is great for.
The responsive air cushioning lets you enjoy your workout and makes sure that you don't get injured while working out, something to consider when looking for treadmills to help with incline running. The air cushioning beneath the deck inflates along with pre-programmed changes in speed and incline based on demanding exercise classes and also 10 real trail running experiences.
The Horizon Paragon X lets you run a half marathon and also makes you virtual active by showing you different trails around the world! This kind of service helps to immerse the runner and it helps to spend a little time imagining to help motivate with your training.
It is a unique fusion of different workouts together and you can also change the speed and incline with just one touch.
Want to know more? Read our full review of the Horizon Paragon X Folding Treadmill here.
---
Conclusion
To conclude we've found some awesome treadmills for the harder push of incline running, and hopefully, you've found the incline treadmill you're looking for. Through wanting to up your game you'll find a treadmill that suits your exact needs right here. Some with great delivery times (look at details before you pay), many fit for most runners, and some specifically fit for other types of runners, it's down to you to pick your best.
Always remember that with incline running, speed is important, machines built for harder training (durability and material), belt size for comfort and wear, and other factors like range should obviously be considered too.
But just because it's an incline you're looking for doesn't mean things like home gym features aren't worth looking at. We're always on the hunt for all-around value and so things like a tablet holder, adjust options (good for incline too), amount you have to pay, whether it accepts a device like a phone, and a range of other things too.
You'll never know unless you look!
>> Read Other Helpful Treadmill Guides Here<<
---
FAQ'S
Manual incline settings trump automatic incline settings?
Workouts can be demanding. And when they're demanding, especially with home treadmills, accidents can happen. While manual incline settings aren't a bad thing, safety through automatic incline options will save you a lot of worry, especially if you're using an app, streaming services on an HD screen, or other services, you want to keep your mind focused on the running.
Should I think about max speed if I'm looking for an incline treadmill?
Max speed is important – audience insights suggest if you want to combine incline running with a harder training routine then max speed should be considered too.
However, the majority of the time you use incline treadmill functions you won't be reaching max speed, at least, not for long. So prioritise incline range, your specific fitness goals, and whether it's suited for a home treadmill or not.
Would you recommend shopping on spec or a brand shop?
There are pros and cons to both. On the one hand, you might get a great deal on a quality treadmill if you buy from a dedicated sports equipment retailer. On the other hand, you might be able to find a cheaper model with just as good specs if you're willing to do your research and shop around. Ultimately, it's up to you to decide what's more important: getting a good deal or getting the perfect treadmill.
---
Affiliate Disclosure
In compliance with the FTC guidelines, please assume the following about all links, posts, photos and other material on this website:
Any/all of the links on this website are affiliate links of which GymFreakz receives a small commission from sales of certain items, but the price is the same for you.
www.gymfreakz.com is a participant in the Amazon Services LLC Associates Program, an affiliate advertising program designed to provide a means for sites to earn advertising fees by advertising and linking to Amazon.com & Amazon.co.uk. Pages on this site may include links to Amazon and its affiliate sites on which the owner of this website will make a referral commission.